Last Updated on June 2, 2015 by Chef Mireille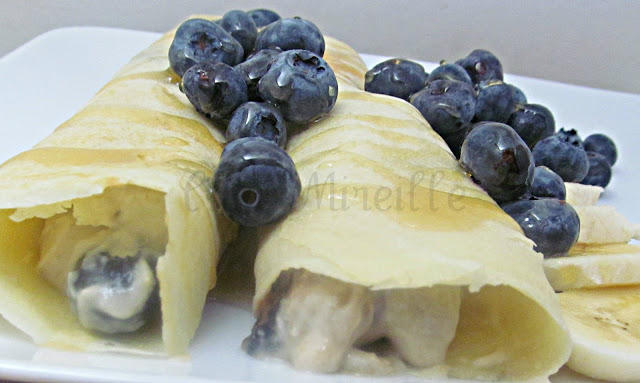 Blogging Marathon #20
Theme: Recipes with Spreads
It's that time again…Blogging Marathon! This week's theme are foods that are topped with some kind of spread and our first recipe is crepe.
Crepes are a classical French pancake. When I was in Paris, I encountered a crepe shop on just about every corner. Crepes can be either savory or sweet. The sweet ones are usually more popular at the crepe shops with flavors like Cream Cheese & Berries or Nutella & Bananas.
Crepes are very thin and it takes a bit of practice to make the perfect crepe. I once worked at a restaurant with a busy brunch service. Crepes were one of our most popular items and I became quite experienced at making them. Here is a delicious breakfast crepe spread with a Marscapone fruit filling.
Blueberry Banana Crepes
(click here for printable recipe)
Ingredients:
2 cups all purpose flour
1 1/2 cup milk
3 eggs
6 tablespoons butter, melted
4 tablespoons sugar
1/4 teaspoon salt
8 oz. marscapone cheese
1 cup blueberries
2 bananas, mashed
1/4 cup orange juice
3/4 cups honey
In a bowl, mix the flour, sugar and salt. Add eggs and butter and mix well.
Add milk and blend, until thoroughly combined.
Let the batter rest at room temperature for 30 minutes.
While the batter is resting, let's make the filling and the syrup.
Combine the mashed banana with the marscapone and mix well. Fold in the blueberries. Set aside.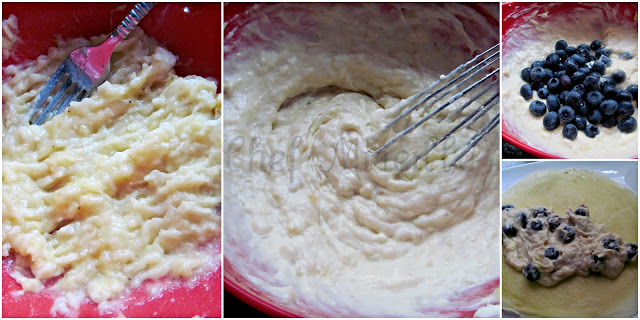 Banana Blueberry Marscapone Crepe Filling
In a saucepan, combine honey and orange juice.
Bring to a boil. Reduce to a simmer and cook for 10 minutes. Cool.
Heat a nonstick skillet. The pan should be warm, but not hot.
Using a 2 oz. ladle, pour a little batter into pan and swirl the pan, until the batter spreads to cover the whole surface of the cooking area of the pan.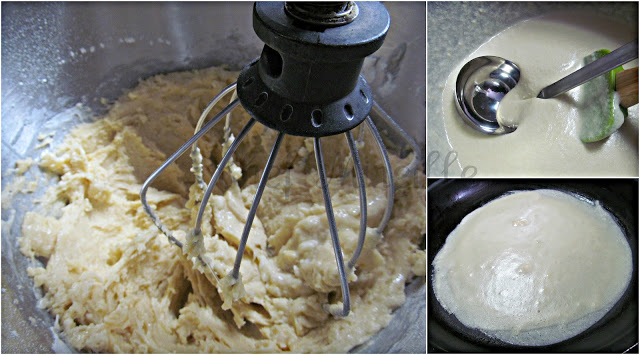 making crepes
Cook for about 2 minutes until the batter sets. Flip over and cook the other side for 1-2 minutes.
Repeat until all the batter is used up.
If they are not to be used immediately, wrap in plastic wrap as these will dry out quickly if they are left out.
Now, let's assemble the crepes.
Take one crepe and place some of the marscapone fruit spread on half of the crepe. Roll up.
Drizzle with orange honey.
Serve, garnished with more fresh fruit.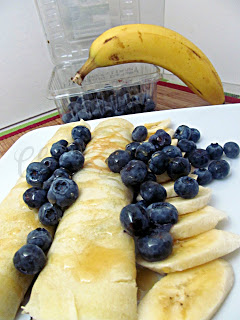 These are just delicious with a great combination of flavors. I love the use of Marscapone which has more sweetness than regular cream cheese and a much milder taste, which makes these heavenly. These are very filling, so one is actually enough for a dessert or a snack. Two can be eaten for a complete meal, for breakfast.

Check out the other Blogging Marathon participants here!
LIKE THIS RECIPE? LEAVE A COMMENT..I LIVE FOR THEM!
Chef Mireille
Like me on FACEBOOK!
Follow me on TWITTER!