Last Updated on June 2, 2015 by Chef Mireille





Blogging Marathon #20
Theme: Low Fat/Low Cal Breakfasts
I got the idea for these from a photo I saw on Pinterest here. The photo did not link to a recipe, so I created this one myself.
Zucchini-Potato Hash Brown Waffles
(click here for a printable recipe)
Ingredients:
1 lb. potatoes, peeled and grated
2 zucchinis, grated
1/4 cup egg whites
2 tablespoons rice flour
1 chile, finely chopped
1 scallion, finely chopped
2 tablespoons cilantro, finely chopped (or parsley)
2 tablespoons Manchego cheese, grated
1 teaspoon salt
1/2 teaspoon black pepper
Using a kitchen towel, squeeze out all of the water from the grated potatoes and zucchini. Transfer to a bowl and combine with all of the other ingredients and mix well.
Heat a waffle iron and spray well with non stick spray. Fill the waffle iron with half of the potato-zucchini mixture.

Cook for about 15 minutes. Remove from the waffle iron.
Spray again with non stick spray. Repeat with the other half of the mixture.
Serve with ketchup and sliced tomatoes.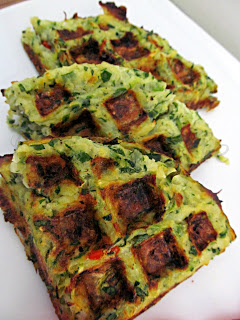 These are tastier and healthier, with half the calories of a McDonald's hash brown!
Check out the other Blogging Marathon participants here!
LIKE THIS RECIPE? LEAVE A COMMENT..I LIVE FOR THEM!
Chef Mireille
Like me on FACEBOOK!
Follow me on TWITTER!