Last Updated on June 2, 2015 by Chef Mireille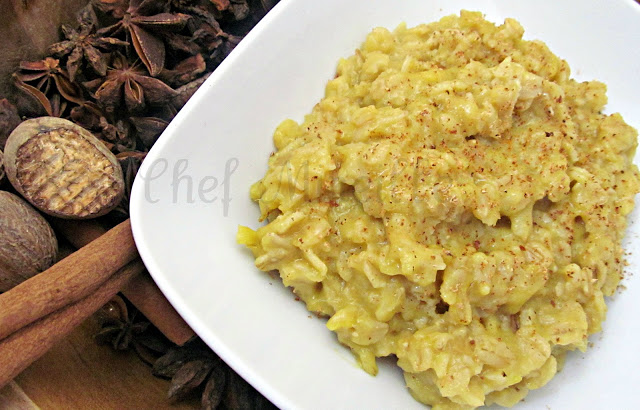 Blogging Marathon #20
Theme: Low Fat/Low Cal Breakfasts

It's Blogging Marathon time again!!!
Except for the addition of mango and the substitution of oat milk, this is very typical of the breakfast cereal I ate growing up. Foods of the Caribbean always have a lot of spices and breakfast porridge is no different. The spices in this oatmeal were included in oatmeal, cornmeal porridge, farina and even hot cocoa.
Many Americans put butter in oatmeal and the first time I saw this, I thought it was the most disgusting thing I had ever heard of. It was just not what I was used to and to this day when I see people do this, I find it nauseating. With the delicious spices in this Caribbean version of breakfast cereal, I hope you will be encouraged to lay off the butter to keep this a low fat breakfast!
Mango Oatmeal
Ingredients:
10 oz. package frozen mango, defrosted (fresh mango can also be substituted)
3 cups oat milk
1 2/3 cup oats
1 cinnamon stick
2 star anise
1/4 cup sugar
freshly grated nutmeg, to taste
Puree the mango in a food processor or blender with the oat milk.
In a saucepan, place the cinnamon and star anise. Add the pureed mango and milk. Bring to a boil.
Add oats and reduce to a simmer.
Cook for 8 minutes, until oats have softened, stirring frequently.
Add sugar and stir to combine.

Serve, topped with freshly grated nutmeg.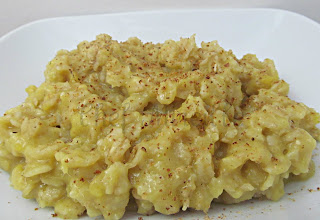 …and for another healthy delicious oatmeal variation…Try this Apple-Cinnamon one!
Check out the other Blogging Marathon participants here!
sending to Anu's Cook with Spices – Cinnamon hosted by Kaarasaaram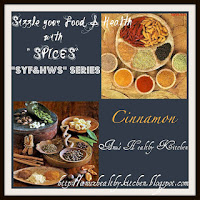 LIKE THIS RECIPE? LEAVE A COMMENT..I LIVE FOR THEM!
Chef Mireille
Like me on FACEBOOK!
Follow me on TWITTER!