Last Updated on June 2, 2015 by Chef Mireille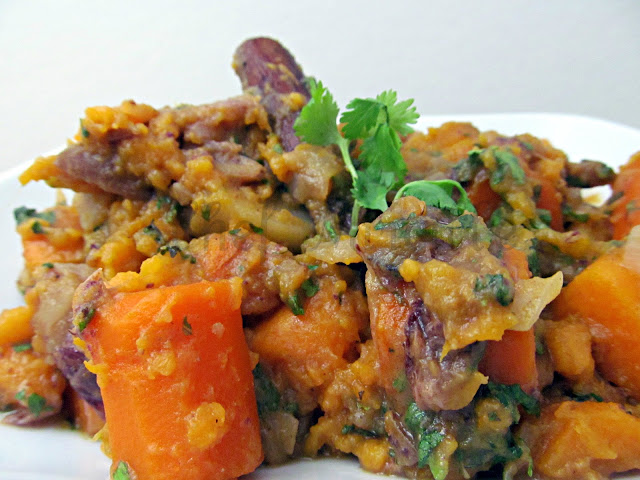 Tagine is the national dish of Morocco. The word is both a meal and the name of the traditional vessel that tagines are made in. Even without a tagine vessel, you can still make it using an oven safe Dutch oven pot. It is basically a stew that can be made of a variety of vegetables, dried fruits and/or meats. Here is a vegetarian one that everybody can enjoy.
Root Vegetable Tagine
(click here for printable recipe)
Ingredients:
1 tablespoon olive oil
1 large onion, chopped
1 1/2 lbs. orange fleshed sweet potatoes, peeled and cut into bite size pieces (2 large sweet potatoes)
1/2 lb. potatoes, peeled and cut into bite size pieces (2 small potatoes)
1/2 lb. carrots, peeled and cut into bite size pieces (2 carrots)
1/2 cup pitted dates, quartered
2 cups vegetable stock
1 cinnamon stick
1/2 teaspoon ground ginger
1 teaspoon ground coriander
salt and pepper, to taste
1/4 cup mint, finely chopped
1/2 cup cilantro, finely chopped
Preheat oven to 400 F.
Heat oil. Add onion and saute until translucent. Add vegetables and cook for 5 minutes.
Add dates, stock, cinnamon, ginger, coriander, salt and pepper and bring to a boil.
Cover and place in the oven for 30 minutes.
Add fresh herbs and stir to combine.

Serve immediately over couscous or with pita bread.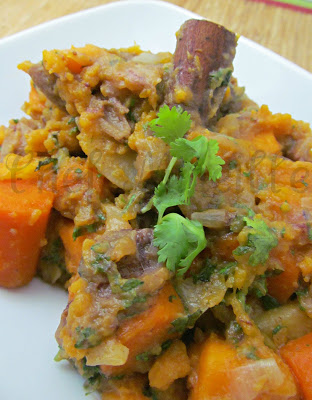 This recipe is being served at Nayna's Flavours of Morocco, hosted here by me , my own Taste of the Tropics – Cinnamon & Anu's Cook with Spices – Cinnamon hosted by Kaarasaaram
LIKE THIS RECIPE? LEAVE A COMMENT..I LIVE FOR THEM!
Chef Mireille
Like me on FACEBOOK!
Follow me on TWITTER!