Last Updated on December 14, 2020 by Chef Mireille
Amritsari Aloo Kulcha – Indian Potato Flatbread
This Punjab flatbread is a soft, leavened flour based flatbread stuffed with a spiced potato filling. This is delicious for a Vegetarian breakfast with some chutney.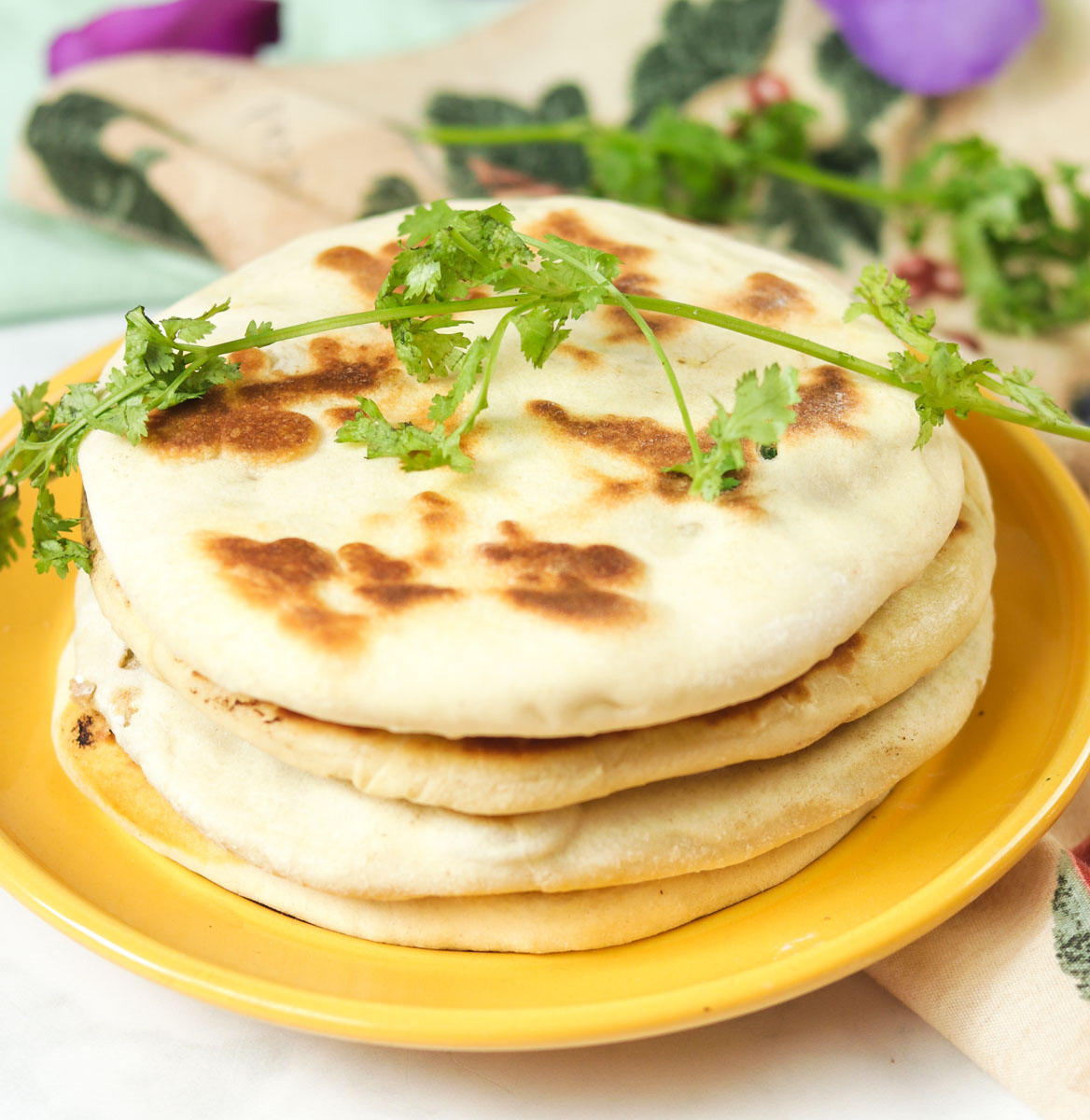 Amritsari Aloo Kulcha – Indian Potato Flatbread was originally posted back in 2014 when I participated with a group of food bloggers in the Indian Cooking Challange. Every month we would cook different traditional Indian recipes from different regions.
This recipe comes from Amritsar, one of the most important cities in the northwestern state of Punjab. Home to the Golden Temple, Amritsar is the center of the Sikh community in India.
Amritsar, considered a holy city, was founded in 1574 by the fourth Sikh guru, Guru Ram Das. The Golden Temple was completed in 1604.
Who are the Sikhs?
In America, there is often a lot of confusion about sikhs. Are they Hindu? Are they Muslim? Some people mistakenly associate the wearing of a turban with Islam. Many Sikhs were victimized post 9/11 because of this.
So what exactly is Sikhism?
What is Sikhism?
Sikhism was started by Guru Nanak, born in 1469. He saw a lot of injustice in religion and social inequities.
He believed the world was created by one divine force, therefore Sikhism is a monotheistic religion, believing in one God. They also believe in equal rights for all people in society. Men and women have equal rights in sikhism.
With this belief in equal rights, they have never adhered to the caste system and don't believe in dividing people by race, religion, gender or economic status.
Sikh men and women carry five symbols of their faith, known as the Five K's.
Kes – long, uncut hair
Kara – steel bracelet
Kanga – wooden comb
Kirpan – small sword. Men often carry this sword inside their turban's.
Kachera – soldier-shorts
Sewa "selfless service" is one of the major tennets of Sikkhism. They are often the ones providing meals and aid when natural disasters and other tragedies occur here in the US.
During the current crisis, The Sikh Center of NY has been providing meals to over 30,000 since March (2020). Their sewa includes service to all parts of society – sikh's and non sikh's.
Now you've got the history part of the post. Let's get to the details on how to make Amritsari Aloo Kulcha – Indian Potato Flatbread
IN THE MAKING – HOW TO MAKE AMRITSARI ALOO KULCHA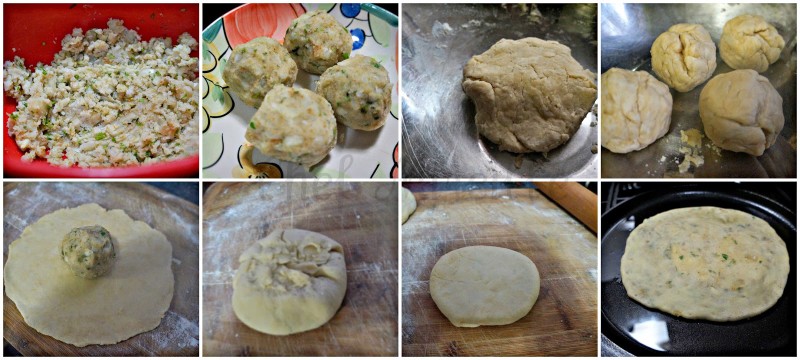 With that potato filling, it's a filling and delicious breakfast with just some green chutney (recipe coming soon)!
Enjoy your breakfast Indian style!
Amritsari Aloo Kulcha – Indian Potato Flatbread
Amritsari Aloo Kulcha – Indian Potato Flatbread – is a soft flour based flatbread stuffed with a spiced potato filling.
Ingredients
Dough Ingredients:
Filling Ingredients:
1

cup

mashed potato

1

green chile

finely chopped

1

onion

chopped

1

tablespoons

cilantro

finely chopped

1

teaspoon

ground cumin

1/2

teaspoon

red chile pepper

cayenne pepper

1/4

teaspoon

chaat masala

salt

to taste
Instructions
Combine flour, baking powder, baking soda, sugar and salt.

Add yogurt and oil. Mix to combine.

Slowly add milk and knead for about 5 minutes until dough is soft and smooth.

Cover with a damp cloth and leave to rest for 1 hour.

To make the filling, combine the potato with all the other filling ingredients and mix well.

Divide mashed potato filling into 4 equal sized balls.

Divide dough into 4 equal sized balls. Roll each ball in your hands until soft and smooth.

On a lightly floured board, roll out one dough into a 7″ circle. Place one of the potato balls in the middle and bring the dough up around it to seal the potato filling inside of the dough. Place seam side down on the board.

Gently roll out the filled dough to a circle about 6" in diameter, being careful not to break the dough so that none of the filling comes out.

Heat a tawa/griddle. Brush with a little ghee. Cook on one side until browned. Flip over and cook the other side for a few minutes until browned.

Repeat for the remaining dough.
Nutrition
Calories:
413
kcal
|
Carbohydrates:
66
g
|
Protein:
9
g
|
Fat:
12
g
|
Saturated Fat:
2
g
|
Cholesterol:
4
mg
|
Sodium:
1080
mg
|
Potassium:
426
mg
|
Fiber:
4
g
|
Sugar:
5
g
|
Vitamin A:
40
IU
|
Vitamin C:
16
mg
|
Calcium:
103
mg
|
Iron:
4
mg
Did you try this recipe? Leave a comment below.
Please follow me on Instagram @chefmireille or tag me #chefmireille with your pics! I'd love to share them!
DO YOU YUM? SAVE IT BELOW!
Yum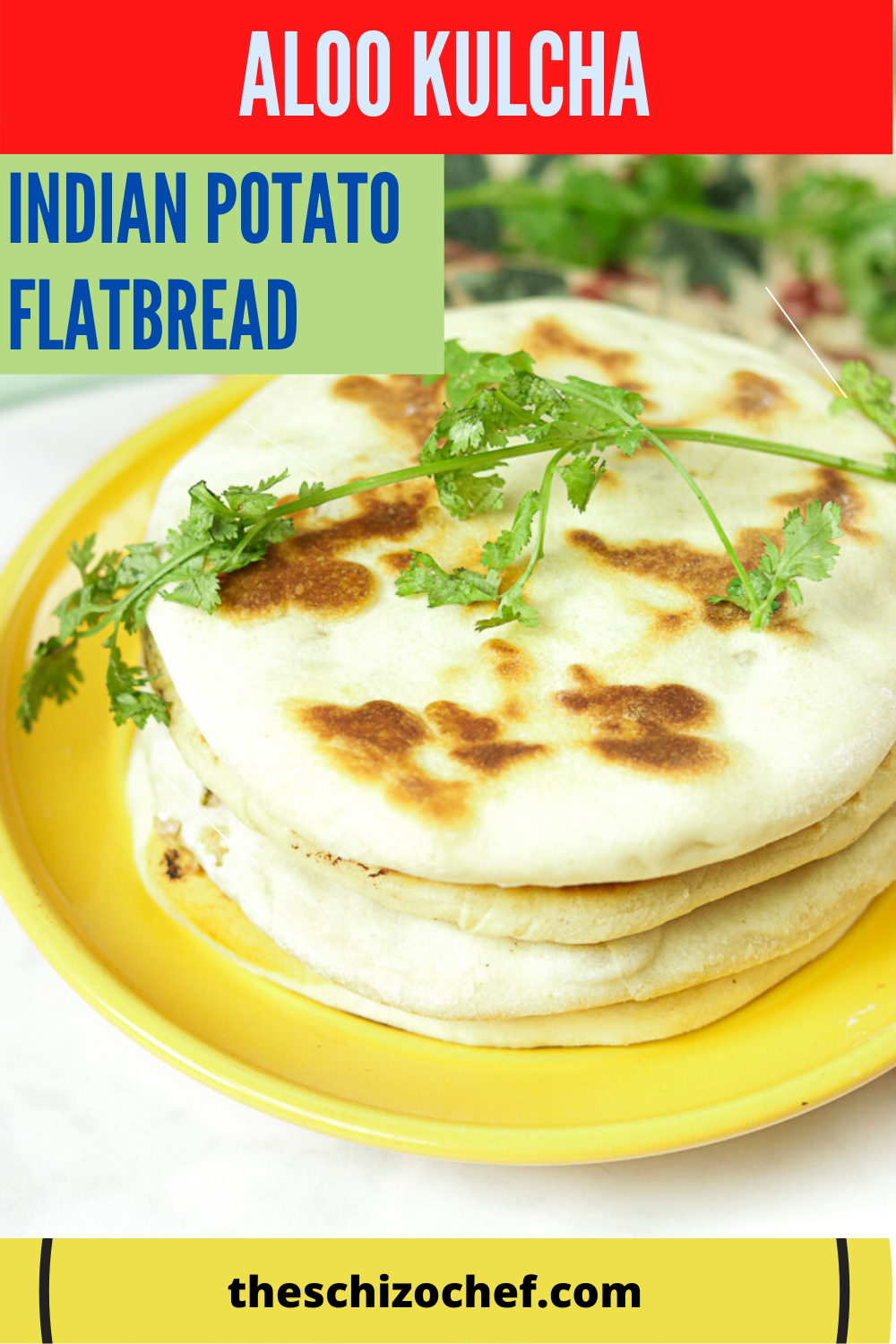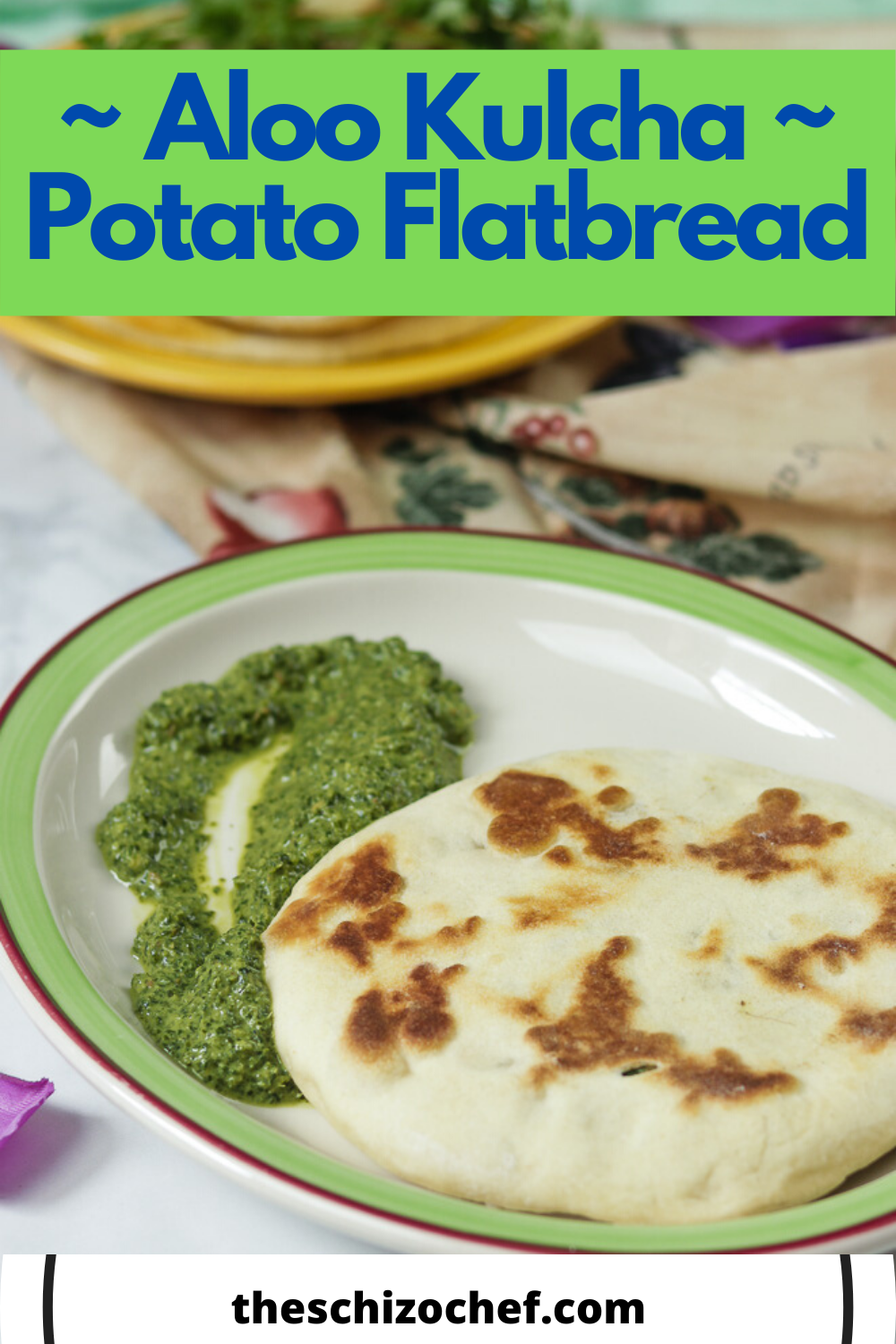 Don't forget to visit the RECIPE INDEX with over 1000 recipes from around the world including lots of Vegetarian Recipes and Gluten Free Recipes!
This post may include affiliate links.