Last Updated on April 26, 2020 by Chef Mireille
Watermelon Cupcakes
Watermelon Cupcakes with Fresh Watermelon Glaze are the perfect hued cupcakes to decorate for Independence Day Cupcakes. With simple decorating techniques, these are easy to make, delicious & pretty!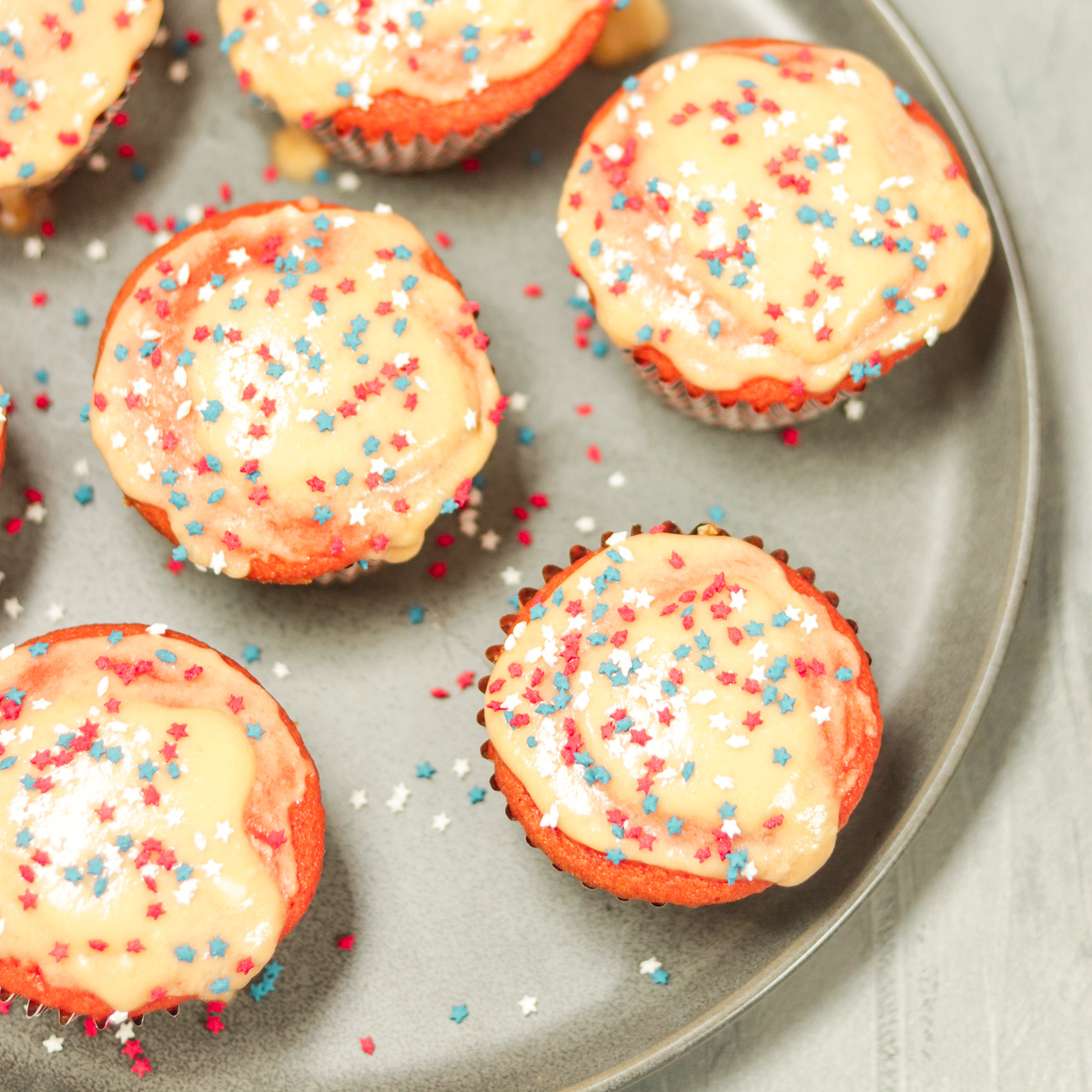 Are you good at cake decorating? I'm not. I can bake lots of delicious treats, but making them pretty is not my forte. Decorating is definitely an art form.
Having a few quick and easy decorating techniques under your belt will make it possible to make pretty cakes, cookies and cupcakes without pulling your hair out.
Using red, white and blue mini star sprinkles, these decorated Watermelon Cupcakes with their pretty reddish hue is perfect for your Independence Day Cupcakes.
Frosting
Most of my cupcakes and cakes like this Italian Orange Cake are not frosted.
Are you like me? When someone gives you a frosted cake, especially those heavily frosted ones you get at weddings and formal occasions. the first thing you do is scrape off the frosting. Sometimes there seems like there is more frosting than cake!
The frostings are also usually so sweet. The super sweet frosting on top of the sweet cake just pushed you into sugar overload.
I wanted the fresh watermelon flavor to shine in these cupcakes. Instead of making a thick frosting, this thin glaze is just enough to make the cupcakes look pretty. However, it is not overly sweet and the fresh watermelon flavor is allowed to shine.
Although these cupcakes are decorated, they are just as delicious plain. Enjoy them with a cuppa at Tea Time!
Looking for other recipes with East Decorating Techniques?
Easy Decorating Techniques Recipes
Make it Vegan
This cake is easily adapted to vegan because it is made without butter or milk. Simply replace the eggs with flax eggs or commercial egg replacers.
What is a flax egg?
A flax egg is made by dissolving 1 tablespoon of ground flax seed in 2 1/2 tablespoons water. Wait a few minutes for it to thicken and then replace each flax egg for each egg in the recipe.
Watermelon Puree
It is very important to strain the watermelon puree to get a nice smooth liquid from the watermelon. If not, the cake and especially the frosting, will have a very grainy texture.
How to make Watermelon Cupcakes
COOKING TIP – put a little water in any empty muffin cavities not used to ensure even cooking.
Delicious – with or without the fresh watermelon glaze!
Watermelon Cupcakes with Fresh Watermelon Glaze
Watermelon Cupcakes with Fresh Watermelon Glaze are the perfect hued cupcakes to decorate for Independence Day Cupcakes. With simple decorating techniques, these are easy to make, delicious & pretty!
Ingredients
Watermelon Glaze Ingredients:
½

cup

heavy cream

1/3

cup

shortening

½

cup

watermelon puree

2 1/3

cups

powdered sugar
Instructions
Heat oven to 350 F. Place muffin liners in the cavities of a muffin tin or spray silicone muffin cups with non stick spray.

Sift flour, baking powder and salt.

In a large bowl, beat shortening and sugar well. It will be crumbly.

Add eggs, one at a time, beating well after each addition. Add rosewater and mix well.

Add half the watermelon puree and half the flour. Mix well.

Add the remaining watermelon puree and flour and mix well. The color will be peachy pink, so add a little food coloring to get closer to watermelon color.

Transfer batter evenly among 20 muffin cups., filling each muffin cup about 3/4 full.

Bake for 30 minutes, until a tester inserted comes out clean.

To make the glaze, whip cream until whipped cream consistency with stiff peaks.

Add heavy cream, shortening and watermelon puree.

Mix well until thoroughly combined.

Add powdered sugar and whip for 5 minutes on high speed, using an electric mixer.

Transfer to refrigerator for at least 2 hours to thicken a bit.

Spread a little glaze over the cupcakes.

Add the sprinkles on top.
Notes
To make watermelon puree, puree some watermelon in a blender and then pass through a strainer to get a clear watermelon puree without pulp.
Nutrition
Calories:
280
kcal
|
Carbohydrates:
43
g
|
Protein:
3
g
|
Fat:
12
g
|
Saturated Fat:
4
g
|
Cholesterol:
33
mg
|
Sodium:
72
mg
|
Potassium:
118
mg
|
Fiber:
1
g
|
Sugar:
30
g
|
Vitamin A:
210
IU
|
Vitamin C:
1
mg
|
Calcium:
41
mg
|
Iron:
1
mg
Did you try this recipe? Leave a comment below.
Please follow me on Instagram @chefmireille or tag me #chefmireille with your pics! I'd love to share them!
DO YOU YUM? SAVE IT BELOW!
Yum
Did you forget to subscribe?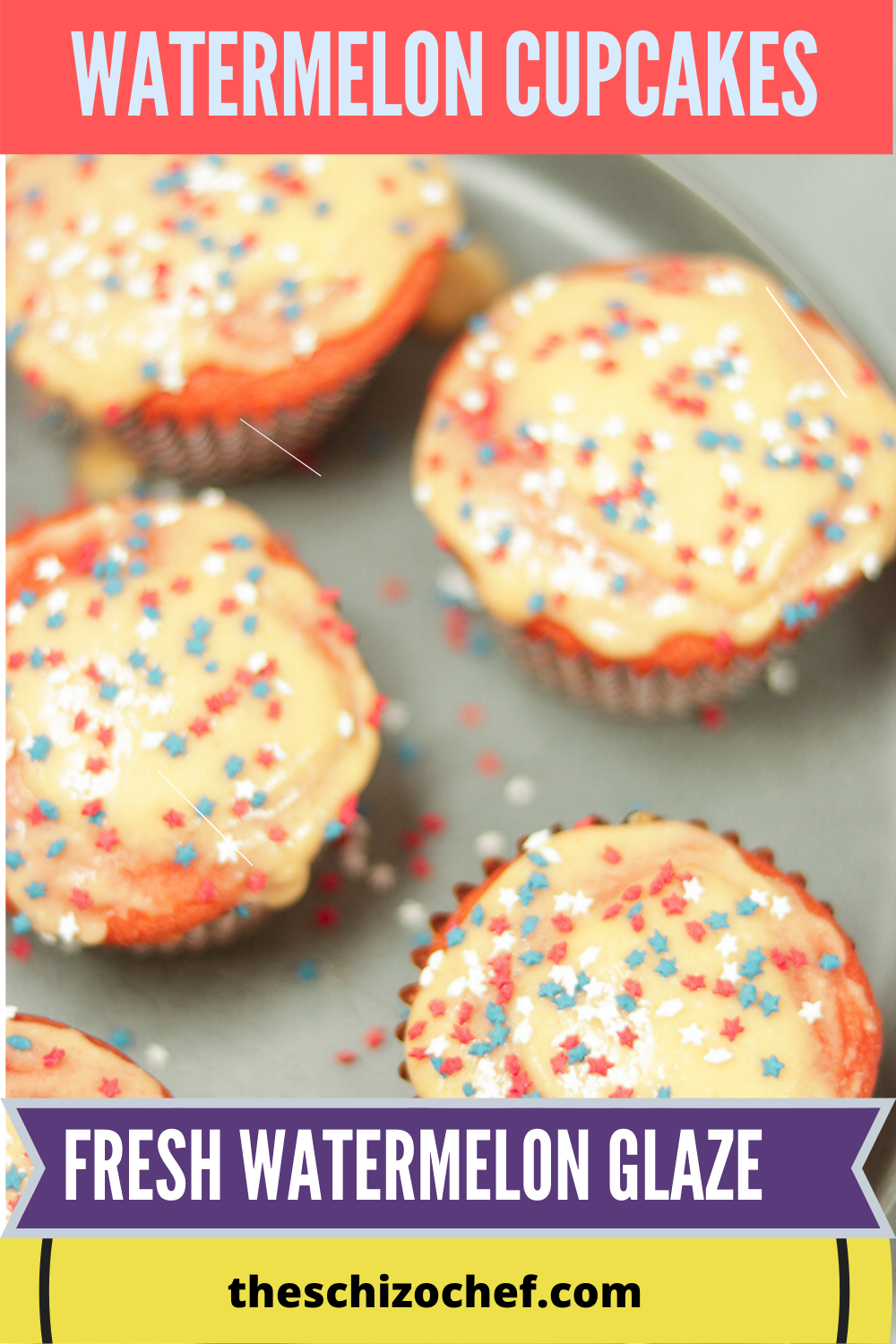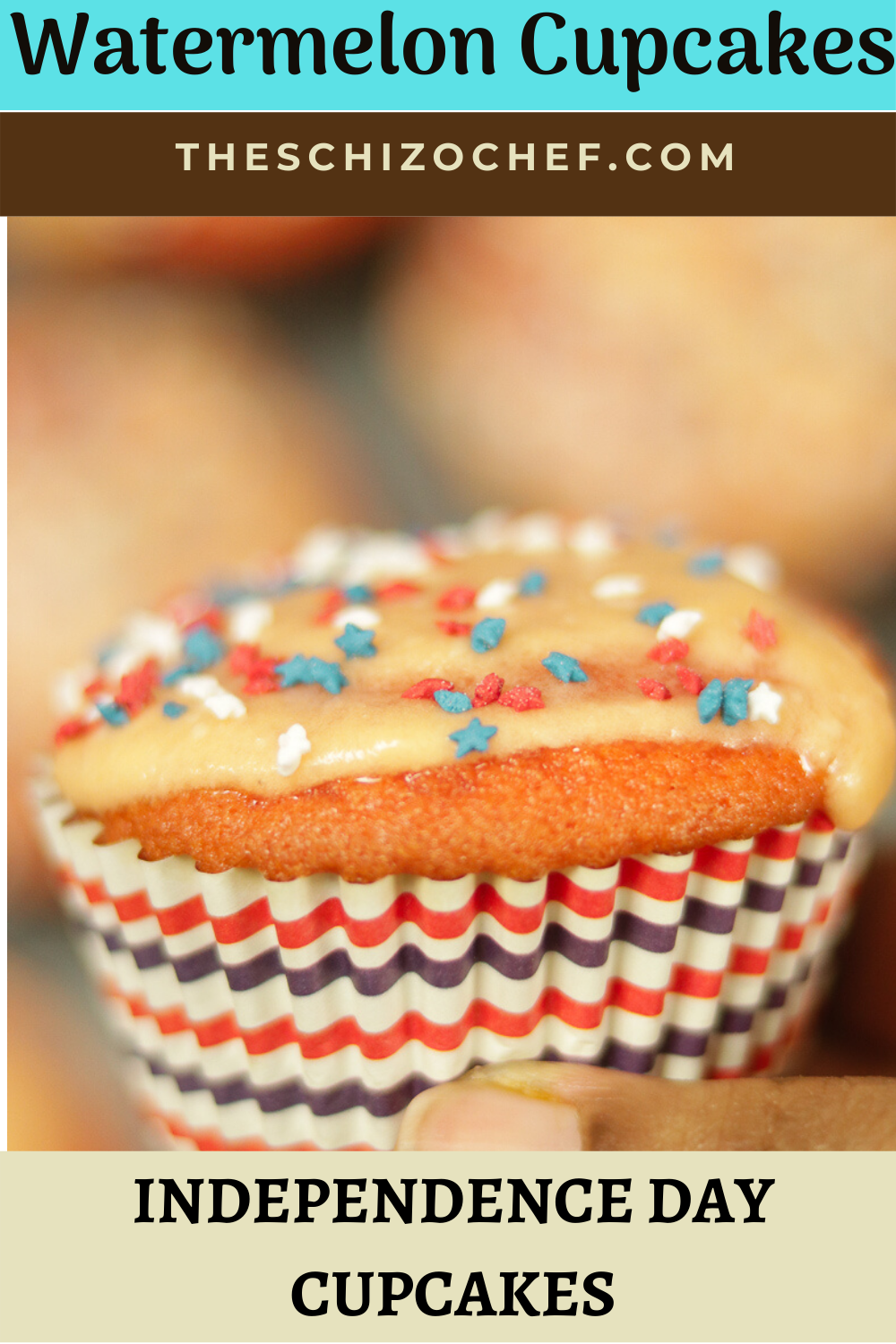 Don't forget to visit the RECIPE INDEX with over 1000 recipes from around the world including lots of Vegetarian Recipes and Gluten Free Recipes!
This post may include affiliate links.