Last Updated on November 13, 2019 by Chef Mireille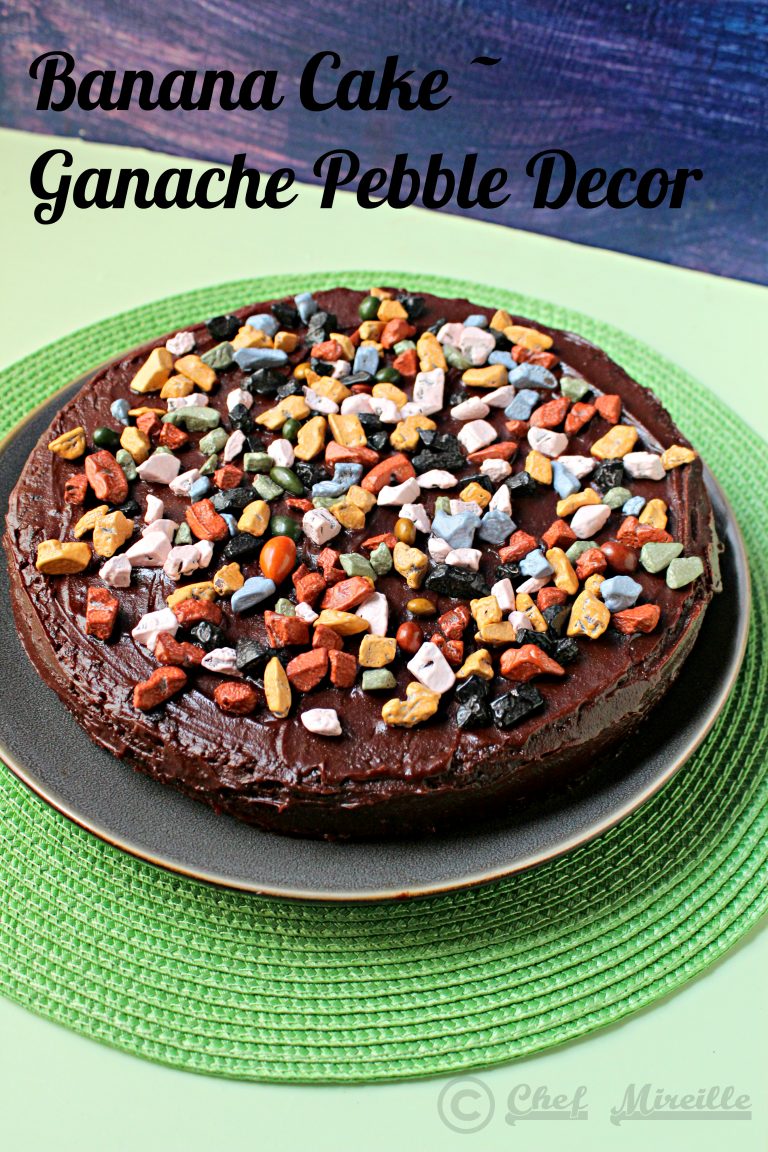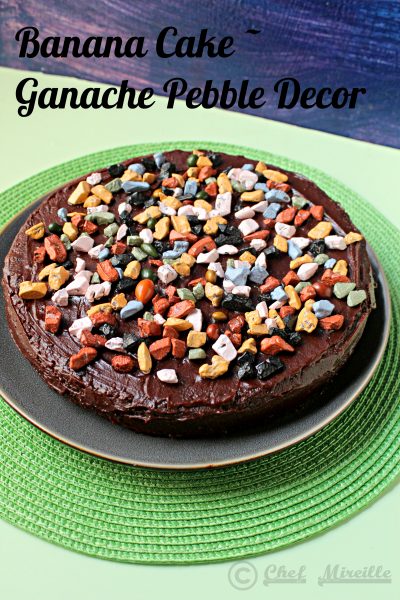 Today starts Bake-a-Thon. This is my second time participating in this annual event where three days a week other bloggers and myself post a recipe that was baked in the oven, either sweet or savory. So come back here every Monday, Wednesay and Friday for the entire month of December to check out what baked delicacy I've cooked up. Today I'm starting with a Banana Cake with Ganache Pebble Decor.
I have basic aptitude when it comes to baking. I've learned how to work with yeast and sourdough starter's to bake all kinds of yeast breads from rich holiday breads like Houska to basic sandwich breads like this Walnut Wheat Bread or this Everything Bread. I can whip up cakes, muffins, cookies, scones and pies.
Decorating, on the other hand is a totally different ballgame and is truly an art form. I am no decorator. You want me to make a chocolate cake – sure, no problem. I've even managed to adapt cake recipes to Vegetarian diets, making them eggless. However, ask me to decorate a cake for you and the butterflies in the stomach start and I think oh Lord, what can I possibly due to make this cake look presentable? One new ingredient on the market has made this a surprisingly easy task. Chocolate rock candy used to only be available at specialty candy shops, but now I notice them everywhere. All of my local supermarkets now have this available in the baking aisle. Not only are they an easy decorating tool, but they also taste great – just like M&M's.
A whole grain, super soft and moist banana cake covered with M&M tasting candies. This cake makes everyone happy. You wont feel too guilty by providing your family with a whole grain fruit based cake and the kids will love it with all the chocolate and candy – the best of both worlds!
Banana Cake with Ganache Pebble Decor

This is part of the Bake-a-thon 2016
[inlinkz_linkup id=680533 mode=1]
Banana Cake with Ganache Pebble Decor
a #wholegrain Banana Cake simple decorated with ganache and chocolate pebbles
Ingredients
2 1/4

cups

whole wheat pastry flour

1

teaspoons

½baking powder

1/2

teaspoon

baking soda

1/2

teaspoon

salt

1/2

teaspoon

freshly grated nutmeg

1

cup

mashed bananas

(about 3 very ripe bananas)

3/4

cup

plain yogurt

1/2

cup

butter

softened

1 1/2

cups

sugar

2

eggs

2

teaspoons

vanilla extract

Decorating Ingredients:

1

recipe

ganache

See notes for recipe link

1/2

cup

chocolate pebble candy

Use more or less as desired
Instructions
Preheat oven to 350 F. Spray a 10" springform cake pan or a 13" sheet pan with non stick spray.

In a large bowl, combine flour, baking powder, baking soda, salt and nutmeg.

In a small bowl, combine the bananas and yogurt and mix to combine.

In the bowl of an electric mixer, combine the butter and sugar and mix until light and creamy.

Add eggs, one at a time, beating well after each addition. Add vanilla extract and mix well.

Add banana-yogurt mixture and mix well.

Add flour in two batches, mixing well after each addition.

Transfer to prepared cake pan. Bake for 1 hour, until a knife inserted comes out clean.

To decorate, make chocolate ganache recipe and frost cake. See notes for ganache recipe link.

Sprinkle chocolate pebble candy on top. Decorating done!!!
Notes
Did you try this recipe? Leave a comment below.
Please follow me on Instagram @chefmireille or tag me #chefmireille with your pics! I'd love to share them!