Last Updated on January 12, 2020 by Chef Mireille
This Italian Orange Cake is bursting with orange flavor by feeding the cake after it is baked.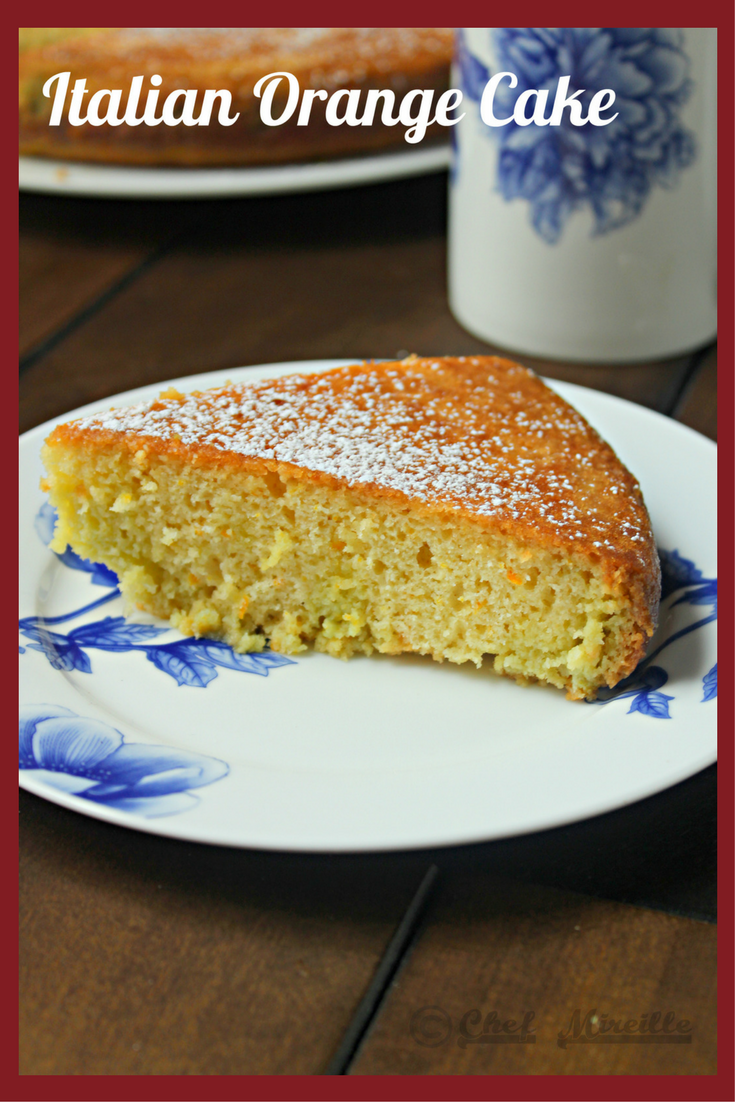 You may be wondering about how to feed a cake…
How to Feed a Cake
The idea of feeding the cake after it is baked is very familiar to me. With my Caribbean heritage, there is a cake that I make every Christmas. It is our version of fruit cake. After the cake is based, for 2 days the cake is periodically fed with a combination of cherry brandy and rum. It is a drunk cake. While this Italian version is a more sober cake, the feeding results in a soft and moist cake.
Feeding a cake involves pricking the cake with a toothpick after it is baked and then pouring a liquid, whether it be liquor or juice into the pierced cake. The cake will drink and absorb the liquid, resulting in a super soft and moist cake.
Italian Orange Cake Origins
This Italian Orange Cake comes from the central region of Italy in an area of 20 districts known as The Marches. The original recipes uses Mistra, an anise flavored liqueur local to the area. Without Mistra, I used the best substitute available – Ouzo, the Greek anise flavored liqueur.
In the Italian version, it is traditionally made with juicy blood oranges, which yields a tie die red and yellow cake. Blood oranges here are not as easily to come by and are pretty dry compared to what's available in Italy, according to my research. In my version, I added a little Blue Curacao, the orange flavored liqueur, to yield a yellow cake with a slight green tinge.
This recipe I adapted from my 1998 version of The Best of the Best, with the original recipe coming from Marcella Hazan's Marcella Cucina.
This isn't one of those orange cakes where unless someone tells you, you'd be hard pressed to guess the orange flavor. In this version, the orange flavor slaps you in the face!
If you love Italian treats as much as I, why not try one of these other Italian treats to celebrate Mother's Day!
Italian Desserts
HOW TO MAKE ITALIAN ORANGE CAKE
This cake is so soft and moist – perfect to celebrate any occasion!
Italian Orange Cake
Italian Orange Cake is bursting with orange flavor by feeding the cake after it is baked.
Ingredients
Cake Ingredients:

2

cups

+ 2 tablespoons all purpose flour

3

eggs

2

tablespoons

grated orange zest

about 3 oranges

4

tablespoons

butter

softened

1

cups

+ 3 tablespoons sugar

2

tablespoons

ouzo

1

tablespoon

milk

2 ½

teaspoons

baking powder

powdered sugar

garnish

Feeding Ingredients:

2

cups

freshly squeezed orange juice

about 7-8 oranges

1

tablespoon

Blue Curacao liqueur

3

tablespoons

sugar
Instructions
Preheat the oven to 350 F. Grease a springform pan well with butter or non stick spray. Cut a piece of parchment to the size of the bottom of the pan and place inside the pan.

In the bowl of an electric mixer, combine flour, orange zest, butter, sugar and ouzo until thoroughly combined.

Add milk and and baking powder. Mix until incorporated.

Transfer batter to prepared cake pan.

Bake for 45 minutes, until golden brown and cake tester or knife inserted comes out clean.

In a small bowl, whisk together the orange juice, Grand Marnier and sugar.

Using chopsticks or skewers, poke holes in the cake. Pour orange juice over the cake. Leave for 1 hour for the cake to absorb the juice.

Decorate simply with a little sprinkle of powdered sugar.
Notes
Cake is very soft and moist, so leftovers should be kept refrigerated.
Did you try this recipe? Leave a comment below.
Please follow me on Instagram @chefmireille or tag me #chefmireille with your pics! I'd love to share them!
Do you know anyone else who likes learning about international food, culture, history and travel? Bring them over here to join the party! Don't forget to use those share buttons!
Start Here to find out how the Schizo Chef can help you with your cooking, travel and other needs!
If you like this recipe, PLEASE LEAVE A COMMENT & SUBSCRIBE!
Check out the Blogging Marathon page for the other Blogging Marathoners doing this BM#74
…linking to Cookbook Cooking Challenge