Last Updated on February 15, 2021 by Chef Mireille
Galaktoboureko is a traditional Arabic and Greek Custard Pie with layers of phyllo, semolina custard and syrup. This delicious dessert from the Ottoman Empire has versions throughout the Middle East where it is sometimes called Kahi.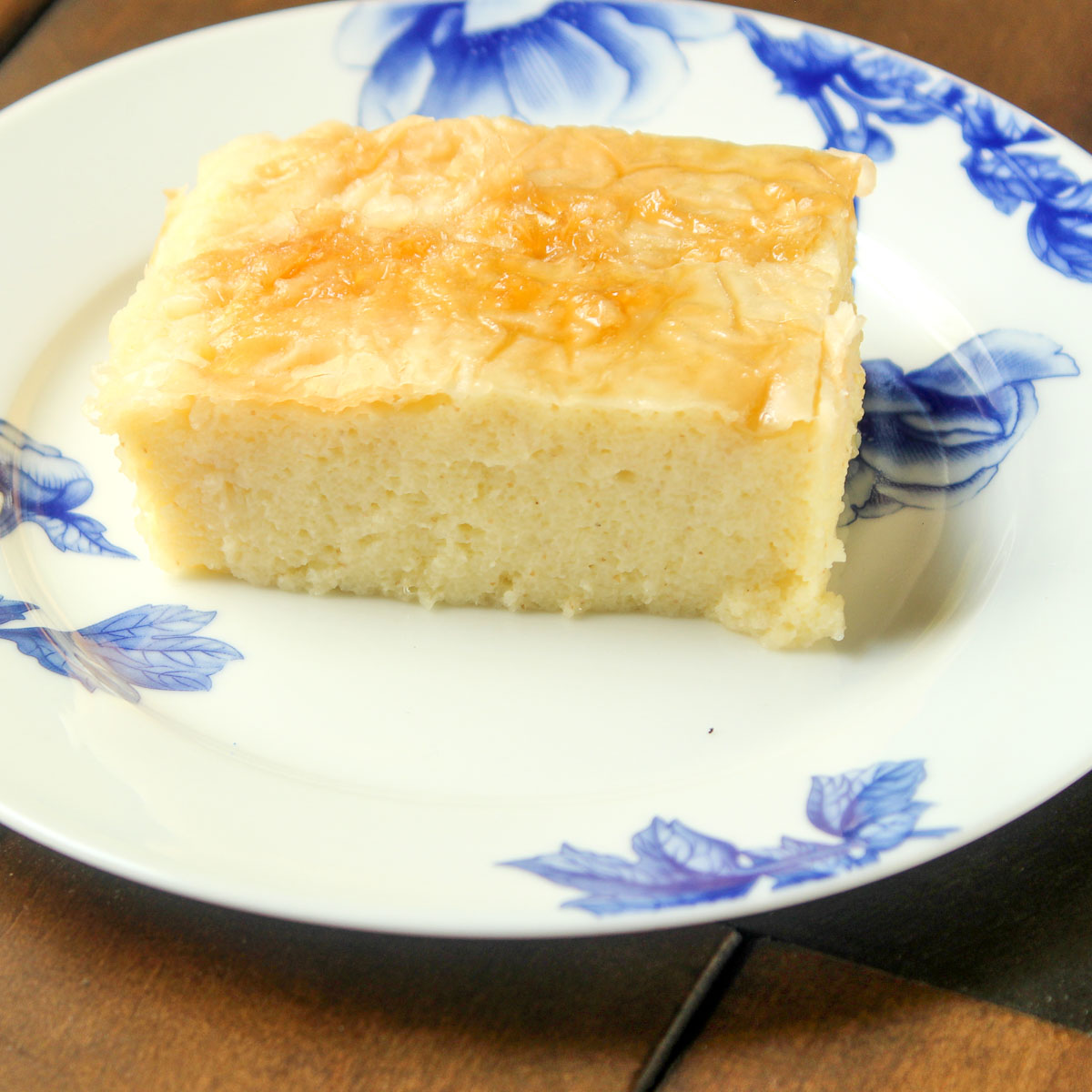 This post may include affiliate links.
So how did I find out about Galaktoboureko – Greek Custard Pie? It's all thanks to growing up in the borough of Queens in NYC.
How I fell in love with Greek Custard Pie
Although the neighborhood of Astoria is today a diverse neighborhood with the largest immigrant groups being Pakistanis, Nepalis, Uzbeks, Tajiks, Bosnians and Serbs, when I was growing up in the late 80's and early 90's, it was all Greek.
In my early college years, I had a few Greek friends and where did they all live – Astoria! It was a great neighborhood to hang out in the summers in between our summer jobs. Astoria Park and lots of Greek cafe's made it the perfect place to pass away hours at talking about nothing and everything – what college kids do best! I learned to appreciate the flavors of Greek cuisine from both restaurants and from my friend's parents. For instance, picnic baskets of spanakopita, pita, hummus, roasted potatoes and grilled lamb often came along with us to the park.
This dessert I have been making for as many years and I can't remember where I first got the recipe, but I can guarantee it a hit for kids and adults alike. This was one of the recipes I taught at the culinary summer camp I worked at a few summers ago and even the picky kids who were hesitant to try it, ended up loving it. However, there were kids who didn't like it simply because they outright refused to try it. But what are you going to do? Force feeding teenagers is not part of my job description!
What are the origins of Galaktoboureko?
Although I associate this Greek Custard Pie with Greek cuisine due to my Greek friend's connection, it is actually popular throughout the Middle East especially in Turkey and Syria. However, there are versions of it throughout other Middle Eastern countries where it is known as Kahi.
Galaktoboureko dates back to the Ottoman Empire. The Ottoman Turks occupied Green from about 1450-1821, therefore you will find many similarities in Greek and Turkish cuisine. Greek, like Turkey, has one foot in Mediterranean Europe and the other foot in the Middle East with their diverse cuisines.
Some dishes seem very similar to Italian or Spanish dishes, while other dishes more closely resemble the cuisine of Turkey or Lebanon. It's a great fusion cuisine that should satisfy any palate.

This is one of my all time favorite Greek desserts and I am sure you are going to love it as much as I do. In fact, you'll be inspired to try some more traditional Greek recipes.
MORE GREEK RECIPES TO TRY
What is Galaktoboureko – Greek Custard Pie made of?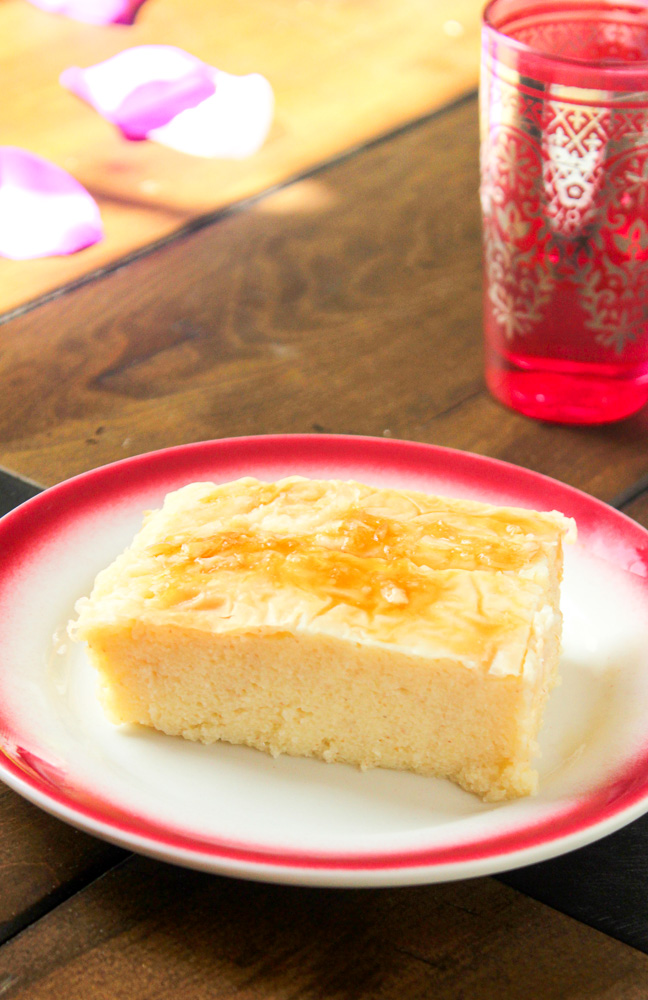 It is basically a semolina based pudding filled in between layers of phyllo. After it is backed, it is topped with a flavored simple syrup and then chilled.
Ingredients
milk
semolina – cream of wheat
eggs
phyllo sheets
butter
Have you tried instacart yet? It's how I get all of my fresh grocery items delivered within 2 hours!
How to Make Galaktoboureko – Greek Custard Pie
First beat eggs until light and fluffy – a good 10 minutes!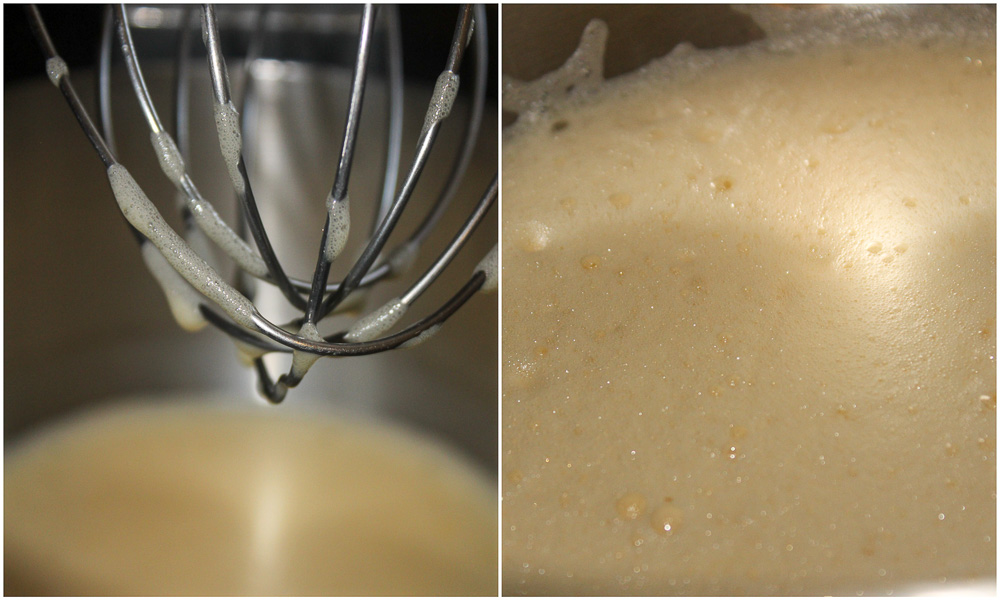 Then we make the semolina pudding.

Now we add layers of phyllo with melted butter.
After that, add the semolina pudding on top.
Top with more layers of phyllo and bake!
Once the Greek custard pie is baked, top it off with the simple syrup.
Chill overnight. Certainly it is hard to wait, but I promise it's so worth it!

This chilled dessert is perfect for the summertime weather! It is also often enjoyed during the Easter holidays. A fabulous Greek Easter dessert!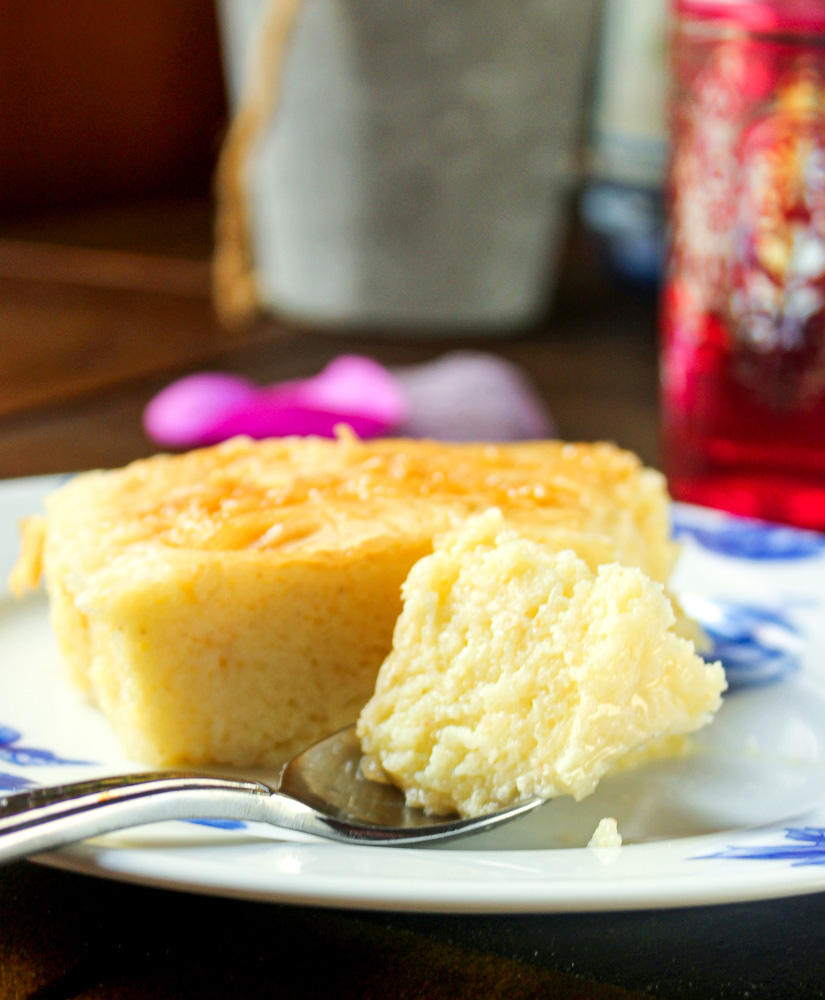 Frequently Asked Questions
Galaktoboureko – Greek Custard Pie
Greek Custard Pie is a traditional Greek/Arabic dessert with layers of phyllo & custard, Also called Kahi in the Middle East. This chilled dessert is perfect for summertime!
Ingredients
Syrup Ingredients
1 1/2

cups

sugar

1

cup

water

zest of 1 orange

2

tablespoons

brandy

or orange juice
Instructions
Preheat oven to 350 F.

In a bowl, combine semolina, cornstarch, 1 cup of the sugar and salt.

In the bowl of an electric mixer, beat eggs until light and fluffy, about 10 minutes. Add sugar and vanilla. Beat another 2 minutes, until thoroughly incorporated.

While the eggs are beating, heat milk but do not let it boil. As soon as the milk starts to steam, add semolina combination. Cook for 3-5 minutes, stirring constantly, until thickened.

Using a rubber spatula, slowly fold in the eggs a little at a time.

In a 9×13 casserole dish, layer 6-7 slices of phyllo, brushing melted butter in between each layer.

Pour the semolina pudding inside.

On top, again layer 6-7 sheets of phyllos, brushing melted butter in between each layer. Make sure to brush melted butter on the top layer.

With kitchen scissors, trim the edges of phyllo.

Bake for 30-40 minutes, until the top is golden brown.

Meanwhile, combine syrup ingredients in a saucepan and simmer on medium heat for about 10-15 minutes, until you have a thin syrup consistency.

Pour syrup on top of galaktoboureko after you remove it from the oven, making sure to pour the syrup over the edges and in the corners.

Chill in refrigerator for at least 2 hours, but preferably overnight.

Serve chilled.
Notes
What we call Cream of Wheat cereal in America is what most of the rest of the world calls semolina.
Any brand of cream of wheat can be used for the semolina.
Keep leftovers in a sealed container for up to 5 days in the refrigerator.
Greek Custard Pie can be frozen up to 1 month. Thaw overnight in the fridge and serve chilled.
Nutrition
Calories:
868
kcal
|
Carbohydrates:
145
g
|
Protein:
19
g
|
Fat:
22
g
|
Saturated Fat:
9
g
|
Trans Fat:
1
g
|
Cholesterol:
81
mg
|
Sodium:
1061
mg
|
Potassium:
288
mg
|
Fiber:
4
g
|
Sugar:
38
g
|
Vitamin A:
421
IU
|
Calcium:
125
mg
|
Iron:
7
mg
Did you try this recipe? Leave a comment below.
Please follow me on Instagram @chefmireille or tag me #chefmireille with your pics! I'd love to share them!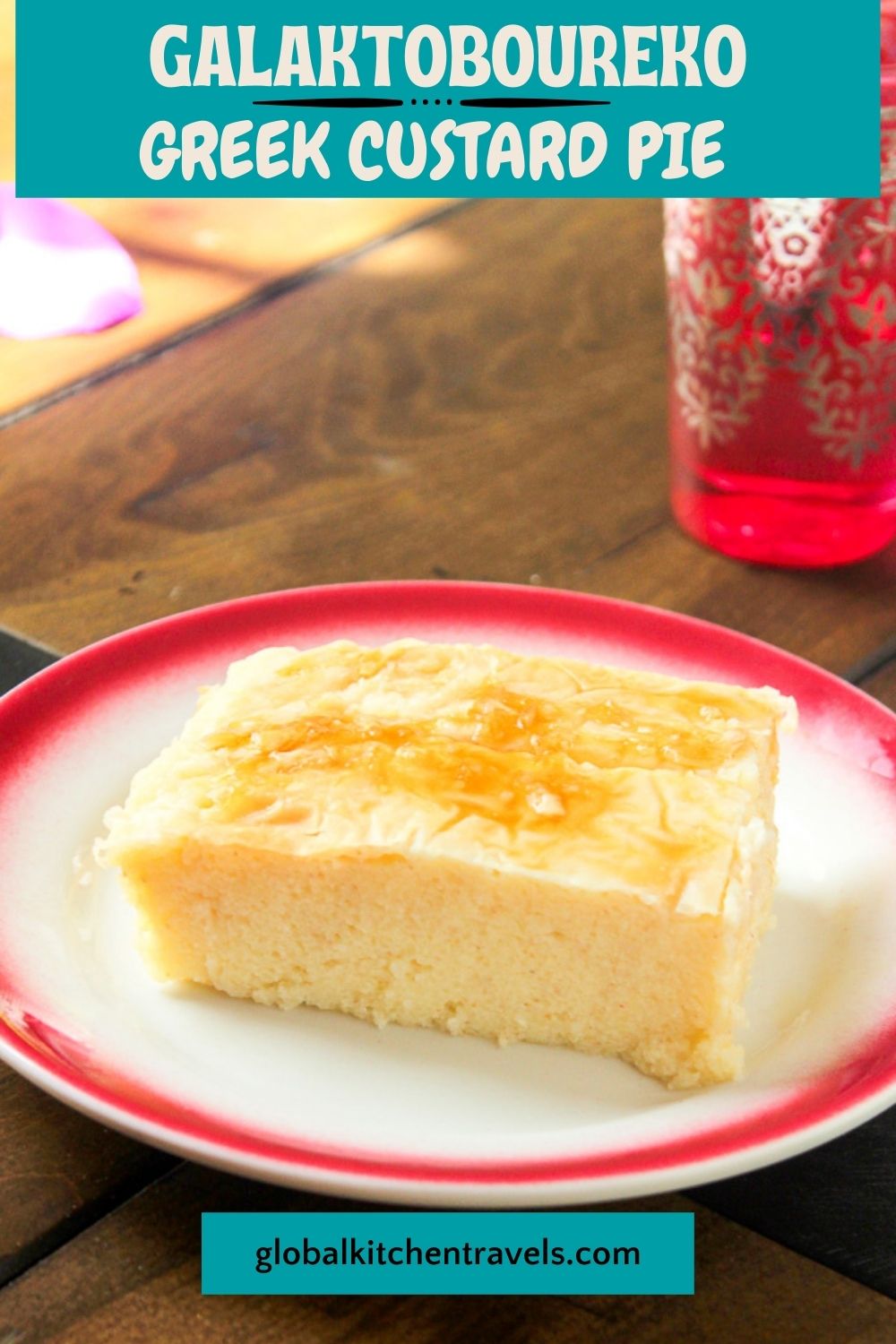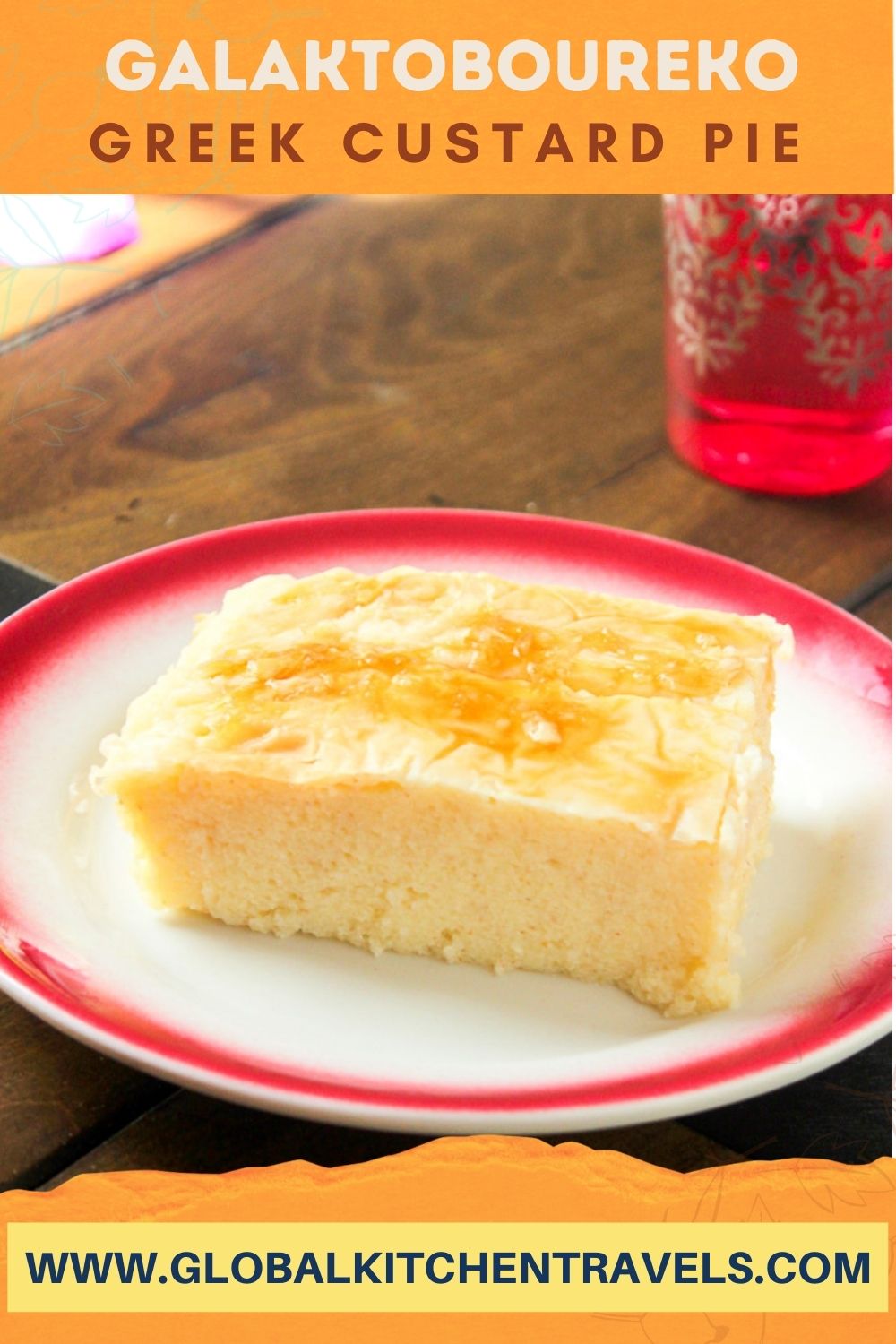 Don't forget to visit the RECIPE INDEX with over 1000 recipes from around the world including lots of Vegetarian Recipes and Gluten Free Recipes!