Galaktoboureko – Greek Semolina Cake is a traditional Greek dessert which consists of a sweet semolina pudding baked in between layers of phyllo pastry and topped with a simple syrup.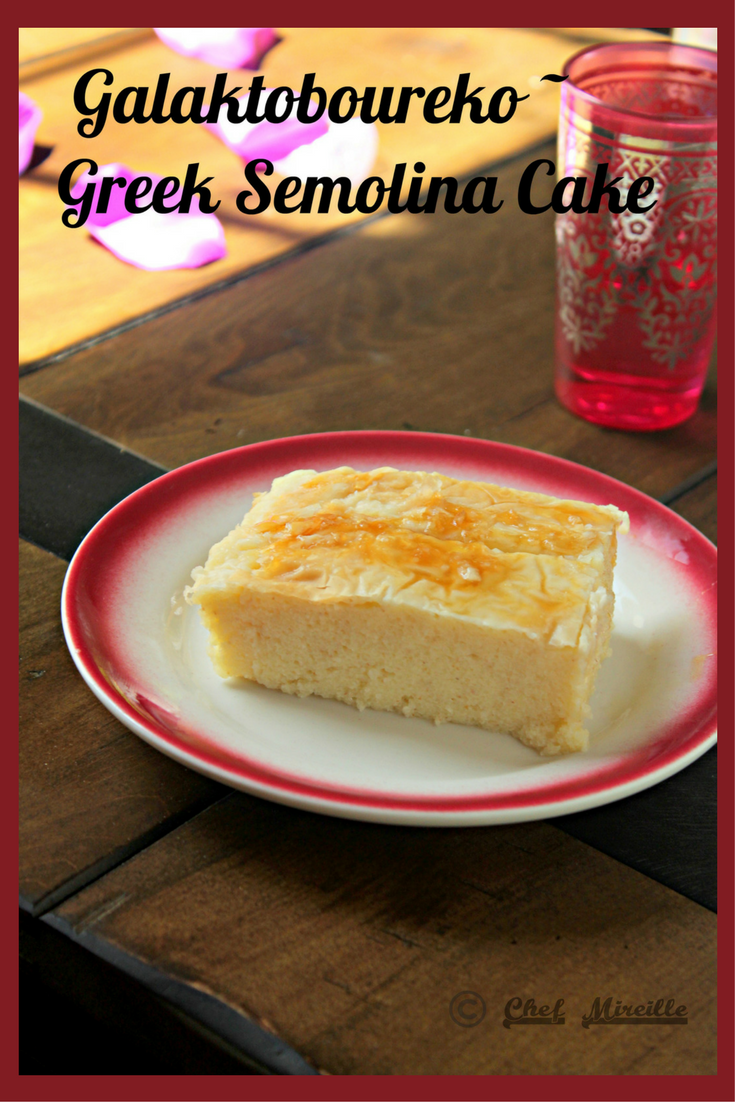 So how did I find out about Galaktoboureko – Greek Semolina Cake? It's all thanks to growing up in the borough of Queens in NYC.
Although the neighborhood of Astoria is today a diverse neighborhood with the largest immigrant groups being Pakistanis, Nepalis, Uzbeks, Tajiks, Bosnians and Serbs, when I was growing up in the late 80's and early 90's, it was all Greek. In my early college years, I had a few Greek friends and where did they all live – Astoria! It was a great neighborhood to hang out in the summers in between our summer jobs. Astoria Park and lots of Greek cafe's made it the perfect place to pass away hours at talking about nothing and everything – what college kids do best! I learned to appreciate the flavors of Greek cuisine from both restaurants and from my friend's parents. Picnic baskets of spanakopita, pita, hummus, roasted potatoes and grilled lamb often came along with us to the park.
This dessert I have been making for as many years and I can't remember where I first got the recipe, but I can guarantee it a hit for kids and adults alike. This was one of the recipes I taught at the culinary summer camp I worked at last summer and even the picky kids who were hesitant to try it, ended up loving it. The only kids who didn't like it were the ones who refused outright to try it. What are you going to do? Force feeding teenagers is not part of my job description!
Due to my personal connection to Greek cuisine, I was excited to present this BM theme this week, but before I get to today's recipe, why not check out some of the other Greek recipes I've already presented for you!
GREEK RECIPES

It has a diverse cuisine with one foot in Mediterranean Europe and one foot in the Middle East. Some dishes seem very similar to Italian or Spanish dishes, while other dishes more closely resemble the cuisine of Turkey or Lebanon. It's a great fusion cuisine that should satisfy any palate.

IN THE MAKING – HOW TO MAKE GALAKTOBOUREKO
This chilled dessert is perfect for the summertime weather!
Galaktoboureko – Greek Semolina Cake
Have it with a shot of Ouzo, like the Greek!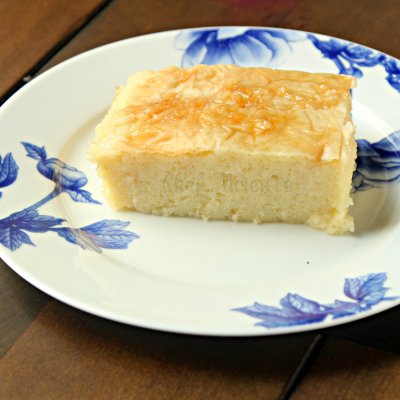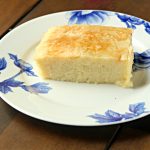 Print Recipe
Galaktoboureko – Greek Semolina Cake
This chilled dessert is perfect for summertime.
Ingredients
6

cups

milk

1

cup

semolina

3 1/2

tablespoons

cornstarch

1 1/2

cup

sugar

1/4

teaspoon

salt

6

eggs

1

teaspoon

vanilla extract

12-14

phyllo sheets

2/3

cup

melted butter

Syrup Ingredients:

1 1/2

cups

sugar

1

cup

water

zest of 1 orange

2

tablespoons

brandy

or orange juice
Instructions
Preheat oven to 350 F.

In a bowl, combine semolina, cornstarch, 1 cup of the sugar and salt.

In the bowl of an electric mixer, beat eggs until light and fluffy, about 10 minutes. Add sugar and vanilla. Beat another 2 minutes, until thoroughly incorporated.

While the eggs are beating, heat milk but do not let it boil. As soon as the milk starts to steam, add semolina combination. Cook for 3-5 minutes, stirring constantly, until thickened.

Using a rubber spatula, slowly fold in the eggs a little at a time.

In a 9x13 casserole dish, layer 6-7 slices of phyllo, brushing melted butter in between each layer.

Pour the semolina pudding inside.

On top, again layer 6-7 sheets of phyllos, brushing melted butter in between each layer. Make sure to brush melted butter on the top layer.

With kitchen scissors, trim the edges of phyllo.

Bake for 30-40 minutes, until the top is golden brown.

Meanwhile, combine syrup ingredients in a saucepan and simmer on medium heat for about 10-15 minutes, until you have a thin syrup consistency.

Pour syrup on top of galaktoboureko after you remove it from the oven, making sure to pour the syrup over the edges and in the corners.

Chill in refrigerator for at least 2 hours, but preferably overnight.

Serve chilled.
Do you know anyone else who likes learning about international food, culture, history and travel? Bring them over here to join the party! Don't forget to use those share buttons!
Start Here to find out how the Schizo Chef can help you with your cooking, travel and other needs!
If you like this recipe, PLEASE SUBSCRIBE & LEAVE A COMMENT!
Check out the Blogging Marathon page for the other Blogging Marathoners doing this BM#74
Sign up for our updates!
Subscribe to get our latest content by email and get your FREE Pantry Cheat Sheet - Learn the basics to cook any International cuisine!