Last Updated on January 1, 2021 by
These Greek Herbed Roasted Potatoes are infused with garlic, fresh herbs, and commonly used Greek spices. This crispy potato recipe is an easy and delicious side dish to compliment any meal.
I love going to the farmer's market. There are regional and seasonal varieties of basic vegetables you won't get by going to the regular supermarkets.
Dozens of varieties of tomatoes, potatoes, and apples are always to be experimented with. So when I see these beautiful rosy-colored Amarosa fingerling potatoes, I had to experiment with them.
Today I decided to make them into the best crispy fingerling potatoes!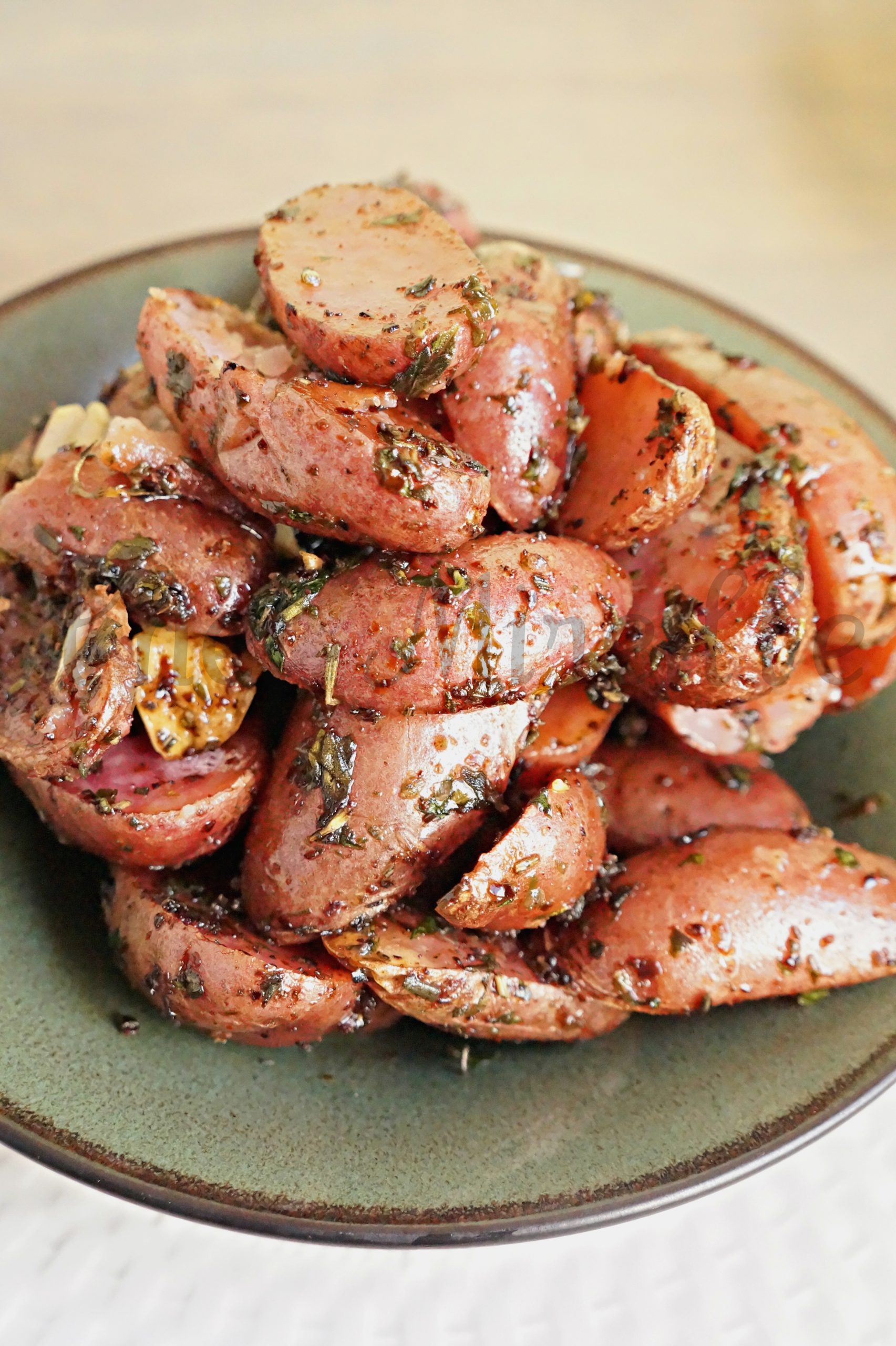 This post may include affiliate links.
What Kind of Potatoes Are Fingerling Potatoes?
A fingerling potato is a finger-shaped variety of potatoes. It's small and stubby, and to some, it looks cute. Fingerlings can belong to heritage potato cultivars.
Fingerlings have this shape because that's just how they grow—small and narrow. When you harvest them, they're already fully mature despite their small size.
What Fingerling Potatoes Should I Use?
Obviously, it depends on what's available at your local market as you might not be able to find these Amarosa potatoes that I've found.
You can still create this delicious herbed roasted potato recipe by using any variety of fingerling potatoes at your disposal. For that matter, any potatoes can be substituted in this recipe.
I like to use potatoes that have a sweet buttery taste like Yukon Gold for Roasted Potatoes.
These Amarosa fingerling potatoes that I picked up at Whole Foods are absolutely pretty potatoes with a pink interior. They were a great vehicle for the spices.
What Herbs Do Greek People Use?
Greek cuisine has many popular herbs and spices, including the following:
Parsley — it has a peppery taste with a little bit of earthiness in it; it's a favorite in this Greek herb roasted potatoes recipe as it's rich in vitamins K and C
Mint — this herb tastes sweet and has a cooling effect; it's also anti-inflammatory in nature
Oregano — features a balance of sweet and spicy, and bold earthy undertones
Allspice — it has a peppery bite and tastes like a combination of cinnamon, nutmeg, and cloves
Dill — this herb tastes fresh and citrusy
Cinnamon — it has a characteristic woody and sweet flavor, with a slight citrusy twist
Basil — this herb strikes the balance between sweet and savory
Bay leaf — it's used more for its fragrance rather than its taste, which leans on the sharp and bitter side
Of course, you won't find all of the above in a single dish. Like any other cooking style, Greek cookery uses a combination of herbs and spices that complement each other well.
In any combination, the resulting dish is usually earthy and very aromatic. They make simple staples such as potatoes very special.
Are Roasted Potatoes Healthier Than Fries?
In general, yes. Fries absorb a lot of oil and fat during cooking, so they have a higher fat content which in most cases isn't ideal. If you want to maintain your weight or slow down weight gain, you may want to opt for roasted potatoes instead.
That said, our Greek herbed roasted potatoes sound like a perfectly healthy meal—not just for those who choose a vegan diet, but even for those who occasionally want to try meat-free meals.
Greek Roasted Potatoes Recipe Ingredients
Amarosa fingerling potatoes
olive oil
garlic
rosemary
oregano
parsley
Aleppo pepper
sumac
Salt
How to Cook Greek Herbed Roasted Potatoes
Toss potatoes with Greek herbs.
Bake in the oven.
Bake for 1 hour, until potatoes are fork-tender.
What Kinds of Spices Are Sumac and Aleppo Pepper?
These herbaceous roasted potatoes use a few spices popular in Greek and Middle Eastern cuisine you may be unfamiliar with.
Sumac is made from the berries of a plant and has a tart lemon-like flavor. It is often used in marinades as well as a finishing spice on many dishes. Often you may be served hummus, or vegetables served with this as a garnish in Greek or Middle Eastern restaurants.
Meanwhile, Aleppo Pepper is a mild chile powder, with a heat level of about 10,000 on the Scoville scale. It has cumin-like undertones and a bit of fruity flavor in it.
These are not only delicious but also pretty to look at 🙂. They look a lot like sausages, too!
How to Enjoy These Crispy Fingerling Potatoes
These Greek Herb Roasted Potatoes make a delicious side dish for any meal. They are also great for breakfast with herb roasted halloumi and scrambled eggs (if you're lacto ovo vegetarian or a flexitarian).
Other veggie dishes you can pair with these roasted potatoes are:
Calabaza pumpkin dishes — These can complement the saltiness and crispiness of your crispy fingerling potatoes with their characteristic sweetness and delicate texture.
Charred cauliflower — The nutty and sweet taste of cauliflower can also jive with the starchy and savory goodness of your roasted fingerlings.
Eggplant dishes — Cooked eggplant is soft and creamy, so it also gives that contrast to the texture and flavor of your crispy fingerlings.
How to Store Greek Herbed Roasted Potatoes
Allow your roasted potatoes to cool down completely.
Place them in a resealable airtight bag or container.
You can divide a huge batch of roasted potatoes into smaller serving portions.
Keep them in the fridge or the freezer.
How Long Can I Keep Roasted Potatoes in the Fridge?
With proper storage, your herbed roasted potatoes can last for about 3 to 5 days in the fridge.
Roasted potatoes also freeze well. If you want to make a huge batch and make it more convenient for you to reheat some in the weeks to come, then do so.
The good news is that frozen roasted potatoes can last up to a year.
When ready, you can reheat or cook them from frozen for about 20 minutes in the microwave or in the oven.
Greek Herbed Roasted Potatoes
This Greek Herbed Roasted Potatoes dish is infused with garlic, fresh herbs, and spices. It's an easy and delicious side dish to compliment any meal.
Ingredients
1

lb.

Amarosa fingerling potatoes

halved

3

tablespoons

olive oil

1

clove

smashed garlic

2

teaspoons

finely chopped rosemary

1

tablespoon

finely chopped fresh oregano

1/4

cup

finely chopped parsley

2

teaspoons

aleppo pepper

1/2

teaspoon

sumac

3/4

teaspoon

salt
Instructions
Preheat oven to 375 F.

Toss potatoes with all of the ingredients. Place in a baking dish and put in the oven.

Bake for 1 hour, until potatoes are fork tender.
Nutrition
Calories:
189
kcal
|
Carbohydrates:
22
g
|
Protein:
3
g
|
Fat:
11
g
|
Saturated Fat:
2
g
|
Polyunsaturated Fat:
1
g
|
Monounsaturated Fat:
8
g
|
Sodium:
462
mg
|
Potassium:
537
mg
|
Fiber:
4
g
|
Sugar:
1
g
|
Vitamin A:
638
IU
|
Vitamin C:
28
mg
|
Calcium:
44
mg
|
Iron:
2
mg
Did you try this recipe? Leave a comment below.
Please follow me on Instagram @chefmireille or tag me #chefmireille with your pics! I'd love to share them!
Need more culinary inspiration? Check out the Recipe Index with over 1500 Recipes from Around the World with lots of Vegetarian 🥕🍆🍅and Gluten Free Recipes!