Last Updated on November 14, 2022 by Chef Mireille
This post may include affiliate links.
Who needs the perfect side dish for their holiday meal? These Greek Roasted Potatoes are infused with fresh garlic, fresh herbs, and commonly used Greek spices to make the most flavorful and herbaceous Greek Style Potatoes you will ever have. 
Have you ever heard of the Greek dish Patatas Riganatas or Patatas Lemonates. They are essentially both versions of the very popular Greek Lemon Potatoes, although technically one is translated as Oregano Potatoes and the other as Lemon Potatoes.
This version of Greek Roasted Potatoes is a slight departure from the traditional version using a few spices commonly used in Greek cuisine to bring out the lemon flavor in these potatoes. These are definitely a step up from your usual roasted potatoes.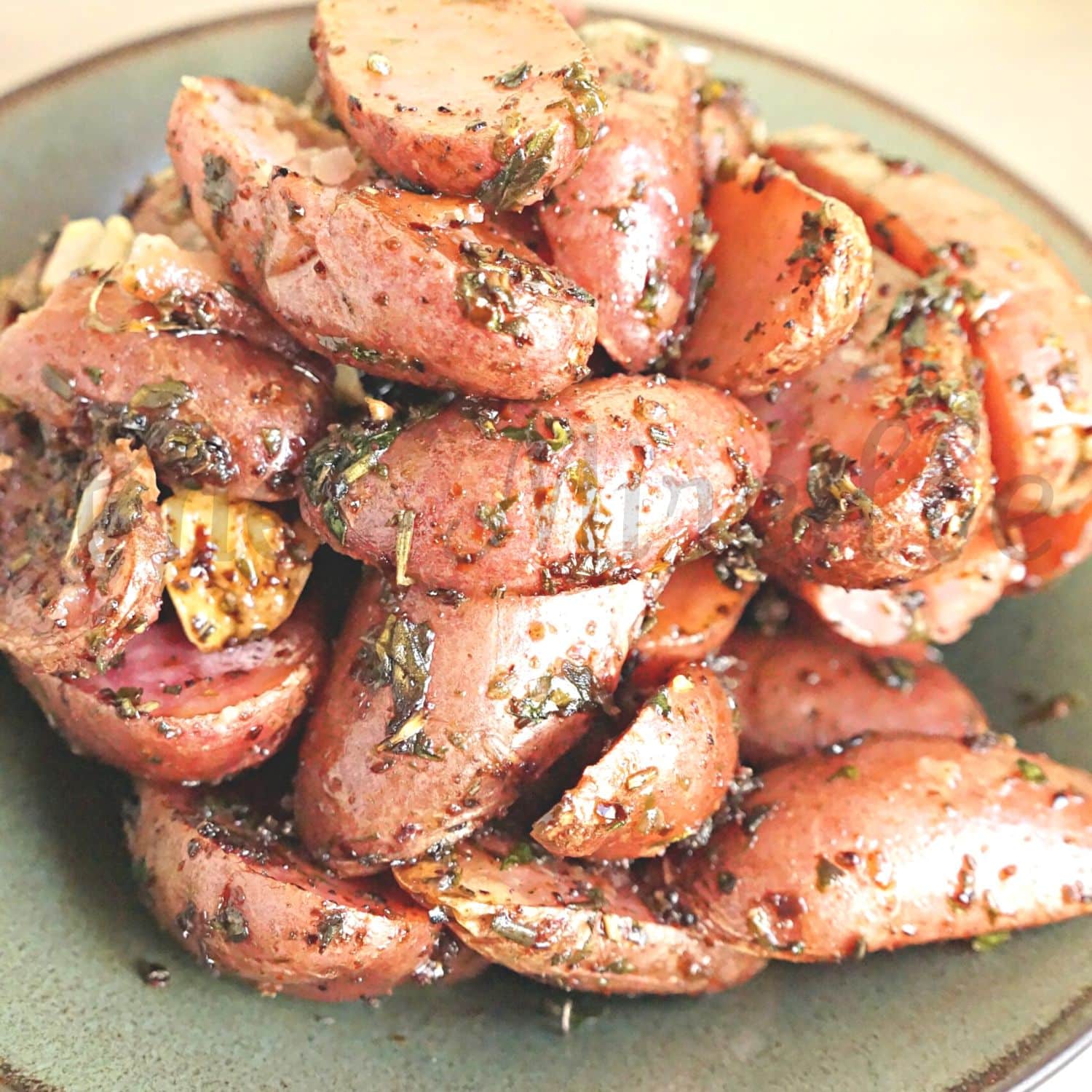 I love going to the farmer's market. There are regional and seasonal varieties of basic vegetables you won't get by going to the regular supermarkets. Dozens of varieties of tomatoes, potatoes, and apples are always to be experimented with. So when I saw these beautiful rosy-colored Amarosa fingerling potatoes, I had to experiment with them.
Now I realized asking you to go around looking for Amarosa fingerling potatoes is really too much work for a simple side dish. Really any kind of fingerling potatoes or yukon gold potatoes will suffice for this recipe. You will achieve the same potato texture. You just won't get the rosy hue!
Both fingerling potatoes and yukon golds have a creamy, buttery texture that just melts in your mouth and are the best potatoes to use for any roasted potato recipe. Yo don't want to use floury potatoes like Idaho potatoes or Russet potatoes.
So what is the secret ingredient to bring out the lemony flavor? Well, actually there are two.
There is a lot of Arabic history in Greece and you will find culinary influences and similarities with Levantine countries like Lebanon, Jordan and Syria. So if you cook Middle Eastern food, these ingredients may already be familiar to you.
Specialty Ingredients
Sumac – Sumac is the dried berry of a plant in the cashew family. Sumac is a primary spice used throughout Levantine cuisines – often used as a finishing spice and often used to flavor meat dishes and salads. It has a tart, lemony flavor. 
Aleppo Pepper – Aleppo Pepper is a member of the capsicum family. It is basically a type of pepper, with a mild chili flavor. Used throughout the region of the Mediterranean and Levantine countries. It goes by different names like pul biber in Turkey and halebi bibar in Armenia. It is less spicy than crushed red pepper flakes, so really is quite mild, but with a smoky, lemony flavor. 
These special ingredients will bring out the bright flavor of lemons and citrus, without using real lemons in this delicious side dish. Not only in this great side dish, but using sumac or Aleppo Pepper will add a little lemon flavor to any thing it is added to.
These are two spices it is smart to keep in your pantry, for when you don't have any fresh lemon juice and want to elevate the flavor of whatever you are cooking like these lemony potatoes – without lemon 🙂 
These spices in addition to the combination of herbs add Greek flavors that we all love into this easy side dish.
Frequently Asked Questions
Now let's see what other ingredients you are going to need to pick up from the grocery store. In this version I have used all fresh ingredients, but you can always substitute dried herbs. However, the flavor won't be the same.
Greek Roasted Potatoes Recipe Ingredients
fingerling potatoes or yukon golds
olive oil
garlic
fresh rosemary
fresh oregano
fresh parsley
Aleppo pepper
sumac
Salt
How to Cook Greek Roasted Potatoes 
Toss potatoes with olive oil, garlic and herbs.
Place the potatoes in an even layer on a baking dish.
Roast in the oven.
Recipe Notes
Use dried herbs, if you do not have access to fresh herbs. 
You can also utilize other herbs also commonly used in Greek cuisine such as thyme and dill. 
To serve, add some melted butter on top for a rich flavor. 
You can also garnish with feta cheese, if you desire. 
This go to potato side dish is one your family will love and I have no doubt you definitely will be adding it to the weekly repertoire.
How to Store Greek Roasted Potatoes
Allow your roast potatoes to cool down completely. 
Place them in an airtight container. 
Store in the refrigerator for up to 5 days. 
Reheat oven-roasted potatoes in the oven at 400 F. 
Make it a Meal
Greek Herbed Roasted Potatoes
This Greek Herbed Roasted Potatoes dish is infused with garlic, fresh herbs, and spices. It's an easy and delicious side dish to compliment any meal.
Ingredients
1

lb.

fingerling potatoes

3

tablespoons

olive oil

2

garlic cloves

crushed

2

teaspoons

finely chopped rosemary

1

tablespoon

finely chopped fresh oregano

1/4

cup

finely chopped parsley

2

teaspoons

aleppo pepper

1/2

teaspoon

sumac

3/4

teaspoon

salt
Instructions
Cut the fingerling potatoes in half or if using Yukon Golds, cut the potatoes into thick wedges,

Preheat oven to 375 F.

In a large bowl, toss the potato wedges with the olive oil, garlic, herbs, aleppo pepper, sumac and salt. Toss well so the potatoes are well coated with the herbs.

Place in a single layer on a roasting pan and put in the oven.

Bake for 1 hour, until potatoes are fork tender, golden brown with crispy edges.
Notes
Drizzle with a little melted butter to serve, for added richness of flavor.
Using fresh herbs is optimal for the best flavor in these Greek potatoes. Dried herbs will not produce the same result.
Nutrition
Calories:
189
kcal
|
Carbohydrates:
22
g
|
Protein:
3
g
|
Fat:
11
g
|
Saturated Fat:
2
g
|
Polyunsaturated Fat:
1
g
|
Monounsaturated Fat:
8
g
|
Sodium:
462
mg
|
Potassium:
537
mg
|
Fiber:
4
g
|
Sugar:
1
g
|
Vitamin A:
638
IU
|
Vitamin C:
28
mg
|
Calcium:
44
mg
|
Iron:
2
mg
Did you try this recipe? Leave a comment below.
Please follow me on Instagram @chefmireille or tag me #chefmireille with your pics! I'd love to share them!
Don't forget to visit the RECIPE INDEX with over 1000 recipes from around the world including lots of Vegetarian Recipes and Gluten Free Recipes!