Last Updated on April 2, 2019 by Chef Mireille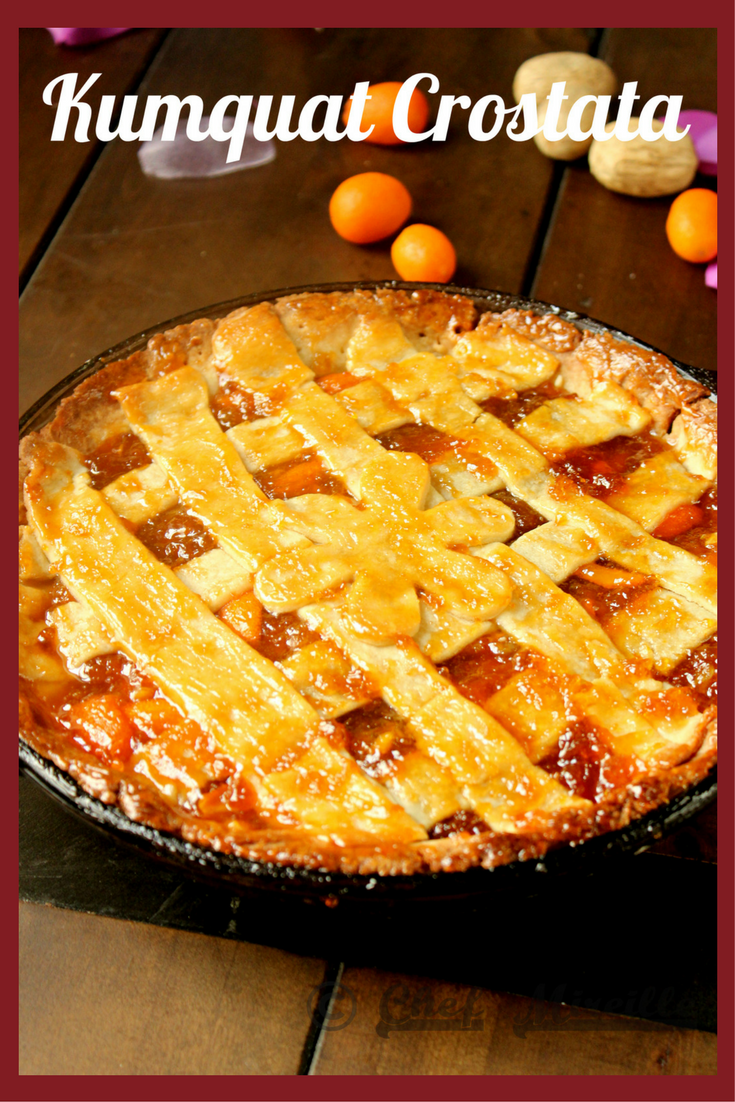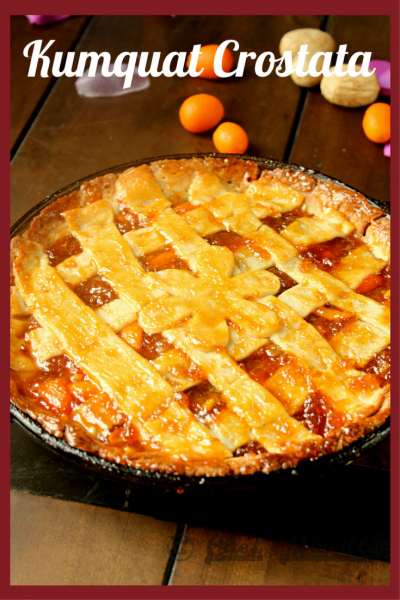 A few years back I made this Crostata di Marmellata. It's a traditional Italian marmalade pie. Although it was good, I found it a bit sweet for my palate and that says a lot as I have a major sweet tooth. In this Kumquat Crostata di Marmellata version, I added some kumquats to cut the sweetness of the marmalade a bit.
I love kumquat's. I call them the inside out orange. They look like very small oranges, about the size of grape tomatoes. What's different about kumquat's is that you eat the skin. The skin is actually the sweet part and the inside tastes like a lemon so it tastes both sweet and sour at the same time. It's very seasonal and usually only available in late Spring/early Summer, although you can find them for a longer season and much cheaper in Asian markets. When I introduced kumquat's to my Mom, she fell in love with them so to continue the Mother's Day theme this week, I created this crostata with my Mom in mind.
I had a number of half empty jars of jam in the fridge that I combined to make this pie. I used a combination of apricot, mango, orange marmalade and my homemade pumpkin jam. You can use any jam flavor you prefer. However, I would avoid grape or berry flavors as I think they might overpower the kumquats.
This traditional pasta frollo Italian pastry is VERY SOFT and challenging to work with but makes for a deliciously awesome pie!
This decadent pie is great for Mother's Day..especially if your Mom has a sweet tooth!
IN THE MAKING
Kumquat Crostata di Marmellata
Rating: 51
Prep Time: 2 hours, 30 minutes
Cook Time: 50 minutes
Total Time: 3 hours, 40 minutes
Per Serving 538 calories
Fat 16 g
Carbs 94 g
Protein 5 g
Ingredients
Pastry Ingredients:
2/3 cup butter, at room temperature
1/3 cup sugar
1 egg
1 teaspoon vanilla extract
Grated zest of 1 orange
1 pinch of salt
1 2/3 cups all purpose flour
Filling Ingredients:
2 cups jam
¾ cup quartered kumquats
Topping Ingredients:
¼ cup apricot jam
2 teaspoons lemon juice
2 teaspoons water
Instructions
Using the paddle attachment of an electric mixer, beat butter and sugar until creamy.
Add egg, vanilla extract and lemon zest. Beat until thoroughly combined.
Add salt and flour. Mix until thoroughly combined.
Wrap in plastic wrap and refrigerate for 1 hour.
Separate 2/3 of the dough and leave the rest in the refrigerator.
On a well floured board, roll out the dough into a circle slightly larger than your pie plate. Sprinkle flour on top as you roll out the dough to prevent sticking. Make sure you have a dough scraper near by to help you transfer the dough to the pie plate. Refrigerate for 1 hour to prevent shrinkage while baking.
In a small bowl, combine jam and kumquats. Stir to combine.
Preheat oven to 350 F.
Price the pastry with a fork all over. Place a piece of parchment paper over the pastry. Fill with dried beans or pie weights. Bake for 30 minutes, until crust is set. Remove from oven and raise oven temperature to 400 F.
As soon as it is cool enough to handle, remove beans.
Fill pie with jam filling.
On a well floured board, roll out remaining 1/3 of dough and cut into strips. Place in a lattice pattern over the pie. Bake for 20 minutes.
In a small saucepan, combine topping ingredients of jam, lemon juice and water. Cook until jam melts.
Brush the top with jam glaze. Chill completely before slicing and serving.
The kumquats also add great texture to the pie filling.
Check out the Blogging Marathon page for the other Blogging Marathoners doing this BM#74