Last Updated on April 28, 2020 by Chef Mireille
Lavender Corn Muffins are delicious lightly sweetened muffins that can be as easily enjoyed for breakfast as a sweet treat.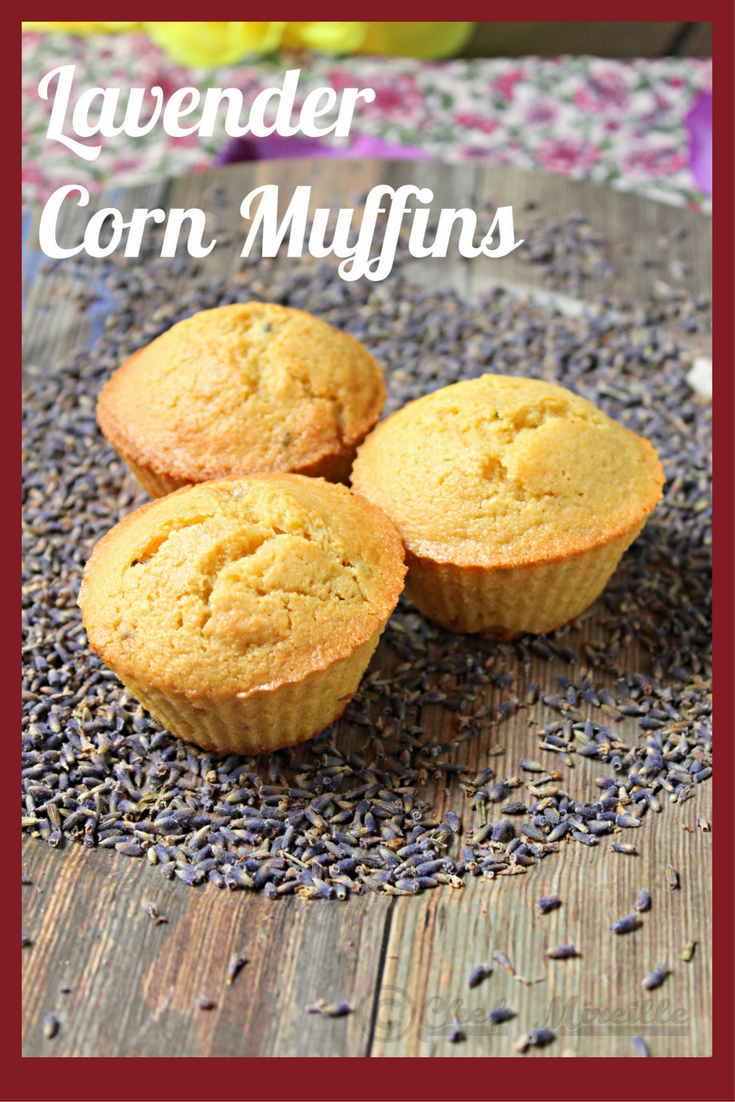 So many of my tastes I get from my mother. I have always wondered how much of this is hereditary and how much is subconscious learned behavior. Neither of us are chocolate lovers. Raw onion and overpowering garlic are big turn offs for the both of us. We both love spicy food.  Yet my sister is the opposite – she is a huge chocoholic and can't tolerate spicy food. It's similar to the whole nature vs. nurture argument. Who knows – one thing I do know is that chocolate never plays a part in any Mother's Day sweets in my family. Instead, I thought of my Mom's palate and came up with these Lavender Corn Muffins.

My Mom is from the Caribbean and cornmeal is a grain that we use in every part of our meals from beverages like Akasan to savory porridges like Tutu to desserts like Cornmeal Pudding. I grew up eating Cornmeal Porridge for breakfast, instead of oatmeal or cream of wheat. So when I decided to embrace the theme of Mother's Day sweets for this week's BM theme, I thought of foods and flavors that my Mom loves – cornmeal, coconut and lavender are a few of my mom's favorite foods and so they were all put into these muffins.
If you love cornmeal as much as my Mom, try some of these:
Cornmeal Muffins & Quickbreads

These muffins are perfect for your Mother's Day Brunch or breakfast on any day!
I get my lavender from the lavender booth at the Union Square Farmer's Market, but you can get it at any gourmet supermarket like Whole Foods or Fairway, as well as Amazon.
soft and fluffy…
Lavender Corn Muffins
Lavender Corn Muffins are delicious lightly sweetened muffins that can be as easily enjoyed for breakfast as a sweet treat.
Ingredients
Instructions
Preheat oven to 350 F. Spray silicone muffin cups or a muffin pan with non stick spray.

In a large bowl, combine cornmeal, flour, coconut, baking powder, salt, baking soda, sugar and lavender. Stir to combine.

In a small bowl, whisk eggs, coconut milk and oil. Whisk until thoroughly mixed and homogenous.

Add wet ingredients to dry and mix until thoroughly incorporated.

Fill muffin cups 3/4 full.

Bake for 25 minutes until a toothpick or cake tester inserted comes out clean.
Nutrition
Calories:
317.26
kcal
|
Carbohydrates:
37.91
g
|
Protein:
5.04
g
|
Fat:
16.67
g
|
Saturated Fat:
6.19
g
|
Sodium:
216.89
mg
|
Fiber:
1.53
g
|
Sugar:
13.17
g
Did you try this recipe? Leave a comment below.
Please follow me on Instagram @chefmireille or tag me #chefmireille with your pics! I'd love to share them!
Do you know anyone else who likes learning about international food, culture, history and travel? Bring them over here to join the party! Don't forget to use those share buttons!
Start Here to find out how the Schizo Chef can help you with your cooking, travel and other needs!
If you like this recipe, PLEASE LEAVE A COMMENT & SUBSCRIBE!