Last Updated on April 2, 2019 by Chef Mireille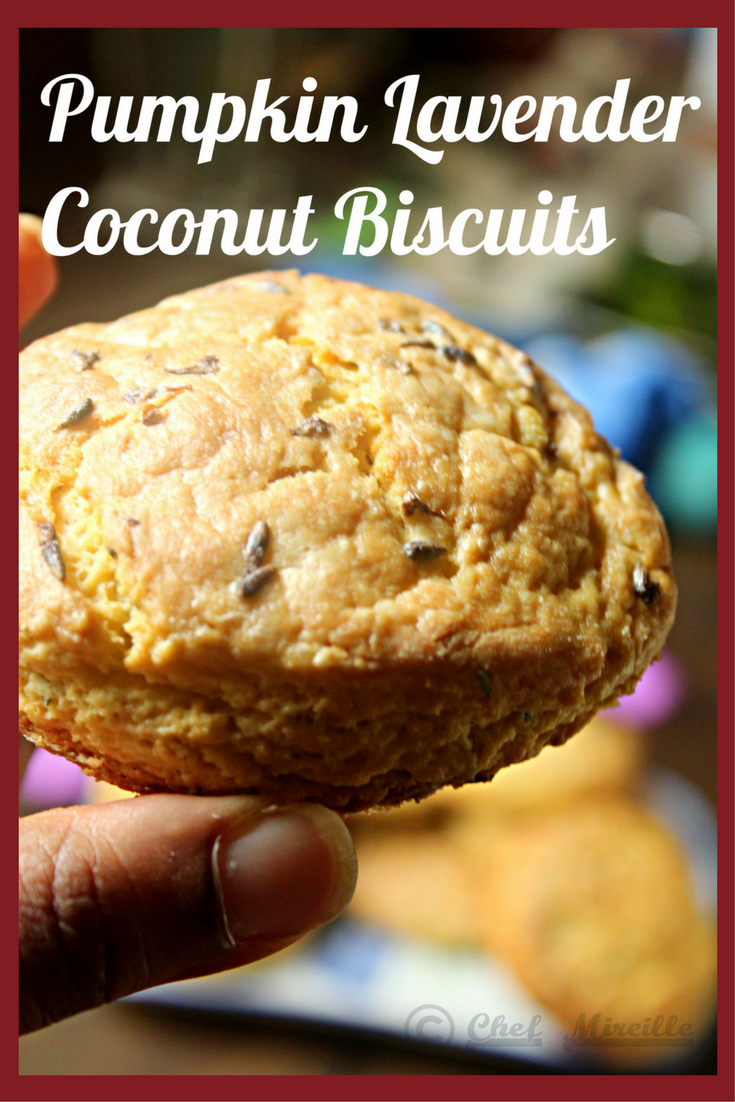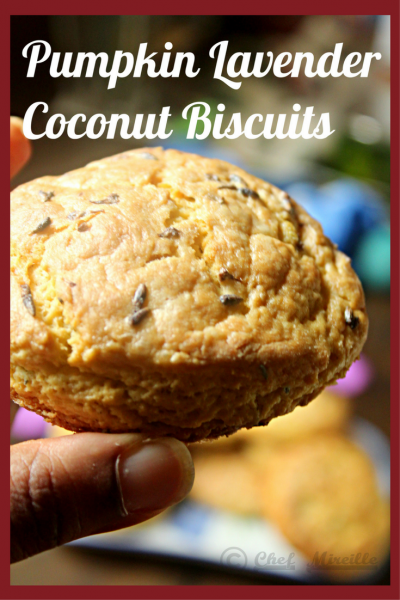 I may have been born in Brooklyn and lived in New York City my entire life, except when I went away to school in New Mexico, however I definitely do not have an American palate. My favorite foods definitely represent my Caribbean heritage. Pumpkin, plantains and coconut are the staple foods in my kitchen, instead of apples, potatoes and pasta. In fact, this is the third bread I have done for #BreadBakers that included pumpkin. So when I wanted to come up with a flower themed bread for this month's Bread Bakers for Mother's Day, I immediately thought of these Caribbean flavors when I think of my Mom. Pumpkin Lavender Coconut Biscuits were my way of bringing some of the Caribbean into an American biscuit.
Most Americans use canned pumpkin. In fact, I taught a cooking class a few months ago to a major food brand who shall remain nameless as they are trying to expand their product lines to include Caribbean flavors and one of the participants in the class was so surprised when I brought in some pumpkin to demonstrate a Sancocho. She did not know pumpkin was something you could buy fresh, except for the ones sold around Thanksgiving to make jack-o-lanterns. I looked at her like she had 3 heads. Since I live in a neighborhood with a Caribbean population, all I have to do is go to my local Korean vegetable stand or supermarket to get my kabocha or calabaza pumpkin any time of the year.
I had purchased a whole kabocha pumpkin and made a variety of recipes, including these Pumpkin Lavender Coconut Biscuits for #BreadBakers. Canned pumpkin as sold in the US is actually made from butternut squash, which has a higher water content than kabocha or calabaza. If you use canned pumpkin to make this recipe, you may need to reduce the coconut milk quantity as this is already a really soft dough. In fact, they have almost a cake like crumb.
Check out some of my other Pumpkin Recipes
…yep there's actually more…in fact when I went to create this list even I was surprised how deep my pumpkin love runs! In fact, the only reason I am loyal to the Noosa brand of yogurt, is because they have a pumpkin flavor!
Sweet and Savory Pumpkin Dishes
…for every occasion using both canned and fresh pumpkin…
IN THE MAKING
These make a great breakfast with bacon, grape tomatoes and a few kumquats!
So soft and tender – you don't even need butter!
Pumpkin Lavender Coconut Biscuits for #BreadBakers
Rating: 51
Prep Time: 15 minutes
Cook Time: 35 minutes
Total Time: 50 minutes
Per Serving 246 calories
Fat 16 g
Carbs 22 g
Protein 4 g
Ingredients
1 ¾ cups all purpose flour
¼ cup milk powder
1 teaspoon salt
2 teaspoons sugar
½ teaspoon herbs de provence
1 tablespoon baking powder
1 teaspoons culinary lavender
½ cup boiled and mashed kabocha pumpkin
¼ cup vegetable shortening
¼ cup cold unsalted butter, diced
½ cup coconut milk
Topping Ingredients:
¼ cup coconut milk
½ teaspoon culinary lavender
Instructions
Preheat oven to 400 F. Prepare a cookie sheet with parchment paper or spray with non stick spray.
In a food processor, puree pumpkin and coconut milk until smooth.
In a large bowl, combine flour, milk powder, salt, sugar, herbs de provence, baking powder and lavender.
Using a pastry blender, cut butter and shortening into flour mix until it resembles the size of small peas.
Add pumpkin-coconut milk mixture and mix until just combined.
On a well floured board, with floured hands, flatten dough with your hands until it is ½" thick.
Using a floured biscuit cutter, cut out 9 biscuits, re-rolling the dough as necessary.
In a small bowl, combine the topping ingredients and mix to combine.
Brush a thick layer of the topping on each biscuit.
Bake for 35 minutes, until golden.
Notes
If you use canned pumpkin to make this recipe, you may need to reduce the coconut milk quantity as this is already a really soft dough
This month's BreadBakers' theme is Mother's Day or May Day inspired bread, hosted by Julie at Hostess At Heart. Here's what our creative bakers came up with:
#BreadBakers is a group of bread loving bakers who get together once a month to bake bread with a common ingredient or theme. You can see all our of lovely bread by following our Pinteres
t board right here. Links are also updated after each event on the #BreadBakers home page.
We take turns hosting each month and choosing the theme/ingredient. If you are a food blogger and would like to join us, just send Stacy an email with your blog URL to [email protected].