Last Updated on December 14, 2020 by
This Tahiri Vegetable Pulao is a flavorful rice dish that is a perfect complement to any meal. This particular pulao recipe is a part of the Awadhi cuisine of Uttar Pradesh, and it's the vegan version of tehri that's loaded with complex carbs, protein, vitamins, and minerals.
I had made this aromatic vegetable pulao when I made a mini thali way back at the end of 2016, but I've only posted the Nimona Ki Matar and Sookhi Ki Dal. It's time to complete the thali.
Over the next month, I have the Lucknowi Chicken Curry and Nimish scheduled. Then all you'll need is the paratha to complete your thali and I will be posting that soon also!
Even with not all the recipes posted yet, a complete meal can be had with just this Taheri, Sookhi Tadka Dal, and Matar Ka Nimona our Mangodi.
Making a thali is an interesting way to challenge yourself to learn the intricacies of just one Indian cuisine. I love discovering the subtle differences that occur from one state to the next and sometimes major differences that occur between North Indian cuisine and Southern cuisine.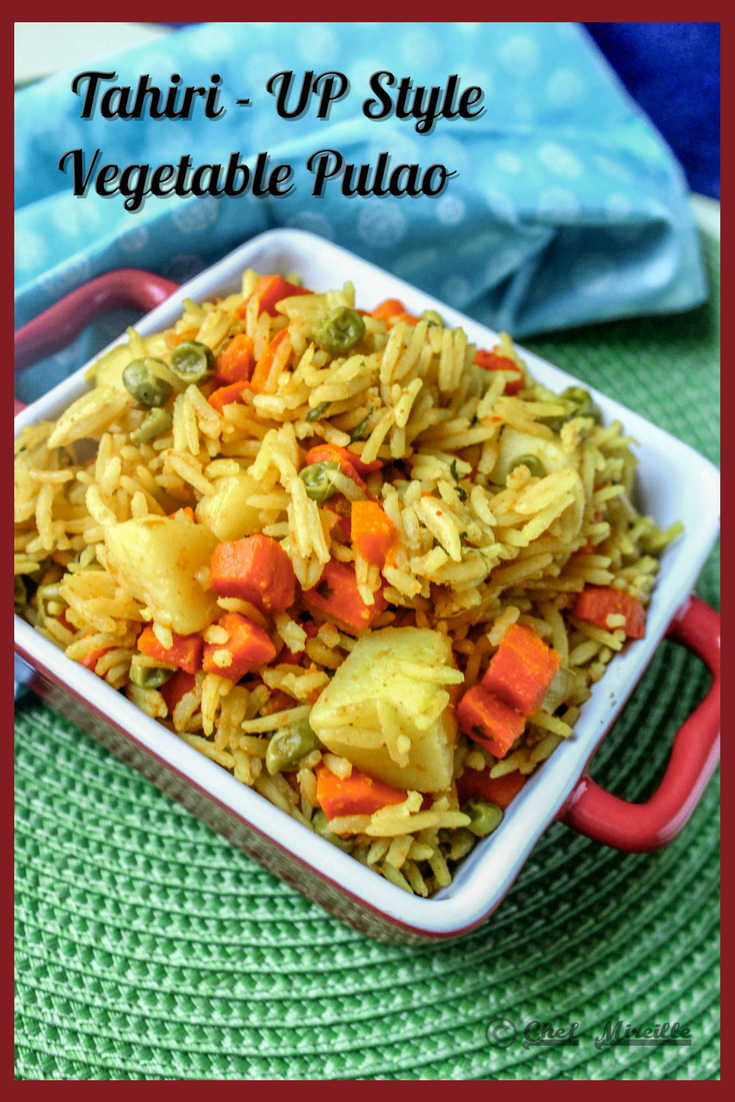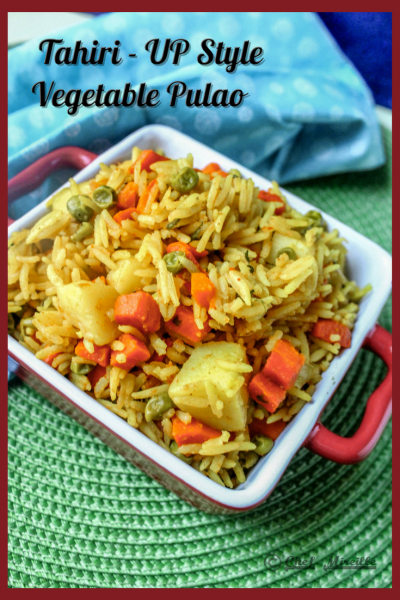 This post may include affiliate links.
What is a Tahiri Vegetable Pulao?
A pulao is a rice-based dish that includes assorted vegetables, and sometimes, meat. With a vegan vegetable pulao, it's basically rice, spices, and veggies.
A vegetable pulao is cooked through an absorption method. The rice and the vegetables in the dish will absorb all the water completely. All the spices give the rice flavor and color.
What is the Difference Between Veg Pulao and Veg Biryani?
In a vegetable biryani, the dish is cooked by draining instead of letting the ingredients absorb the water. The rice is only parboiled, and then you'll drain the remaining water.
Contrary to popular belief, both the pulao and the biryani have vegetarian and non-vegetarian variants.
What is the Difference Between Tehri and Pulao?
Tehri— also known as tahari, tehari, or tahri—is a yellow rice dish. The basic cooking style is to add spices to cooked rice to give it flavor and color. One popular version of tahari has potatoes added in.
Meanwhile, traditional pulao is prepped by cooking the spices and the veggies and/or meat with the rice.
In the Uttar Pradesh version of vegetable pulao, it's like tahari in the sense that it has potatoes, but it also has many other kinds of vegetables in it.
What to Eat with Tahari
This flavorful veg pulao is a perfect complement to any curry or even grilled meats…or if you'd prefer to keep it vegetarian, try it with some Paneer Tikka!
You may also enrich your Tahari experience by pairing it with slices of raw daikon or radish, or with some coriander chutney.
For a fuller Indian cuisine experience, try this Uttar Pradesh vegetable pulao in a Thali.
What is a Thali?
A Thali is a complete Indian meal that includes 10 or more dishes. Some of the typical dishes are:
Grains — either rice or flatbread
Vegetables — usually according to the season
Chutney — a condiment made of fruits, species, herbs, and sometimes, vegetables
Lentils
Pickles — some regions use raw mango for these pickles
Papadum — this is a savory snack that's made with flour, rice, or lentils
Indian Thali's
Here are some of the thali's I've done in the past.
Tahiri Vegetable Pulao with UP Thali
Below is a photo of an amazing Thali I had. I love the Uttar Pradesh vegetable pulao right at the center and how it goes so well with the rest of the dishes.
All the aromatic spices make this easy vegetable pulao hard to resist!
Ingredients for this Indian Vegetable Pulao
mustard oil
bay leaves
cinnamon stick
cloves
black cardamom
green cardamom pods
ginger garlic paste
tomato
ground turmeric
red chile powder
ground coriander
garam masala
potatoes
carrots
frozen green peas
Basmati rice
salt
lemon juice
cilantro leaves
How to Make Vegetable Pulao
Cook the spices in oil.
Add the veggies and water. Let steam.
Add the rice and let it cook.
Add the lemon juice and mix.
You can eat this tahiri vegetable pulao by itself, as it already contains loads of fiber, vitamins, and minerals from all the veggies and spices.
It's an energy booster too, with high amounts of protein from the green peas and complex carbs from the potatoes.
Variations
You can make this tahari recipe in an Instant Pot if you have one.
You may use canned green peas instead of frozen.
Also, you can use frozen, cut-up, and ready-to-cook carrots and potatoes for a quicker prep time.
How to Store Your Vegetable Tehri
You can keep your veg tehri in an airtight container and refrigerate it. It can last for 2-3 days.
You also have the option to freeze your vegetable pulao just as you would other rice dishes.
Pack your vegetable tahari in a microwave-safe container.
Allow it to cool.
Once the pulao has cooled, seal the container and store it in the freezer.
How Long Does Frozen Tahiri Vegetable Pulao Last?
You can store the pulao in the freezer for up to a month.
How To Reheat Frozen Veg Pulao
Take out your vegan pulao from the freezer.
Open the container's lid.
Loosely cover the container with a paper towel.
Microwave the dish until the rice is hot all the way through.
Other Vegan Indian Recipes
One delish curry to pair with your vegetable pulao is this Black Eyed Peas Curry. It includes a cilantro masala that packs it with vitamins, minerals, and antioxidants.
If it turns out you got many more black eyed peas in your pantry, you can make these Gluten Free Black Eyed Pea Fritters. They're great for parties or even as a solo afternoon snack.
Love rice so much? Make this South Indian Spiced Rice with Sesame and Coconut. Once you've tasted it, you'll be surprised you can finish a bowl full of this by itself!

Tahiri – Uttar Pradesh Style Vegetable Pulao Recipe
This version of Tahiri is a popular dish from Uttar Pradesh. Enjoy this Vegetable Pulao loaded with many kinds of veggies and spices and filled with nutrients, color, and flavor!
Ingredients
1

tablespoon

mustard oil

3

bay leaves

4

cloves

3

black cardamom

1

tablespoon

ginger garlic paste

1

chopped tomato

½

teaspoon

ground turmeric

1

teaspoon

red chile powder

1

teaspoon

ground coriander

½

teaspoon

garam masala

1

cup

peeled and diced potatoes

2

large carrots

peeled and diced

1

cup

frozen green peas

1 ½

cups

Basmati rice

Salt

to taste

1

tablespoon

lemon juice

Chopped cilantro leaves

optional garnish
Instructions
Heat oil in a pot. Add bay leaves, cinnamon, cloves, black cardamom and green cardamom. Fry until it becomes fragrant.

Add ginger garlic paste. Fry for 1 minute. Add tomato and dry spices.

Add vegetables and ¼ cup water. Cover the pot and let the vegetables steam for 10 minutes on medium heat.

Add rice. salt and 2 ½ cups water. Bring to a boil. Reduce to a simmer, cover and cook for 15 minutes, until rice is tender.

Add lemon juice and stir to combine.
Notes
Any variety of vegetables can be used. Cauliflower and green beans are often commonly used.
Nutrition
Calories:
368
kcal
|
Carbohydrates:
73
g
|
Protein:
9
g
|
Fat:
5
g
|
Saturated Fat:
1
g
|
Polyunsaturated Fat:
1
g
|
Monounsaturated Fat:
2
g
|
Sodium:
176
mg
|
Potassium:
535
mg
|
Fiber:
7
g
|
Sugar:
6
g
|
Vitamin A:
5711
IU
|
Vitamin C:
29
mg
|
Calcium:
108
mg
|
Iron:
3
mg
Did you try this recipe? Leave a comment below.
Please follow me on Instagram @chefmireille or tag me #chefmireille with your pics! I'd love to share them!
Need more culinary inspiration? Check out the Recipe Index with over 1500 Recipes from Around the World with lots of Vegetarian 🥕🍆🍅and Gluten Free Recipes!