Last Updated on December 16, 2020 by Chef Mireille
Matar Ka Nimona aur Mungodi
Mung Bean Dumplings in Curried Green Pea Broth is a delicious vegetarian and gluten free meal for Meatless Monday.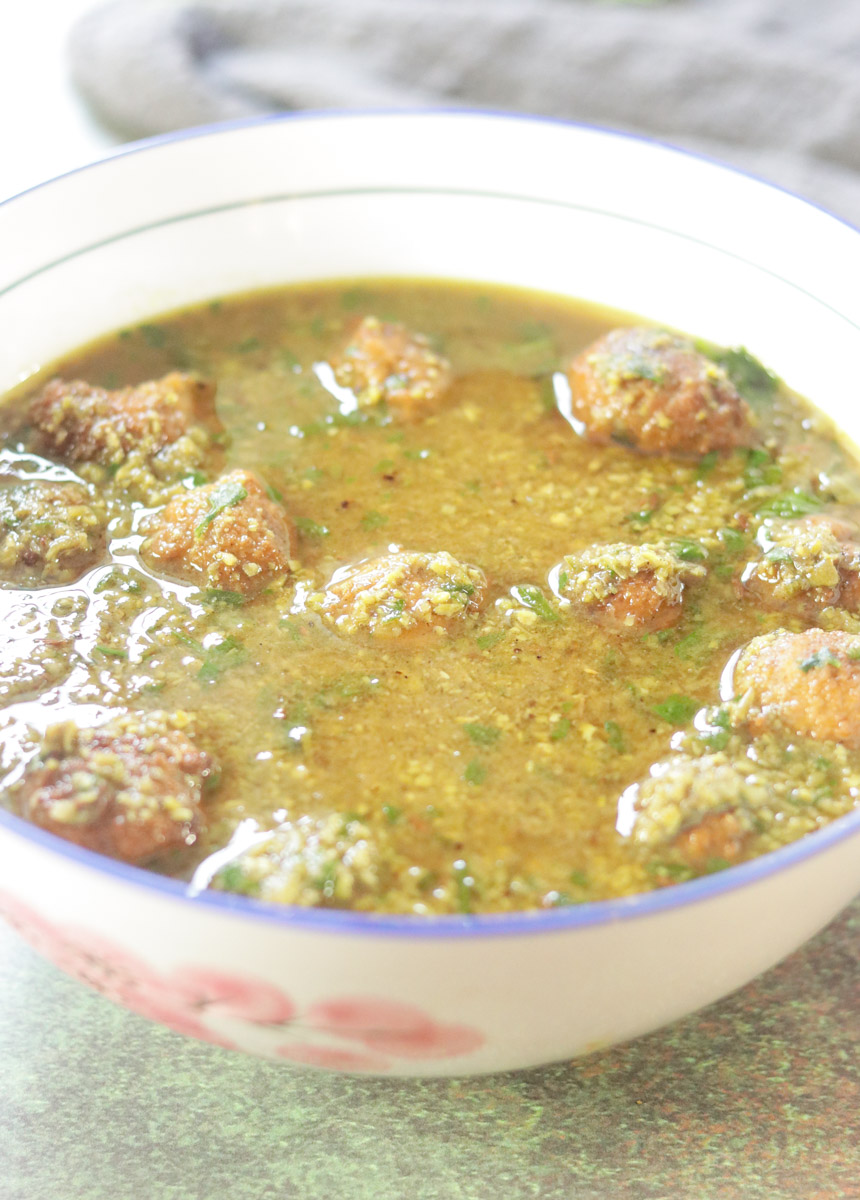 Do you know what a thali is? A thali is basically a variety of small dishes served on a round platter. India has thali's and Indonesia has rijstafel, but it's the same basic concept.
In India, every state has their own thali's with their own regional dishes.
Here I presented a thali from the state of Uttar Pradesh in North India, which included this Matar Ka Nimona aur Mungodi – Mung Bean Dumplings in Curried Green Pea Broth.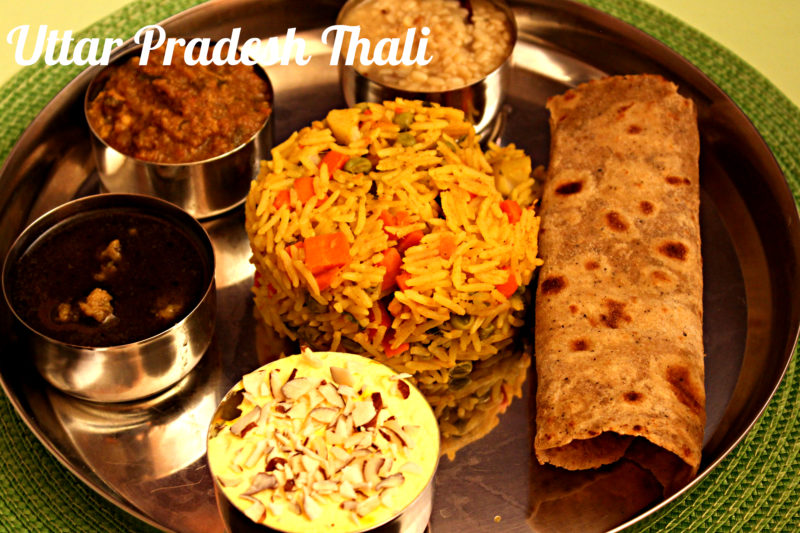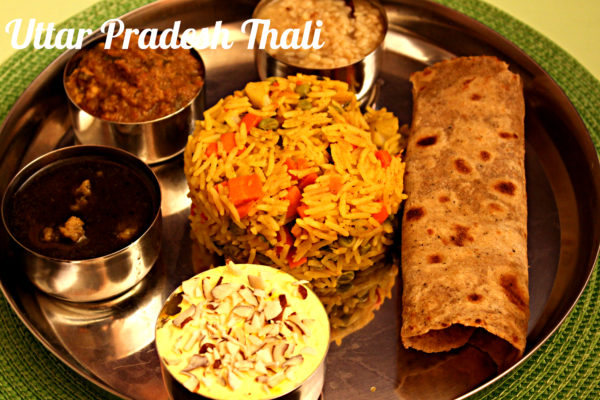 Uttar Pradesh Thali Recipes
Taheri – Vegetable Pulao
Soohi Tadka Dal – Skinned black lentil dal infused with pan roasted garlic and red chile
Lucknowi Style Chicken Curry – chicken curry cooked in a poppy and sesame seed masala paste
Makhani Paratha – flatbread enriched with whole butter and black pepper
Matar Ka Nimona aur Mungodi – Mung Bean Dumplings in Curried Green Pea Broth
Nimish – saffron infused cream dessert
Uttar Pradesh
Uttar Pradesh has a rich culinary history based in the traditions of the Mughlai's. The Mughal Empire ruled India for about 300 years from the 1500's-1800's and is responsible for many assets of Indian culture, including the building of the world famous Taj Majal.
Although Uttar Pradesh is known for its rich meat based curries of the Mughlai's, there is also a long history of Hindu Vegetarian dishes, as the city of Varanasi is the most holiest of cities and a place of pilgrimage to Hindus, Jains and Buddhists.
It was a lot of fun researching this state and learning so many new dishes. Nimona is a type of vegetable based thin curry. It is very thin, almost like a soup. The base can be made with different green vegetables like spinach or amaranth, as well. The soup can include vegetables like potatoes and cauliflower or mung bean dumplings, which is the version I made here.
Making Matar Ka Nimona aur Mungodi – Mung Bean Dumplings in Curried Green Pea Broth
The first step of this recipe is to make the mangodi. Mangodi often refers to sun dried lentils, also knows as wadi as in this Kashmiri Wadi Curry or this Palak Mangodi. In this case, these instant mangodi are fried mung bean fritters.
I loved the fritters so much as they reminded me of something we make in the Caribbean – Phulourie. Phulourie are very popular in Caribbean countries with large Indian populations like Trinidad and Guyana. Our phulourie are probably rooted in this mangodi recipe.
They are a popular street food often eaten with just tamarind chutney and green mango pickle – our basic achar.
The first time I made the mangodi, I had just used a regular tablespoon to shape them and this is how they came out.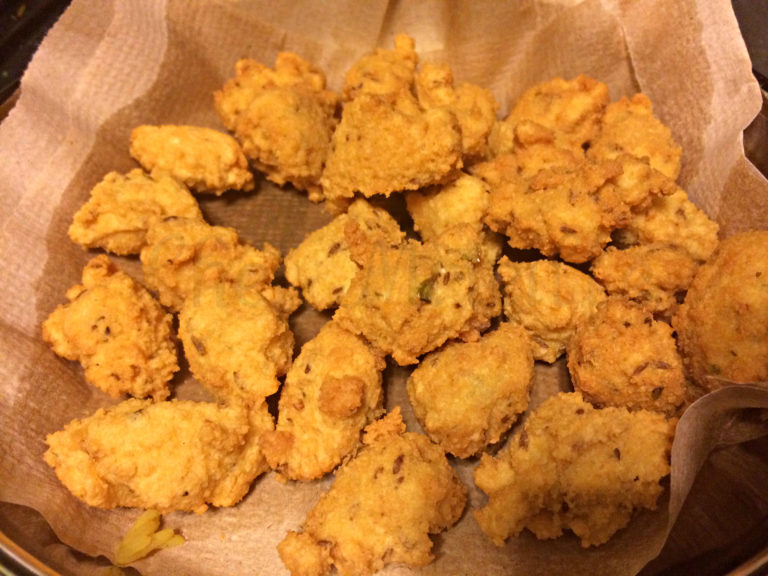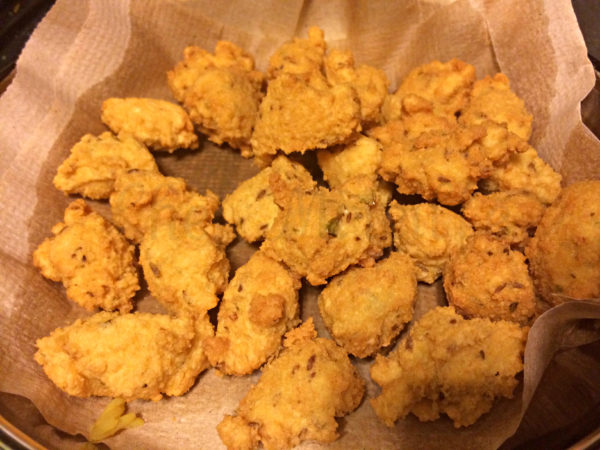 This time I used a mini scooper to get more evenly sized and more refined mangodi.
After making the dumplings, the rest of the curry is so easy and simple. A puree of green peas is fried with spices. Water is then added and the dumplings are simmered to absorb the flavor of the broth.
I often enjoy this light curry with frozen Tandoori Roti. It is a great meal for Meatless Monday!
Matar Ka Nimona aur Mungodi – Mung Bean Dumplings in Green Pea Broth
Mung Bean Dumplings in Green Pea Broth
Ingredients
Mangodi Ingredients
1

cup

split yellow mung beans

moong dal

2

teaspoons

cumin seeds

1

large green chile

1 1/2

teaspoons

salt

mustard oil

for frying
Nimona Ingredients
1 1/2

cups

frozen green peas

defrosted

1

tablespoon

grated ginger

2

large

green chiles

2

tablespoons

ghee

pinch

of asoefetida

1

teaspoon

cumin seeds

1

tablespoon

curry powder

1/2

teaspoon

garam masala

2

tablespoons

finely chopped cilantro
Instructions
Soak mung beans in water for 2 hours. Drain.

In a coffee/spice grinder, grind the cumin seed.

Combine mung beans with cumin seed, chili and salt in a high powered blender and grind to a smooth paste.

In a saucepan or a wok, heat enough mustard oil for deep frying.

Using a tablespoon or a mini scooper, make little dumplings and fry in the hot oil until golden brown on all sides,

To make the nimona, combine green peas, ginger and chile in a food processor. Grind to make a thick paste. Add a few tablespoons of water if you prefer a smoother paste and a more refined broth.

In a deep skillet or saucepan, heat ghee.

Add asoefetida. After it stops sizzling, add cumin seeds. Fry until it starts to change color.

Add curry powder and a teaspoon of water. Fry for 1 minute.

Add green pea paste and fry for about 5 minutes, stirring frequently. Add garam masala and fry for 1 minute.

Add 4 cups of water. Bring to a boil. Reduce to a simmer.

Add mung bean dumplings and simmer for 30 minutes.

Add cilantro and salt, as needed. Stir to combine.
Did you try this recipe? Leave a comment below.
Please follow me on Instagram @chefmireille or tag me #chefmireille with your pics! I'd love to share them!
DO YOU YUM? SAVE IT BELOW!
Yum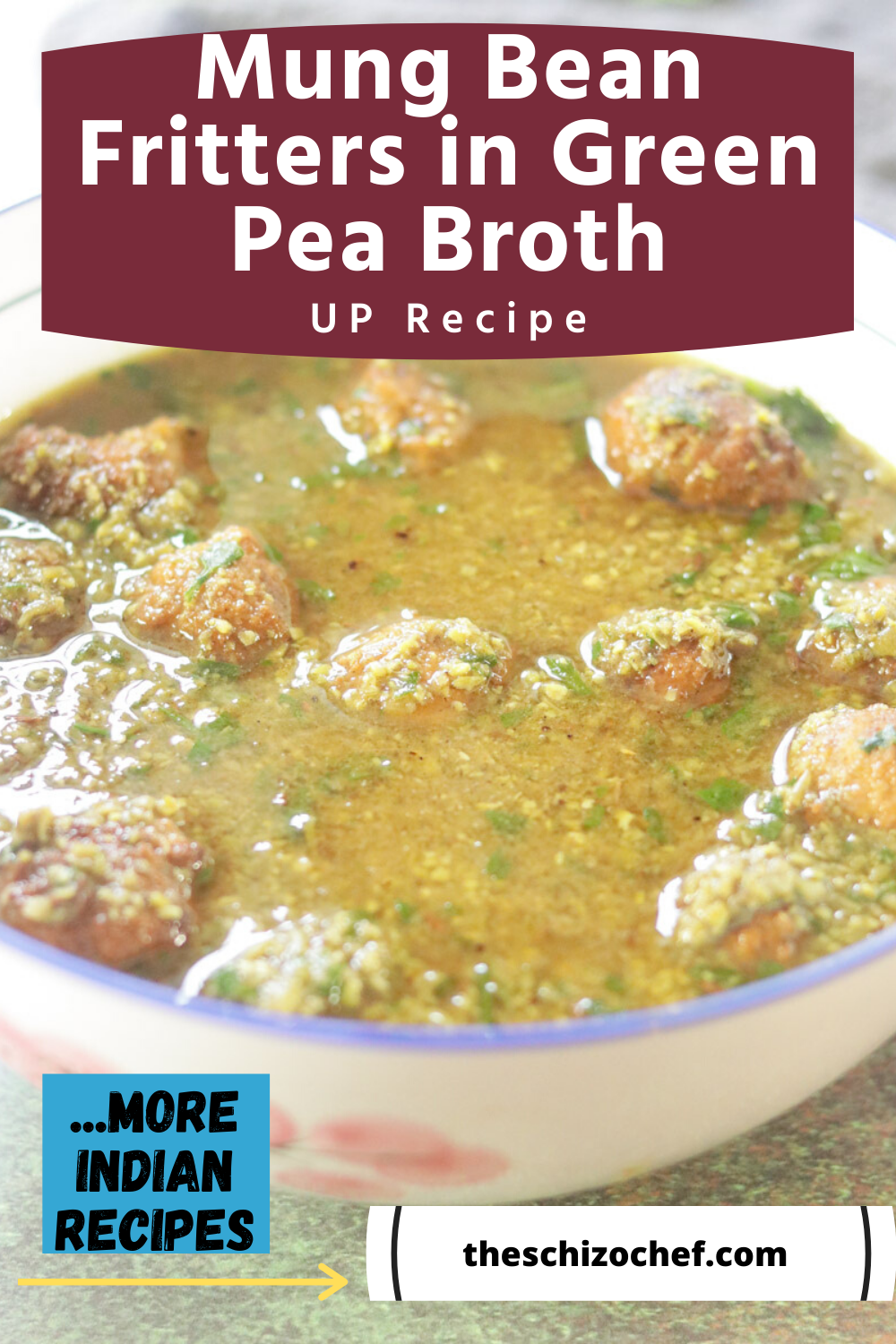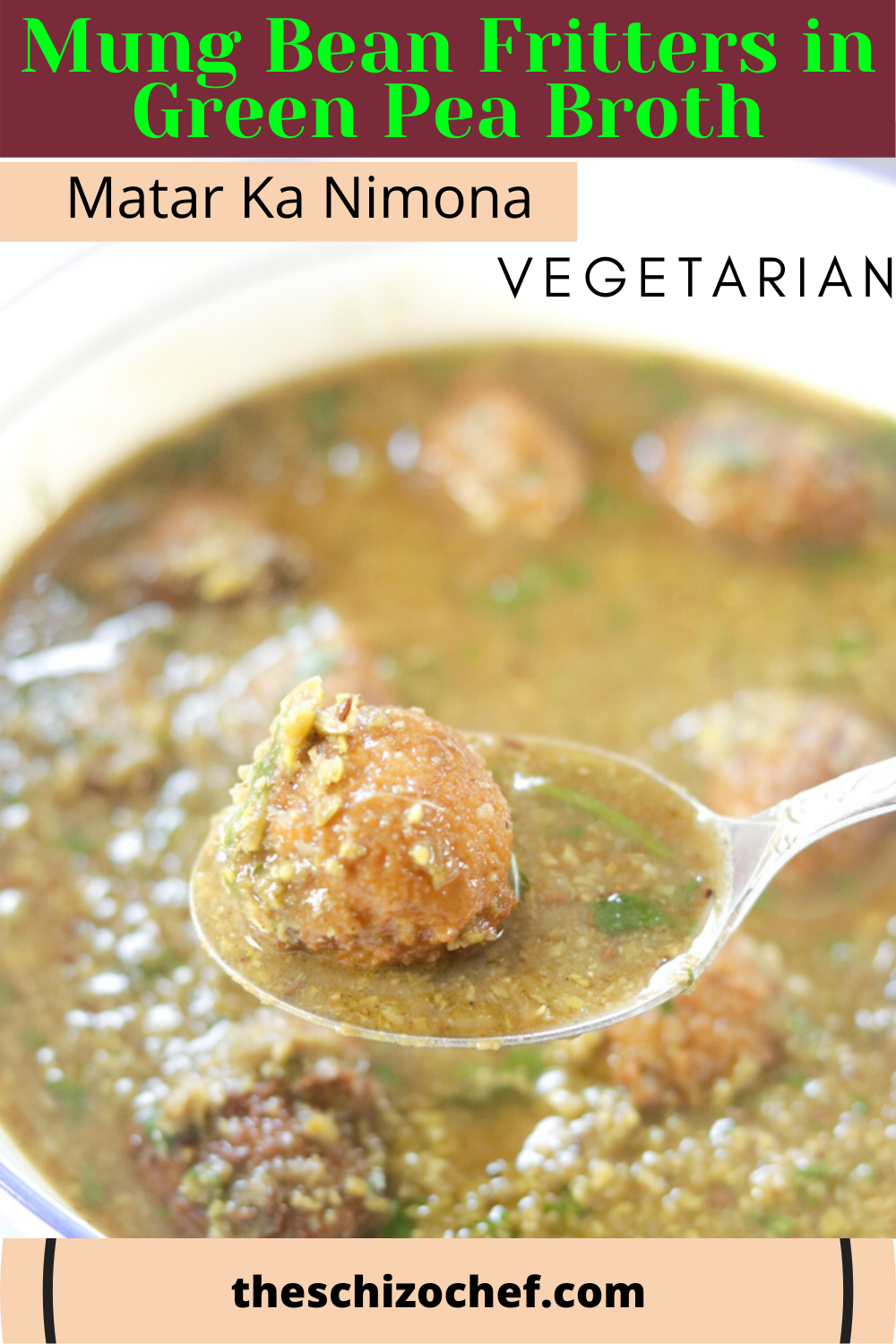 Don't forget to visit the RECIPE INDEX with over 1000 recipes from around the world including lots of Vegetarian Recipes and Gluten Free Recipes!
This post may include affiliate links.