Last Updated on May 19, 2020 by Chef Mireille
Lucknowi Chicken Curry Recipe – Discover one of the many regional varieties of Indian Chicken Curry from the North Indian state of Uttar Pradesh.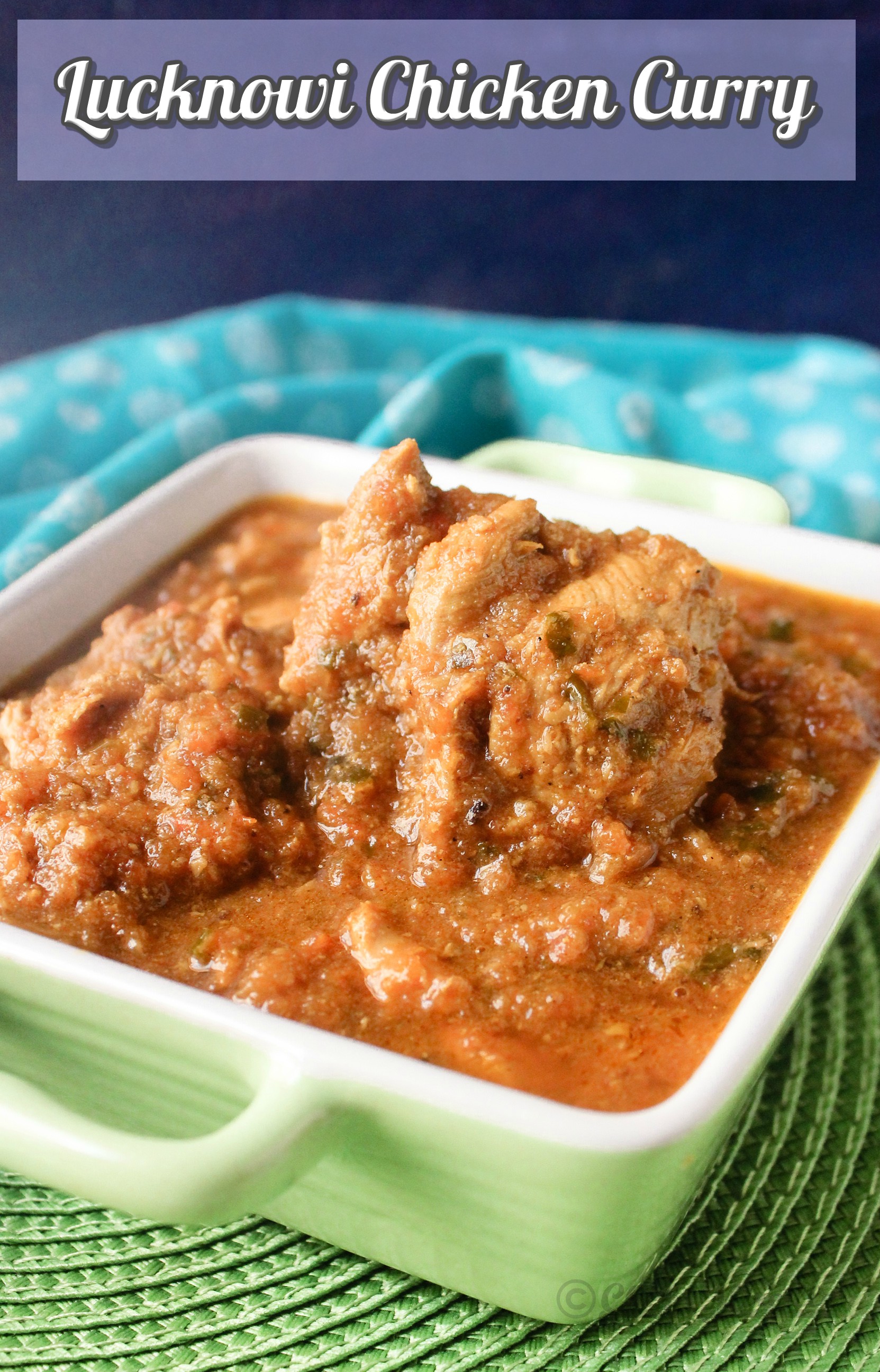 Chicken Curries
There are so many varieties of Chicken Curry from India to Thailand to Trinidad. Not only is their variety from country to country, but also from region to region within each country.
In India, each state has many varieties of curry chicken from thick and luscious curries thickened with coconut milk or cashew nut paste to thin tomato based curries and from wet curries to dry curries. I could probably make Chicken Curry every day for a year and still not try all the varieties available in South Asia, Southeast Asia and the Caribbean.
If you are as keen as I am on trying all the different Chicken Curry Recipes, try some of my other Chicken Curry Recipes.
Chicken Curry Recipes
Thali's
A thali is a traditional way of serving meals in India. Served with rice and flatbread, a variety of small dishes are served to accompany them. India is not the only country that has these. In Indonesia, it is caleld a rijstafel, which translated is a Rice Table, as rice serves the center of the meal. Each state of India has its own dishes that are included in a thali. For special occasions, thali's can include as many as 20 or more dishes. As you finish eat, the little silver vessels are replaced with others. My thali for Uttar Pradesh was a very simple one, but even this mini thali including Locknowi Chicken Curry was delicious.
Uttar Pradesh Thali
Luscious Curry for any day of the week!
Lucknowi Chicken Curry – Indian Chicken Curry Recipes
Chicken Curry from the North Indian state of Uttar Pradesh. Uttar Pradesh Thali.
Ingredients
Marinade Ingredients:

1

lb.

chicken

4

teaspoons

ginger garlic paste

1

teaspoon

red chile powder

½

teaspoon

ground turmeric

¼

cup

plain yogurt

Masala Ingredients:

1

tablespoon

white poppy seeds

1

tablespoon

sesame seeds

4

cloves

7

cloves

garlic

3

tablespoons

oil

2

medium onions

thinly sliced

Chicken Ingredients:

1

tablespoon

oil

2

bay leaves

3 to

matoes

pureed

Salt

to taste

2

tablespoons

finely chopped cilantro
Instructions
Toss chicken with ginger garlic paste, turmeric, red chile powder and yogurt. Mix well and leave to marinate for at least 15 minutes.

To make the masala, in a dry skillet, toast poppy seeds and sesame seeds until golden brown. Remove to a bowl.

Add cinnamon, peppercorns and cloves. Toast until it becomes fragrant. Remove to the bowl with the seeds.

Add all of these toasted spices and seeds to a coffee/spice grinder. Grind until you have a fine powder. Transfer to a food processor.

Add garlic to the dry skillet. Toast until the garlic is browned. Add this to the food processor.

Heat oil in a skillet.

Add onion and sauté over medium-low heat until the onions are well browned and caramelized, about 10 minutes. Add this to the food processor. Let it cool for a few minutes. Process until you have a thick masala paste.

In a deep skillet or pot, heat oil. Add bay leaves. After 30 seconds, add masala paste. Fry for 10 minutes, stirring frequently.

Add chicken and sauté for 5 minutes.

Add tomatoes and 1 cup water. Simmer until chicken is cooked through.

Add salt and cilantro. Stir to combine.
Nutrition
Calories:
457.83
kcal
|
Carbohydrates:
14.81
g
|
Protein:
24.51
g
|
Fat:
33.97
g
|
Saturated Fat:
6.58
g
|
Sodium:
711.6
mg
|
Fiber:
3.72
g
|
Sugar:
5.68
g
Did you try this recipe? Leave a comment below.
Please follow me on Instagram @chefmireille or tag me #chefmireille with your pics! I'd love to share them!
Don't forget to visit the RECIPE INDEX with over 1000 recipes from around the world including lots of Vegetarian Recipes and Gluten Free Recipes!