Last Updated on June 22, 2023 by Chef Mireille
Green Seasoning is the ubiquitou blended seasoning paste and marinade used throughout the English, Dutch and French speaking Caribbean to flavor up everything from curry and rice dishes to vegetables. It's an aromatic blend of different herbs and vegetables that is always in the fridge of any Caribbean household. Use it to flavor all of your savory foods and you will find an awakening of your taste buds.
Whether it's Trinidadian Green Seasoning, Jamaican Green Seasoning, Guyanese Green Seasoning or the the Green Seasoning of any other Caribbean island, there is only slight variation with each island's version so although this recipe mostly resembles a Trinidad Green Seasoning Recipe, you can use it for all of your Caribbean Food Recipes except for the Spanish speaking Caribbean (they use sofrito) and Haitian cooking (they use Epis).
So let's learn more about the backbone of Caribbean cooking – seasoning!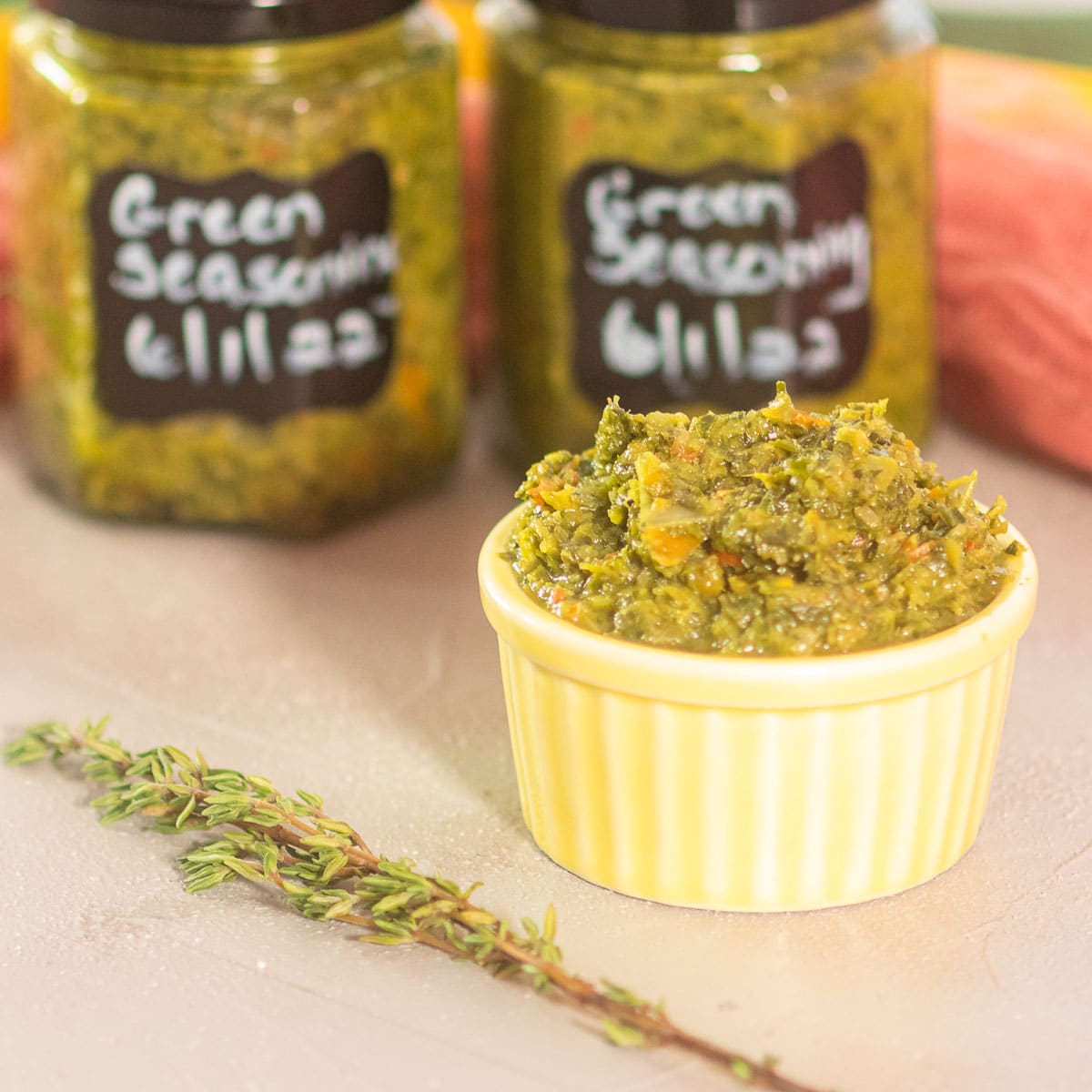 SUBSCRIBE TO CARIBBEAN RECIPES
Ready to spice up your kitchen with the vibrant flavors of the Caribbean? Sign up for our 10-week email series packed with authentic recipes and handy shopping lists!
Although Caribbean people love their hot pepper with Scotch Bonnet pepper (habanero peppers) being our pepper of choice, no hot pepper is used in this Caribbean Seasoning recipe. Since this is an all purpose seasoning meant to add flavor and aromatics to whatever you are cooking, it needs to be a bit neutral in flavor. You can always add hot pepper to whatever you are cooking with your homemade green seasoning.
The Spanish speaking Caribbean and South American countries have sofrito (my Sofrito recipe here) and the rest of the Caribbean has Green Seasoning. This all purpose seasoning and marinade goes into everything from curry to rice. As it's name indicates, it's a bunch of green stuff blended together.
Go to any Caribbean grocery, the shelves are lined with different brands of Green Seasoning, but it's super simple to make it at home nice and fresh, without the modified food starch and other preservatives in the store bought bottled versions. As this is fresh, it won't have the shelf life on the store bought version, so try to use it up within 30 days, unless you are freezing it
Recipe Notes
It's important to cut the vegetables and herbs down into smaller pieces. The bigger the pieces are, the longer it will take to grind them down. (It's way better than our ancestors who did this using a mortar and pestle).
Don't worry about take the thyme leaves off of the stalks. Just remove the tender stalks from the woody main brances.
Put the vegetables in the food processor a little at a time, so that each batch gets well grinded before you add more. If you overstuff the food processor, some will still end up as big chunks.
This recipe is so adaptable that you can adjust the recipe with whatever you have in the fridge. If you can't find the pimiento peppers, just add more bell pepper. Whatever combination of onions and scallions you have, you can use. This is a great recipe for you to use up any vegetables starting to no longer look too fresh. Other vegetables sometimes added include celery or celery leaves and any variety of onions including shallots.
Some variations will also include a chicken bouillon cube for added flavor.
If you'd like a smoother more homogenous consistency closer to the store bought bottled versions, you can add more olive oil as desired.
How to Use Green Seasoning
As a meat marinade – Generally speaking about 1/4 cup of Green Seasoning for one pound of meat.
In rice, vegetables, beans and soup recipes. In your pot, heat 2 tablespoons of oil and add a few generous tablespoons of green seasining. Stir fry it for about 5 minutes to get rid of the raw taste of the herbs and vegetables. Then continue to cook your rice, vegetables or soup as normal.
How to Store Green Seasoning
West Indians generally make a big batch of it about once a month. It can then be stored in the refrigerator in an air-tight jar for up to 1 month. The olive oil and the lime juice function as a preservative, which is why it can last for so many weeks in the rerigerator. It also lasts longer when store in glass jars, as opposed to plastic containers.
As an alternative, many people store it in an ice cube tray. Then you can easily just dump a few of your green seasoning cubes into a pan when you area ready to use it.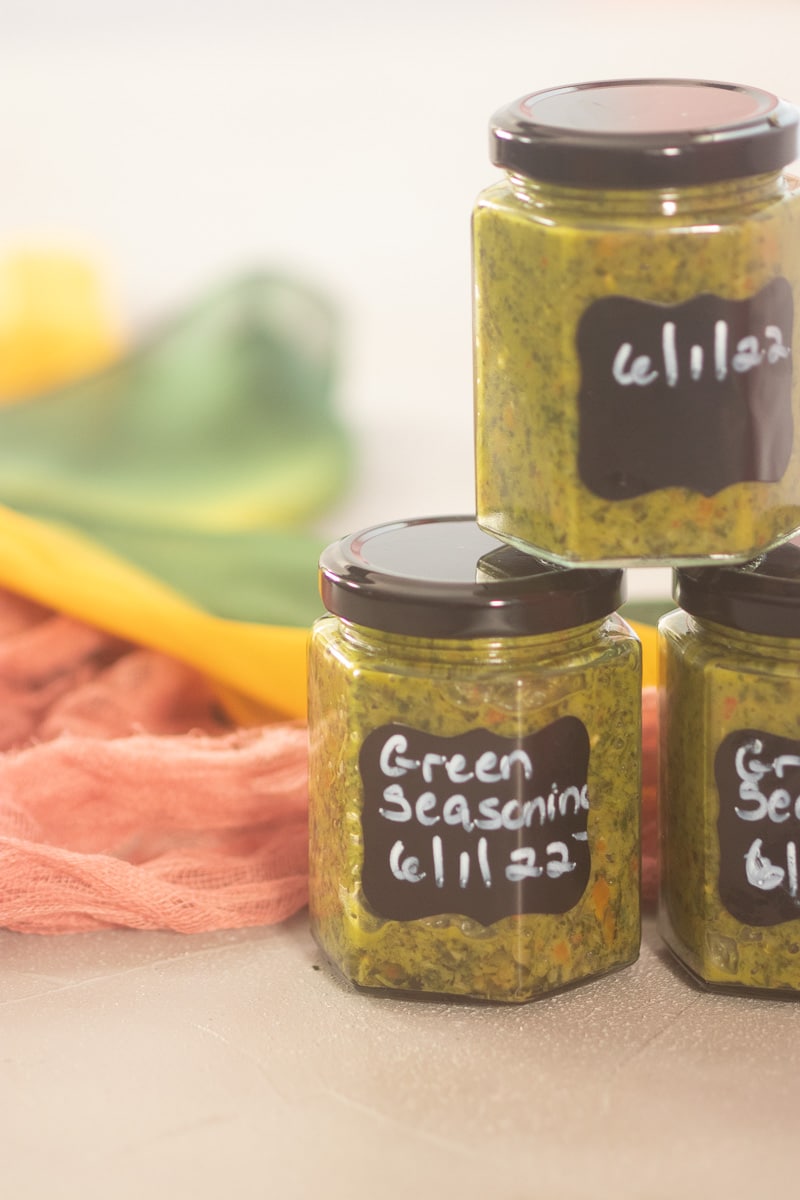 Most of the green seasoning ingredients are standard ingredients most people can find everywere, however there are a few ingredients less common in the US – so let's over them!
Specialty Ingredients
Pimento Peppers – These are small sweet peppers. They have all the sweet, fruity flavor of the Scotch Bonnet pepper, without the heat. However, it is not uncommon to occasionally find a spicy one in the batch
Shado Beni (Shadoe Beny/ Culantro/ Recaito/ Bandhania) – Known by different names and different spellings on different Caribbean islands, this herb has such a unique and aromatic flavor. It has a similar flavor profile to cilantro but 10 times the flavor, however without the perfume notes some people find offensive in cilantro/ coriander.
Both of these ingredients can be found in produce markets in Caribbean neighborhoods or you might also be able to source them from the ethnic foods section of your local supermarket.
Green Seasoning Ingredients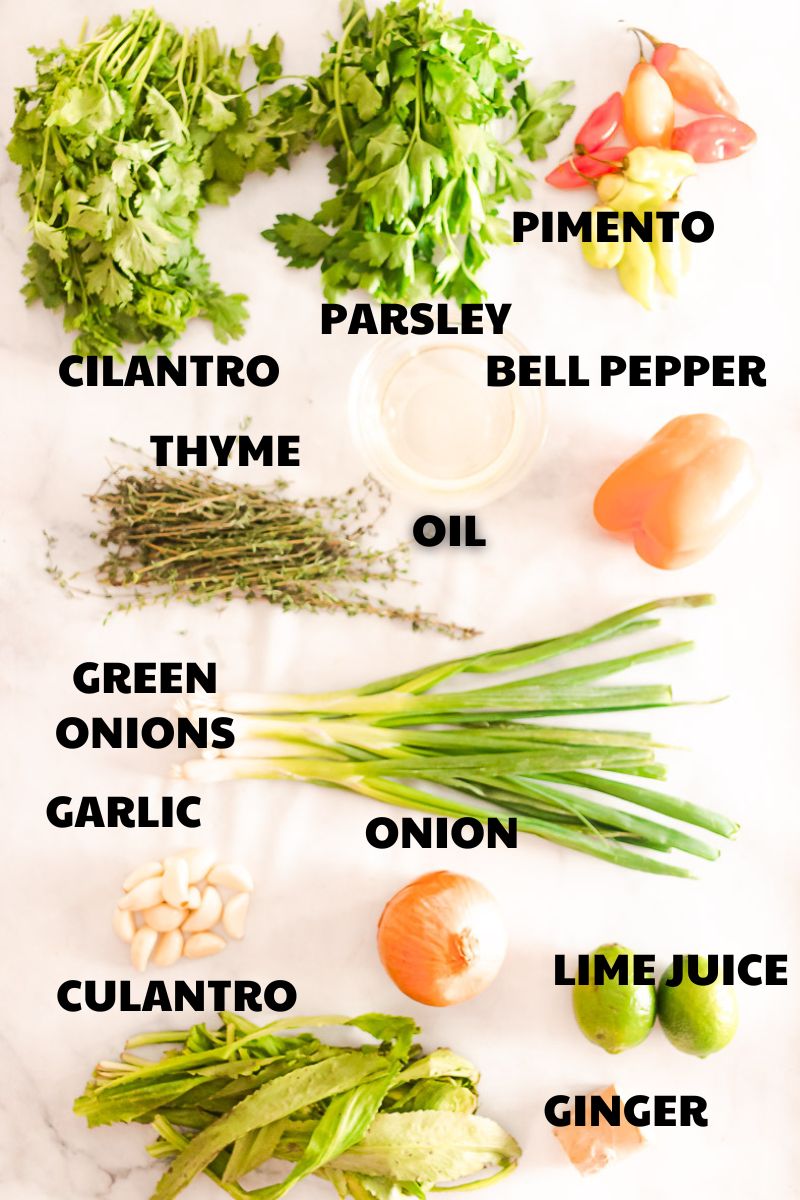 onion
garlic
bell pepper
pimento peppers
green onions
fresh thyme
fresh ginger
fresh cilantro
fresh parsley
fresh shadoe beny
fresh lime juice
olive oil
Have you tried instacart yet? It's how I get all of my fresh grocery items delivered within 2 hours!
How to Make Green Seasoning
Coarsely chop vegetables and herbs.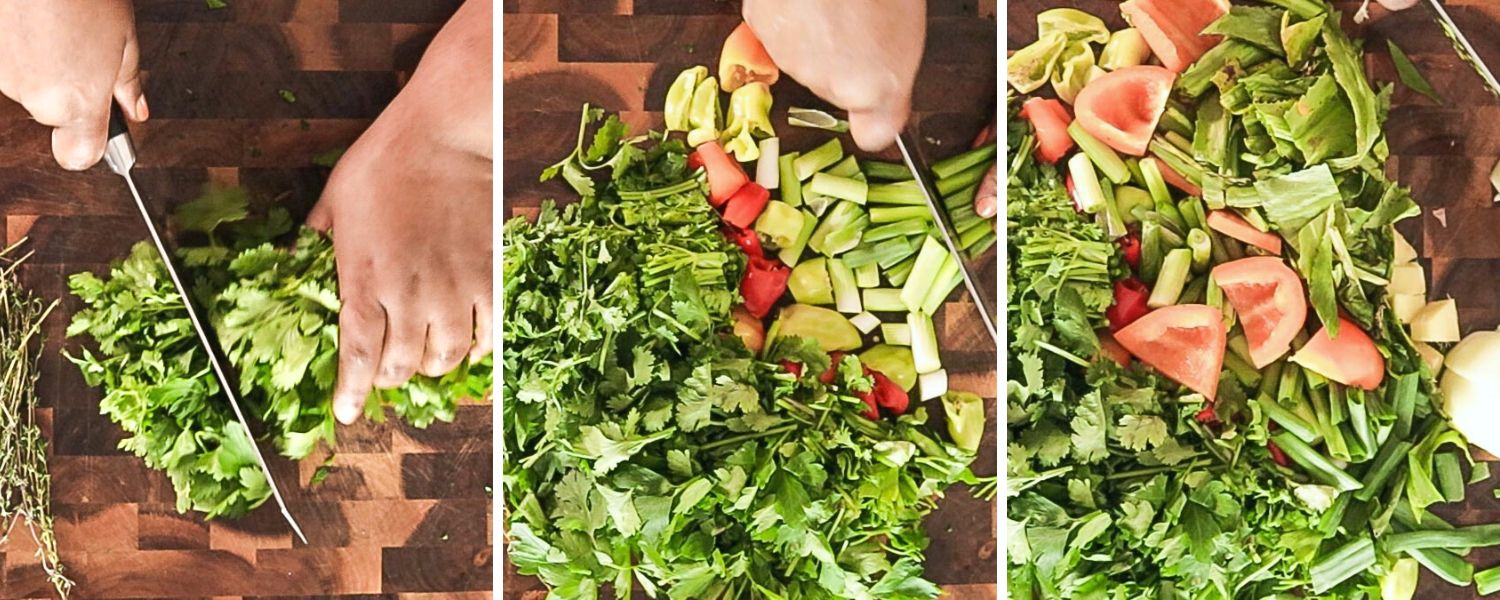 Process the vegetables and herbs in small batches, in the food processor until they are well grinded.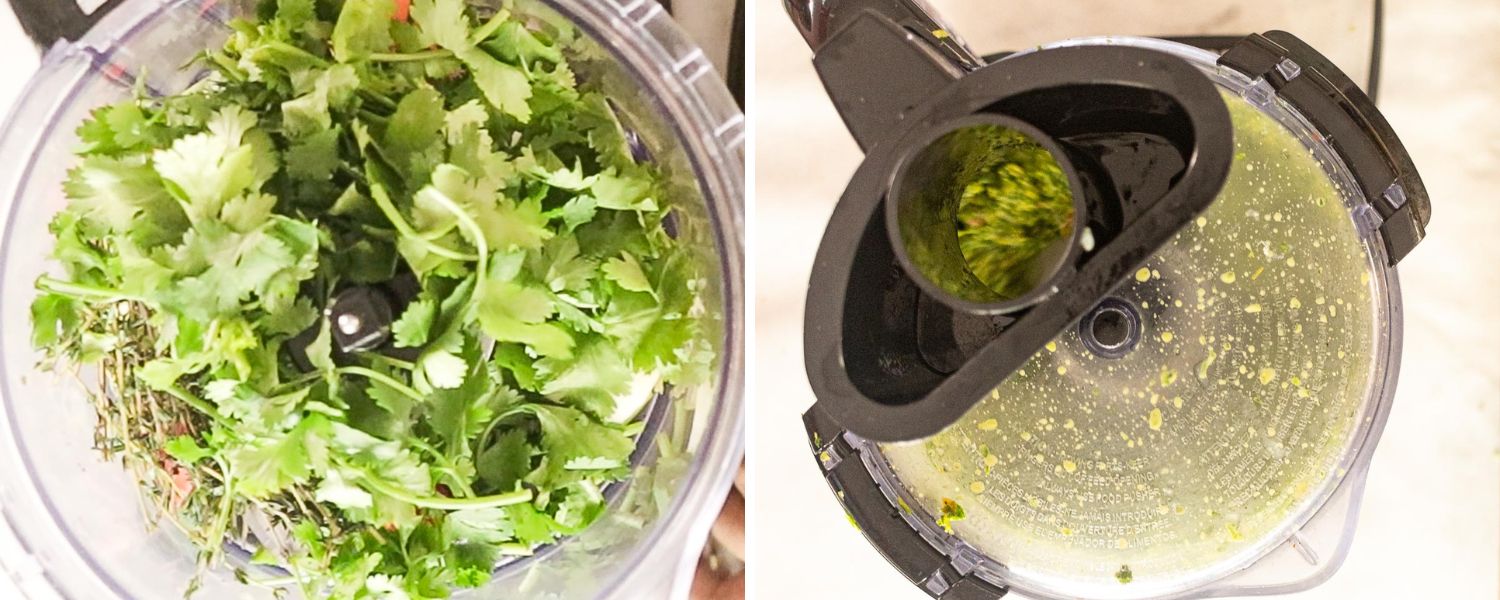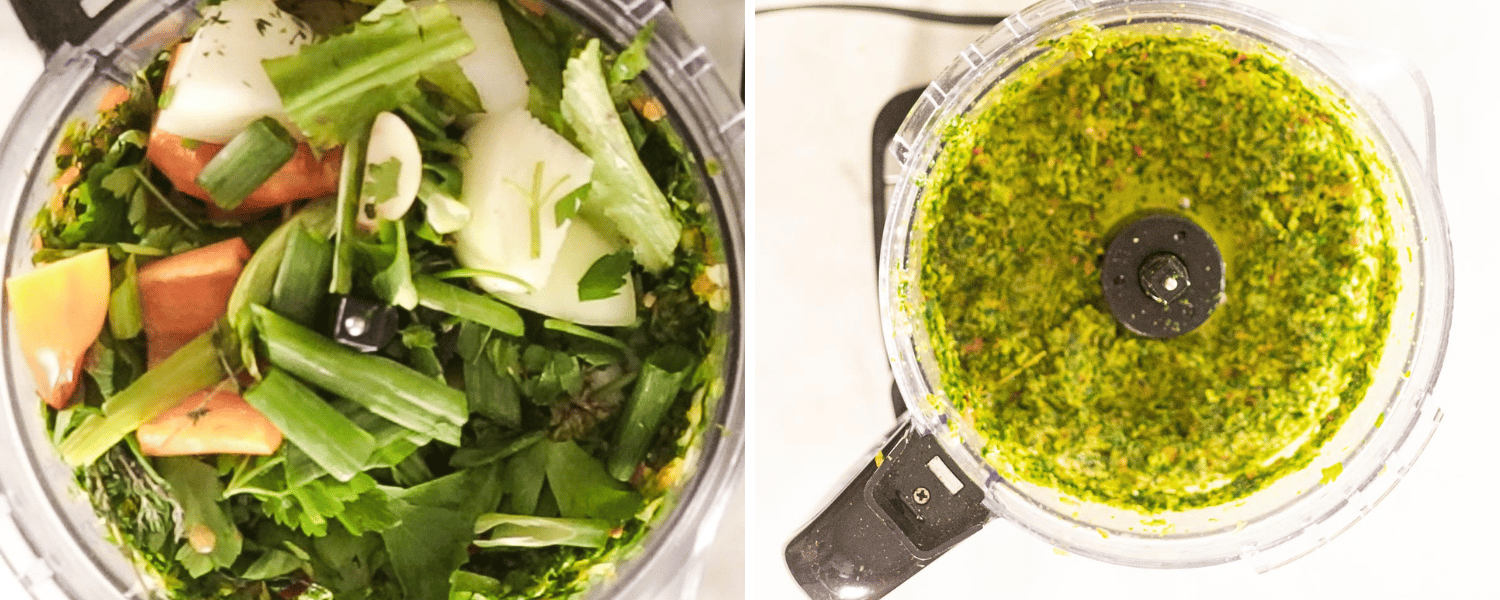 Add the lemon juice and olive oil.
Store in glass jars in the fridge.
Now that you know how to make the Best Green Seasoning for all of your Caribbean cooking
Caribbean people are not the only ones who go heavy with the use herbs and spices to flavor up our food. Here are a few other seasoning marinades and spice mixes you might want to try out to bring out more flavor into whatever you are cooking.
It's amazing how much flavor a simple blend of herbs can add to everyday cooking. Not only for traditional Caribbean Cuisine, but you can also use this fresh seasoning to marinate your meat for the grill during barbecue season. Using green seasoning will ensure you never have bland food again!
Seasoning Recipes
You will note the difference in texture between the homemade and the store bought version, but don't you feel better not taking in modified food starch!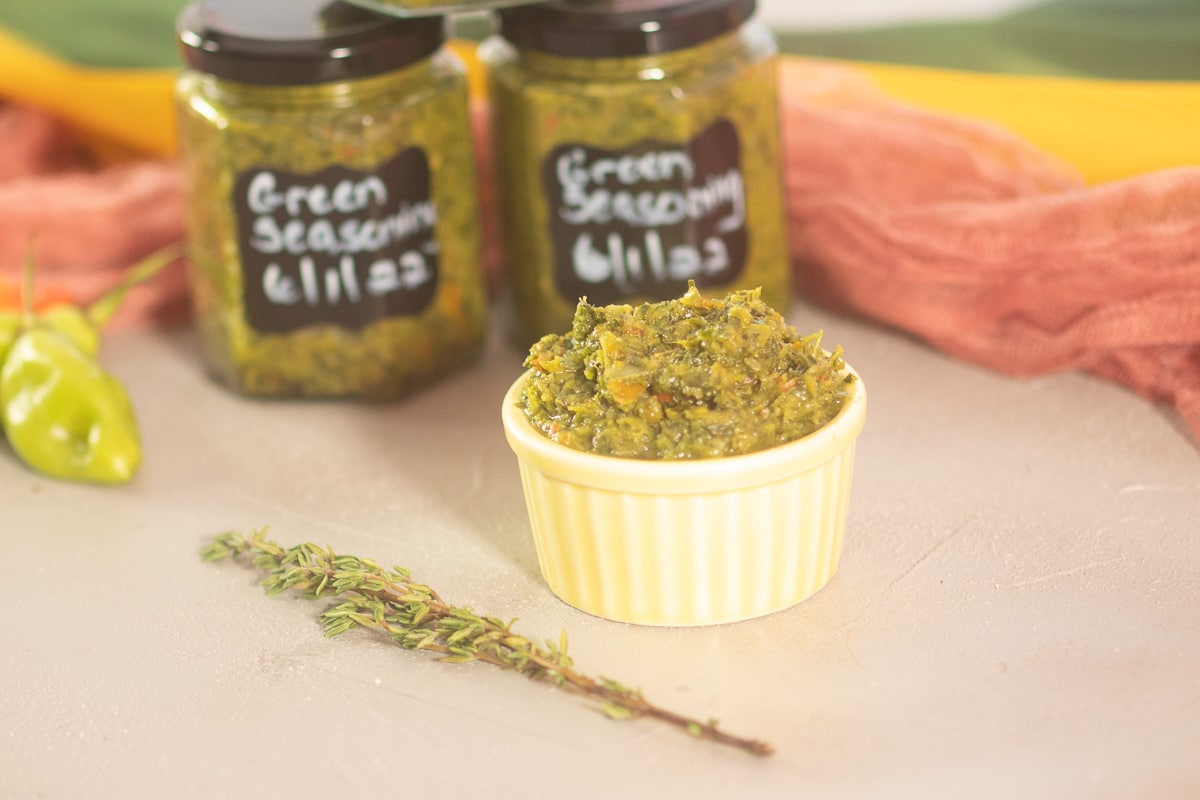 Now just add a few tablespoons to your curries, stew meat dishes, vegetable dishes, rice dishes – basically anything savory!
Here are a few recipes you can use your Green Seasoning in.
Green Seasoning – Caribbean Marinade
Green Seasoning is a flavorful mix of aromatic herbs and vegetables blended for an all purpose seasining paste.
Ingredients
1

onion

12

cloves

garlic

1

bell pepper

8

pimento peppers

5

green onion

1

bunch thyme

1

" piece of ginger

1

bunch cilantro

1

bunch parsley

1

bunch shadoe beny

Juice from 2 limes

1/3

cup

olive oil
Instructions
Coarsely chop vegetables and herbs. Remove thyme leaves from the branches. Discard woody branches.

In a food processor, add the vegetables and herbs a little at a time. Just add a variety of them all.

Keep on adding the vegetables and processing them well until they are all well grinded, without huge chunks of anything.

Add lime juice and olive and blend well.
Notes
Yield: Approximately 3 cups
Nutrition
Calories:
66
kcal
|
Carbohydrates:
3
g
|
Protein:
0.5
g
|
Fat:
6
g
|
Saturated Fat:
1
g
|
Polyunsaturated Fat:
1
g
|
Monounsaturated Fat:
4
g
|
Sodium:
2
mg
|
Potassium:
63
mg
|
Fiber:
1
g
|
Sugar:
1
g
|
Vitamin A:
361
IU
|
Vitamin C:
15
mg
|
Calcium:
12
mg
|
Iron:
0.2
mg
Did you try this recipe? Leave a comment below.
Please follow me on Instagram @chefmireille or tag me #chefmireille with your pics! I'd love to share them!
SHARE THIS DELICIOUS RECIPE WITH YOUR FOODIE FRIENDS
Now I know you want to try some more Caribbean food! Check out my collection with over 100 Caribbean Recipes from the Caribbean diaspora!