Last Updated on May 20, 2020 by Chef Mireille
Green Seasoning
This all purpose marinade is ubiquitous throughout the English & French speaking Caribbean. It's basically their version of sofrito.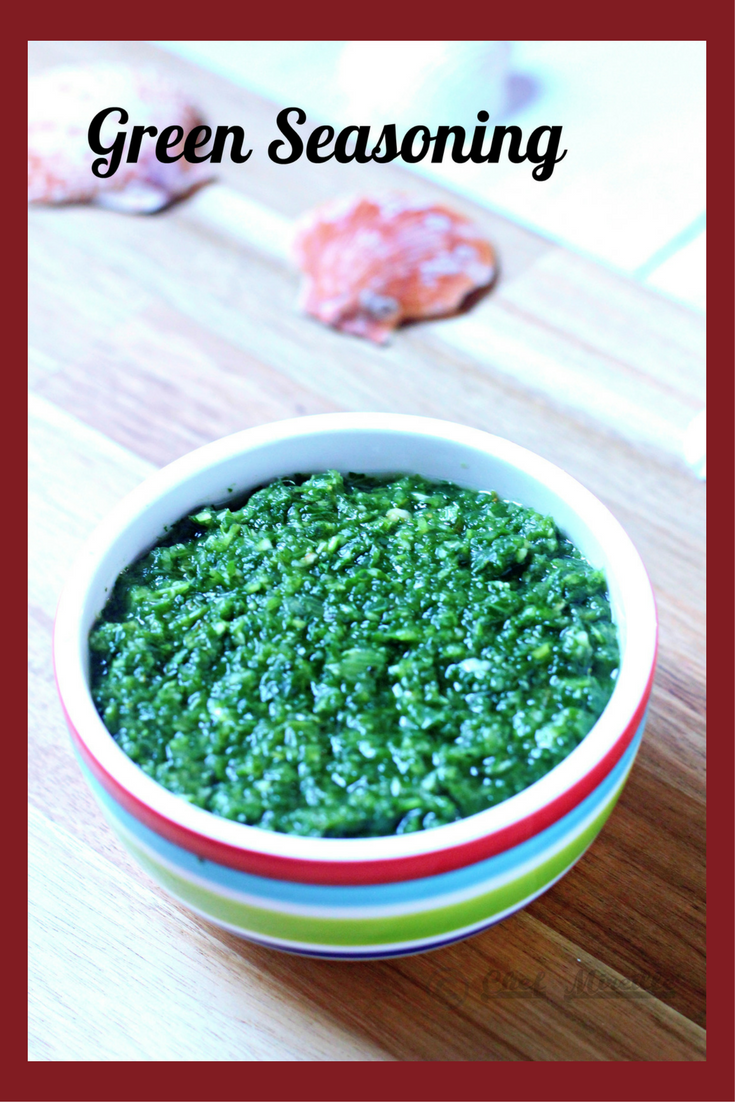 Green Seasoning is the ubiquitous seasoning and marinade used throughout the English, Dutch and French speaking Caribbean to flavor up everything from curry and rice to vegetables and salads.
The Spanish Caribbean and Latin America has sofrito (check my recipe here) and the rest of the Caribbean has Green Seasoning. The all purpose seasoning and marinade that goes into everything from curry to rice. As it's name indicates, it's a bunch of green stuff blended together. Go to any Caribbean grocery, the shelves are lined with different brands of Green Seasoning, but it's super simple to make it at home nice and fresh, without the modified food starch and other preservatives in the store bought bottled versions. As this is fresh, it won't have the shelf life on the store bought version, so try to use it up within 2 weeks. If not, freeze it.
Most of these are standard ingredients. The only exception is shadoe beny/ chandon beni/ bhandhania/ bhandani. Some words in the Caribbean can have very loose spellings. If you are in a neighborhood with a large Latin community, you may also see it being sold as recaito or the English word for it is culantro. It has a taste similar to cilantro but more intense. If you cannot find culantro, just double up on the cilantro in the recipe.
Before we get to today's recipe, let's check out some other Marinades & Spice Blends to flavor up your food!
Seasoning Recipes
First, get your ingredients together!
INGREDIENTS
You will note the difference in texture between the homemade and the store bought version, but don't you feel better not taking in modified food starch!
Now just add a few tablespoons to your curries, stew meat dishes, vegetable dishes, rice dishes, salad dressing – basically anything savory!
Green Seasoning – Caribbean Marinade
Ingredients
1

onion

12

garlic cloves

1

green bell pepper

5

scallions

1

bunch thyme

1

" piece of ginger

1

bunch cilantro

1

bunch parsley

1

bunch shadoe beny

Juice from 2 limes
Instructions
Coarsely chop vegetables. Remove thyme leaves from the branches. Discard woody branches.

In a

food processor

, chop onion, garlic, bell pepper, scallion, thyme and ginger. Process until chopped very fine.

Add cilantro, parsley and shadoe beny.

Add lime juice and blend well.

Add water a little at a time, until desired consistency (about ¾ – 1 cup).
Did you try this recipe? Leave a comment below.
Please follow me on Instagram @chefmireille or tag me #chefmireille with your pics! I'd love to share them!
SHARE THIS DELICIOUS RECIPE WITH YOUR FOODIE FRIENDS
Need more culinary inspiration? Check out the Recipe Index with over 1500 Recipes from Around the World with lots of Vegetarian 🥕🍆🍅and Gluten Free Recipes!