Last Updated on April 1, 2019 by Chef Mireille

Making Food Videos
Happy Monday!
Hope you are all having a productive day!
I wanted to give my readers a heads up about some changes that's going to be taking place on the blog over the next month, so you are not shocked and saying – wait a minute why isn't the post a recipe???
There is a human being behind this blog – that would be me, your local Schizo Chef – and as people we evolve, change and learn over time. I am not the same person I was 10 years ago when I started this blog. My interests and knowledge of blogging has changed a bit. To that end, I am transforming this blog into a one stop place for all the things that interest me and hopefully you will gain some knowledge and interest from the non recipe posts also.
Although I've done some travel posts in the past and initially launched a separate travel blog, I've decided to put my two loves in one place and in many cases they are related as I do travel the world don't I with the large variety of global recipes here whether I have visited the country or not. Every week there is going to be travel related post. That is going to be #TravelTuesday, so make sure you come by and visit me every Tuesday to see what it's about. I've taken quite a few trips this year, so if you like to travel, definitely stop by for ideas!
Additionally, every Monday is going to be a post about the business of blogging. There are very few blogging sites that address the very specific needs of food bloggers. I hope to be your #1 resource for all things food blog related. While many topics will be informative for those who engage in any type of blogging, food blogging will be the focus. The topics will vary so that I can address the needs of all bloggers from those in the very beginning who are just thinking of starting a food blog to more advanced bloggers. In order to address everyone's needs, it's not going to be chronological in relation to the steps of starting a blog.
To that end, let's get started on today's topic – Video.
To be a successful $ generating blogger right now, video is king. I've only recently started this journey. Here are a few tips I can share to get you started and get your delicious videos on You Tube and other platforms. This post is going to focus on those at the beginning stages who are doing tasty style overhead videos.
Essential Equipment
1 –  Camera – Although there are some who produce their videos using their iphone/smartphone, since I produce mine on a DLSR camera, this post is going to focus on what I have learned with this method. Although having two cameras is the food bloggers wish list, so that we can produce videos that have both overhead and side view/front view angles, a good video can still be produced with one camera. I use just one camera to produce an overhead style video. If you have a phone/ipad, you can also try using that as a secondary camera. I use a Canon Rebel, which does not have image stabilization. If you are yet to purchase a DSLR or have the budget for a second camera and video in mind, you should invest in a camera with image stabilization like the Canon 80D. It's an investment so if you cannot afford it, you will still be able to produce great videos with the Rebel, which is what I currently use.
2 – Tripod is an essential piece of equipment needed. Trying to cook and film simultaneously is an accident waiting to happen.
3 – Tripod Extender Arm – This allows you to position your camera overhead with your tripod. I use this one and it has been effective and serves its purpose. Instructions are non existent, but you can find useful videos on You Tube on how to set it up.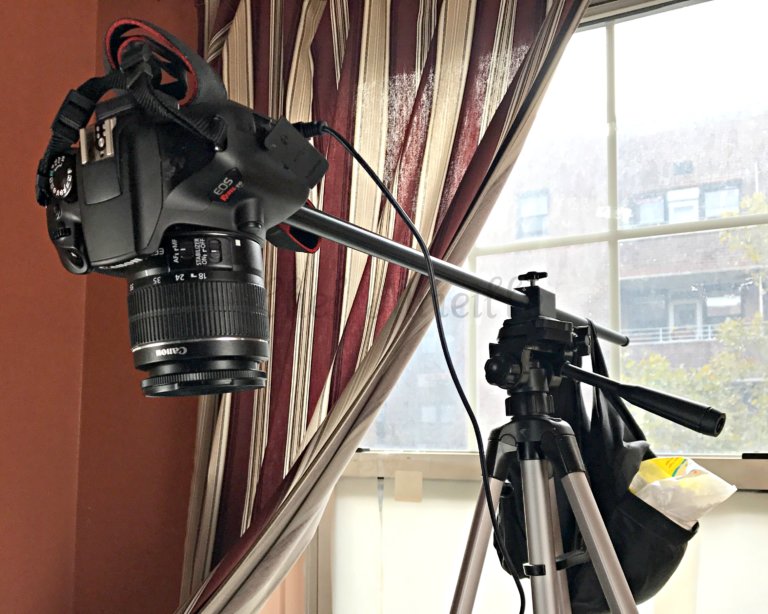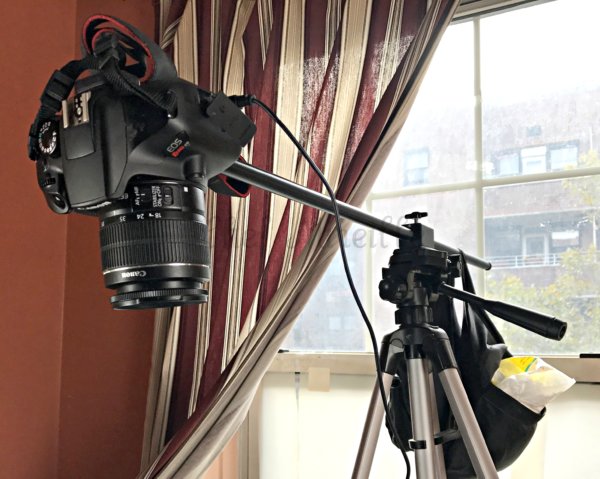 4 – Editing Software – Premiere Pro is the industry standard as the best software, however,  I have only so far produced videos using the FREE iMovie software on the Mac. It is extremely user friendly and you will be able to produce your video with a short learning curve.  When you are ready to invest in editing software here are the top 3:
Paid Software
5 – Lights – For video, you need brighter lighting than for photography. If you don't have excellent natural lights, I suggest getting light boxes. I use this set. They are inexpensive for the genre not super sturdy but serve the purpose. However, if you have kids who may be rough housing near your lights, you might want to invest in something sturdier.
6 – Backup Batteries – Filming Video uses a lot more battery juice. Have a backup fully charged camera battery so you can easily change when the battery dies during shooting a video.
7 – Backgrounds – For video, you need a bright background. I have dark wooden furniture. If you have a nice bright white table, then you can skip this section. For the rest of you, vinyl backgrounds are the best option. They are inexpensive (average price $12-$18 for 3'x2′) and easy to clean. It's subjective on what kind of background you like – whether you want something solid, marble, wood – as long as it is light and bright! This is the one I use.
Places to buy
Now stop procrastinating and start making your videos!