Last Updated on April 10, 2023 by Chef Mireille
This post may include affiliate links.
This is the best Court Bouillon Recipe! It is a classic Caribbean dish that's perfect for seafood lovers. With its fragrant herbs and tangy tomato base, it's sure to impress.
Best of all, it makes a quick and easy fish dinner. Ready in less than 30 minutes. It goes perfectly with Caribbean Rice and Peas or Cou Cou (Caribbean polenta) for a complete meal.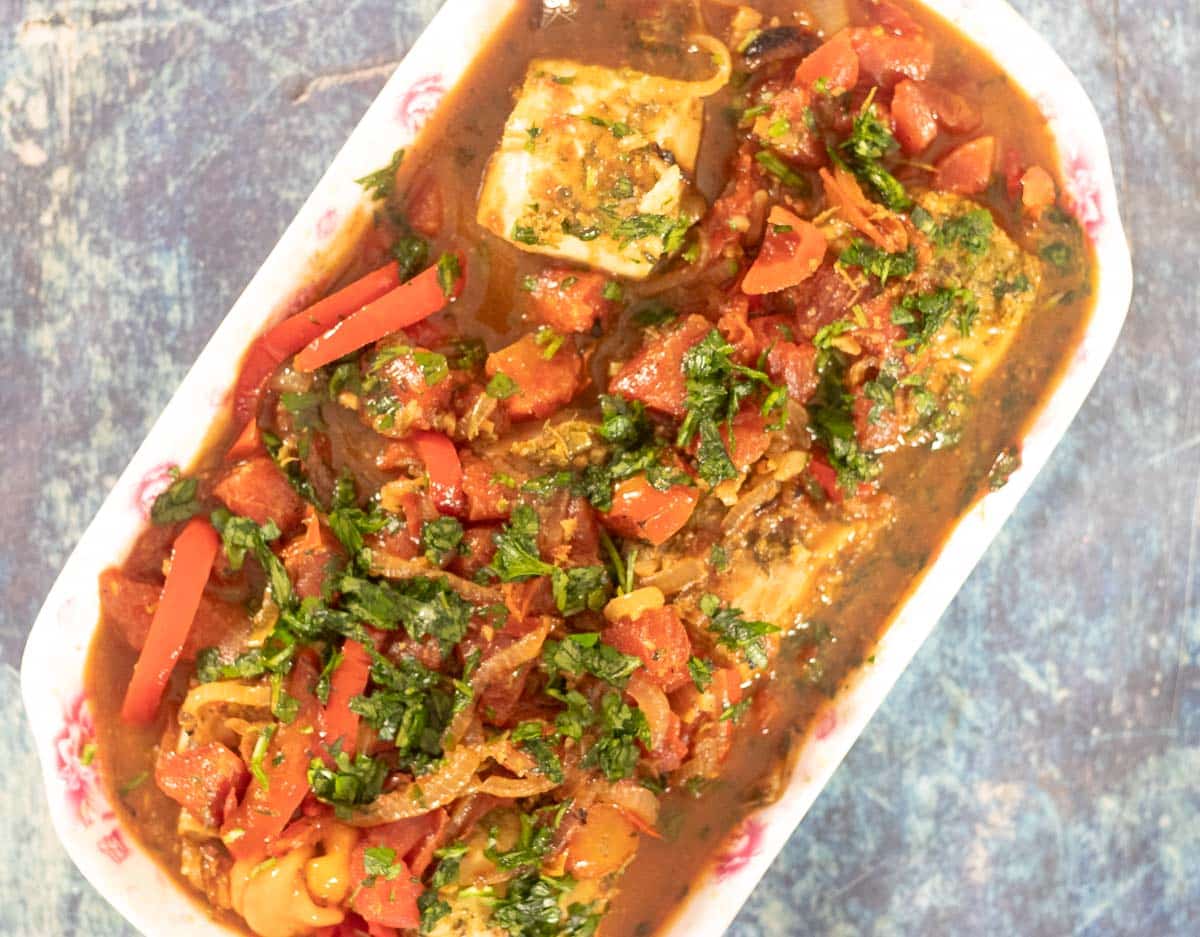 Table of Contents
Depending on what island you are on, it may be called a braf, court bouillon de poisson, guisada or just stew fish. There may be slight variations, but there are versions of this delicious stew fish on every Caribbean island.
However, with that being said, my inspiration for this recipes comes from Dominica, my grandmother's birthplace. Dominica at one time was a French island. A French based creole is spoken by the people and many dishes are rooted in French cuisine or at least has the influence of French cuisine.
While it may have the same name, what people in France call a court bouillon is quite different. French Court Bouillon is made by making a flavorful vegetable broth infused with bouquet garni and then poaching fish or seafood in the aromatic liquid.
I grew up eating fish every Friday. While we often had fried fish, Court Bouillon or Stew Fish was an alternative that my Mom also made often.
Coming from the Caribbean, she thought buying frozen fish was a strange concept so every Friday she would get fresh fish from the local fish market.
This was one of the strangest things my Mom thought when she first came to the US. Buying meat and fish from a supermarket took my mom many years to get accustomed to. Even as a child when she had already been here for 20+ years, we would go to a live market in New Jersey to get fresh meat. My mother did not trust meat that could have been frozen for months or even years, for all she knew.
The Flavor Bomb
One of the things that makes Caribbean food so flavorful is the flavorful base that goes into the pot before cooking almost all of our food.
If you're from the Spanish speaking Caribbean islands, it's sofrito. If you're Haitian, it's Epis and for the rest of the Caribbean, it's Green Seasoning.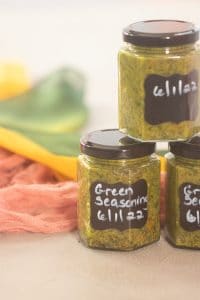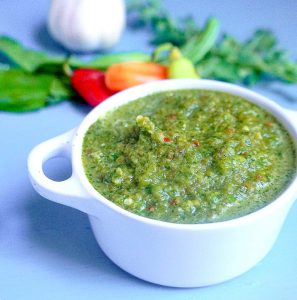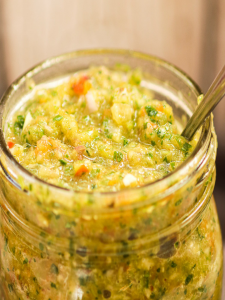 What is Green Seasoning?
Green Seasoning and all the variations indicated above is a pureed mix of vegetables, herbs and spices with a little olive oil and lime juice or vinegar to preserve it. We always have a jar of it in the fridge.
You can make a big batch once a week or once a month, depending how many people you cook for. It can last in the fridge for several weeks and for longer, simply freeze it.
Where Can I get Green Seasoning?
You will find it at Caribbean markets or grocery stores with good International sections. If not, it is also available at Amazon of you can just make it yourself by using my Green Seasoning Recipe here. Fresh is always best!
Now let's get to this delicious Court Bouillon recipe!
Ingredients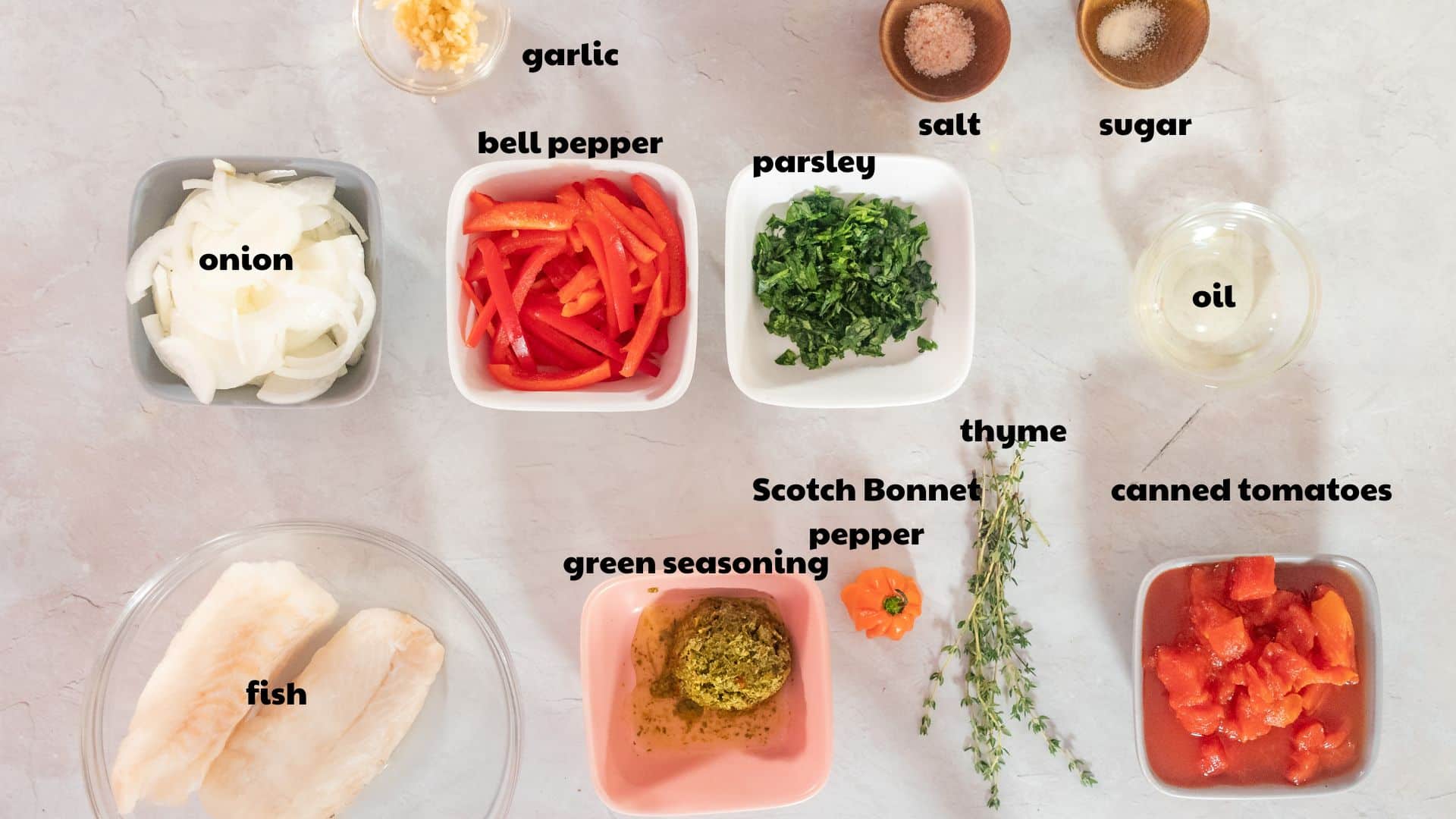 any firm white fish (Mahi Mahi, catfish, haddock, king fish)
oil
white or yellow onion
bell peppers
garlic
fresh thyme
canned diced tomatoes (or fresh tomatoes)
Scotch Bonnet pepper (habanero)
sugar
salt
fresh parsley
How to Make Court Bouillon (Caribbean Style)
Clean the fish with lime juice or lemon juice and rinse with cold water.
Marinate fish with the green seasoning.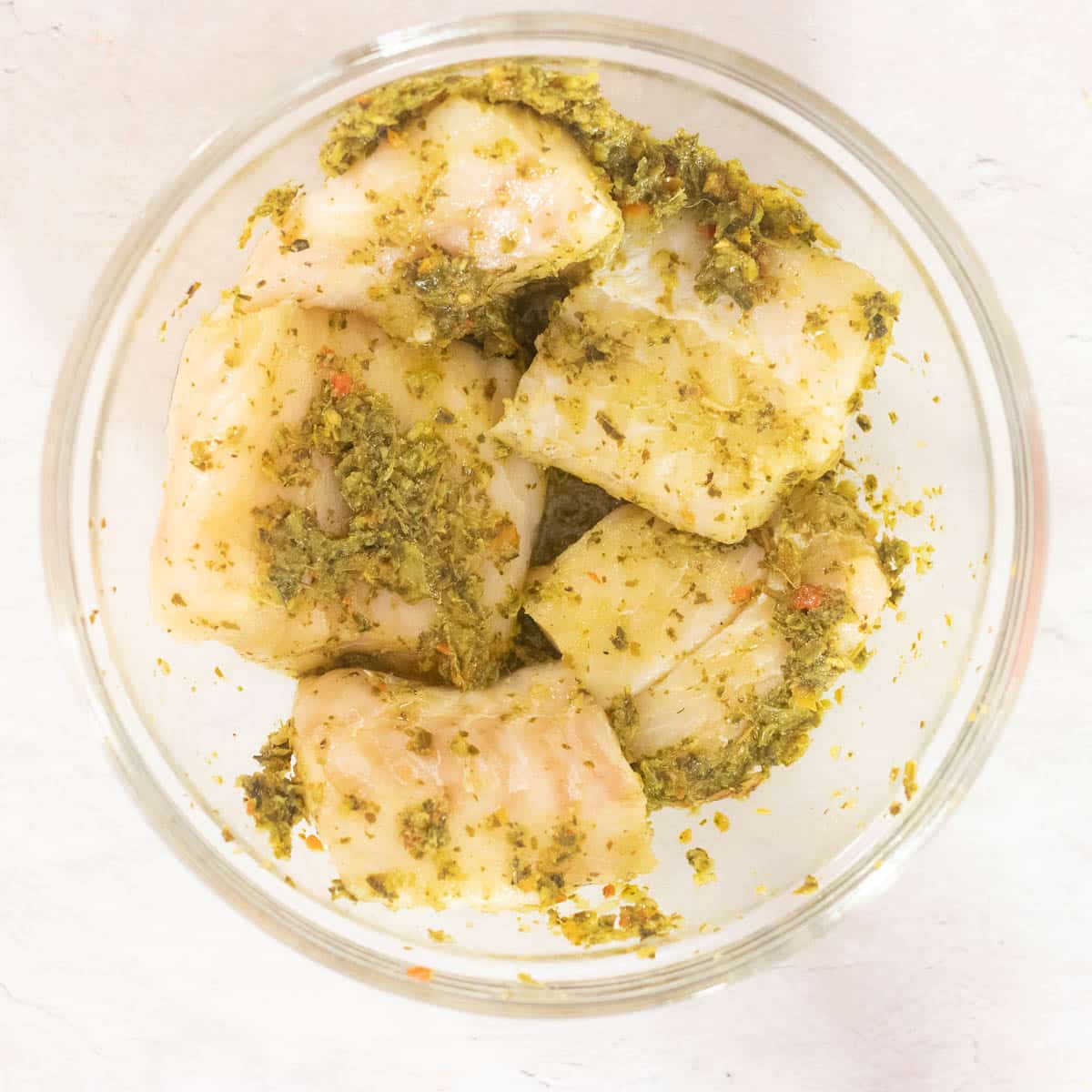 Saute onions and peppers until very soft on medium heat..
Add garlic and saute for 1 more minute.
Add Scotch Bonnet, and thyme.
Add tomatoes, sugar and salt.
Cover and simmer on medium-low heat.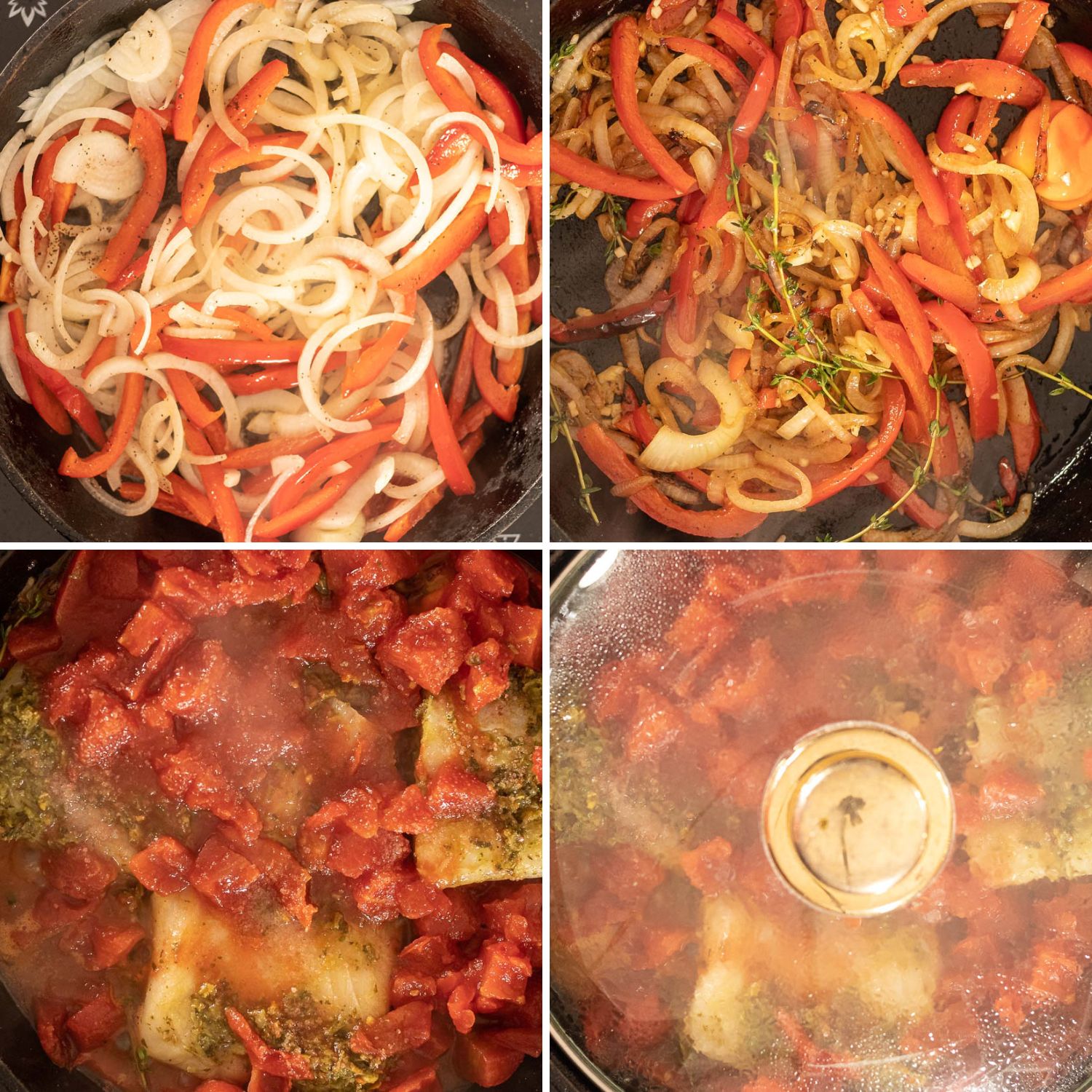 Add parsley.
Spoon the red gravy over the fish and serve.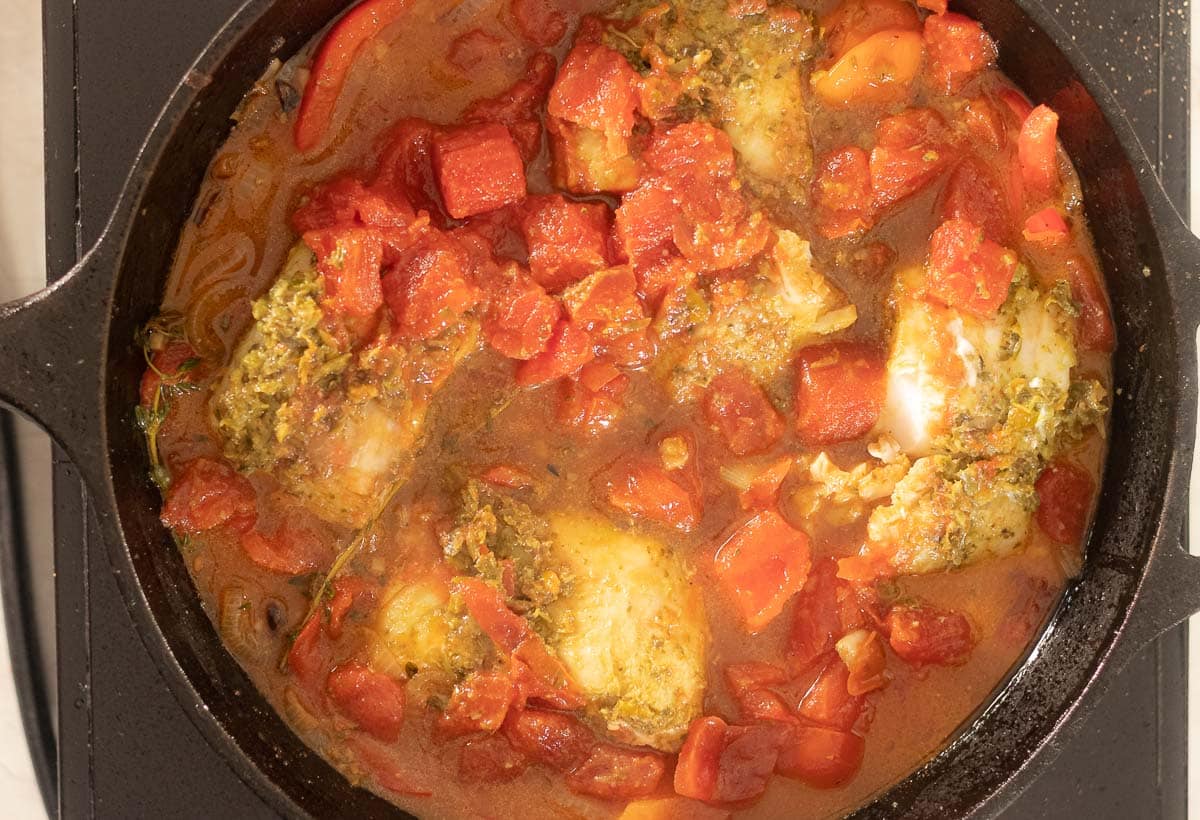 One of the most delicious fish stews you will ever taste!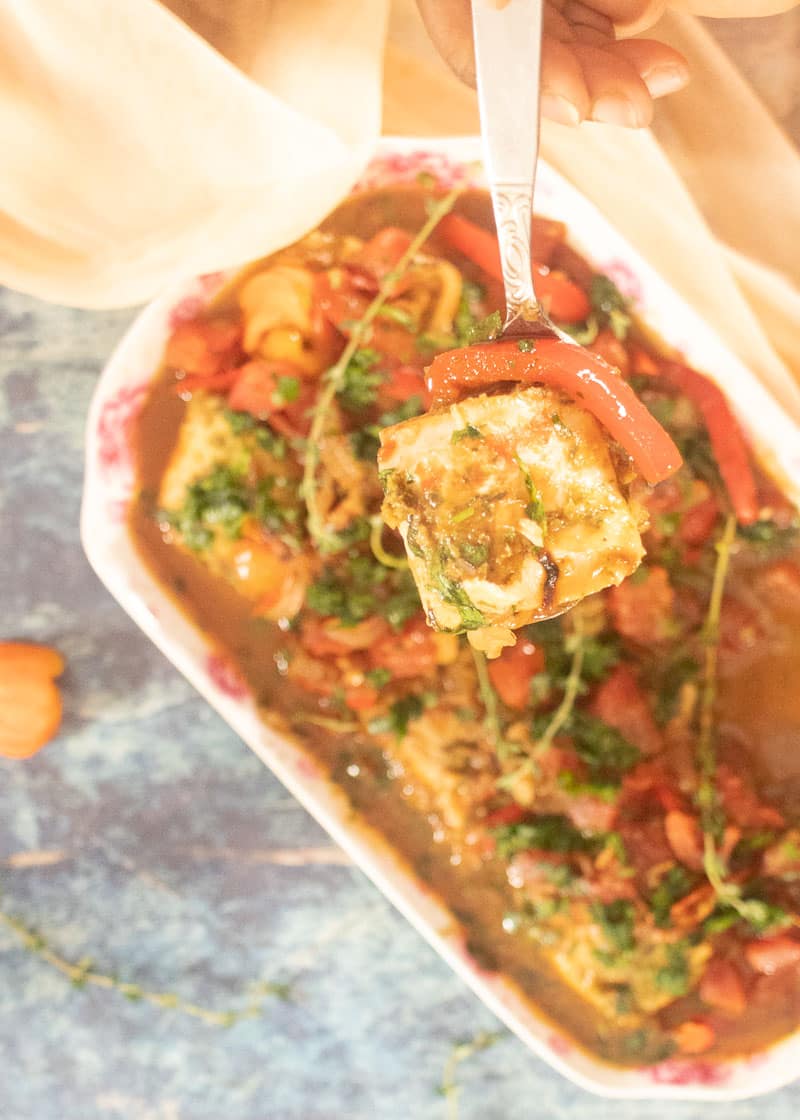 What is Caribbean Stew Fish served with?
Depending on what island you are on, there are different accompaniments to Court Bouillon.
One of the most popular are savory starch based puddings a la polenta or fufu. The Caribbean has many interpretations of African fufu, including Bajan Cou Cou, funchi, Haitian Tom Tom and Ton Ton. Ton Ton is pounded green plantains made in Dominica.
Green Salad or Sauteed Cabbage
End your delicious Caribbean meal with Caribbean Spice Cake or Coconut Bread Pudding!
Caribbean Stew Fish
Caribbean Fish Stew is quick and easy. Perfect for weeknight dinner.
Ingredients
16

oz.

Mahi Mahi fillets or any firm white flesh fish. King Fish is most common in the Caribbean

1/4

cup

green seasoning

2

tablespoons

oil

1

onion thinly sliced

1

red bell pepper sliced

3

garlic cloves finely chopped

1/2

Scotch Bonnet pepper habanero

sprigs of fresh thyme

1 14.5

oz.

can diced tomatoes

or fresh tomatoes

a pinch of sugar

salt to taste

about 3/4 teaspoon

2

tablespoons

finely chopped parsley
Instructions
Clean the fish with lime juice.

Place the fish in a small bowl.

Pour Green Seasoning over the fish and brush the seasoning well over all sides of the fish. Marinate for at least 1/2 hour and up to overnight.

In a skillet, heat oil.

Add onions and bell pepper.

Saute for about 5 minutes on medium-high heat, until they start to caramelize.

Add garlic and saute for 1 more minute.

Add Scotch Bonnet and thyme. Stir in a few times.

Add fish, tomatoes, sugar and salt. Spoon sauce over the fish.

Cover and simmer for 10 minutes. The fish is essentially steaming in its own poaching liquid.

Add parsley and stir to combine.

Spoon the flavorful broth over the fish and serve .
Notes
Use 1/2 red and 1/2 green bell pepper for more color.
Remove the Scotch Bonnet after cooking if you don't want the heat of the pepper to continue to infuse the sauce.
Nutrition
Calories:
182
kcal
|
Carbohydrates:
5
g
|
Protein:
22
g
|
Fat:
8
g
|
Saturated Fat:
1
g
|
Cholesterol:
83
mg
|
Sodium:
104
mg
|
Potassium:
586
mg
|
Fiber:
1
g
|
Sugar:
3
g
|
Vitamin A:
1304
IU
|
Vitamin C:
45
mg
|
Calcium:
29
mg
|
Iron:
2
mg
Did you try this recipe? Leave a comment below.
Please follow me on Instagram @chefmireille or tag me #chefmireille with your pics! I'd love to share them!
Now I know you want to try some more Caribbean food! Check out my collection with over 100 Caribbean Recipes from the Caribbean diaspora!