Last Updated on June 22, 2023 by Chef Mireille
This post may include affiliate links.
Coconut Bread Pudding
A spice laden flavorful bread pudding from the French influenced Caribbean island of Dominica. Perfect for holiday time!
SUBSCRIBE TO CARIBBEAN RECIPES
Ready to spice up your kitchen with the vibrant flavors of the Caribbean? Sign up for our 10-week email series packed with authentic recipes and handy shopping lists!
Bread Pudding is one of those foods that many countries have a version of. American/British/French style bread pudding usually has buttered bread slices which are then toasted and cubed. This is then covered with a rich egg custard and then baked in a water bath.The bread pieces stay intact even after baking.
Caribbean style bread pudding, which is the kind I grew up eating, is a solid pudding made from soaked bread slices. Although I have been eating this my entire life, this was my first attempt at making it. My grandmother is from Dominica and on my first visit in 2007 I managed to pick up a few recipes from relatives and friends.
Before we get to the bread pudding, let's talk a little about Caribbean bread. Even our white bread is not as soft and doughy as American white bread. Besides all the health benefits of baking with whole grains, the reason I always include some kind of whole grain in my bread baking is to give the bread some body and texture.
White bread was never in my home growing up, however I recall visiting friends and eating Wonder bread for the first time and I thought it was the most annoying thing in the world to eat with its soft texture getting stuck to the roof of my mouth. I was probably the only kid who preferred wheat bread to white, but it all depends what you're used to.
Caribbean white bread has more body and has a denser texture, yet it is not heavy like whole grain breads can sometimes be. This is one thing I have never attempted to make and I am sure it would take some practice for me to get the texture right. Until I do, I am lucky to have a little of the Caribbean here in NY.
Golden Krust is a popular Caribbean restaurant chain, with locations throughout all of New York and you can easily get a loaf of what they call Hard Dough Bread. The name doesn't sound appetizing, but trust me – you won't regret buying this loaf of bread! If you don't have access to a Caribbean bakery, use an Artisan bread with body and a little density.
This will become your new favorite holiday dessert every year!!!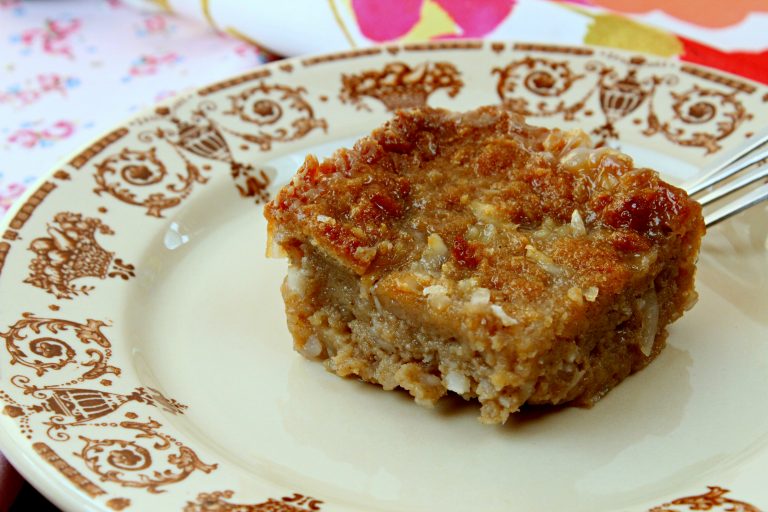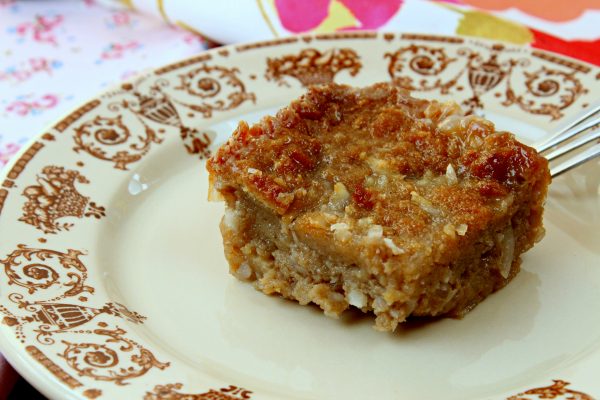 Coconut Bread Pudding came out the perfect texture. Now I no longer have to wait until I visit the bakery to be able to get Caribbean style bread pudding. I can make it myself whenever I want!
Before we get to this recipe, you might want to try our some other Caribbean treats to tempt your palate.
Caribbean Desserts
Coconut Bread Pudding
Caribbean style bread pudding is perfect to complete your holiday table.
Ingredients
10

slices

Hard Dough bread

ends trimmed and cut into large pieces

6

cups

of water

1

egg

2

cups

milk

1

cup

frozen shredded coconut

defrosted (or freshly grated coconut)

2

cups

sugar

2

teaspoons

vanilla extract

1/2

teaspoon

freshly grated nutmeg

freshly grated

1/4

teaspoon

ground cinnamon

1/2

teaspoon

ground ginger

1/4

teaspoon

ground clove

zest of 1 lime

grated

2

tablespoons

butter
Instructions
Soak bread in water for a few minutes.

Remove the bread and squeeze out all of the water by hand very well.

In the bowl of an electric mixer, combine sugar, egg and vanilla. Mix well.

Heat milk until warm but not boiling.

Slowly add mix while running the mixer continuously.

Add nutmeg, cinnamon, ginger and clove. Mix well.

Add lime zest, coconut and bread. Mix well until thoroughly combined.

Leave to rest for 30 minutes.

Preheat oven to 350 F.

Lightly grease a square baking dish with butter.

Transfer batter to baking dish.

Bake for 2 hours, until the pudding is set.

Chill for at least 2 hours before serving.
Notes
The longer you chill the pudding, the firmer it will set. It is best to chill overnight.
Can be served chilled or at room temperature.
Nutrition
Calories:
288
kcal
|
Carbohydrates:
49
g
|
Protein:
5
g
|
Fat:
9
g
|
Saturated Fat:
6
g
|
Cholesterol:
23
mg
|
Sodium:
164
mg
|
Potassium:
140
mg
|
Fiber:
2
g
|
Sugar:
37
g
|
Vitamin A:
144
IU
|
Vitamin C:
1
mg
|
Calcium:
82
mg
|
Iron:
1
mg
Did you try this recipe? Leave a comment below.
Please follow me on Instagram @chefmireille or tag me #chefmireille with your pics! I'd love to share them!
DO YOU YUM? SAVE IT BELOW!
Yum
Now I know you want to try some more Caribbean food! Check out my collection with over 100 Caribbean Recipes from the Caribbean diaspora!