Last Updated on September 14, 2023 by Chef Mireille
This post may include affiliate links.
Copycat Tortuga Rum Cake is a rum soaked cake that is laced with rum – included in the batter as well as being fed with a delicious rum glaze. This Tortuga Rum Cake Recipe is different than many recipes you will find for this popular Caribbean Rum Cake. Instead of using processed pudding mix and boxed yellow cake mix, this recipe is a from scratch natural recipe, avoiding the use of processed ingredients.
Best of all, this Tortuga Rum Cake from Scratch still has the amazing flavor and texture you get from the Tortuga Rum Cake often sold in airport duty free shops in the Caribbean.
This Tortuga Rum Cake is one of two types of Rum Cakes that are made especially during the holiday season in the Caribbean – the other being Black Cake.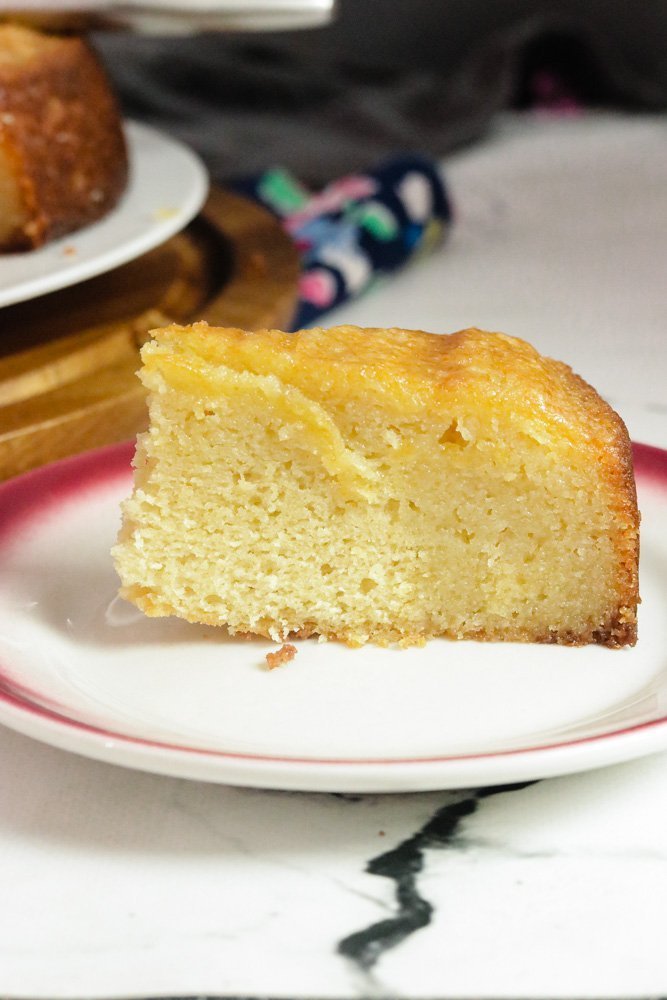 Rum in the Caribbean
Although rum is also produced in India & the Philippines, most rum is produced in the Caribbean. Every island has it's own brand with the locals being extremely loyal to their country's brand. Some of the larger islands even have several brands.
All Caribbean islands have large sugarcane plantations. Sugar is one of the major GDP in most of the Caribbean except on islands like Aruba, which is a tropical desert.
Distilled from sugarcane, rum began to be produced in the 17th century when the enslaved people discovered that molasses, a by product of sugar refining, could be fermented into alcohol.
Since then, it is a vital part of our culture and cuisine. From this type of rum cake to Black Cake to Rum Punch to Kremas (eggless eggnog), no party is complete without some food or drink made with rum. My mom never made a single cake without adding a few tablespoons of rum.
The first alcoholic drink I ever had was Rum Punch. When we were kids maybe around age 12 or 13, they started letting us have very small portions of Rum Punch for special occasions, although diluted with a lot of ice.
SUBSCRIBE TO CARIBBEAN RECIPES
Ready to spice up your kitchen with the vibrant flavors of the Caribbean? Sign up for our 10-week email series packed with authentic recipes and handy shopping lists!
Tortuga Rum Cake
This cake is not simply infused with rum flavor so that you just get a slight aftertaste. This cake is drunk with rum, literally, as the methodology involves feeding the cake with a rum syrup after it has been baked.
If you have ever travelled to the Caribbean, you may have purchased a Tortuga Rum Cake from the duty free shop prior to departing. It is quite famous, although to be honest, I have never had one.
When I visit the Caribbean, I am usually so filled with delicious home cooking from my family that I am not usually looking for cakes when I am getting ready to leave.
However, I was at a food festival a few weeks ago when I tasted this type of Rum Cake and I knew I had to figure out how to replicate it. The vendor was so nice and explained to me how she made it.
You will find many versions of this cake recipe online and in Caribbean cookbooks, however most of them use vanilla pudding mix in the batter. I always try to cook with natural products whenever possible, so I wanted to come up with a from scratch version but that would still have the moist and tender crumb but does not include processed pudding mix. Therefore mine is a bit of a departure from the original recipe, but still has the same soft and moist tender crumb.
I know I succeeded as the people I shared this cake with couldn't stop raving about it and now I have been requested to make this for a few people for Christmas. This cake is so soft and moist and drunk with rum. It is like a rum cocktail in cake form!
TYPES OF RUM
There are basically three types of rum, depending on how long it has been aged – white, amber or dark. I used amber rum in this recipe, but you can use whichever you have about. Some people also mix and may use half white and half dark rum when making it.
Don't drink alcohol?
You can use this same methodology, but use juice instead to make intensely flavored fruit cakes. Use mango juice or papaya or guava to at least keep it along the tropical themes from the Caribbean!
Travel to the Caribbean
I hope with all this talk of rum and the delicious recipes you saw this week, you have been inspired to plan your next vacation to the Caribbean. Looking for ideas? How about Dominica? With its unspoiled beauty, it is a great destination for nature lovers!
RELATED: DOMINICA, NATURE ISLAND OF THE CARIBBEAN
Now let's get to this delicious recipe! Here are some tips to make sure you achieve the perfect Caribbean Rum Cake (no pudding version)
Recipe Notes
This recipe may seem like a bit of departure as many use dry pudding mix and/or yellow cake mix, however this is an rum cake recipe from scratch. Therefore, these processed box mixes are not utilized in this all natural recipe. The use of dry milk powder gives the cake the same soft and tender texture.
Most versions include chopped walnuts, however I have nut allergies. You may utilize the nuts as you prefer, when indicated in the recipe instructions.
How to Feed Caribbean Rum Cake
It may seem like a lot of syrup when you make the rum glaze, but don't be afraid when you see the soaking glaze go almost to the top of the cake pan. I promise you – it is not too much sauce.
Within 2-3 minutes, the cake will have absorbed all of the liquid.
After the glaze has been absorbed, wrap the cake tightly with plastic wrap and then aluminum foil. Don't cut the cake until the next day. This will seal in all of the rum flavor.
The next day the cake will be so soft and spongy!
Caribbean Rum Cake is a soft and moist cake to be enjoyed during holiday time or any special occasion! This from scratch version of Caribbean Rum Cake is super soft and moist and drunk with rum – as it should be!
Are you ready to make the best rum cake recipe ever?
Rum Cake Ingredients
all purpose flour
dry milk powder (full fat)
baking powder
cornstarch
oil
eggs
rum
vanilla extract
Chopped walnuts (optional)
How to Make Rum Cake
Combine all of the dry ingredients in the bowl of an electric mixer.
In another large bowl, combine the wet ingredients including the rum and mix well.
Add the wet ingredients to the dry ingredients and mix until thoroughly combined.
Spray the cake pan with non stick spray.
If using nuts, sprinkle 1/2 cup chopped nuts in the bottom of the pan.
Bake in a 350 F oven for 45 minutes.
While the cake is baking, make the rum syrup.
To make the rum glaze, melt the butter in a saucepan.
Add the rest of the rum syrup ingredients to the saucepan and let it simmer another 5 minutes.
As soon as the cake is finished, the first thing to do is to pierce the hot cake with toothpicks and pour the rum sauce over the cake.
The cake will drink up the rum.
Let the cake cool on a cooling rack.
Wrap the cool cake tightly with both plastic wrap and aluminum foil.
This cake tastes best when enjoyed a few days after it is baked so the rum has time to be completely incorporated into the hot cake.
Tortuga Rum Cake Recipe
Copycat Tortuga Rum Cake Recipe is a soft and moist drunk cake to be enjoyed during holiday time or any special occasion!
Ingredients
Cake Ingredients
1 ¾

cup

all purpose flour

½

cup

dry milk powder full fat

4

teaspoons

baking powder

¼

cup

cornstarch

1

teaspoon

salt

1 ½

cups

white sugar

½

cup

oil

4

eggs

½

cup

rum

2

teaspoons

vanilla extract

Chopped nuts optional
Instructions
Preheat oven to 350 F. Spray a springform pan with nonstick cooking spray.

Sprinkle chopped nuts on bottom of pan (if using).

In the bowl of a stand mixer, combine flour, milk powder, baking powder, cornstarch, salt and sugars.

Using the paddle attachment, mix to combine.

In a small bowl, combine oil, eggs, rum and vanilla extract. Mix well.

Add to dry ingredients in the mixer and mix well until thoroughly incorporated.

Transfer the cake batter to prepared baking dish.

Bake for 45 minutes, until a cake tester comes out clean.

Turn off oven and leave cake in oven for 10 minutes.

Meanwhile, in a small saucepan, combine butter, salt, sugar and water.

Cook on medium high heat until the butter melts. Boil for 2 minutes.

Add rum and cook for another 5 minutes on low heat.

Let cake rest for 5 minutes.

With a rubber spatula, go around the perimeter of the cake, making sure it is not sticking anywhere.

Poke holes all over with a toothpick.

Pour rum glaze over cake and wait 2-3 minutes until the cake has absorbed all of the liquid.

Let the cake cool in the cake pan.

Remove the sides of the springform pan.

Flip cake over onto a plate.

Using a rubber spatula, carefully remove the bottom of the cake pan.

Wrap the cake tightly with plastic wrap and then aluminum foil, using 2 plates to invert cake back and forth until it is properly wrapped.

On the next day, unwrap the cake, slice and enjoy!
Notes
Start making the cake at least 1 day before you plan to serve it.
For the traditional Tortuga Rum Cake shape, bake the cake using a large bundt pan.
Most versions usually include chopped nuts on the top, but I have nut allergies. You can sprinkle 1/2 cup chopped walnuts in the bottom of the pan, prior to pouring in the cake batter, if you would like to include the nuts in your version.
For a non alcoholic version, you can turn it into a delicious moist Orange Cake and substitute orange juice every where in the recipe where rum is called for.
Nutrition
Calories:
485
kcal
|
Carbohydrates:
61
g
|
Protein:
5
g
|
Fat:
20
g
|
Saturated Fat:
7
g
|
Polyunsaturated Fat:
3
g
|
Monounsaturated Fat:
9
g
|
Trans Fat:
0.4
g
|
Cholesterol:
80
mg
|
Sodium:
348
mg
|
Potassium:
256
mg
|
Fiber:
1
g
|
Sugar:
44
g
|
Vitamin A:
365
IU
|
Vitamin C:
0.5
mg
|
Calcium:
124
mg
|
Iron:
1
mg
Did you try this recipe? Leave a comment below.
Please follow me on Instagram @chefmireille or tag me #chefmireille with your pics! I'd love to share them!
DO YOU YUM? SAVE IT BELOW!
Yum
Don't forget to visit the RECIPE INDEX with over 1000 recipes from around the world including lots of Vegetarian Recipes and Gluten Free Recipes!