Last Updated on December 20, 2020 by Chef Mireille
Black Cake – Caribbean Fruit Cake is a rich rum cake that is fed with alcohol. This is a Caribbean holiday staple. No Christmas is complete without Black Cake.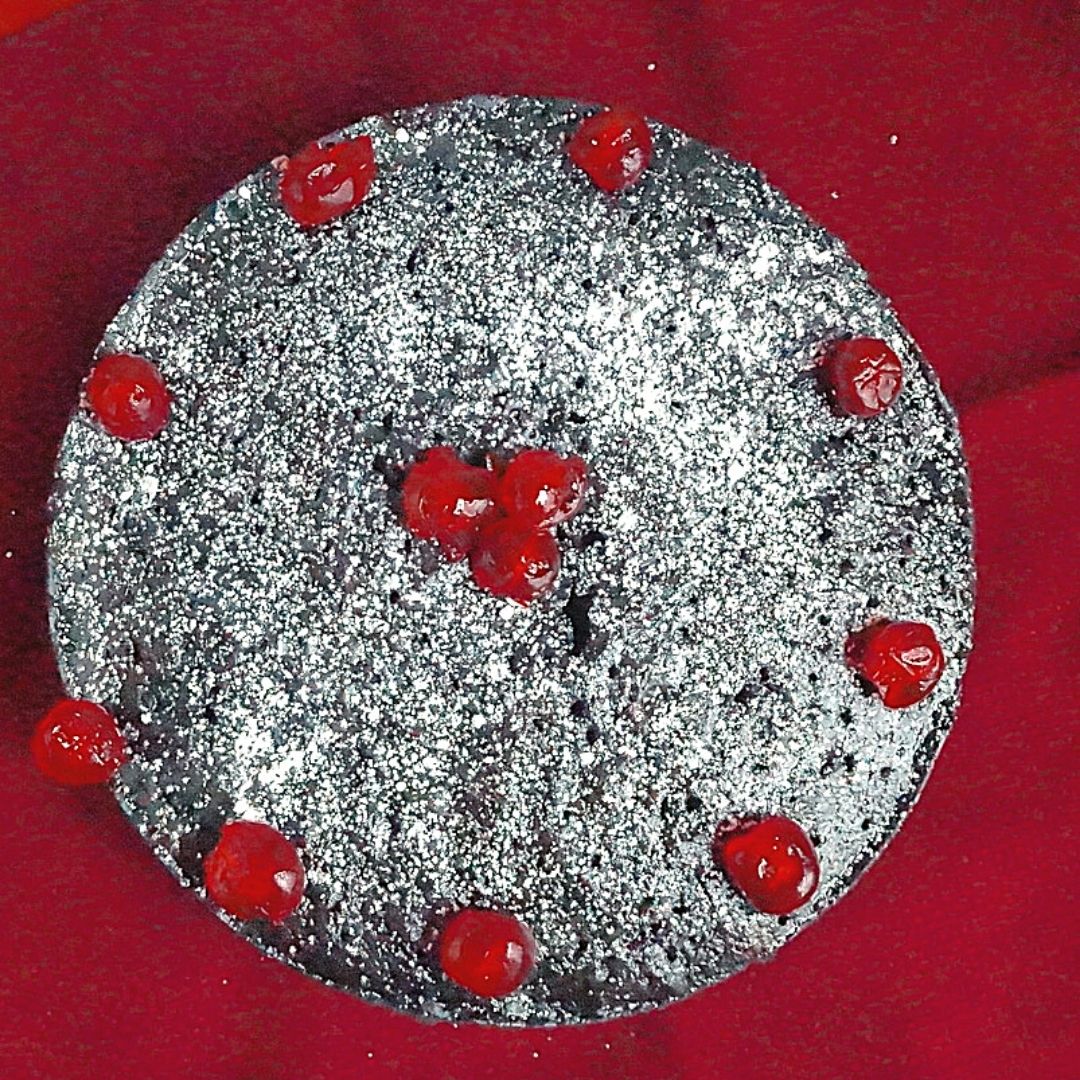 This post may include affiliate links.
Black Cake is an intense rum cake, popular in the Caribbean. No holiday season occurs on any island, without black cake being present in any home.
Black Cake recipes are guarded more than the President. While I won't give away all of my secrets, here is the foundation that will make you a delicious black cake. This is a rich, moist cake – almost like a pudding. This is basically the Caribbean version of a Christmas Fruit Cake.

WARNING: DO NOT CONSUME IF YOU HAVE PROBLEMS WITH SUBSTANCE ABUSE
This is not a cake where the rum is simply used to slightly enhance the flavor. Having a slice is akin to having a cocktail.
Plan Ahead
This is not a cake that can be whipped up at a moment's notice. At the bare minimum, the fruit must soak for at least 7 days. Ideally, you want it to soak for at least a month.
The fruit needs time to soften and absorb the alcohol.
However, once you start, you can then have the fruit ready to make Caribbean Black Cake year after year,
The recipe below includes enough fruit to make several cakes. The reason for this is that you will now have the fruit ready to make Caribbean Fruitcake at any time.
During the year, the fruit will swell as it absorbs the alcohol. Periodically, if you see the alcohol dry up, just add some more so that it just covers the fruit.
Then every year when you make your fruit cake or cakes if you want to give away some as gifts, just add some more fruit and alcohol to keep the fruit going year after year.
Store the fruit/alcohol in a glass jar and it will never go bad. Mine has been going for about 10 years.
The Fruit
The recipe below shows you how to start your fruit mixture so that every year you can make your own Black Cake. Although the recipe says it only requires a week of soaking, the longer it soaks the more flavorful your cake is going to be.
The combination of fruits and nuts used can vary according to your preference. Any variety of dried fruit can be used and more nuts can also be used if you prefer.
Since I am allergic to tree nuts and can only tolerate a few in very small quantities, my combination has less nuts than is common. Feel free to add some extra nuts.
Your next question is probably:
What makes Caribbean Fruitcake black?
It is an ingredient called browning. Brown sugar is cooked until it turns into a dark almost molasses type syrup. However, it is not as bitter or smoky as molasses.
If you cannot source browning, here is a homemade browning recipe you can use.
This cake must be cooked very slow, otherwise you will have a burnt top but the inside will not be cooked because it is so moist.

Black Cake – Caribbean Fruit Cake
Black Cake – Caribbean Fruit Cake – is an intense rum cake which is the standard holiday dessert on all Caribbean islands.
Ingredients
Fruit Ingredients
1

cup

currants

1

cup

pitted prunes

chopped

1/2

cup

raisins

1/2

cup

dried cherries

1/2

cup

dried candied fruit peel

1

cup

sliced almonds

2

cups

rum

2 

cups

cherry brandy
Cake Ingredients
1

pound

butter

2

cups

sugar

10

eggs

Zest of 2 limes

2

teaspoons

vanilla extract

2

teaspoons

cinnamon

4

teaspoons

baking powder

4

cups

all purpose flour

3/4

cup

browning
Garnish Ingredients
1/2

cup

rum

1/2

cup

cherry brandy

glace cherries

for garnish

powdered sugar

for garnish
Instructions
At least a week in advance, combine the fruits and nice and place in a bottle with 2 cups each of the rum and the brandy.  This can be done up to a year in advance.  The longer the fruit soaks, the better.

Line 2 10″ cake pans or 3 8″ inch cake pans with waxed paper.  Preheat oven to 250 degrees F.

Sift flour, baking powder and cinnamon and set aside.

In a mixing bowl, combine butter and sugar and beat until fluffy.   

Add eggs, one at a time, until thoroughly combined.

Add zest and vanilla.  Add flour until thoroughly combined.

At this time, the dough will be very dense.

Add 2 cups of the fruit, draining out as much liquid as possible and the browning. (Reserve the rest for the next time you make the cake). The dough will now become very moist.

Divide the dough into the two cake pans and cook for 1 1/2 – 2 1/2, until  a toothpick inserted comes out clean.

Prick the top of the cake with a toothpick.

Combine the remaining rum and brandy in a bowl.

Pour a little of the brandy-rum combination over the cake.  The cake will absorb the liquid. Once the cake absorbs the liquid, add a little more.  Do this about every 1/2 hour for about 2 hours. 

Once the cake has absorbed the liquid, remove from cake pan (simply flip the cake over onto a plate and the waxed paper should just peel off) and I usually serve simply garnished, with a few glace cherries and powdered sugar.

Store leftover cake, tightly wrapped in aluminum foil.
Notes
This is a make ahead recipe. The prep work must start at least 7 days in advance.
For special occasions like weddings, the cake is often covered with a marzipan frosting.
This cake must be cooked very slow, otherwise you will have a burnt top but the inside will not be cooked because it is so moist.
There is a lot of variation in the baking time, depending how much of the liquid with the fruit was added.
Nutrition
Calories:
445.53
kcal
|
Carbohydrates:
45.04
g
|
Protein:
5.12
g
|
Fat:
16.5
g
|
Saturated Fat:
8.97
g
|
Sodium:
81.66
mg
|
Fiber:
2.15
g
|
Sugar:
27.16
g
Did you try this recipe? Leave a comment below.
Please follow me on Instagram @chefmireille or tag me #chefmireille with your pics! I'd love to share them!
This is a moist, rich alcohol-laden cake, that is addictive – having just one slice is near impossible!
DO YOU YUM? SAVE IT BELOW!
Yum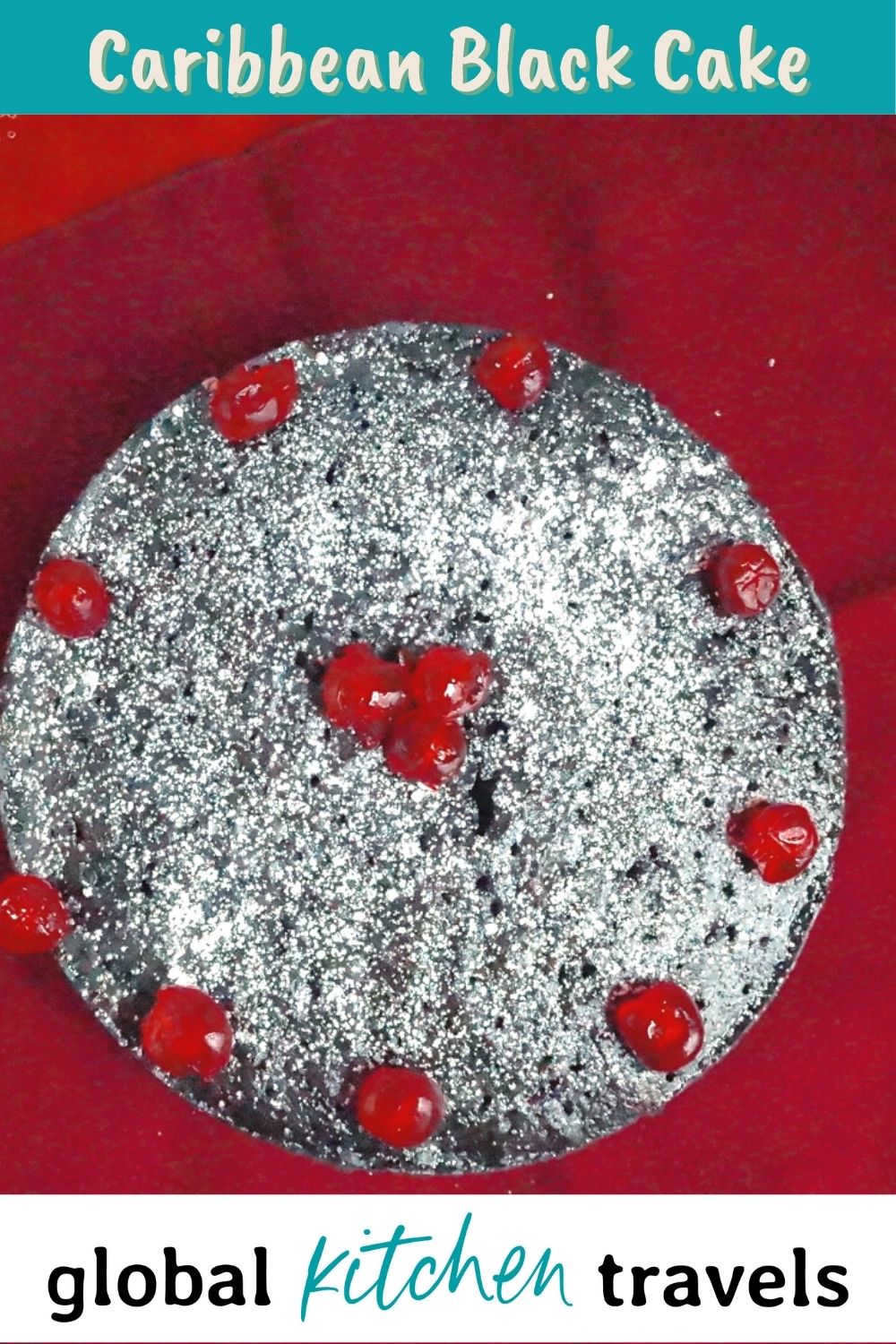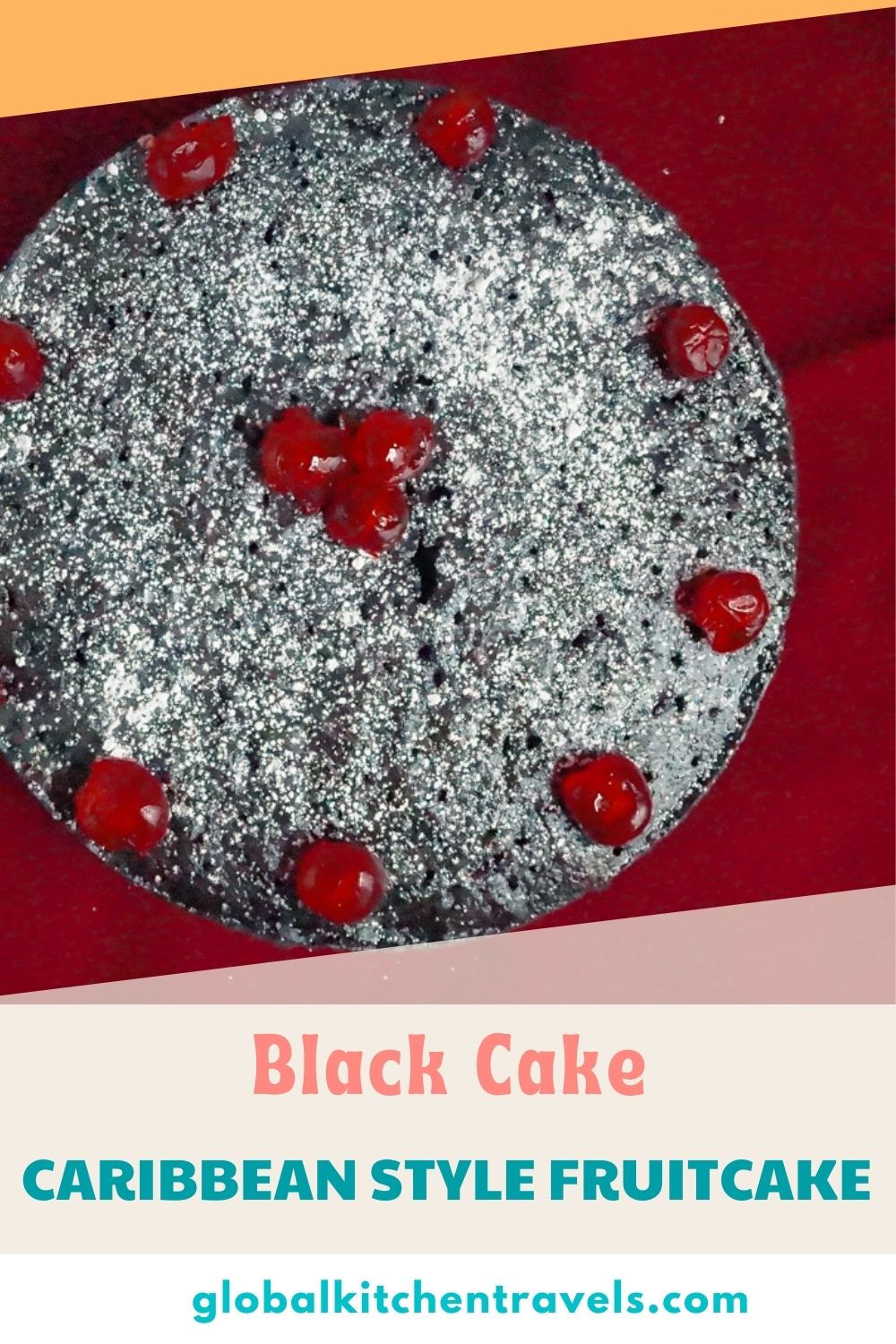 Need more culinary inspiration? Check out the Recipe Index with over 1500 Recipes from Around the World with lots of Vegetarian 🥕🍆🍅and Gluten Free Recipes!