Last Updated on November 22, 2022 by Chef Mireille
This post may include affiliate links.
Niter Kibbeh Recipe and Berbere are two essential pantry items you must always have to make delicious homemade Ethiopian food. This delicious spiced clarified butter along with berbere spice mix are the backbones of Ethiopian Cuisines. It is an essential ingredient if you plan to be doing any kind of Ethiopian cooking.
Are you ready to Travel Your Tastebuds to Ethiopia today?
If you have had Injera, Doro Wat, Misir Wat, Awaze Tibs, Asa Tibs and now you are ready to start making delicious Ethiopian dishes at home now, Niter Kibbeh is required for all and any Ethiopian Recipes you are ready to try. Adding a bit of homemade Niter Kibbeh will automatically give it the authentic Ethiopian flavor you are looking for, as this is the ubiquitous cooking medium of both Ethiopia and Eritrea.
This spiced clarified butter is also known as Tegelese Tesmi in Eritrean cuisine, as there are many similarities between Ethiopian and Eritrean cuisine as they were both part of the same country until Eritrea gained its independence in 1991 (officially globally recognized in 1993) after a 30 year war for independence. There are many culinary similarities between the Horn of Africa countries – Ethiopia, Eritrea and Somalia.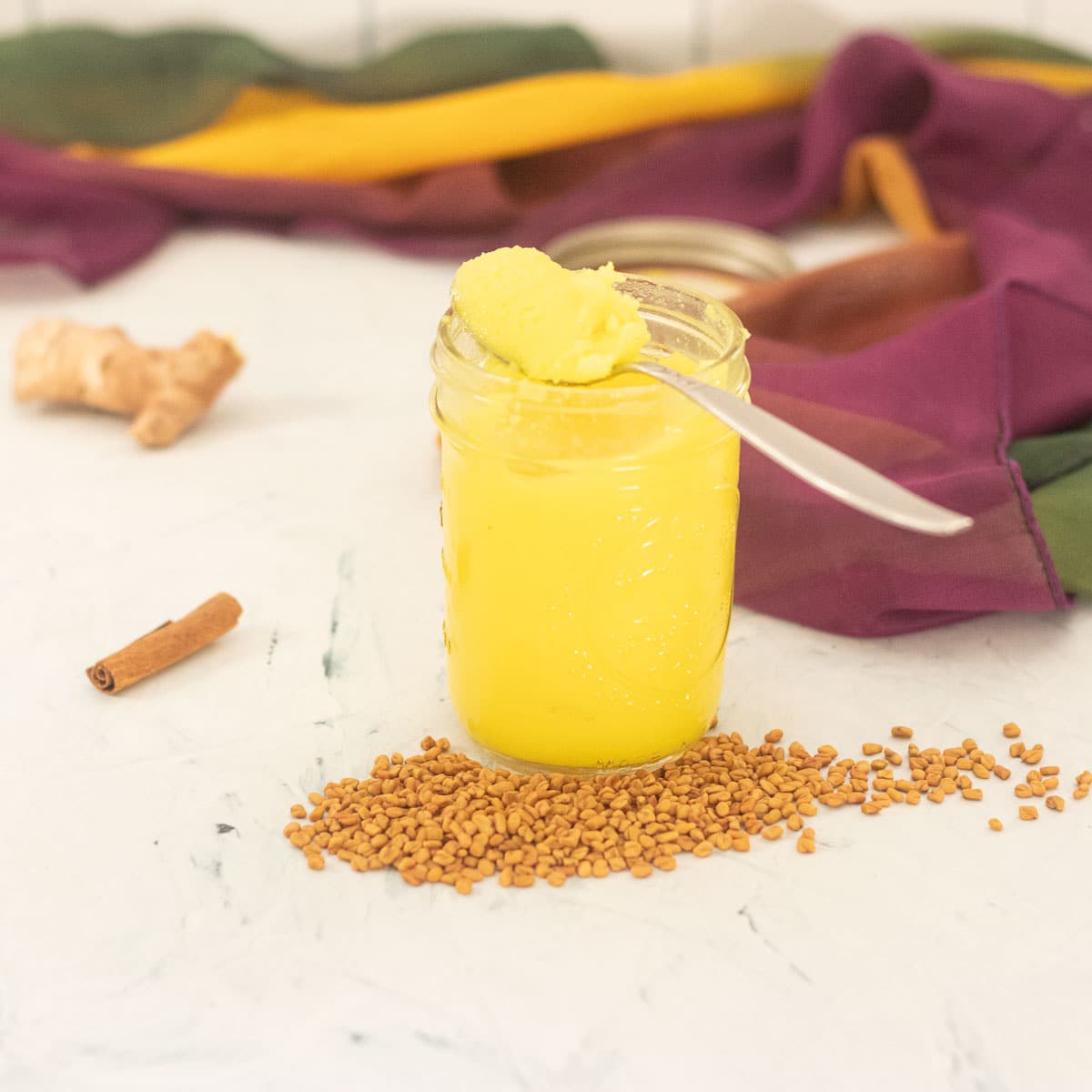 So what makes Ethiopian clarified butter so special you may ask? Can't I use regular butter?
What is Clarified Butter?
Clarified butter is the process of simmering whole butter until the butter separates so that the milk fats rise to the top. This eliminates the milk sugar lactose and the milk protein casein from the butter, transforming it into a lactose free butter. So if you're lactose intolerant, you can consume Ethiopian Spiced Butter without worry.
Without the milk solids, the resulting niter kibbeh has a higher smoke point from 350 F in plain butter to 485 F, making it ideal for deep frying or other instances that require long frying times.
You may be surprised to find out that there are some health benefits linked to the consumption of clarified butter.
Benefits of Ghee
May reduce gut inflammation.
Rich in Vitamin A which aids in immunity, healthy skin and eyes.
High in Omega-3 fatty acids.
With all this being said, it is still a saturated fat so you should limit consumption as it can lead to elevated LDL levels…and that's the bad cholesterol.
*This is NOT medical advice. Consult a physician if you have concerns.*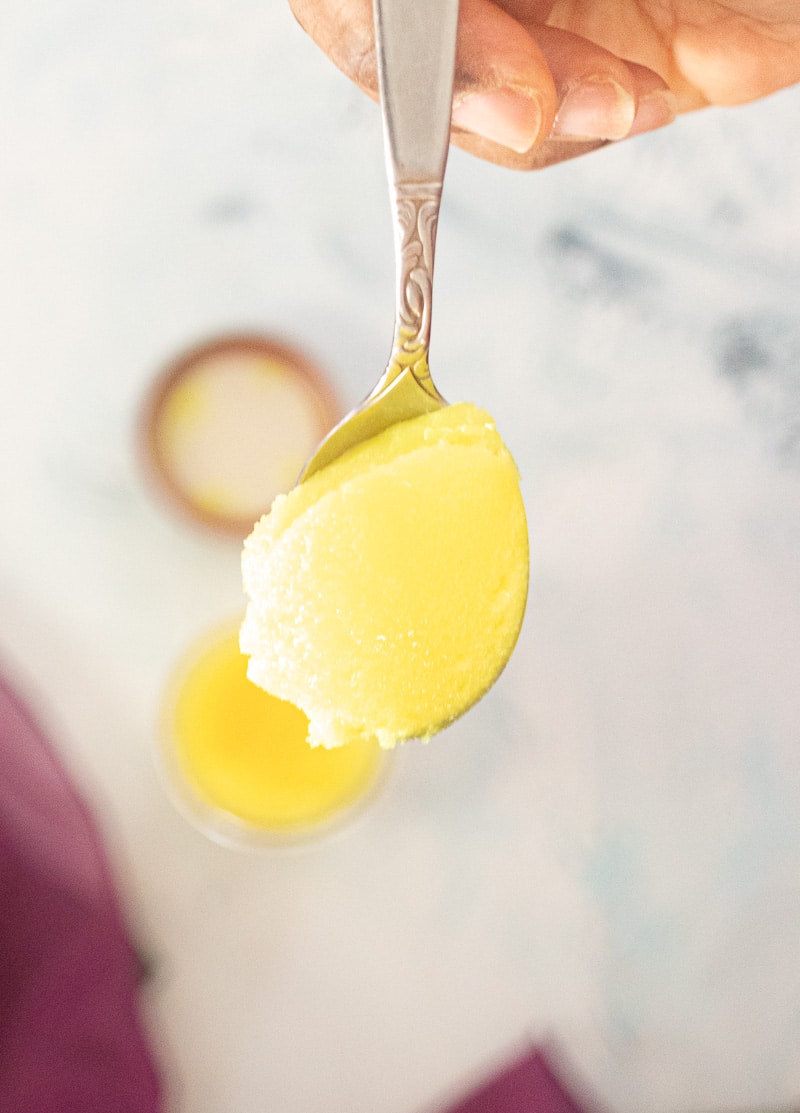 Frequently Asked Questions
Is Niter Kibbeh the same as Indian ghee?
The process from separating the milk solids and water from the butter is the same, however Indian ghee does not include any spices or flavorings.
What is Niter Kibbeh used for?
It is used for frying and for adding flavor to many Ethiopian dishes including Doro Wat, Ethiopia's national dish. It basically serves as a rich cooking oil to cook most Ethiopian savory dishes.
Is it possible to make vegan niter kibbeh?
Yes, some people do make a Vegan version with coconut oil.
Shop this Post
The wide variety of spices used in this Ethiopian butter lends itself to other cuisines also.
The incomparable flavor in this traditional Niter Kibbeh will even elevate some of your Indian dishes where you would usually use plain old ghee like Green Pea Paratha, Sookhi Tadka Dal or Ven Pongal. Since the Ethiopian Butter Spices used are all ingredients also intrinsic to Indian cuisine, it will enhance the flavors already present in Indian cuisine.
This flavorful cooking fat makes just about anything taste better. So when you want to give a dish a boost of flavor, just add a teaspoon of Ethiopian butter on even simple things like grilled vegetables or sauteed or stewed greens like collard greens.
Now you have all of the background info it's time to check the pantry to see if you have all of the spices you need.
Ethiopian Butter Ingredients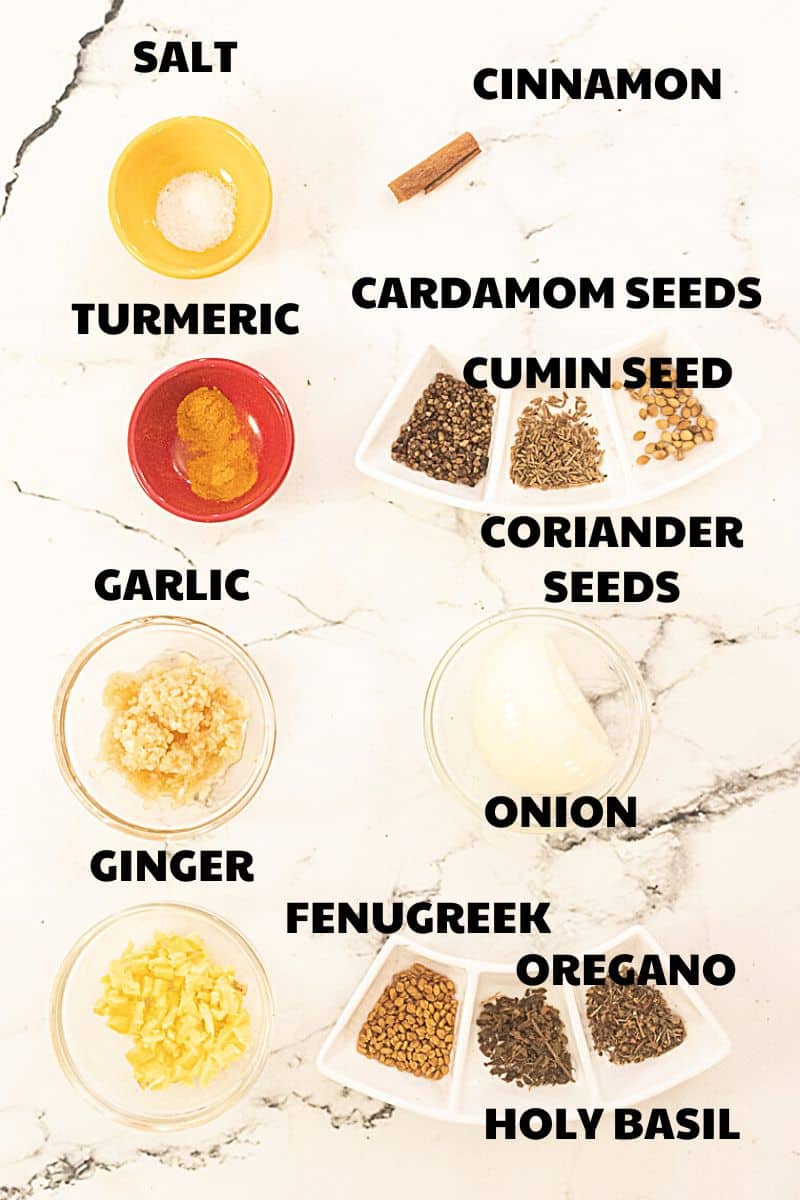 unsalted butter
onion
garlic
ginger
ground turmeric
fenugreek seeds
coriander seeds
cardamom seeds (from green cardamom pods)
cumin seeds
dried oregano
dried tulsi (holy basil)
salt
cinnamon stick
How to Make Ethiopian Butter
Melt the butter in a pan.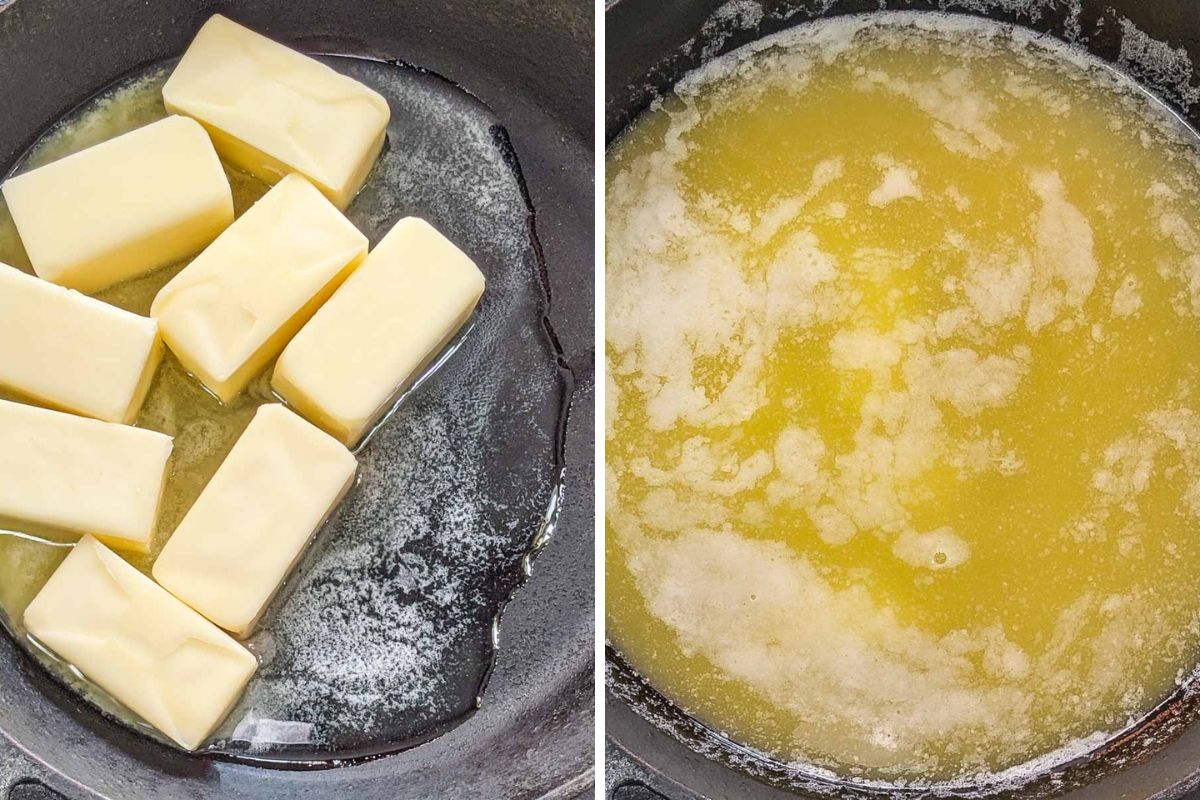 Add all of the remaining ingredients.
Simmer on very low heat for 30 minutes, until the milk solids seperate.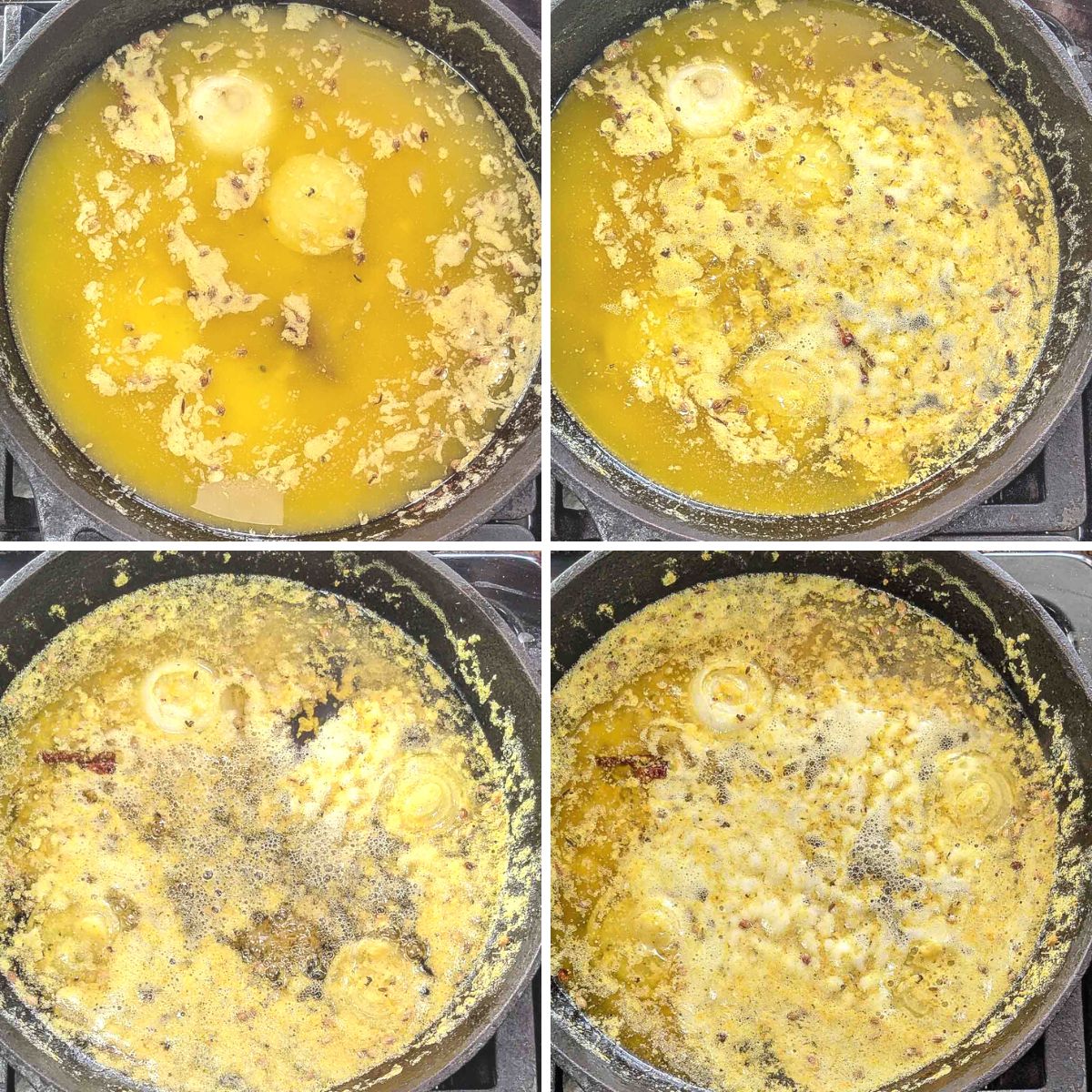 Strain through a cheesecloth lined sieve to remove most of the solids, pressing the cheesecloth against the side of the strainer to squeeze out as much liquid as you can.
Continue to strain another 3-4 times until the ghee is completely clear.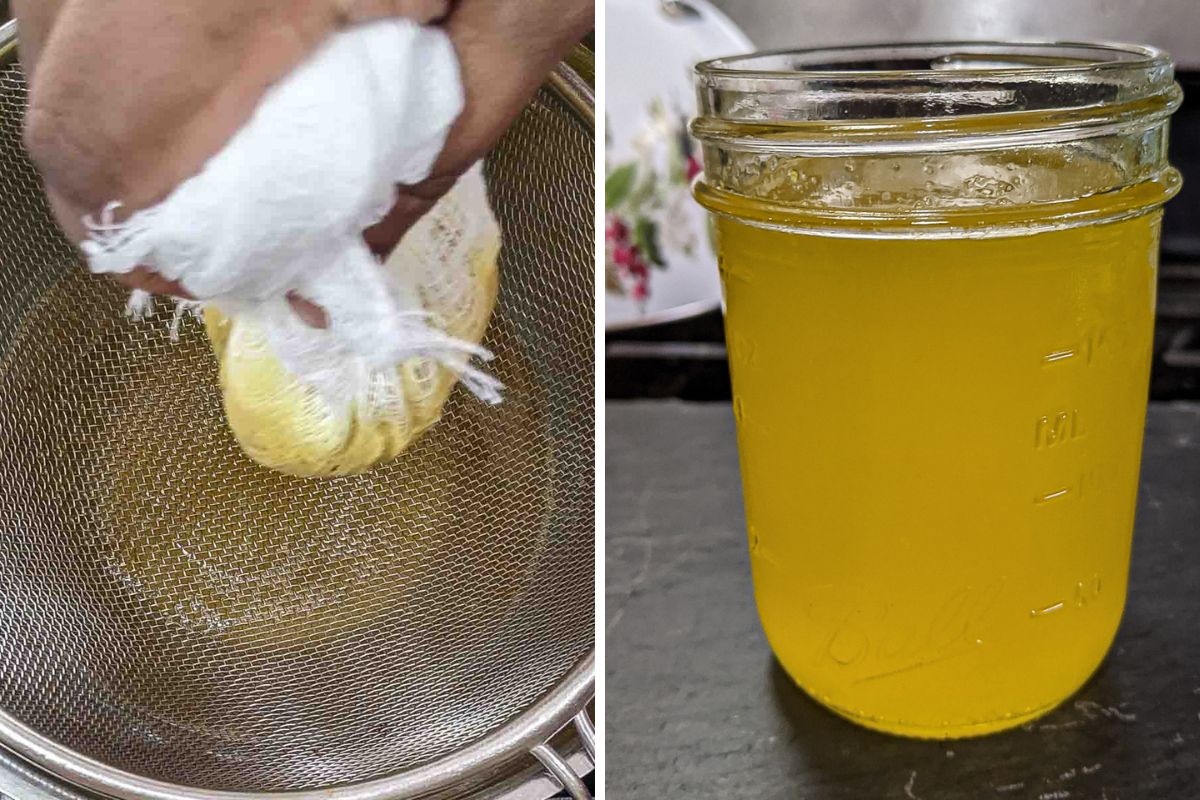 Store it in a glass jar.
Once it cools, cover it and leave it to firm up on the counter at room temperature for a few hours.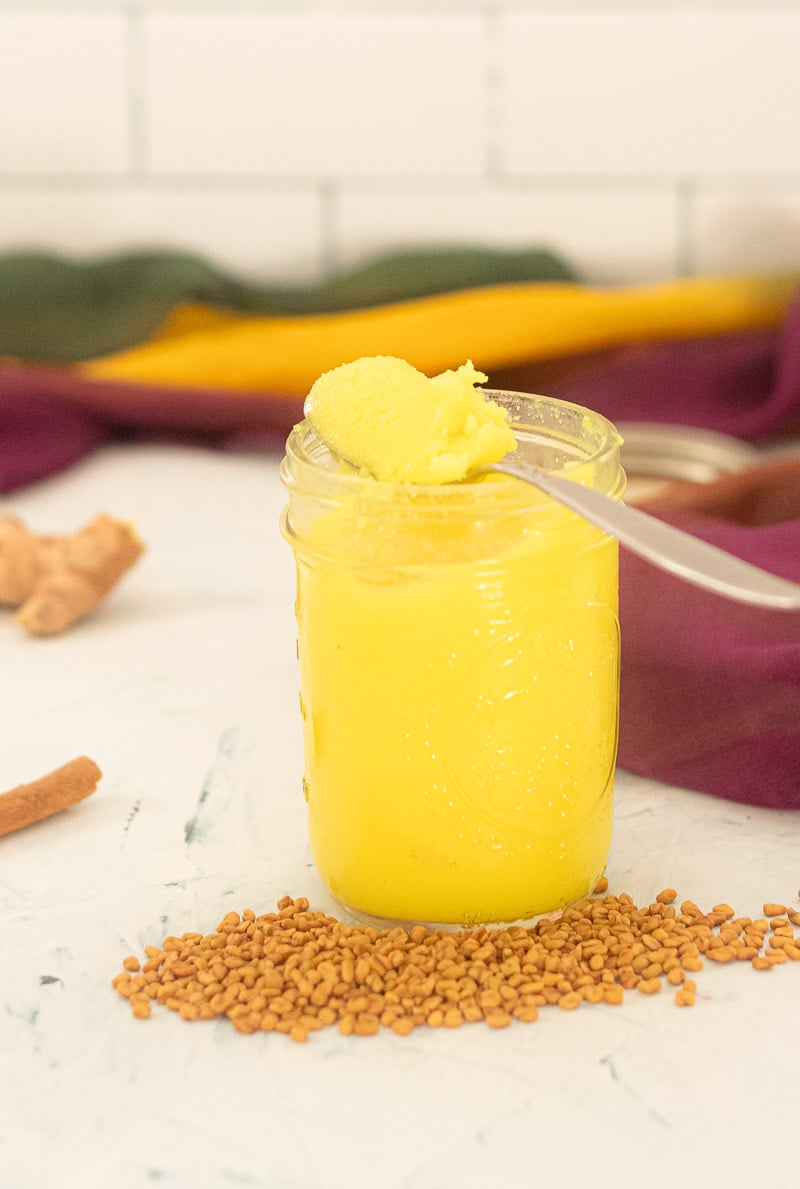 How to Store Niter Kibbeh
It is not necessary to refrigerate niter kibbeh. It can be stored in a cool, dry place in the pantry.
You can still refrigerate it if you choose for a longer shelf life.
Ethiopian Butter
Niter Kibbeh is a spiced clarified butter ubiquitously used in Ethiopian cooking for added richness and flavor in stews and many other Ethiopian recipes.
Ingredients
1

lb.

unsalted butter

1

small onion

or half of a medium onion

2

tablespoons

garlic

2

tablespoons

ginger

½

teaspoon

turmeric

1

teaspoon

fenugreek seeds

1/2

teaspoon

coriander seeds

1

teaspoon

cardamom seeds

½

teaspoon

cumin seeds

½

teaspoon

oregano

1/2

teaspoon

dried tulsi

½

teaspoon

salt
Instructions
In a small saucepan or cast iron skillet, melt the butter on low heat.

Once the butter is melted, add all of the spices and seasonings including the onion, garlic and ginger.

Mix to combine.

Now set the flame to as low as possible so that the butter is barely on a simmer.

Let it simmer for 30 minutes. The milk solids will have separated and risen to the top.

Pour through a cheesecloth lined sieve.

This will get rid of most of the milk fats and the spices. However, it still will not be clear.

Pass it through the strainer another 3-4 times, discarding the separated residue each time, until the clarified butter runs clear.

The ghee will solidify in a few hours if kept at room temperature or if you would like to speed up the process, you can place it in the refrigerator for about an hour.

Store in an air tight glass jar at room temperature.
Notes
Yield: 1 1/2 cups
Nutritional Info is based on a 2 tablespoon serving.
There is variation in the spices used. Some versions may also include black cardamom, nigella seeds and nutmeg, so there is not one firm recipe. Every household may use a slight different combination of Ethiopian spices and quantities to make their Ethiopian butter.
Beso Bela is also usually included. However this is very hard to source here in the United States. It is a type of Ethiopian holy basil. The closest substitute is dried tulsi (Indian holy basil).
Use the lowest possible heat to avoid the butter burning.
It also can be simmered for up to an hour for a darker more robust flavored spiced ghee.
Nutrition
Calories:
277
kcal
|
Carbohydrates:
1
g
|
Protein:
1
g
|
Fat:
31
g
|
Saturated Fat:
19
g
|
Polyunsaturated Fat:
1
g
|
Monounsaturated Fat:
8
g
|
Trans Fat:
1
g
|
Cholesterol:
81
mg
|
Sodium:
102
mg
|
Potassium:
31
mg
|
Fiber:
0.4
g
|
Sugar:
0.1
g
|
Vitamin A:
948
IU
|
Vitamin C:
1
mg
|
Calcium:
19
mg
|
Iron:
0.3
mg
Did you try this recipe? Leave a comment below.
Please follow me on Instagram @chefmireille or tag me #chefmireille with your pics! I'd love to share them!
Don't forget to visit the RECIPE INDEX with over 1000 recipes from around the world including lots of Vegetarian Recipes and Gluten Free Recipes!