Last Updated on August 26, 2022 by Chef Mireille
Fresh Pumpkin Jam is an easy and delicious jam recipe that has so much versatility. It can be enjoyed on toast or or utilized in cookie recipes like Pumpkin Hamantaschen or any other sweet recipes. It is also very delicious when used in savory recipes – especially when paired with pork or chicken.
Are you looking for a new way to use pumpkin this fall? Why not try making homemade pumpkin jam from fresh pumpkins? It's a fun and easy way to make your own jam, and the end result is delicious! Here I'll give you all the information you need to make your own pumpkin jam. So what are you waiting for? Get started today!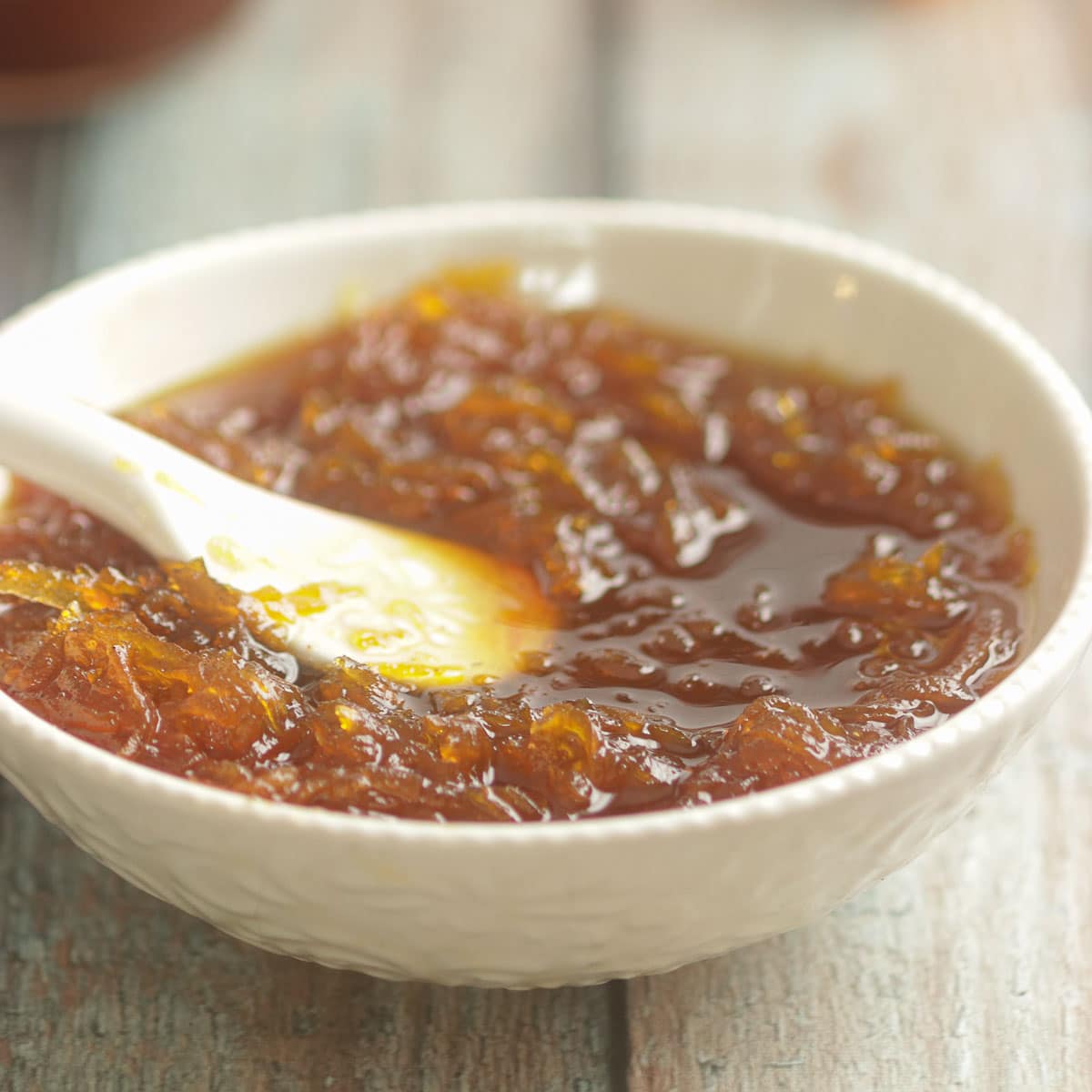 When you think of homemade jam recipes, most people think of berries and stone fruit. However, pumpkin is such a versatile vegetable as it is easily adapted to both sweet and savory recipes.
This recipe utilizes freshly grated pumpkin. Since it uses grated pumpkin, it has almost like a marmalade or pumpkin preserve consistency and canned pumpkin puree cannot be substituted. The type of jam made with pumpkin flesh puree is really more of a pumpkin butter as it generally has the same consistency as apple butter.
This Homemade Pumpkin Jam is the perfect jam to serve as a great edible holiday gift. Your friends, families and kids' teachers will enjoy this gift from the heart. I always feel so much more pleasure in giving gifts I made with my own two hands. I also think it shows greater appreciation to whoever you are presenting the gift to. They know it takes a lot more effort and love to make a gift than to order a gift from your computer.
PICK YOUR OWN PUMPKINS
Yes that's right you can easily pick your own fresh pumpkins at your local UPICK FARM! Remember what Mom always said – Fresh is best!
Pumpkin is one of the most versatile foods in the world. I think I am so blessed growing up with Caribbean parents, therefore growing up being able to enjoy pumpkin in a variety of both sweet and savory recipes. In neighborhoods with large Caribbean and Latin communities, you can easily find whole pumpkin of many varieties. Kabocha or Calabaza are the best pumpkin varieties you want to use to make this delicious Pumpkin Pie Jam. However, you can also use Halloween pumpkins.
Not only is pumpkin a versatile delicious ingredient to include in delicious sweet and savory dishes, but it is also loaded with health benefits.
Health Benefits of Pumpkin
Pumpkin is very low in fat and calories – made up of 94% water. For this reason, it is a good carbohydrate to include on weight loss programs.
Pumpkin is also rich in vitamins and minerals, especially Vitamin C and Vitamin A.
Rich in Antioxidants, especially beta carotene.
Pumpkin has a lower glycemic index than potatoes, so it is diabetic friendly.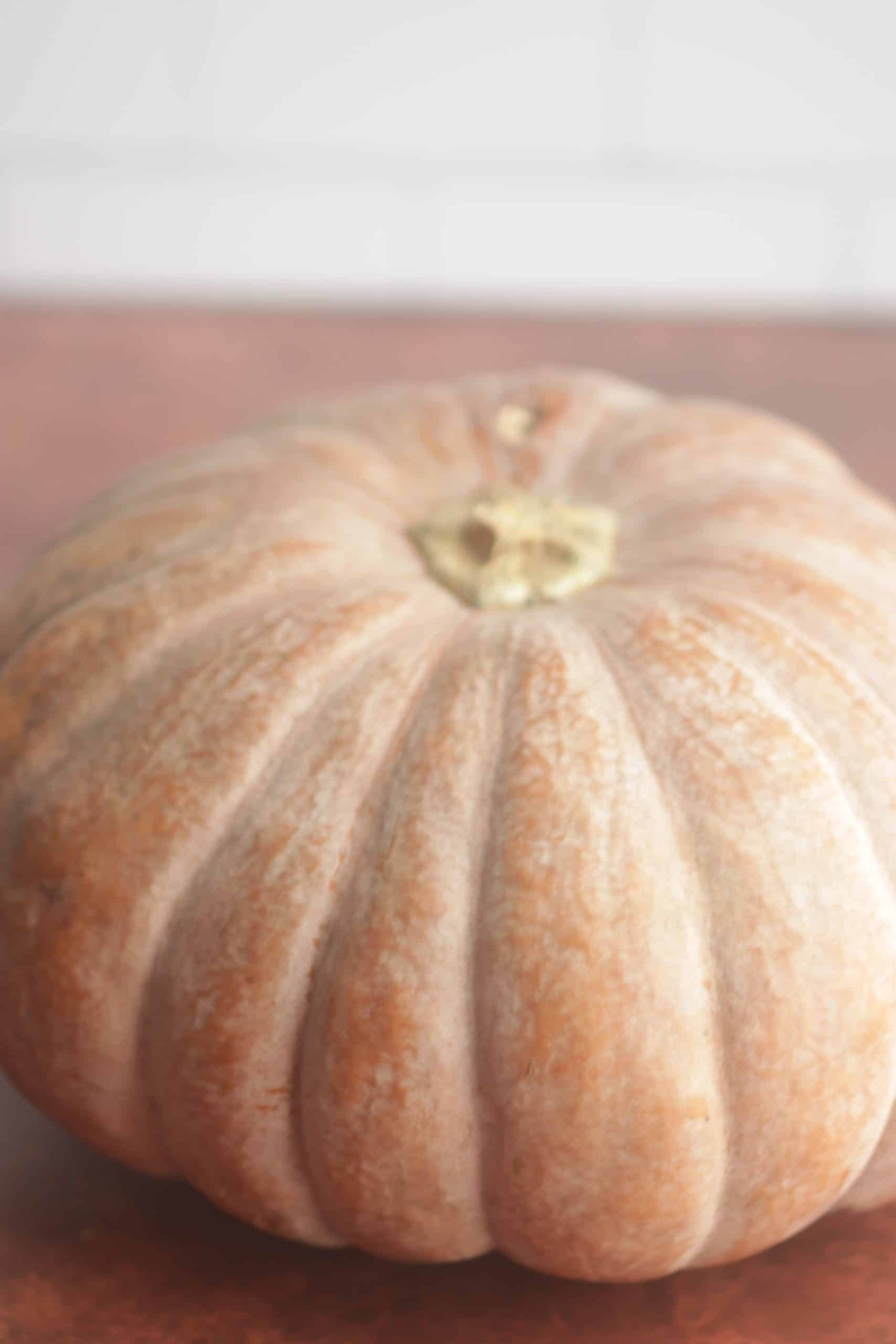 Frequently Asked Questions
Can Pumpkin Jam be made with canned pumpkin?
No since the pumpkin is grated in this recipe, it can only be made with fresh pumpkin.
How long will Pumpkin Jam last?
This instant jam can be stored in the refrigerator for 6 months. If preserved by canning in a water bath, it should be stored in a cool dark place and can last for longer.
Does pumpkin have pectin?
Pumpkin has natural pectin. With these natural pectins, the jam will seize and thicken easily.
Ingredients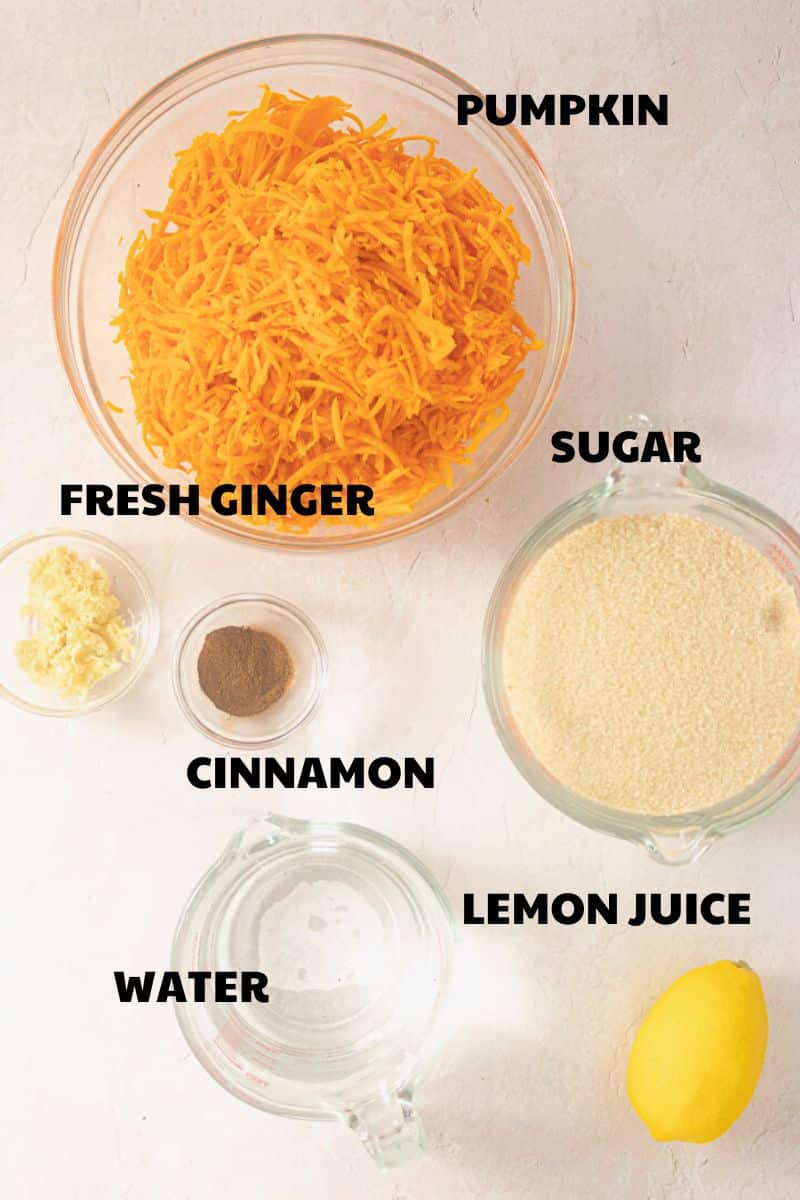 How to Make Pumpkin Jam
Combine all of the ingredients in a large, heavy bottomed pot.
Boil for about 15-20 minutes, until thickened.
Let cool and store in glass jars in the refrigerator.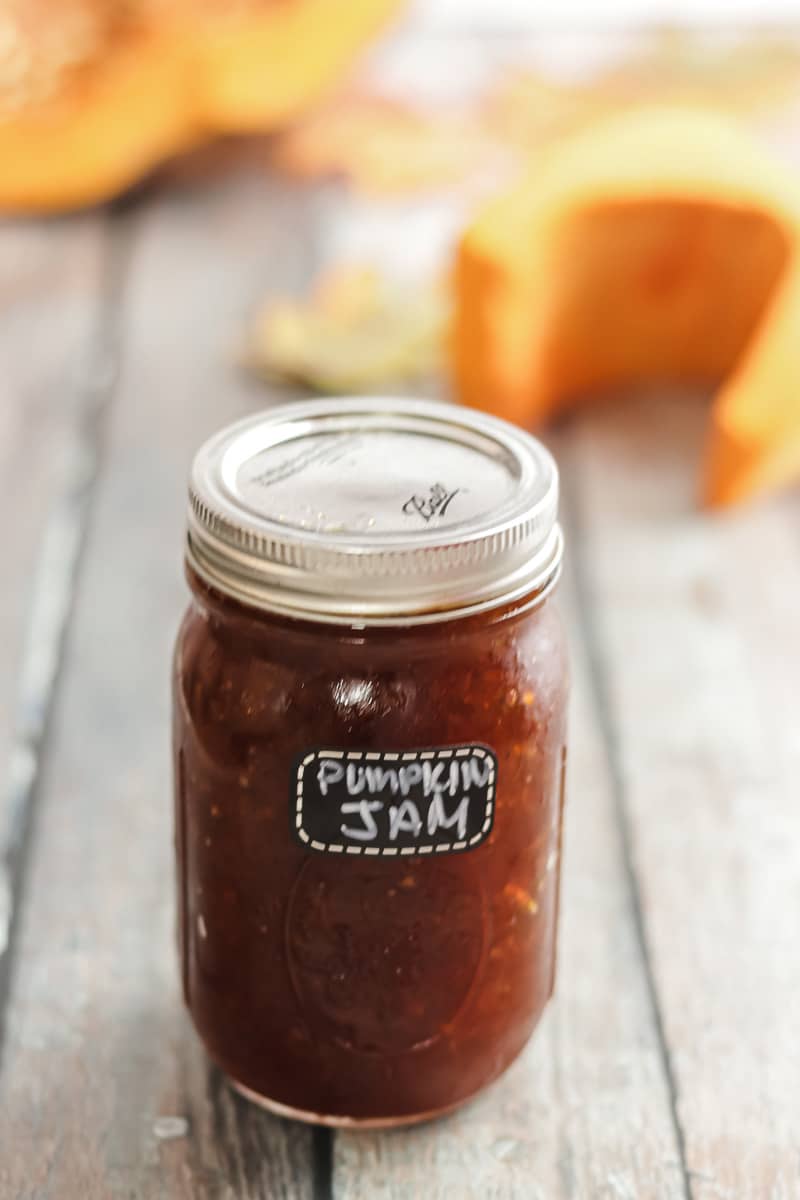 Delicious Pumpkin Jam is what you need in your life. As it can last several months in the refrigerator, you can enjoy simple pumpkin jam all year long; not just during the fall season.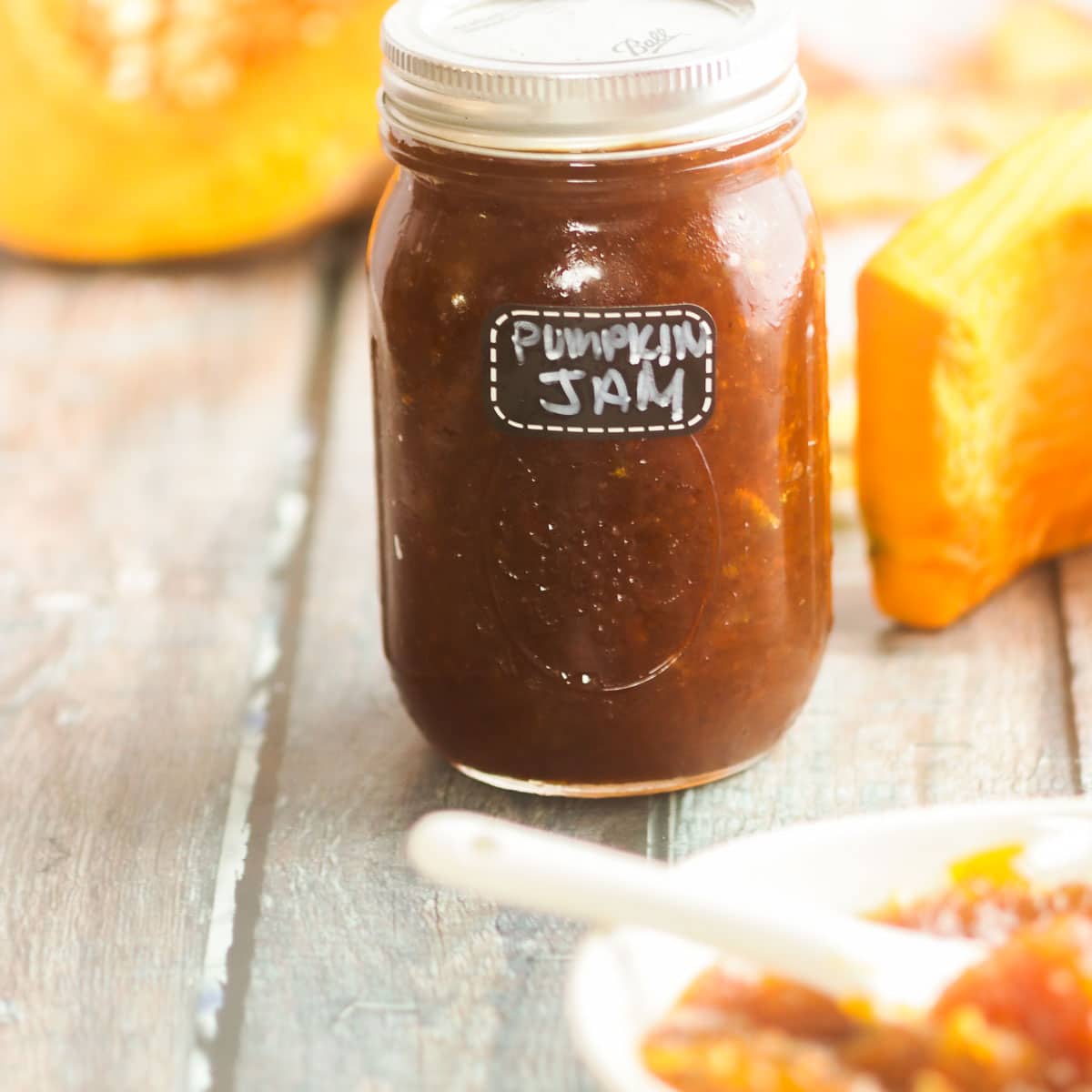 If you love pumpkins as much as I do, here are some great ideas you might like to try.
Pumpkin Recipes
Make sure you always have jam jars of Homemade Pumpkin Jam so you can enjoy it at any time of year.
Pumpkin Jam Recipe
This pumpkin jam recipe is a great way to use up fresh, and it's so easy to make! The perfect addition to your Fall recipes!
Instructions
In a large heavy bottomed pot, combine pumpkin, sugar, ginger, cinnamon, lemon juice and zest.

Add water and mix well.

Bring to a rolling boil and cook on high heat for 15-20 minutes until the jam pulls away from the pot.

Let the hot jam cool completely at room temperature.

Transfer to glass jars and store in the refrigerator.
Notes
It is absolutely essential to use freshly grated ginger. Ground ginger will not produce the same flavor results.
If the jam is too thick after it chills, you can add a little water and mix until you have the desired consistency.
Nutrition
Calories:
100
kcal
|
Carbohydrates:
26
g
|
Protein:
0.2
g
|
Fat:
0.1
g
|
Saturated Fat:
0.01
g
|
Polyunsaturated Fat:
0.001
g
|
Monounsaturated Fat:
0.003
g
|
Sodium:
2
mg
|
Potassium:
52
mg
|
Fiber:
0.1
g
|
Sugar:
25
g
|
Vitamin A:
1234
IU
|
Vitamin C:
1
mg
|
Calcium:
4
mg
|
Iron:
0.1
mg
Did you try this recipe? Leave a comment below.
Please follow me on Instagram @chefmireille or tag me #chefmireille with your pics! I'd love to share them!
Don't forget to visit the RECIPE INDEX with over 1000 recipes from around the world including lots of Vegetarian Recipes and Gluten Free Recipes!