Last Updated on November 6, 2020 by Chef Mireille
This Easy Pumpkin Puree Recipe can be used to make everything from pumpkin soup to pumpkin pie with this homemade pumpkin puree recipe. This healthy all natural pumpkin puree can be made in advance and frozen for future use. Butternut Squash Can also be substituted.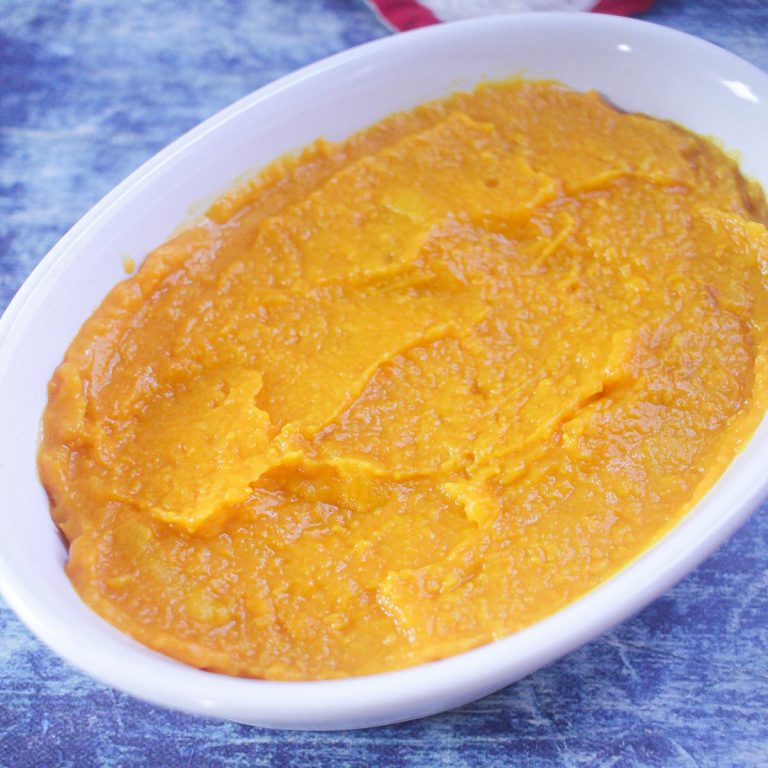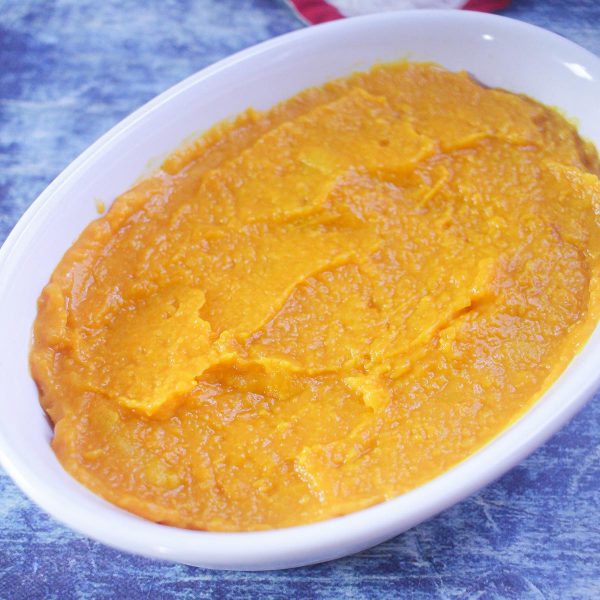 DISCLAIMER: This website includes affiliate links. You don't pay a penny more, but I earn a small commission to keep this site going with delicious content!
Did you know that most canned pumpkin is actually butternut squash?
So check out how easy it is to make your own homemade pumpkin puree for pumpkin pie and any other sweet and savory pumpkin recipes.
Need pumpkin puree for pie but just can't find any? No worries – it's easy as pie to make it yourself!
In some parts of the country, there are notable pumpkin shortages – canned pumpkin and/or fresh pumpkin/winter squash.
If you can get the fresh pumpkin, making it at home is as easy as 1.2.3! Roast, mash and store – that's it! …and it you can't find the fresh pumpkin, no worries! This Easy Pumpkin Puree Recipe can also be made with butternut squash.
Although many people just boil their pumpkin, the caramelization that comes from roasting it elevates the flavor so much. You will definitely prefer this method to boiling.
Roasted pumpkin puree can then be utilized in any variety of either sweet or savory recipes like Pumpkin Pie or Pumpkin Polenta.
Recipe FAQ & Substitutions
What if I only have kabocha?
You can make pumpkin puree with only one type of pumpkin or winter squash. However, there is more complexity of flavor when combining different types of pumpkin with slightly different textures and sweetness.
What kind of pumpkin should I use?
Any type of winter squash can be used to make pumpkin puree including calabaza, kabocha and sweet orange pumpkin (Halloween pumpkin).
Butternut squash can easily be substituted if these pumpkin varieties aren't available.
Can I utilize the pumpkin seeds?
Yes. Separate the seeds from the threads and you can pan roast the seeds with a little olive oil, salt and pepper. Add them to salads or just snack on, as is.
Whether you make Butternut Squash Puree or Pumpkin Puree, both can be utilized in a variety of both sweet or savory recipes from smoothies to curries.
How to make Pumpkin Puree
All you need is one ingredient – pumpkin or butternut squash.
Suggested Tools
---
Spray your baking tray with non stick spray or to make cleanup easier, use parchment paper.
Using a sharp knife, cut pumpkin half and place face down on the baking tray.
Bake for 45 minutes – 1 hour until fork tender.
Remove the seeds.
Scoop out the flesh
Use within 5 days or store in the freezer for later use.
Freezing Instructions
I suggest freezing in 1 cup portions to make it easier to defrost just what is needed.
Pumpkin Puree
This Easy Pumpkin Puree Recipe can be used to make everything from pumpkin soup to pumpkin pie with this homemade pumpkin puree recipe.
Ingredients
1/2

kabocha squash

1/2

calabaza squash
Instructions
Place parchment paper on a baking tray for easier cleanup, although it is not essential.

Spray baking tray with non stick spray or parchment paper, if using.

Place pumpkin halves face down on baking tray.

Bake in oven 45 minutes – 1 hour, until fork tender.

As soon as the cooked pumpkin is cool enough to handle, scoop out the seeds.

You can set aside the seeds to roast later.

Scoop out the flesh of the pumpkin using an ice cream scoop or a big spoon.

Store in the refrigerator for up to 5 days or freeze for later use.
Notes
Yield: approximately 4 cups
Nutrition
Calories:
19
kcal
|
Carbohydrates:
5
g
|
Protein:
1
g
|
Fat:
1
g
|
Saturated Fat:
1
g
|
Sodium:
2
mg
|
Potassium:
197
mg
|
Fiber:
1
g
|
Sugar:
1
g
|
Vitamin A:
769
IU
|
Vitamin C:
7
mg
|
Calcium:
16
mg
|
Iron:
1
mg
Did you try this recipe? Leave a comment below.
Please follow me on Instagram @chefmireille or tag me #chefmireille with your pics! I'd love to share them!
You might also like…
DO YOU YUM? SAVE IT BELOW!
Yum
Don't forget to tag me @chefmireille #chefmireille on Instagram so I can see your recreation of this delicious recipe!
ARE YOU EXCITED TO TRY THIS RECIPE? PLEASE HELP ME CONTINUE TO PROVIDE YOU WITH DELICIOUS RECIPES BY SHARING IT AND SHOPPING FOR YOUR FAVORITE PRODUCTS WITH INCLUDED AFFILIATE LINKS!
PIN IT FOR LATER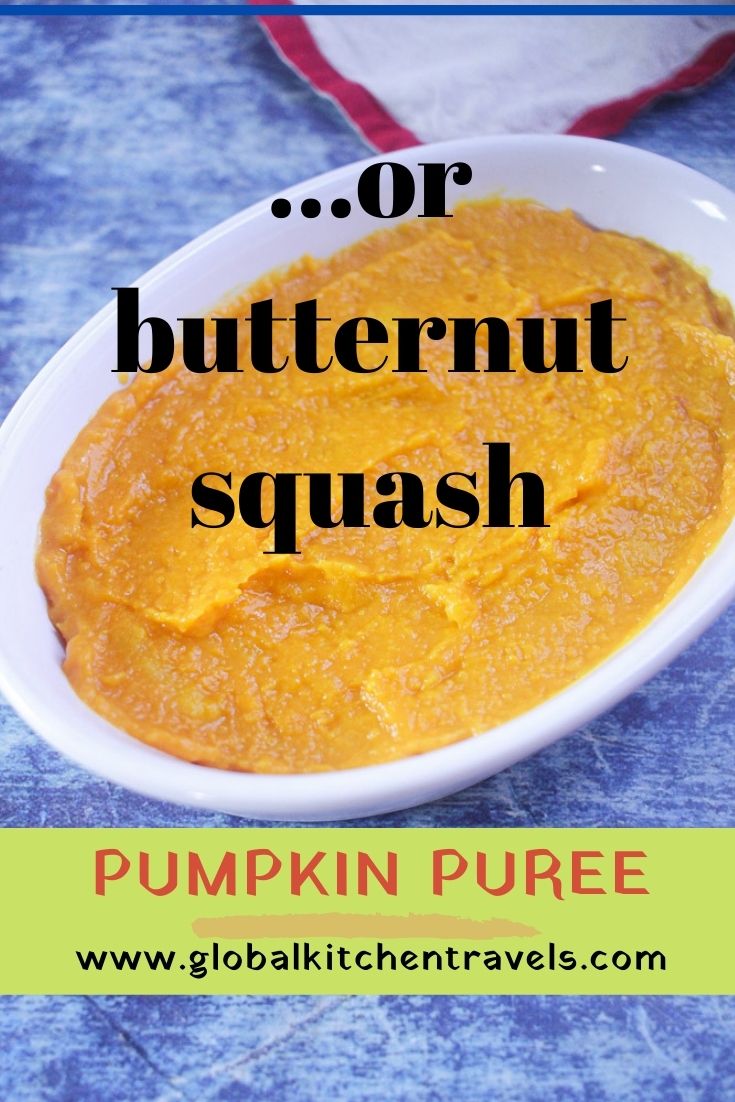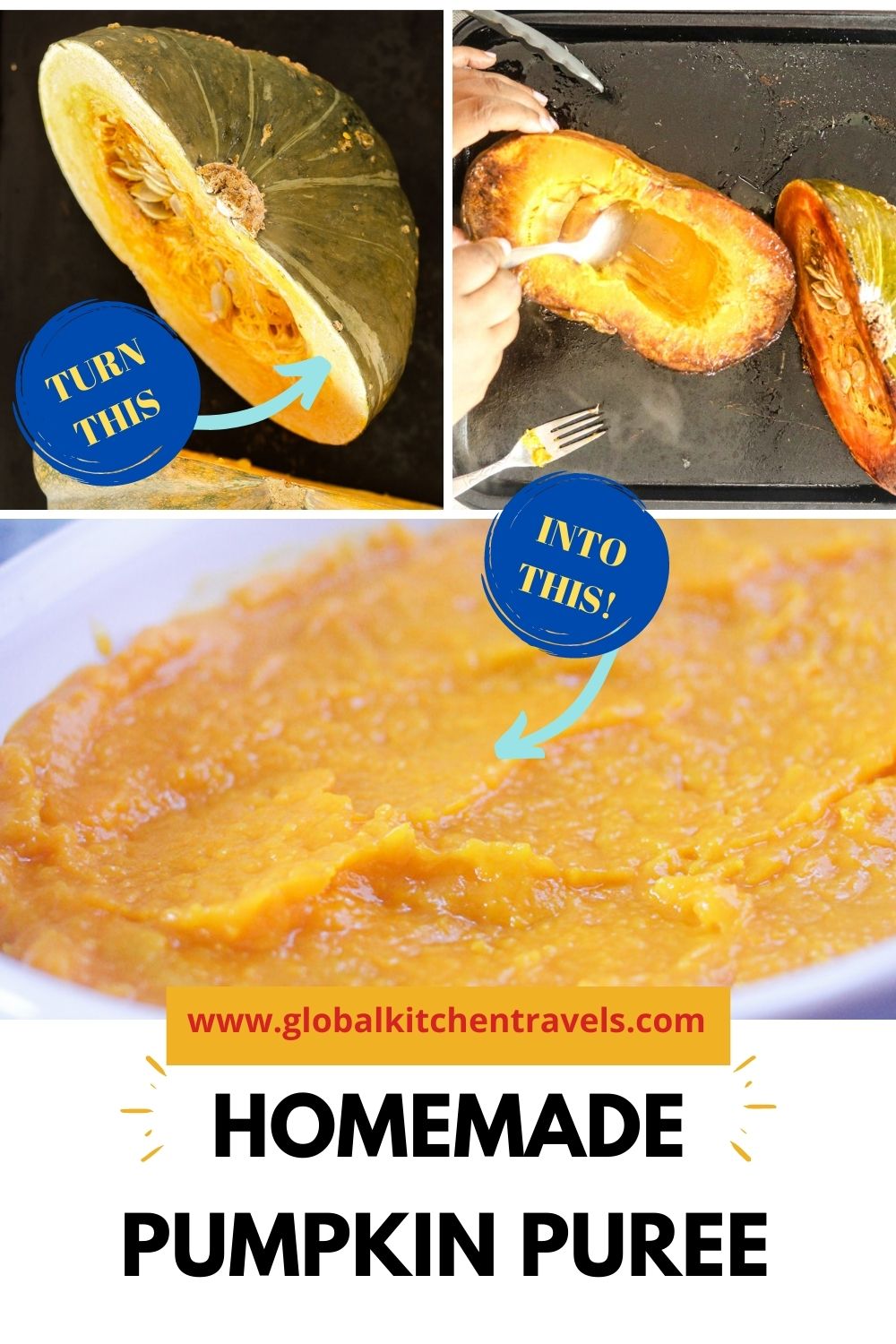 RECIPE INDEX
NEED MORE INSPIRATION? CHECK OUT MY RECIPE INDEX WITH OVER 1000 INTERNATIONAL RECIPES FROM AROUND THE WORLD