Last Updated on October 5, 2020 by Chef Mireille
Nhopi – African Pumpkin Polenta – This Zimbabwe style polenta made even more delicious with pumpkin and peanut butter is a great seasonal gluten free side dish for fall. Serve it with any meat or vegetarian stew to absorb the gravy!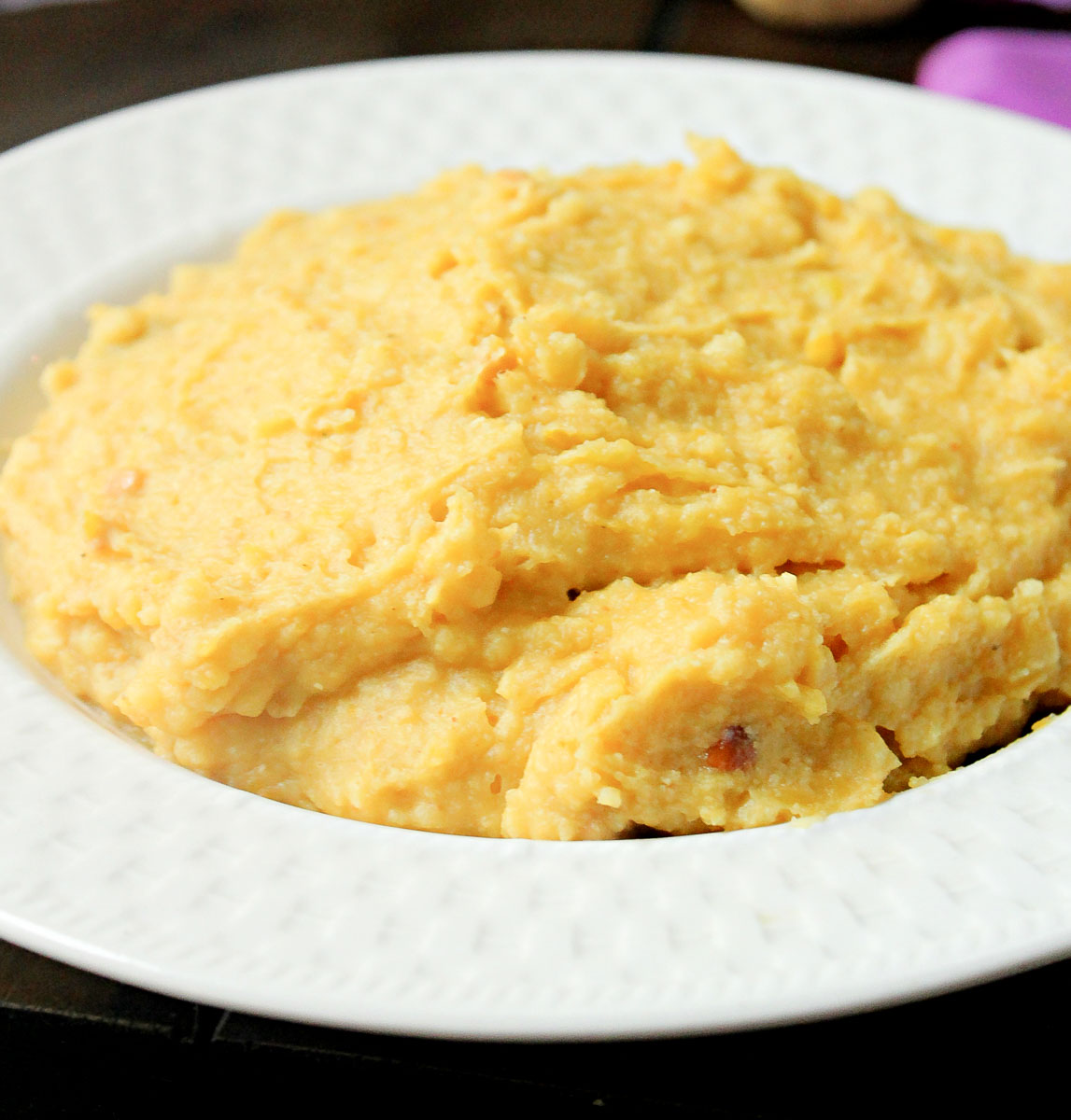 This post may include affiliate links.
Many countries have a version of a savory cornmeal porridge. The most popular the world over is polenta, but many other countries make variable versions of this Gluten Free Side Dish.
Whether it's Coo Coo in Barbados and Funchi in Aruba, it can be a vegetarian side dish or fortified with protein for a meal on its own like Brazilian Xerem or Aruban Tutu.
The cuisine of the Caribbean has a lot of similarities with African cuisines, as that is where they were adapted from. So I found a lot of familiar dishes from my own culture when delving deep into Zimbabwe.
Their version of Cornmeal Cake is very similar to Jamaican Cornmeal Pudding, except they top theirs with sour cream instead of coconut milk.
Dovi, their Chicken Peanut Butter Stew is very similar to Suriname's Chicken Peanut Butter Soup and Sadza is their polenta. This variation of polenta made with pumpkin was an interesting twist and as with many African dishes, there is some peanut in this version also, which gives this African Pumpkin Polenta an extra protein punch!
Check out the other savory cornmeal porridges from around the world!
Savory Cornmeal Porridges
If you would like to know more about the many varieties of gluten free cornmeal that there are and how to utilize them all in your kitchen, check out this post here to learn all about Cornmeal, Polenta, Grits & more.
What type of pumpkin should I use?
You should use sweet, orange fleshed pumpkin like calabaza or kabocha.
You can also use canned pumpkin, but there will be a higher water content, so you may need to reduce the quantity of liquid when you make Zimbabwe pumpkin polenta.
PICK YOUR OWN PUMPKINS
Yes that's right you can easily pick your own fresh pumpkins at your local UPICK FARM! Remember what Mom always said – Fresh is best!
What type of cornmeal should I use to make Nhopi – African Pumpkin Polenta?
I prefer the rich color from yellow cornmeal, but you can also use white cornmeal.
Ok let's see what you are going to need to add to the shopping list this week to make delicious African Pumpkin Polenta.
The Ingredients for Nhopi
There are only 5 ingredients in this African side dish recipe that's perfect for fall. You just need cornmeal (A.K.A. polenta), pumpkin, peanut butter, sugar, and salt.
For the richest flavor I recommend using a fresh pumpkin. But again, if pumpkins aren't available, canned pumpkin will work and still be delicious. Just be sure to buy regular pumpkin and not pumpkin pie filling.
Suggested Tools
Have you tried instacart yet for convenient grocery delivery within 2 hours?
So creamy…perfect #comfortfood
Tips for the Best Pumpkin Cornmeal
The fresh pumpkin can be peeled, steamed, and mashed a few days in advance of making this recipe. Simply store the cooled mash in a sealed container in the refrigerator until ready to use.
This vegan and gluten free polenta dish is tastiest when enjoyed warm soon after making. Leftovers can be kept in the fridge for up to 4 days, but I do not recommend that you freeze. Reheat pumpkin and peanut butter cornmeal in the microwave or on the stovetop with a splash of water. Stir consistently until hot.
What goes well with this African Pumpkin Polenta recipe?
Zimbabwe Pumpkin Polenta is a delicious side dish that is perfect when paired with stews or other dishes that have lots of gravy, like this simple Kuku – Kenyan Chicken Mung Bean Stew. The nhopi will absorb the gravy which will enhance the flavor.
You may also like to serve it over Ghanian Chicken Spinach Stew – Chicken Palaver. A delicious combo meal for any night of the week!
Nhopi – Zimbabwe Pumpkin Cornmeal
Zimbabwe's version of polenta has such a creamy consistency enriched with pumpkin and peanut butter.
Instructions
Boil 2 cups of the water.

Make a paste with half of the boiling water and the cornmeal.

Slowly add cornmeal, stirring constantly. Simmer on low heat for 3 minutes.

In a small bowl, whisk the pumpkin and the peanut butter together.

Add pumpkin, sugar and salt along with 1/3 cup remaining water.

Stir to combine and simmer for another 5-10 minutes, until thickened.
Notes
Calabaza or Kabocha yellow pumpkin is best to use.
Use natural peanut butter, without added sugars.
You can use either yellow or white cornmeal.
Nutrition
Calories:
171
kcal
|
Carbohydrates:
26
g
|
Protein:
5
g
|
Fat:
6
g
|
Saturated Fat:
1
g
|
Sodium:
626
mg
|
Potassium:
247
mg
|
Fiber:
3
g
|
Sugar:
3
g
|
Vitamin A:
2469
IU
|
Vitamin C:
3
mg
|
Calcium:
14
mg
|
Iron:
1
mg
Did you try this recipe? Leave a comment below.
Please follow me on Instagram @chefmireille or tag me #chefmireille with your pics! I'd love to share them!
Try these other delicious cornmeal side dishes!
Don't forget to visit the RECIPE INDEX with over 1000 recipes from around the world including lots of Vegetarian Recipes and Gluten Free Recipes!