Last Updated on April 25, 2021 by Chef Mireille
Although originating in Yemen, Schug (Zhug) is a popular hot sauce used in Greece and many Middle Eastern countries to add spice to their foods.
Although green Zhug Sahawiq is the popular one used throughout the Middle East, here is am showing you two versions of Zahawiq – the green version and another version that is a bit milder made with tomato.
Yemeni food is flavorful but not spicy on its own. Zahawiq and Schug is how spice is added to the food, which leaves it up to personal preference how spicy or not you want to make your food. No food is served without at least one type of zahawiq (sahawiq).
Zahawiq is a type of condiment eaten with many foods in Yemen. It's often served with rice or bread, as well as a dipping sauce for fried foods. There are three types. One with cheese which is usually served with fish. The basic zahawiq which is served with everything from rice and bread to meat dishes. The green zahawiq is most often used as a dipping sauce for fried foods, but also often just served with bread. I will be demonstrating here the basic and the green one.
Whenever I go to my favorite Yemeni restaurant, Yemen Cafe, basic zahawiq is on every table to flavor everything from the complimentary lamb broth and bread to whatever main course items we order.
Basic Zahawiq
Ingredients:
3 plum tomatoes, chopped
1/2 Habanero/Scotch Bonnet green chile
2 cloves garlic
1/8 teaspoon cumin seeds
1 tablespoon lemon juice
a small handful of cilantro
1/4 teaspoon salt
Green Schug Recipe
Ingredients:
1/2 bunch of cilantro, rough chopped
1/2 bunch garlic chives, rough chopped
1/4 teaspoon dried thyme
2 leaves mustard greens (I used red mustard variety)
1/2 Habanero/Scotch Bonnet green chile
2 tablespoons olive oil
2 tablespoons water
1 tablespoon lemon juice
1/4 teaspoon salt
Combine all ingredients except oil in a food processor and process well. While the processor is running, slowly add olive oil and mix until sauce comes together.

This is very spicy, but very flavorful.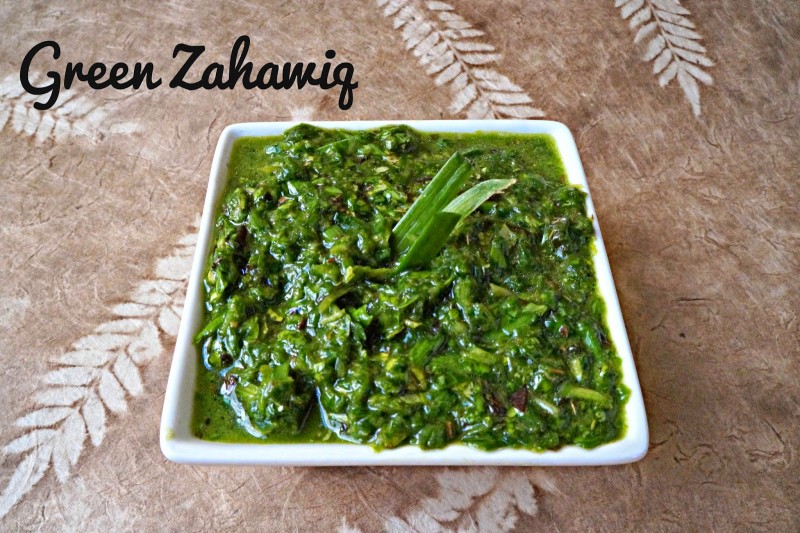 You can serve it with Khobz (Yemeni flatbread) and Foul (Fava Bean Stew) as done below.