Yemeni food is flavorful but not spicy on its own. Zahawiq is how spice is added to the food, which leaves it up to personal preference how spicy or not you want to make your food. No food is served without at least one type of zahawiq.
Zahawiq is a type of condiment eaten with many foods in Yemen. It's often served with rice or bread, as well as a dipping sauce for fried foods. There are three types. One with cheese which is usually served with fish. The basic zahawiq which is served with everything from rice and bread to meat dishes. The green zahawiq is most often used as a dipping sauce for fried foods, but also often just served with bread. I will be demonstrating here the basic and the green one.
Basic Zahawiq
Ingredients:
3 plum tomatoes, chopped
1/2 Habanero/Scotch Bonnet green chile
2 cloves garlic
1/8 teaspoon cumin seeds
1 tablespoon lemon juice
a small handful of cilantro
1/4 teaspoon salt
Process all ingredients in a food processor until smooth.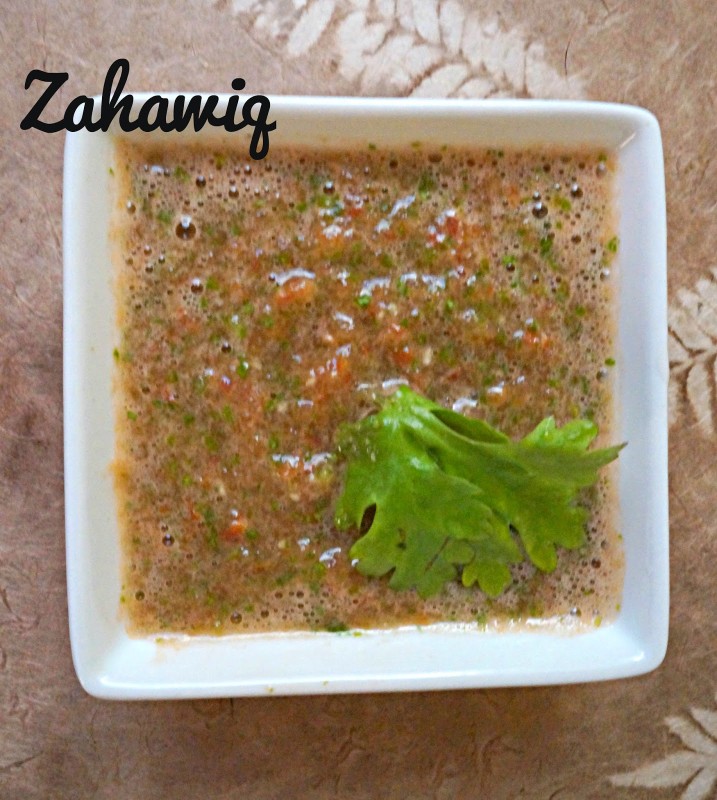 Green Zahawiq
Ingredients:
1/2 bunch of cilantro, rough chopped
1/2 bunch garlic chives, rough chopped
1/4 teaspoon dried thyme
2 leaves mustard greens (I used red mustard variety)
1/2 Habanero/Scotch Bonnet green chile
2 tablespoons olive oil
2 tablespoons water
1 tablespoon lemon juice
1/4 teaspoon salt
Combine all ingredients except oil in a food processor and process well. While the processor is running, slowly add olive oil and mix until sauce comes together.

This is very spicy, but very flavorful.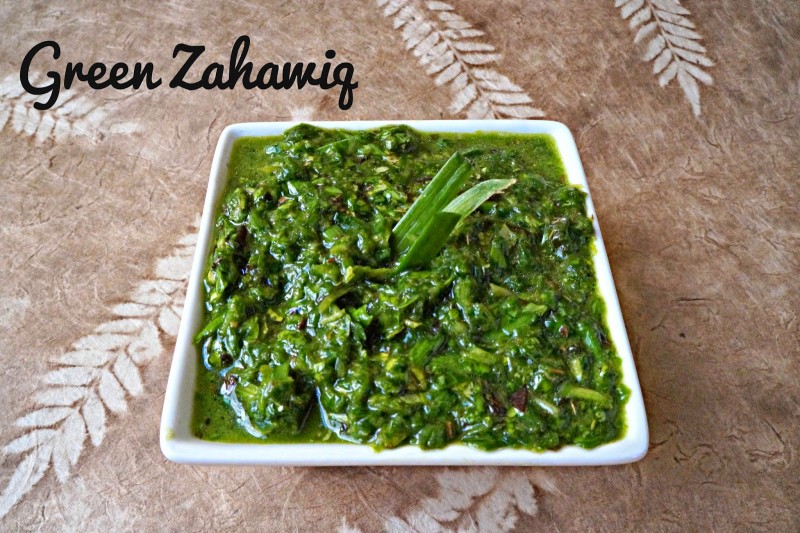 You can serve it with Khobz (Yemeni flatbread) and Foul (Fava Bean Stew) as done below.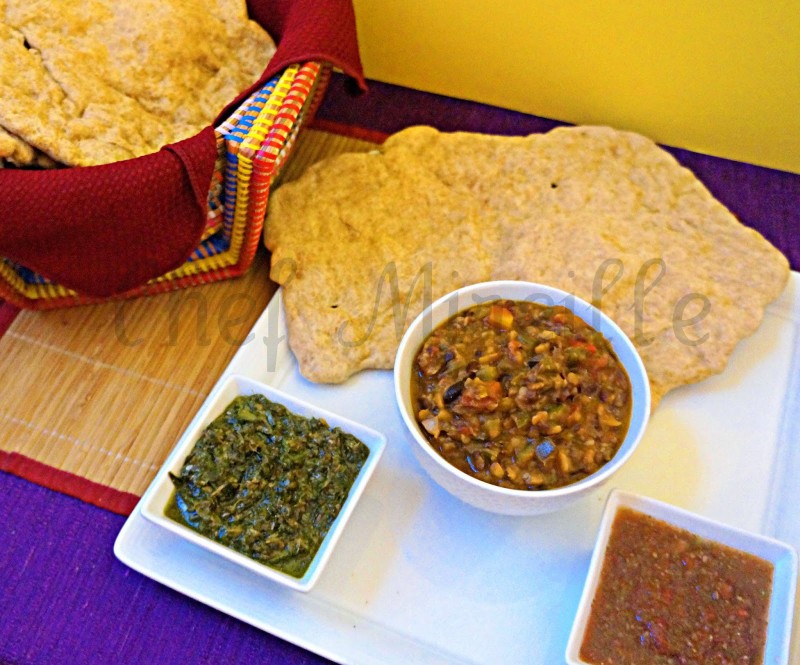 Check out the Blogging Marathon page for the other Blogging Marathoners doing BM# 44
LIKE THIS RECIPE? LEAVE A COMMENT..I LIVE FOR THEM!
Chef Mireille
Sign up for our updates!
Subscribe to get our latest content by email and get your FREE Pantry Cheat Sheet - Learn the basics to cook any International cuisine!