Last Updated on May 30, 2015 by Chef Mireille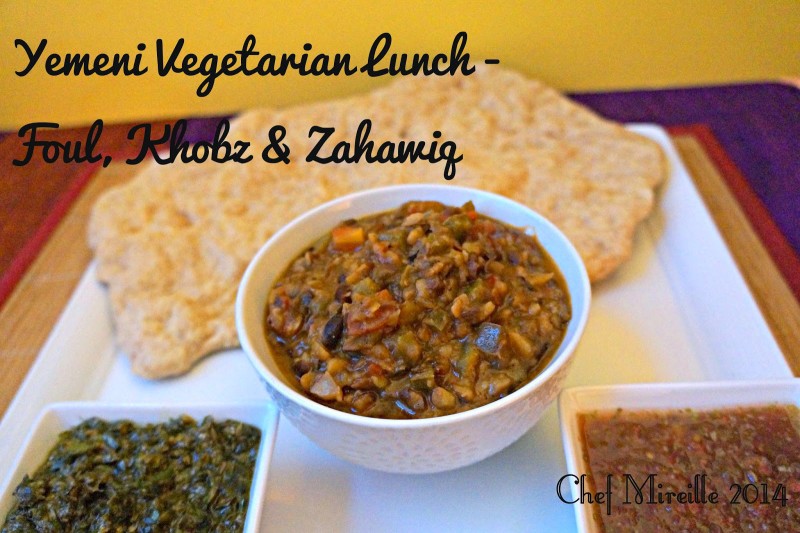 Of all Middle Eastern cuisines, Yemen is one of my favorites. There is a restaurant here in Brooklyn's Middle Eastern enclave called Yemen Cafe which I have been frequenting for many years. In addition to the delicious food, the staff here is so friendly and nice. Its a family friendly place with a huge fish tank that the kids always get a kick out of. Although everything is delicious here, my favorite are their lamb dishes. Lamb cooked slow and tender so that it just breaks apart with one pierce of the fork in flavorful broths. I can't think of how many lambs get slaughtered a week just for this restaurant. Most dishes are served with huge hunks of lamb. The last time I visited the cafe, I saw the delivery van and the whole van was full of lamb carcasses being delivered to the cafe, waiting to be butchered.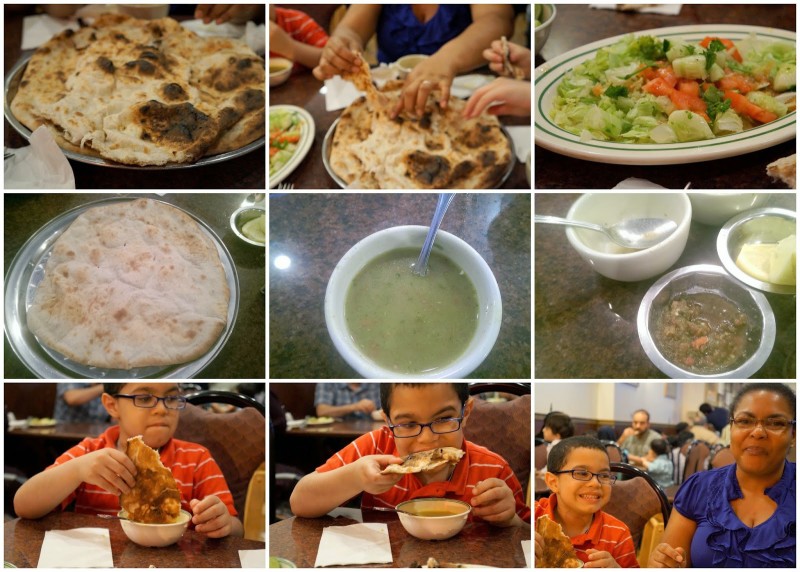 Yemeni Flatbread and Salad served family style, Lamb Broth, Zahawiq, my friend's son enjoying his Yemeni food, happy smiles eating Yemeni
As soon as you sit down, you are greeted with complimentary lamb broth, basic zahawiq and large Yemeni flat bread that is constantly being replenished as you eat your meal, complimentary. You barely have a chance to finish the last bite and a fresh warm bread out of the tandoor has been replaced on your table (except on a Saturday or Sunday when the place is so busy the staff are running around like crazy so you might have to give them a gentle reminder you need more bread). Then there is the hulba that tops some of the stews. Hulba is ground fenugreek powder which is soaked for a day and then whipped so that it looks like whipped egg whites.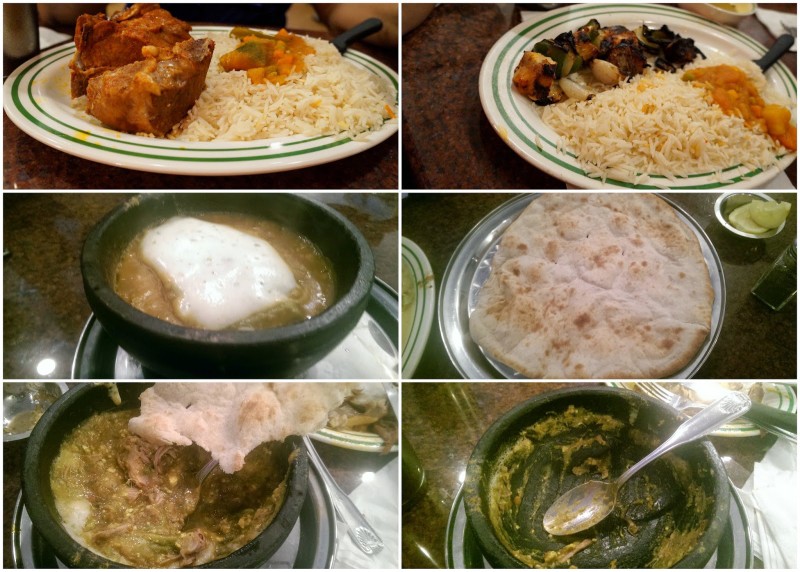 Lamb, Kebab, Saltah (vegetable stew) with Hulba, empty bowl of saltah eaten with lamb and flatbread – too delicious!
Once I went with a Vegetarian friend and that time I tried foul and I was equally impressed with this dish, which is popular throughout the Middle East and North Africa in countries like Yemen, Saudi Arabia, Oman and Egypt. There are many different types of Yemeni flat breads as demonstrated by Queen of Sheba. Her blog full of Yemeni recipes is a great resource if you'd like to try this cuisine, with most of the recipes accompanied by videos. All of the Yemeni recipes posted today were adapted from her site & my dining experiences at Yemen Cafe.
For ease, I have posted and linked them here in separate posts:
Foul
Basic & Green Zahawiq
Khobz (Yemeni Flatbread)
Foul
Serves 4
Ingredients:
1 19 oz.can fava beans
1 onion, chopped
2 plum tomatoes, chopped
4 tablespoons oil
salt, to taste
3 cloves garlic, finely chopped
1 bell pepper, chopped
1/4 teaspoon ground cumin
1/4 teaspoon ground coriander
1/4 teaspoon black pepper
Heat oil. Add onion, chile, garlic and bell pepper. Saute for a few minutes until the onions are brown and carmelized.
Add tomatoes and cook for about 10 minutes until they turn mushy.
In the meantime, puree the beans in the blender with 1/4 cup water.
Add to tomatoes with 1 1/4 cup of water and the spices. Add salt, to taste. Simmer for 20 minutes.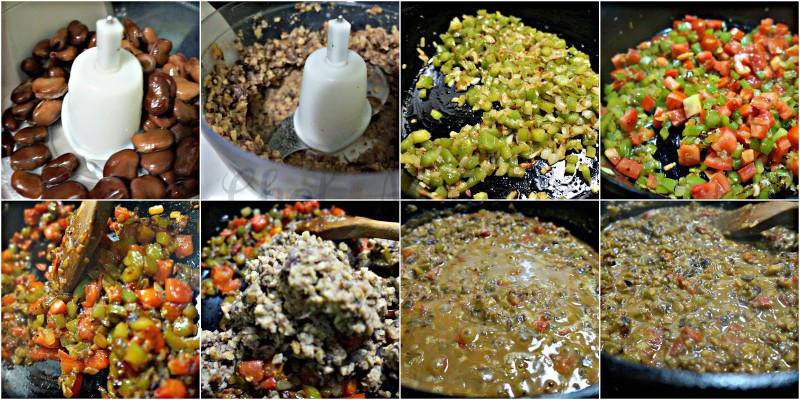 Serve with Yemeni flat bread or pita bread.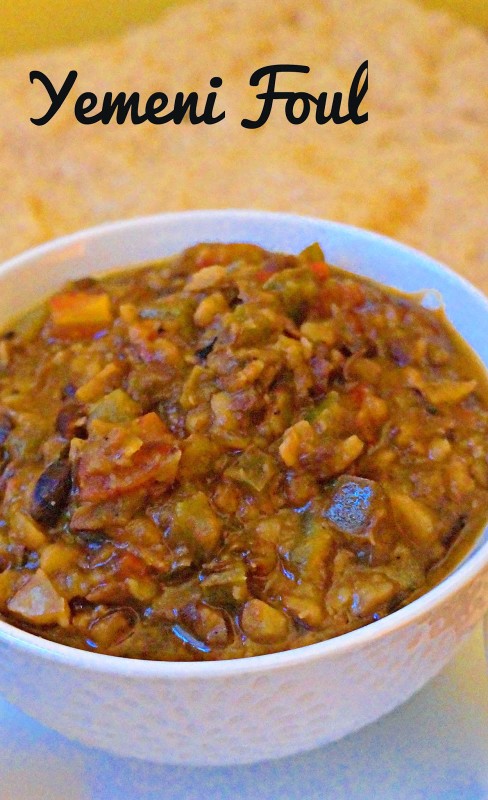 Yemeni food is flavorful but not spicy on its own. Zahawiq is how spice is added to the food, which leaves it up to personal preference how spicy or not you want to make your food. No food is served without at least one type of zahawiq.
See here for my zahawiq recpes.
Despite Yemen being a culture that loves their lamb, you can still enjoy a Vegetarian Yemeni meal.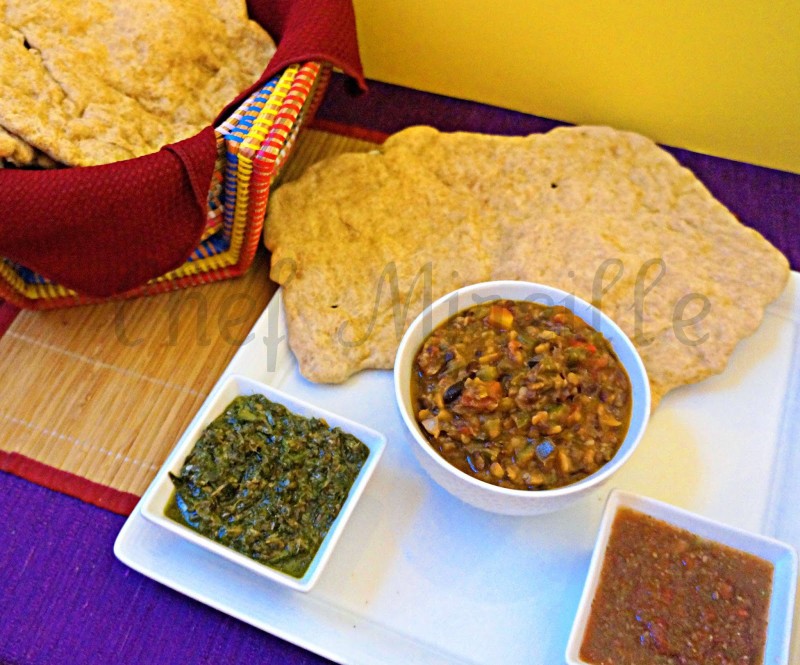 Check out the Blogging Marathon page for the other Blogging Marathoners doing BM# 44
LIKE THIS RECIPE? LEAVE A COMMENT..I LIVE FOR THEM!
Chef Mireille