Last Updated on November 13, 2019 by Chef Mireille
Polenta with Shrimp ~ Brazilian Style is a Gluten Free One Pot Meal. This protein packed meal includes shrimp, bacon and beans. Whole grain cornmeal makes this a healthy one pot dinner for any day of the week.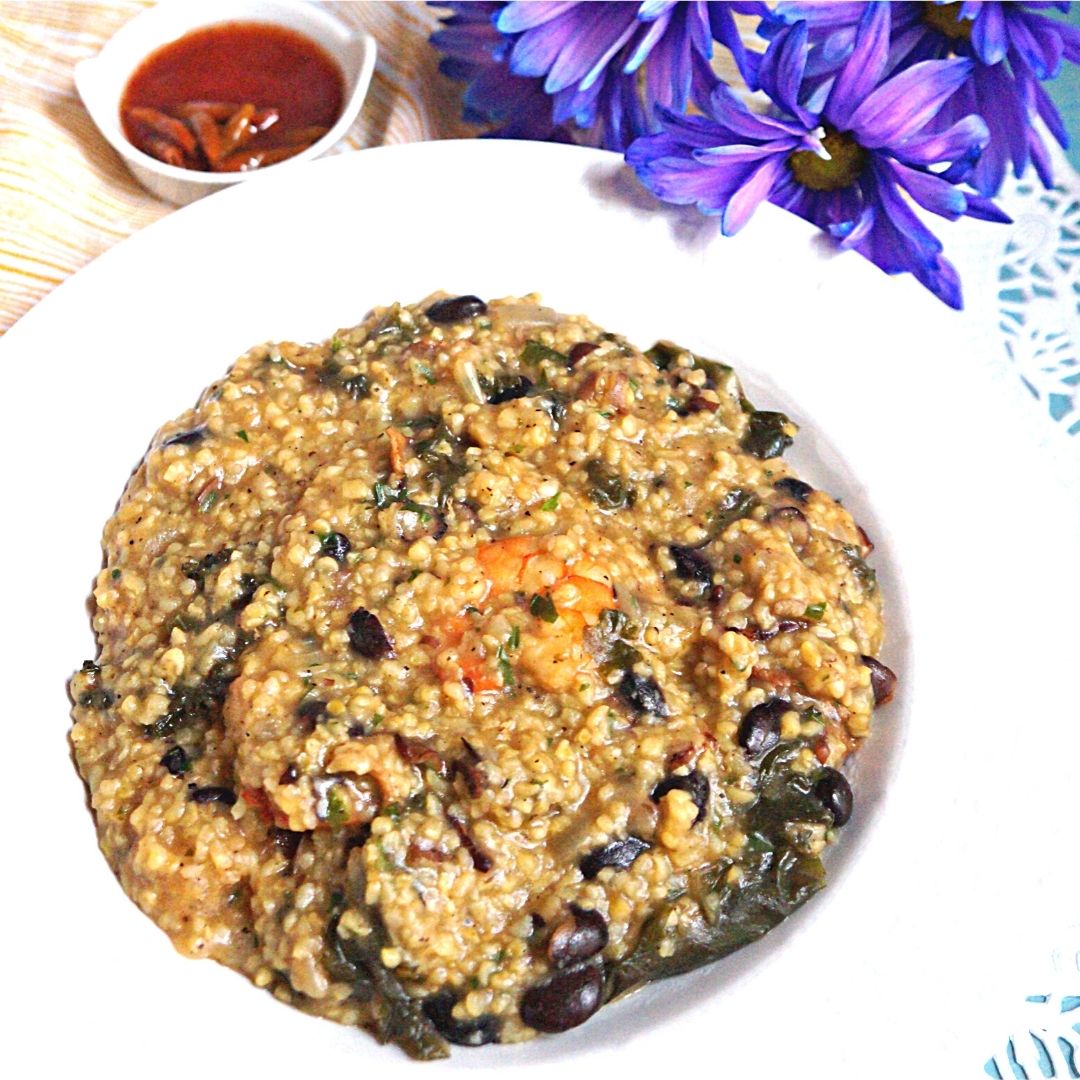 This post may include affiliate links.
Brazilian Style Polenta with shrimp, also known as Xerem con Camarao is an Afro Brazilian recipes that makes the perfect one pot gluten free meal.
Polenta is also sometimes referred to as angu in Brazil. I believe xerem  is the Portuguese word and the other the African word, as this is an Afro-Brazilian recipe.
Many countries have a form of a savory cornmeal porridge, similar to the Italian polenta. From ugali in Kenya to fufu in Ghana to pap in South Africa, this African staple was brought to the Caribbean and Latin America via slaves, although they have been adapted to local flavors and preferences over time. I have already presented Zimbabwe's pumpkin version here, Barbados's version here and Aruba's version here.
If you would like to know more about the many varieties of gluten free cornmeal that there are and how to utilize them all in your kitchen, check out this post here to learn all about Cornmeal, Polenta, Grits & more.
What kind of cornmeal should you use?
Now it's time to taste Brazil's version. Brazil's version of Polenta with Shrimp for me is such familiar comfort food. Being half Haitian, this is similar to our Mayi Moulen. We use the same type of cornmeal and it is often combined into a one pot meal with vegetables and/or beans.
Instead of fine cornmeal, a coarse ground cornmeal is used in Brazil to make Xerem con Camarao, as in Haiti. You can usually find this in Latin or Caribbean markets, often labeled as Haitian cornmeal. If not, grits or polenta cornmeal would be the best substitute.
Xerem is popular in northeastern Brazil in the state of Bahia, where lives the concentration of African descended people. This is a staple food item in Cape Verde, the Portuguese speaking African nation. It was most likely that many of the slaves that were brought to Brazil were from Cape Verde.
Variations
In Brazil, xerem is made two ways. Either it is cooked plain with just water and salt and perhaps a little butter. It is then accompanied with a meat sauce, usually made with either pork, chicken or seafood. The other preparation is a one pot dish where the meat is cooked together with the xerem. I decided to make xerem using this latter method.
How to make Polenta with Shrimp
Soak the Whole Grain Coarse Ground Cornmeal for 2 hours.
Fry Bacon.
Saute onions.
Cook kale and beans with spices.
Add shrimp and cook cornmeal for about 30 minutes,
Add parsley and leave to rest for 10 minutes before serving.
It will thicken as it cools.
Serve with malagueta peppers and hot sauce.
A hearty gluten free one pot meal.
Perfect comfort food.
Brazilian Polenta with Shrimp – Gluten Free One Pot Meal
Polenta with Shrimp ~ Brazilian Style is a Gluten Free One Pot Meal. This protein packed meal includes shrimp, bacon and beans.
Ingredients
1/3

cup

pink beans

black eyed peas, pigeon peas or kidney beans can also be used

1

bay leaf

1

crushed garlic clove

4

slices

bacon

chopped into lardons

1

chopped onion

2

cups

firmly packed kale leaves

I used purple kale

7

oz.

cleaned and shelled shrimp

1

cup

cornmeal

coarse ground

3

teaspoons

salt

1

teaspoon

smoked paprika

1

teaspoon

ground black pepper

2

tablespoons

finely chopped parsley
Instructions
Soak beans overnight in water.

Combine beans in a large pot of fresh water with garlic and bay leaves. Bring to a boil. Reduce to a simmer and cook until beans are tender, about 1 hour.

Soak cornmeal with 3/4 cup water for 2 hours. It will have absorbed the water.

Heat a pot. Add bacon and cook until crispy. Drain excess oil and leave 1 tablespoon in pot. Add onion and saute until onions are softened and turn translucent.

Add kale and saute 2-3 minutes, until softened. Add 6 cups of water, salt, paprika, black pepper and cooked beans. Bring to a boil.

Add shrimp and slowly add cornmeal, stirring constantly, to avoid lumps. Reduce heat to medium low and cook, covered, for 10 minutes. Uncover and continue to cook, stirring frequently, for 20 minutes.

Add parsley and stir to combine. Turn off heat. Leave for 10 minutes before serving. It will thicken more as it cools.
Notes
Canned beans can also be used and eliminate cooking beans.
Nutrition
Calories:
175
kcal
|
Carbohydrates:
26
g
|
Protein:
12
g
|
Fat:
3
g
|
Saturated Fat:
1
g
|
Cholesterol:
84
mg
|
Sodium:
1432
mg
|
Potassium:
306
mg
|
Fiber:
4
g
|
Sugar:
1
g
|
Vitamin A:
2511
IU
|
Vitamin C:
31
mg
|
Calcium:
97
mg
|
Iron:
2
mg
Did you try this recipe? Leave a comment below.
Please follow me on Instagram @chefmireille or tag me #chefmireille with your pics! I'd love to share them!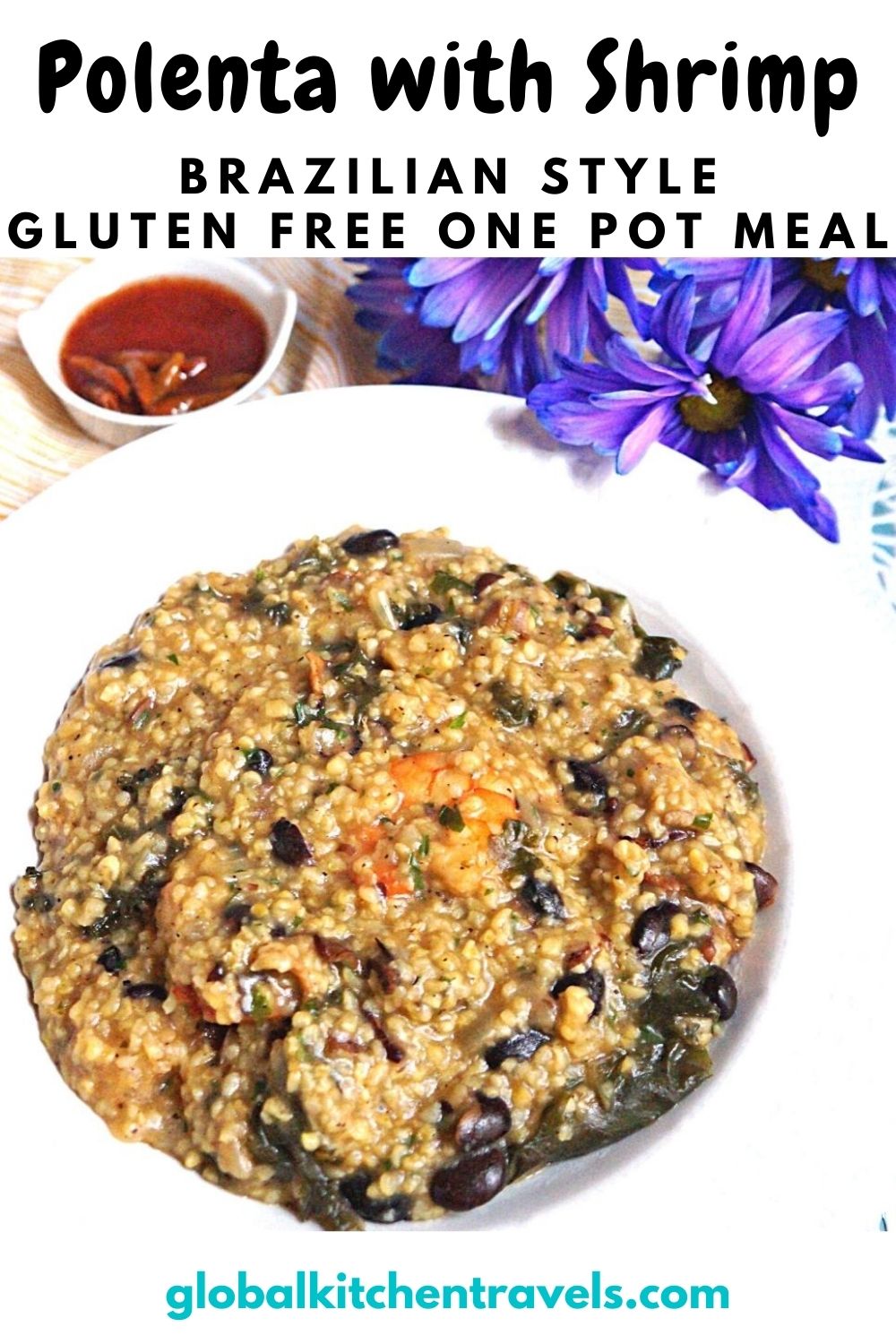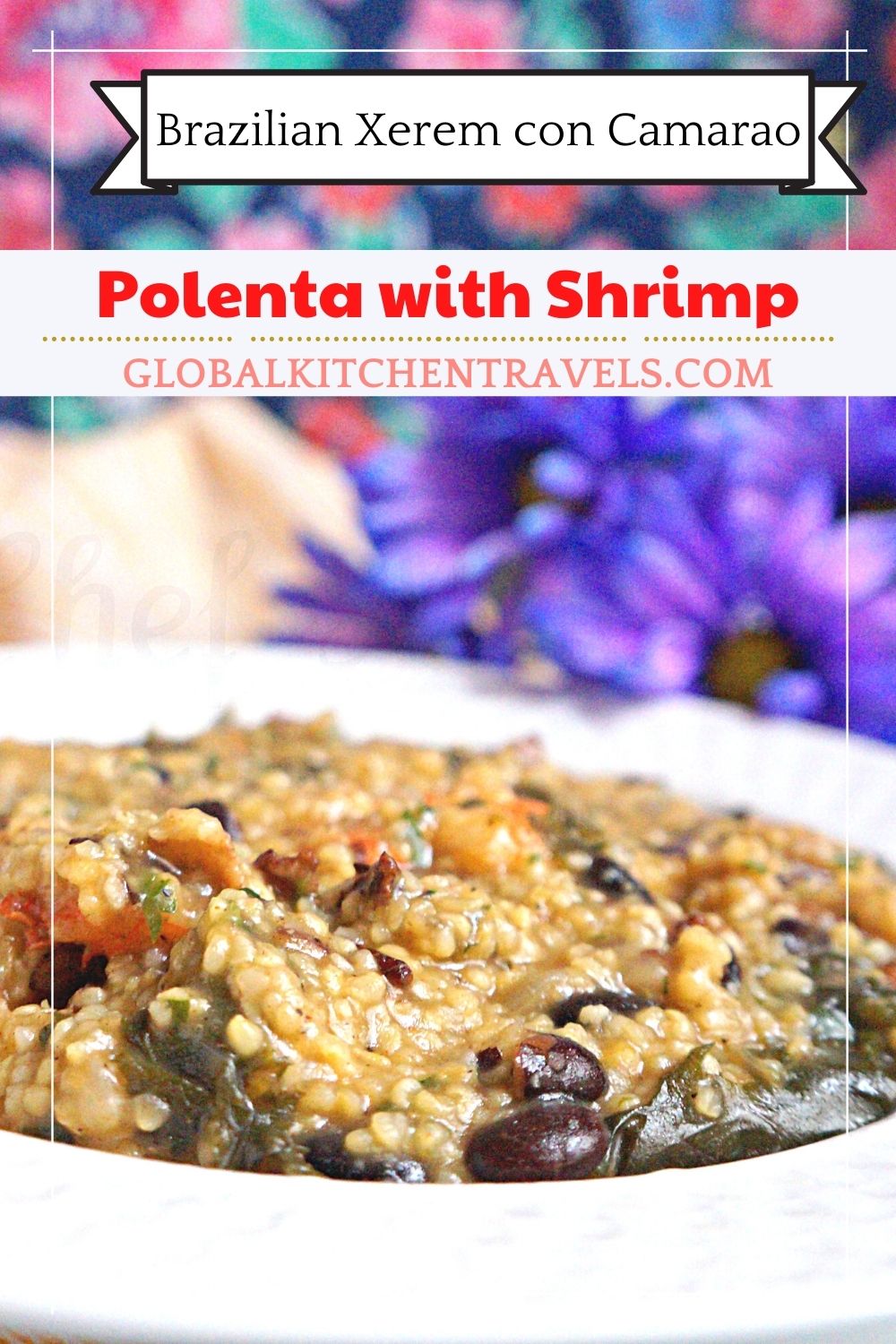 Don't forget to visit the RECIPE INDEX with over 1000 recipes from around the world including lots of Vegetarian Recipes and Gluten Free Recipes!