Last Updated on November 13, 2019 by Chef Mireille
Tutu Recipe – Aruba Style Polenta is an enriched version often made for holidays and special occasions. With bacon and beans, it is a protein packed version that can serve as a meal on its own!
Did you know that my family is from Aruba? Many people think of this as just a vacation island. People have actually said to me "Oh I didn't know people actually live there" when I tell them my Mom is from Aruba. I then need to remind them who do they think is cleaning their hotel rooms and fixing their meals!
Aruban Cuisine & Culture
So yes, people live there and work there and raise families there. We have our own language, culture and cuisine. What I present here are not the foods you will get at the hotels that people represent as Aruban cuisine. I promise you no one at home is making Coconut Shrimp with flaked coconut!
I read an article a while back that was all about the diversity of Caribbean cuisine and the author said that Trinidad &Tobago had the most global influences than any other Caribbean island, without even a footnote to Aruba. I took great offence to that statement!
Aruba is one of the most diverse islands in the Caribbean with Spanish influence via our Venezuelan expat community, Dutch, Indonesian, Indian and African influences.
Like Suriname (the other Dutch colonized country where my grandfather happens to be from), its diverse community represents the extent of Dutch colonization in the 17th century. The cuisines of the diverse people of Africa, Asia, Europe and the South Pacific was brought to Dutch colonized countries and due simply to its proximity to Venezuela makes Aruba one of, if not the most diverse Caribbean island. Where else can you go and get a samosa, Nasi Goreng or sancocho and it's all considered part of our national cuisine?
Our national dish of Keshi Yena represents this diversity with Dutch, Indonesian and African influence. I think it's even more amazing that we have such diversity, considering our small size!
If talk of our cuisine hasn't convinced you of our diversity, let's take a look at our local language, Although the official language in school and business is Dutch, the language of the people is Papiamento. Papiamento started out as a dialect of English, Spanish, Dutch, French and Portuguese. It has since been declared a language since it has a written form. We have a papiamento language newspaper and some books are written in papiamento.
Since my mom is from Aruba, I have a great love of the island. I have visited many Caribbean islands and I guess you could say I am a bit biased, but it's my favorite.
First of all, we don't have the stifling heat present on many of the islands. It's a tropical desert climate, so the tradewinds make sure there is always a breeze in the air, even if the temperatures are high.
It's also the only Caribbean island located outside of the hurricane belt, so you can be pretty confident of a stress free vacation, with no bad weather concerns. I haven't visited Aruba in many years as much of my family has since migrated to the Netherlands, which I now visit more often. However, here are a few photos from my last trip…when I was a lot younger and thinner.
Sights of Aruba
The natural bridge where we used to walk across at our own risk, but it has since collapsed…
After a tour through the caves where you see original carvings from the native Arawaks on the cave walls. That's me (with the big hair) and a few of my many cousins.
See the cactus in the background that represents our desert climate. Cactus is the only thing that grows in our dry climate. Everything has to be imported, which makes cost of living very high.
This is a naturally formed pool surrounded by high rocks on the coastline.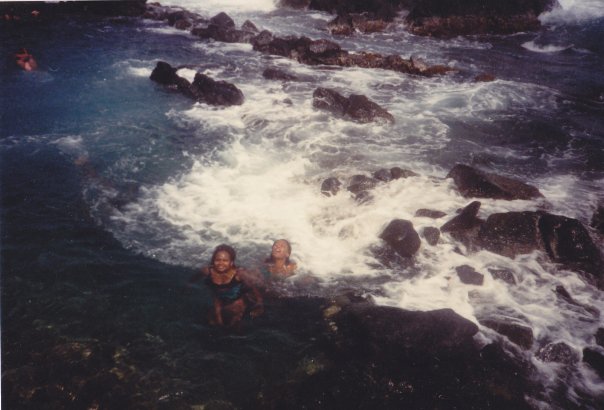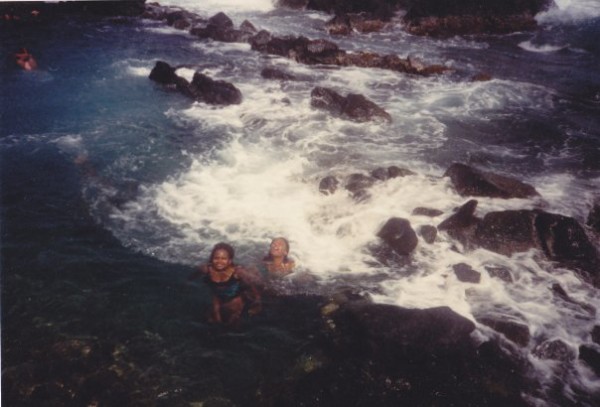 I have often mentioned that most Caribbean islands have a version of cornmeal porridge, brought over from the African slaves. It's our version of polenta. I previously did the Bajan Cou Cou recipe, but in Aruba we call the plain version funchi. However we also have a leveled up version, usually reserved for holidays and special occasions called Tutu or Aruba Style Polenta. It's like funchi with all the Christmas trimmings.
How to make Tutu Recipe – Aruba Style Polenta
Serve hot.
It makes the perfect comfort food and I think can even stand on its own as a meal, although that is not traditional as it is considered more of a side dish.
I'm really not sure of the history of why we usually pair our funchi with fish. It's just the traditional way of eating it, whether it is with fried fish, stewed fish or roasted fish. To complete my meal, I paired my Aruba Style Polenta with salad and pan seared salmon.
You might also like
DO YOU YUM? SAVE IT BELOW!
Yum
Now I know you want to try some more Caribbean food! Check out my collection with over 100 Caribbean Recipes from the Caribbean diaspora!