Last Updated on November 13, 2019 by Chef Mireille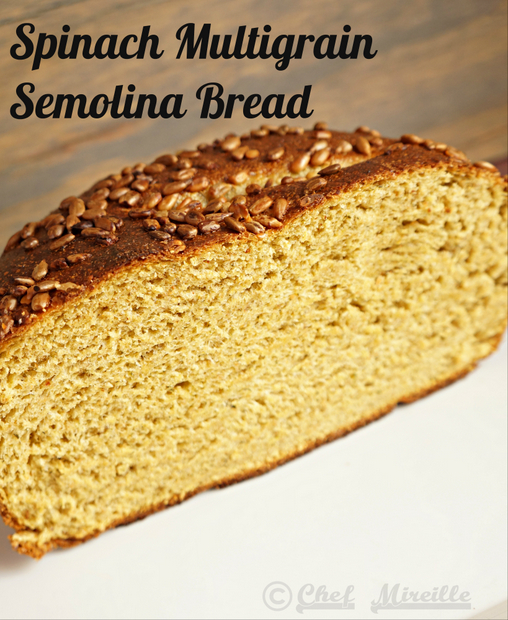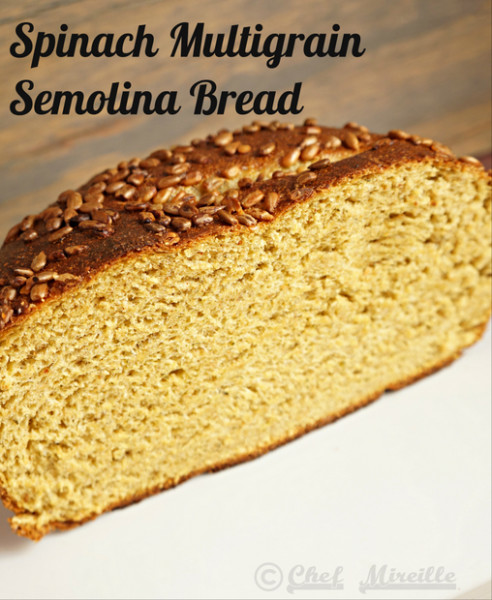 Semolina bread from the local Italian bakery was a family favorite that my Mom used to buy often when I was growing up. Now that I have embraced bread baking, it's a grain that I like to include in my breads. Although made from wheat, semolina has a coarse texture that is similar to cornmeal. This gives the bread more depth and texture.
Using spinach from the Union Square Greenmarket and Hungarian hot paprika, this flavorful bread can be even eaten on its own, but also serves as a great accompaniment to salads, soups and stews. Or how about a grilled cheese sandwich? The options to utilize this bread are endless!
This month's #BreadBakers host is someone I know very well. I met Pavani for the first time about two years ago when a bunch of us who participate in Spice Your Life's monthly Blogging Marathon who live in the NY area decided to meet. She invited us to lunch at her house and we all have become friends via our mutual interest in blogging, food photography and foodie events. This past year has seen us meeting even more often. When another one of our BM participants relocated from India to New Jersey, it was another excuse for us to get together. On that day, I introduced them to my favorite local UPICK farm that allows you to pick your own fruits and vegetables from the farm. That was such a fun day last fall and we all came home with tomatoes, apples, pumpkins, a variety of beans and for them, eggplant (I despise eggplant). Only a group of food bloggers would think the best way to spend the day is hiking through hills on a farm on a warm early fall day, just to come home with a box of fresh produce. But if you live in the city, you really appreciate this and it's really a fun excursion for us. People who live in farm country probably don't realize how blessed they are to have this at their constant disposal. So it was no surprise to me when Pavani picked the theme of Summer Bounty, to take advantage of fresh produce from your own garden or local farmer's market.
Spinach Multi Grain Semolina Bread
Prep Time: 2 1/2 hours
Cook Time: 40 minutes
Yield: 1 round loaf
Ingredients:
2 cups warm milk
2 cups spinach leaves
1 cup semolina
1/2 cup rye flour
2 cups bread flour
1 cup whole wheat flour
1 tablespoon instant yeast
1 tablespoon sugar
1 tablespoon salt
1 teaspoon paprika (I used Hungarian hot paprika)
1 tablespoon buttermilk (milk, heavy cream or egg wash can also be used)
1 tablespoon shelled sunflower seeds
Heat milk to 120 F. Do not boil. Combine warm milk with spinach in a blender and blend well.
In a large bowl, combine semolina, rye flour, bread flour, whole wheat flour, yeast, sugar, salt and paprika. Mix well.
Add spinach-milk and mix well. After the dough looks shaggy, start to knead by hand or if using the dough hook of an electric mixer, let the machine knead for 5 minutes. Knead for 10 minutes if kneading by hand, until the dough is smooth and elastic.
Place in a greased bowl. Cover with plastic wrap and a kitchen towel. Leave to rise until doubled in size, about 1 hour.
Pull the dough from underneath and pull over the top a few times. The dough will deflate.
Spray a Dutch oven with non stick spray. Place the dough in the pot, cover and leave until doubled in size, 45 minutes to an hour. Preheat oven to 450 F.
With a sharp knife, gently make two slits in the dough. The dough will slightly deflate. Brush the top with the buttermilk and then sprinkle sunflower seeds on top.
Place the Dutch oven, covered, in the oven and bake for 30 minutes. Uncover and bake another 10 minutes. The bread should sound hollow when tapped.
Remove from pot and leave until cooled completely.
Slice and serve.
The Dutch oven cooking method provides an artisan quality bread, even without a sourdough starter.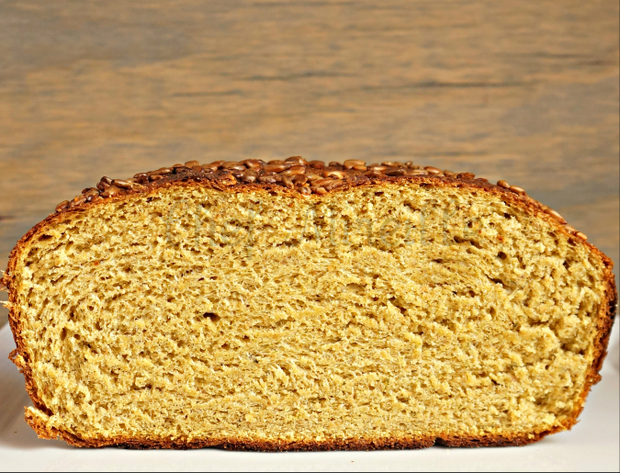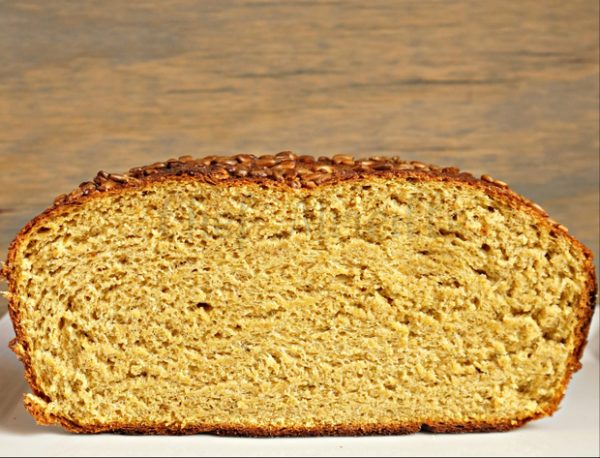 Check out the #BreadBakers Breads using Summer Bounty
#BreadBakers is a group of bread loving bakers who get together once a month to bake bread with a common ingredient or theme.  Follow our Pinterest board right here. Links are also updated each month on this home page.
We take turns hosting each month and choosing the theme/ingredient.
If you are a food blogger and would like to join us, just send Stacy an email with your blog URL to [email protected]
I'm also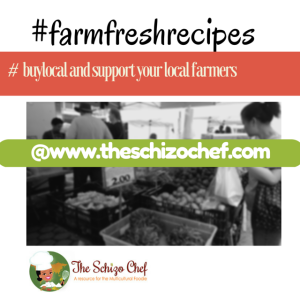 celebrating the season's harvest with my Linky Party, #FarmFreshRecipes. I am linking up this recipe and feel free to link up your recipe here.