Last Updated on August 26, 2021 by Chef Mireille
The Best Spiced Pumpkin Pancakes, easily made with either fresh homemade Pumpkin Puree or canned pumpkin puree. Anybody can learn how to make Easy Pumpkin Pancakes from Scratch. You'll never buy a boxed Pancake Mix again!
Are you looking for a Pumpkin Pancake recipe that's ahead of all the rest?
I got you! So what makes these pancakes so special? Well a few reasons, but the most important is the heady aroma of cardamom. Cardamom is a spice greatly under used in American cuisine although it has been gaining popularity.
Used commonly throughout the Middle East, South Asia, Scandinavia and Eastern Europe, once you taste cardamom I guarantee it will become your favorite sweet spice.
You are going to LOVE these Spiced Pumpkin Pancakes.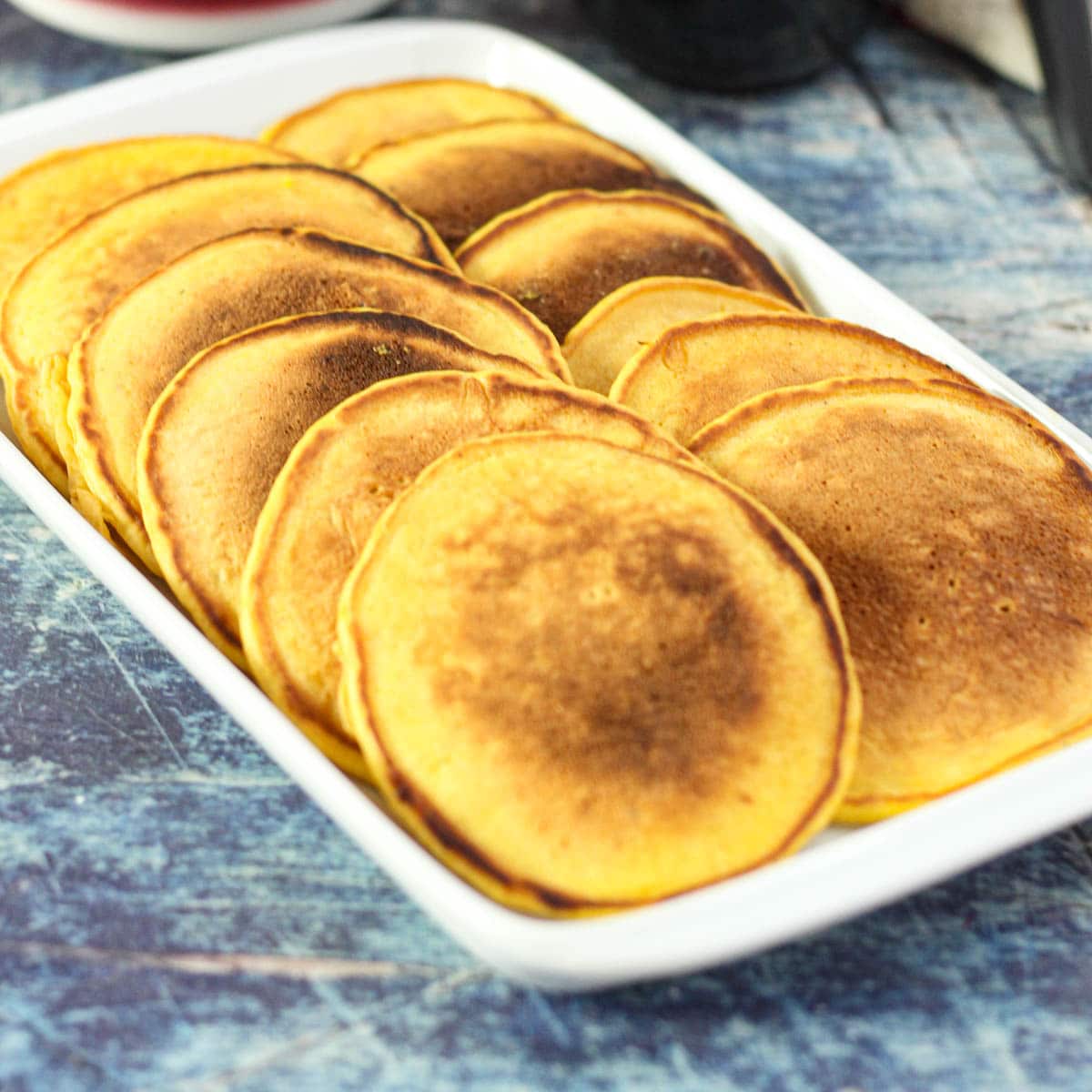 This post may include affilate links.
What's your pancake style?
Do you like your pancakes thick and fluffy or light and thin – almost a crepe but something that has a little more body? Let me know in the comments.
I definitely fall into the second category.
I am very picky about pancakes. The only pancakes I ever order if I am eating out are silver dollar pancakes. I don't like the super high pancakes that are so thick when you bite into it, the interior is dry.
You keep adding more and more syrup, but it doesn't help. You practically have as much syrup as pancake on the plate and still the inside is dry. A small ladle over the top of the pancakes should be enough syrup so that every bite is syrup moistened.
That's how I made these pancakes
These have more liquid than those mile high fluffy pancakes, but this is a personal preference of mine. I know so many people go ga ga for the fluffy pancakes so I have also included tips to make Fluffy Pumpkin Pancakes, if you prefer.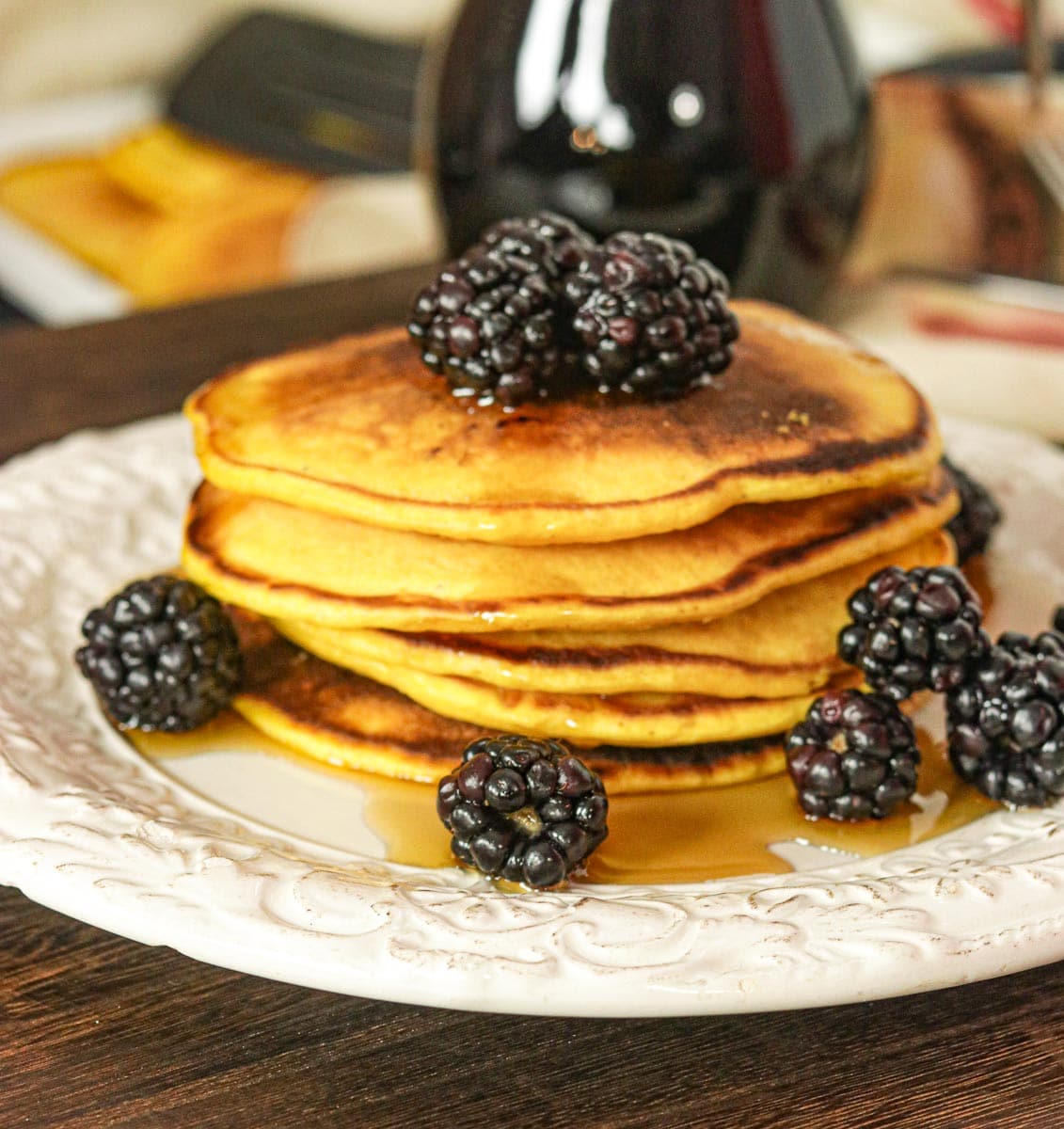 Pancake Mix
There are many ways to make pumpkin pancakes. For convenience, many people will take your standard box pancake mix and simply adjust the egg and milk quantities so they can incorporate some pumpkin puree into the mix.
However, I'm an all natural girl and I haven't purchased a box of pancake mix since I was in high school. Once I learned how easy it is to make your own pancake mix and it has a much lower price point –
It was Bye Bye Supermarket Pancake Mix – See ya !
Now I always use this Make Ahead Pancake Mix in bulk, even when I am making just plain old fashioned pancakes, without pumpkin puree. By having it made in advance, pancakes are quick and easy whenever the mood strikes.
But today, it's all about the pumpkin. With my Caribbean heritage, pumpkin is a staple ingredient I grew up with. We always had fresh pumpkin around to make things like Pumpkin Curry and Pumpkin Soup.
While many Americans mostly associate pumpkin with sweet treats, I grew up enjoying pumpkin more in savory presentations than sweet.
Pumpkin is such a versatile ingredient. There are so many different ways to use pumpkin in cooking. Here are just a few other ways you can utilize pumpkin in your daily cooking.
Pumpkin Recipes
What kind of pumpkin do I need to make Spiced Pumpkin Pancakes?
I have made these delicious Pumpkin Pancakes in the past with both canned pumpkin and homemade Roasted Pumpkin Puree. I definitely think the homemade pumpkin puree definitely brings way more flavor into these pancakes.
If making your own pumpkin puree, use any combination of calabaza and/or kabocha pumpkin. Even American orange Halloween pumpkins can also be used.
The pumpkin puree is another make ahead recipe that can easily be made in advance with leftovers frozen. It's best to freeze it in 1 cup portions so you can easily defrost only as much as needed.
So with homemade Pumpkin Puree, fresh pancake mix ingredients and the intoxicating flavor of cardamom, these are the BEST Pumpkin Pancakes you will ever eat!
And even if you didn't have time to make the homemade pumpkin puree and use canned pumpkin instead, they will still be just as delicious.
…AND if you love pumpkin as much as I do, you will LOVE this Collection of Over 30 Pumpkin Recipes – both sweet and savory!
Variations
Use pumpkin pie spice mix instead of only cardamom.
Make Vegan Pumpkin Pancakes – Replace the milk with coconut milk and replace the eggs with 2 flax eggs.
Make it healthier by making it with 2 cups of this Multi Grain Pancake Mix. Then just add the eggs, pumpkin, milk, vanilla and spice.
To make your pancakes more fluffy, reduce the milk quantity by 1/2 cup.
You can also make Sweet Potato Pancakes by replacing the pumpkin puree with boiled and mashed sweet potato.
Did you know that pancakes are one of the oldest foods known to man?
There is some evidence that people have been eating pancakes since the Stone Age.
Think about it. Just about every culture in the world has some type of pancake – a bread like batter that is skillet fried into little cakes. They can be sweet or savory, but I don't think there is anybody that doesn't eat pancakes.
I adore pancakes. Savory pancakes with salad make a delicious lunch or dinner. Sweet pancakes can be enjoyed from breakfast to dessert.
Here are a few of my favorite Pancake Recipes you might like to try if you are as obsessed with Pancakes as I am.
Check out this compilation of 12 Pancake Recipes from Around the World – both Sweet and Savory!
Now let's see what you need to make Perfect Pumpkin Pancakes.
The Ingredients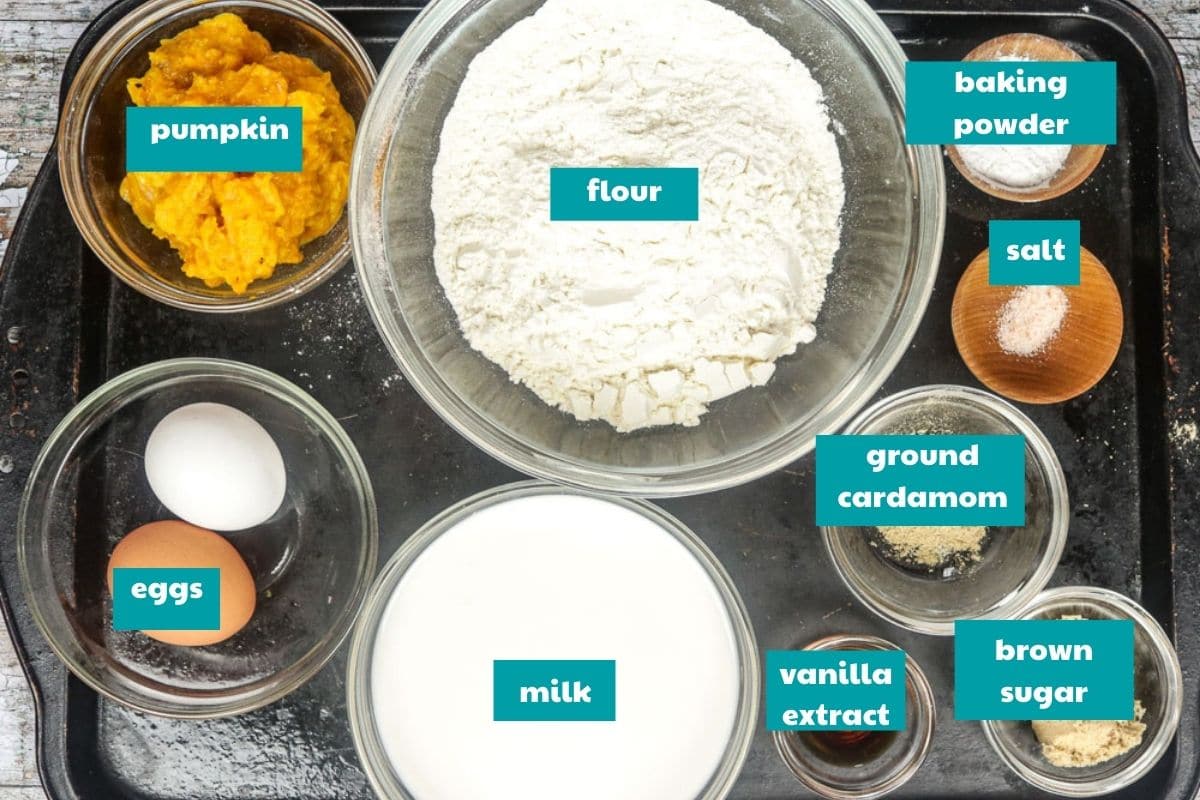 pumpkin puree
eggs
milk (or coconut milk)
vanilla extract
all purpose flour
baking powder
salt
ground cardamom or pumpkin pie spice
brown sugar
powdered sugar, for garnish (optional)
How to make Pumpkin Pancakes
Mix dry ingredients.
Mix wet ingredients, except the milk.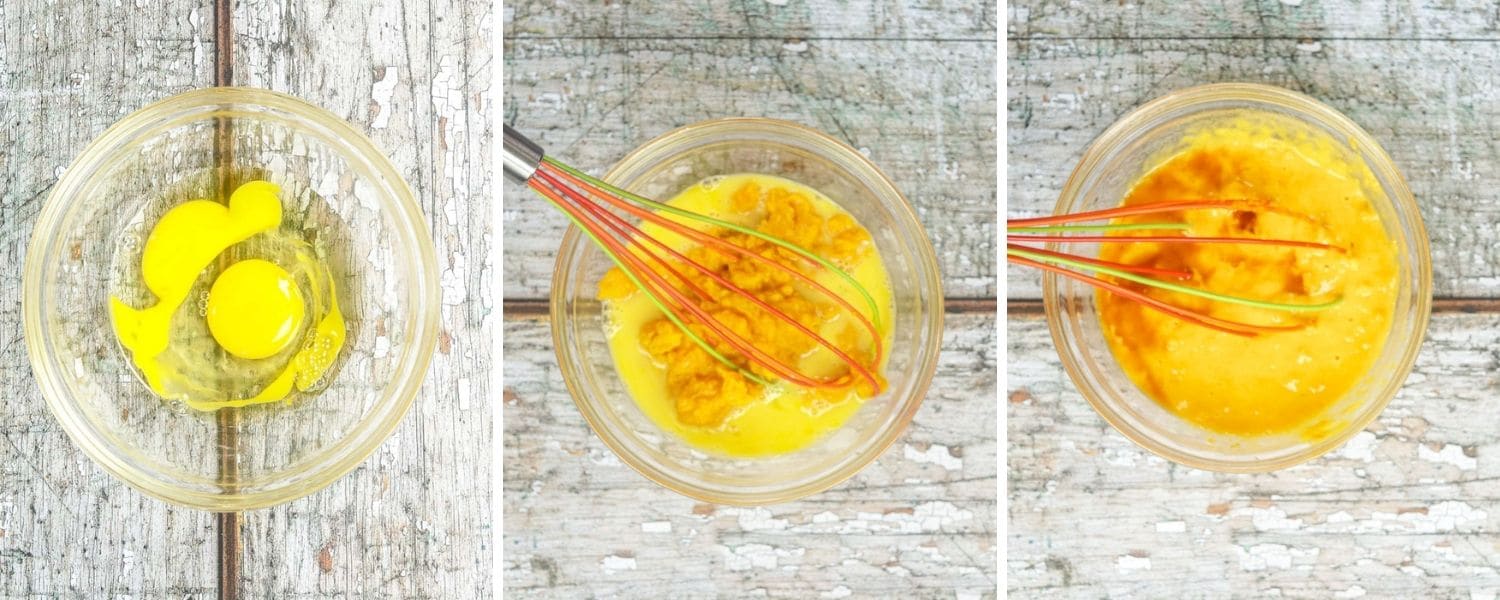 Combine dry and wet ingredients together.
Add milk a little at a time. Use more or less depending how thick or thin you prefer your pancakes.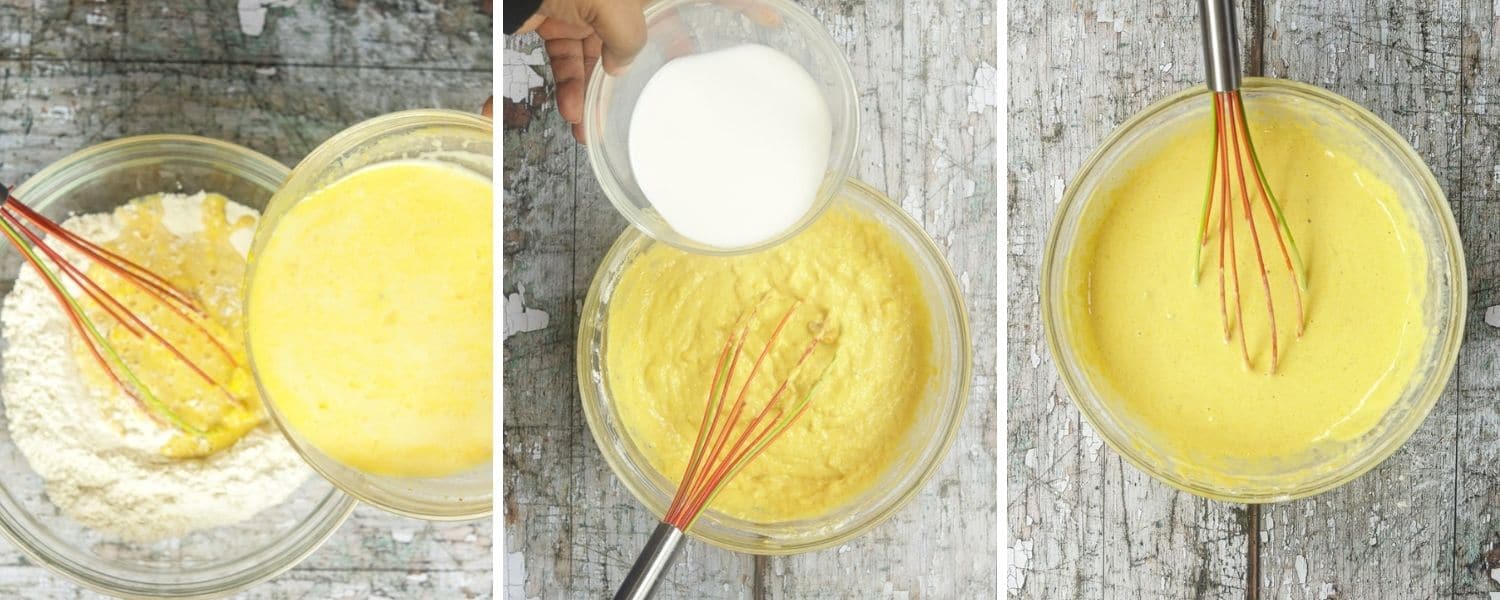 Cook on a griddle until golden brown on both sides.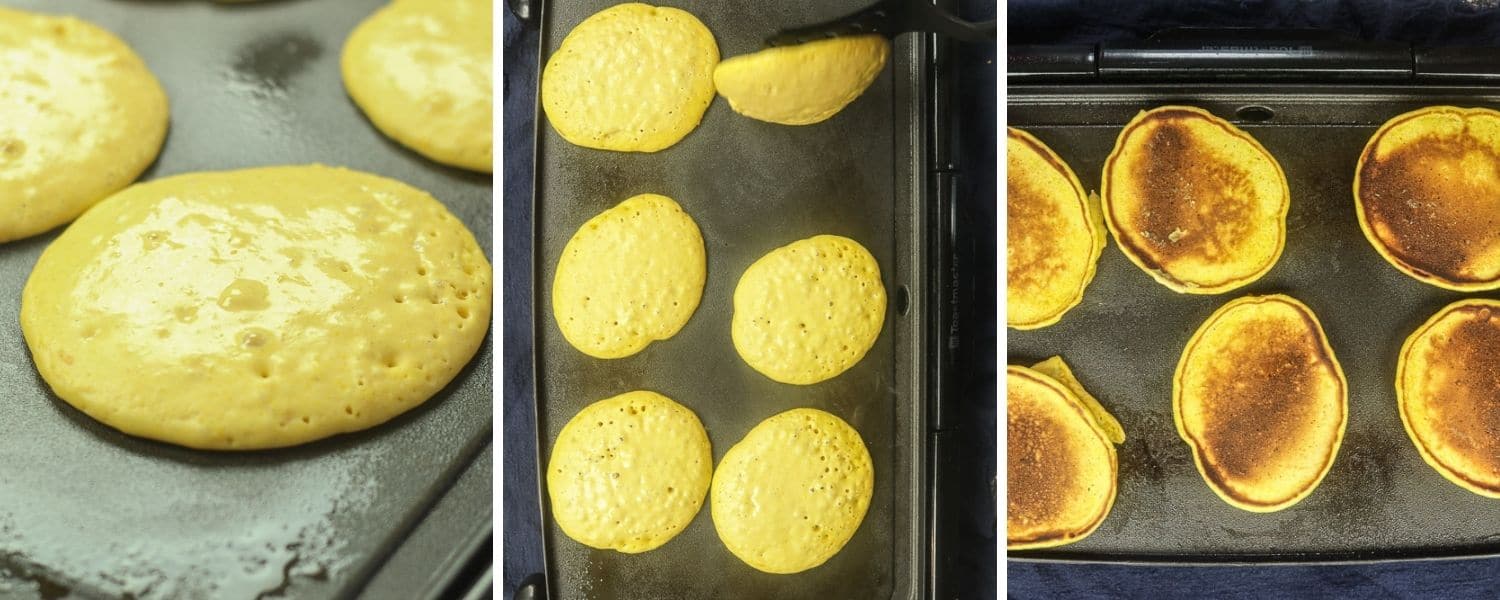 Serve with powdered sugar, syrup and butter, as desired.
Soft pancakes just fluffy enough, without them being dry,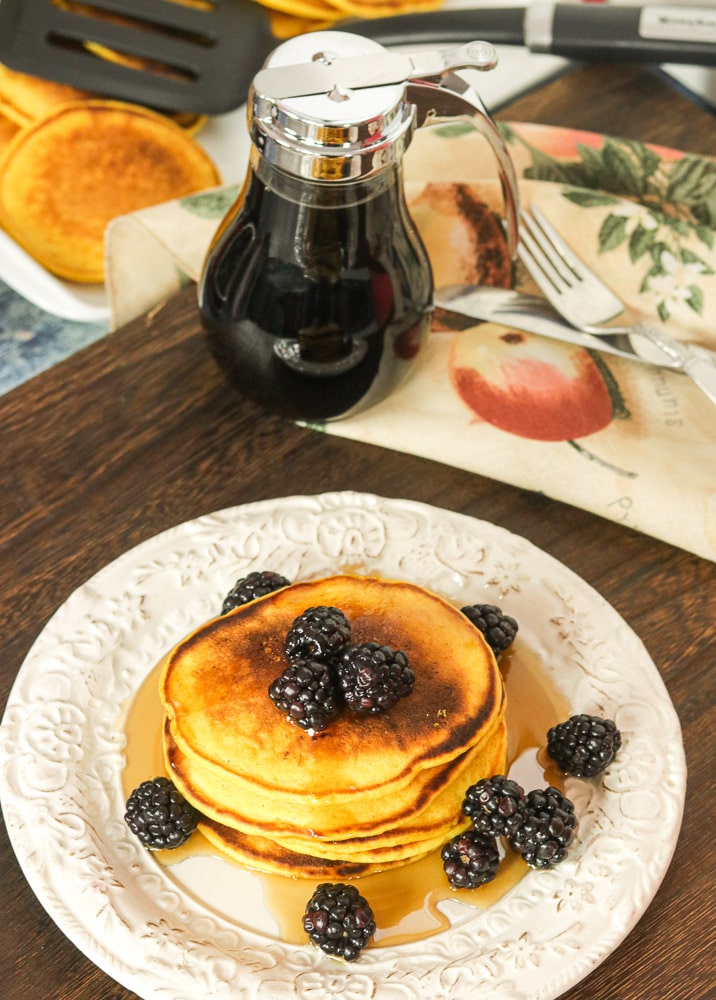 Perfect Pumpkin Pancakes for breakfast or brunch!
Instead of or in addition to syrup, these pancakes are also fabulous with Homemade Cranberry Sauce!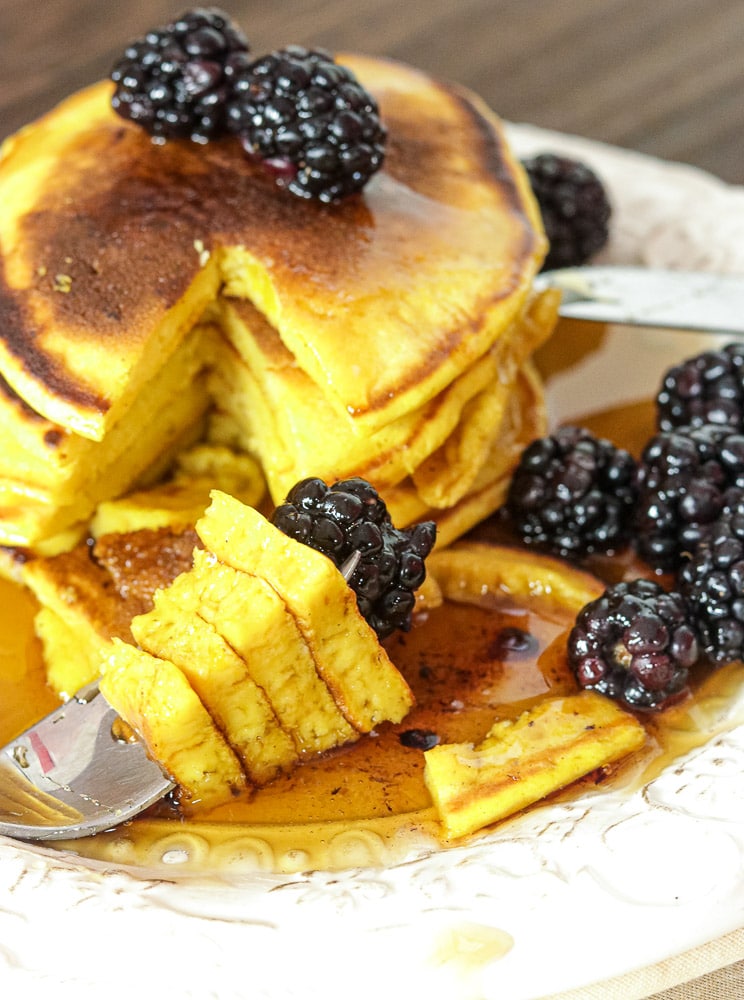 Easy Pumpkin Pancakes
The Best Pumpkin Pancakes Recipe – so quick and easy to make and so delicious for breakfast or brunch.
Ingredients
1

cup

pumpkin puree

2

eggs

2

cups

lowfat milk

1

teaspoon

vanilla extract

2

cups

all purpose flour

3

teaspoons

baking powder

1

pinch

salt

2

teaspoons

ground cardamom

or pumpkin pie spice

1

tablespoon

firmly packed brown sugar

powdered sugar

for garnish
Instructions
In a large bowl, combine pumpkin, eggs, and vanilla. Stir to combine.

In a separate bowl, combine flour, baking powder, salt, cardamom and sugar. Stir to combine.

Add th pumpkin mixture to the dry ingredients and mix until just combined.

Add milk a little at a time. Use more or less depending how thick or thin you prefer your pancakes.

Heat a griddle and spray with non-stick spray.

Using a ladle or a small measuring cup, pour a portion of pancake batter onto hot griddle.

When little air bubbles start to appear, flip pancakes over to the other side with a spatula. Cook on the other side for another 2-3 minutes until golden brown.

Serve with syrup.
Nutrition
Calories:
175
kcal
|
Carbohydrates:
32
g
|
Protein:
7
g
|
Fat:
2
g
|
Saturated Fat:
1
g
|
Polyunsaturated Fat:
1
g
|
Monounsaturated Fat:
1
g
|
Trans Fat:
1
g
|
Cholesterol:
44
mg
|
Sodium:
50
mg
|
Potassium:
360
mg
|
Fiber:
2
g
|
Sugar:
6
g
|
Vitamin A:
4941
IU
|
Vitamin C:
1
mg
|
Calcium:
161
mg
|
Iron:
2
mg
Did you try this recipe? Leave a comment below.
Please follow me on Instagram @chefmireille or tag me #chefmireille with your pics! I'd love to share them!
Don't forget to visit the RECIPE INDEX with over 1000 recipes from around the world including lots of Vegetarian Recipes and Gluten Free Recipes!