Last Updated on July 9, 2022 by Chef Mireille
What kid doesn't like waffles, right? These Vegan Pumpkin Waffles are packed with a whole lot of goodness—high in Vitamin A & C with pumpkin and loaded with whole-grain goodness from millet. These are full of so much healthy good stuff, who cares if they saturate it with syrup?
You know I've always been in love with pancakes and waffles, and I love making them for kids! In this vegan version, I'm using millet flour to fill them up with fiber, something kids don't usually have in their diet.
This waffle recipe is really simple to make and you can just use your good ol' waffle maker to make these for breakfast. If you don't have a waffle maker on hand, you can quickly grab a pan and turn this into a pancake!
Both kids and kids-at-heart may love having these waffles with some maple syrup on top and a few pieces of blueberries around.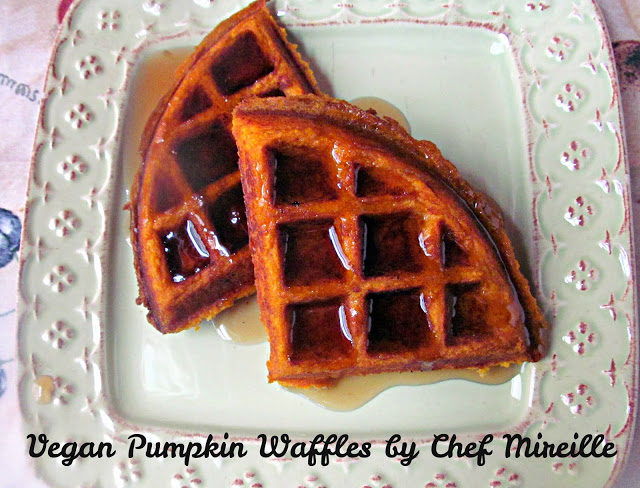 This post may contain affiliate links.
What is millet?
Millet is a type of cereal grain that's pretty common in Africa and Asia. It became popular as a gluten-free option in special diets.
Millet grains look small and round. They're actually starchy too, which is why I love using them in place of the typical all-purpose flour in pancakes.
Benefits of Millet Flour
Millet is a pretty good source of fiber, protein, and antioxidants. It's also rich in the following minerals:
Phosphorus
Magnesium
Folate
Iron
Calcium
Why Combine Pumpkin and Millet?
It's probably not the first time you've seen pumpkin and millet go together in recipes, and that's because they really pair well.
By itself, pumpkin tastes like bland squash—a little sweet and earthy at the same time. Meanwhile, millet has a mild flavor close to corn. When you combine the two, millet enhances the pumpkin's sweetness.
Health Benefits of Pumpkin
Pumpkin is rich in vitamins C, E, and K, as well as B-vitamins. It's also loaded with fiber, protein, and minerals such as:
Potassium
Manganese
Copper
Riboflavin
Iron
When you incorporate pumpkin into your diet, you'll benefit from its beta carotene content. Beta carotene is an antioxidant, and it turns into vitamin A in your body.
Ingredients for Vegan Pumpkin Waffles
How to make Vegan Pumpkin Waffles
Mix all the dry ingredients.
Mix all the wet ingredients.
Combine the dry and wet ingredients.
Cook in your waffle maker according to the manufacturer's instructions.
Recipe FAQ
Can I make this without all-purpose flour?
If you use only millet flour, the resulting texture would be more dense. While it's possible to sub millet flour to all-purpose flour 1:1, I find it best to combine the two. However, you can use whole wheat pastry flour instead of the all purpose flour.
Is it okay to leave out the ground ginger?
I'd love for you to experiment with flavors, so it's fine if you're not much of a ginger fan. Want ground cinnamon instead? You could do that too or use pumpkin pie spice to really compliment the pumpkin flavor even more.
Can I use homemade pumpkin puree?
Definitely! I just gave you the option of canned pumpkin here for convenience, but making your own pumpkin puree is easy and will be so much more flavorful, as most canned pumpkin is usually made with butternut squash actually.
Can I make this with carton coconut milk (tetra pack)?
No. Carton coconut milk goes through a second extraction, which makes it too thin and it would compromise the texture of the waffles. Read more about it below!
To learn more about the differences between the types of coconut milk, read all about it here – Types of Coconut Milk.
Variations
You can substitute boiled and mashed sweet potatoes or butternut squash for the pumpkin puree. These have similar flavor and texture.
Instead of using millet flour, you may use spelt, sorghum, amaranth, or rice flour. If you don't necessarily follow a gluten-free diet, you can use whole wheat flour also.
Any other plant-based milk can be used in place of coconut milk. However, since most of these are not as thick as canned coconut milk, the texture would vary, so I would suggest adding an extra tablespoon of flour to compensate. Some great options are soy milk, almond milk, cashew milk, and oat milk.
If you don't have ground nutmeg, you can try cinnamon, allspice, or mace.
What to Serve with your Vegan Waffles
Fresh fruit or fruit compote
Granola
Toppings for your Vegan Pumpkin Waffles
You can go for the usual maple or agave syrup, but you can get creative and try the following options:
Peanut butter
Chocolate Syrup
Turn this into dessert with Vegan Vanilla Ice Cream
How to Store your Waffles
If you plan to make waffles ahead of time and store them temporarily, you can definitely do that.
For example, if you're prepping the waffles the night before and eating them in the morning, you may wrap the pieces in foil or plastic food wrap. This technique keeps them from drying out.
Then, you would place all the waffles in a plastic bag overnight. You can warm them in the oven, pre-heated at 350°F once you're ready to serve.
Freezing waffles is also a great option to have on hand, as life gets busy and you need breakfast to be quick and easy!
How to Freeze Waffles
Cool your waffles first by laying them out on a baking rack.
Freeze them flat on a baking sheet, and wait till they're hard. That'll take about 2 hours.
Once they are frozen, you can stack them inside a resealable, airtight bag. Make sure that you separate each layer with parchment paper.
Finally, squeeze out as much air as you can from the plastic bag as you seal it.
Reheating your Frozen Pumpkin Waffles
You can easily heat them up by using a toaster. You may need to run the toaster twice, depending on the brand and heat level of your toaster.
You can also reheat the waffles in the oven. Start by preheating the oven to 350 F.
Grab a baking sheet and lightly spray it with a nonstick cooking spray. Place the waffles on the baking sheet and bake them for about 10 minutes.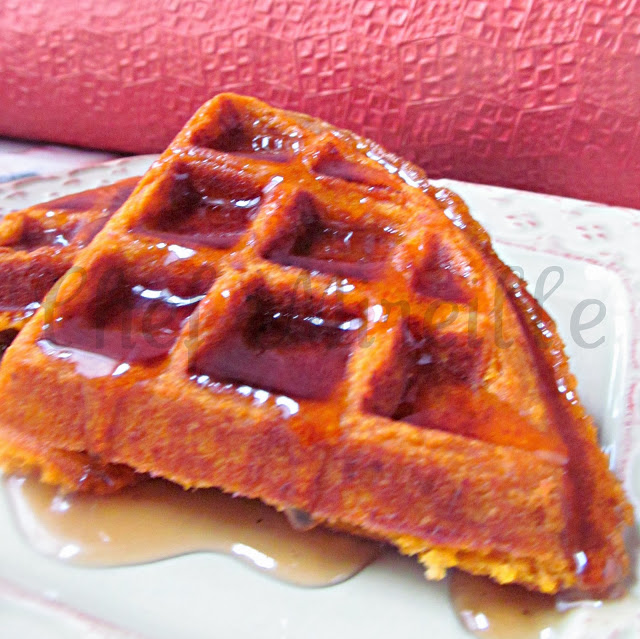 Other Pumpkin and Millet Recipes
If you're so into baking and want to explore other uses of millet, you can try and make this Sweet Potato Millet Bread. The recipe isn't vegan but you can definitely leave out the eggs for an egg replacement, and honey for your sweetener of choice.
Notice that I used sweet potatoes, but you could sub that with pumpkin too if you prefer.
With pumpkins abounding in fall, you could have a daily feast with any of these Pumpkin Recipes.
Aside from its use in sweet baked goodies, millet is also quite good in savory dishes, such as this Millet and Mung Bean Pulao recipe. By the way, this dish uses pearl millet (not millet flour).
Vegan Pumpkin Millet Waffles
These vegan pumpkin waffles are filled with fiber, vitamins A and C, and minerals such as calcium, protein, and iron! Get your kids excited for breakfast with these healthy waffles.
Instructions
In a large bowl, combine millet flour, all-purpose flour, baking powder, salt, sugar, nutmeg, and ginger. Mix.

In another bowl, combine pumpkin, coconut milk, and oil. Mix well. Add to dry ingredients and mix until just combined.

Place about 3/4 cup of batter for each 8-inch round waffle and cook according to waffle maker manufacturer instructions.
Notes
Can use canned pumpkin or homemade pumpkin puree.
Use pumpkin pie spice instead of ground ginger if you prefer.
You can also added some freshly grated ginger if you love ginger.
Remember to use canned coconut milk – NOT carton coconut milk/ thin coconut milk.
Nutrition
Calories:
587
kcal
|
Carbohydrates:
60
g
|
Protein:
8
g
|
Fat:
37
g
|
Saturated Fat:
8
g
|
Polyunsaturated Fat:
9
g
|
Monounsaturated Fat:
18
g
|
Trans Fat:
1
g
|
Sodium:
305
mg
|
Potassium:
584
mg
|
Fiber:
5
g
|
Sugar:
10
g
|
Vitamin A:
14299
IU
|
Vitamin C:
4
mg
|
Calcium:
131
mg
|
Iron:
5
mg
Did you try this recipe? Leave a comment below.
Please follow me on Instagram @chefmireille or tag me #chefmireille with your pics! I'd love to share them!
Don't forget to visit the RECIPE INDEX with over 1000 recipes from around the world including lots of Vegetarian Recipes and Gluten Free Recipes!