Last Updated on May 20, 2015 by Chef Mireille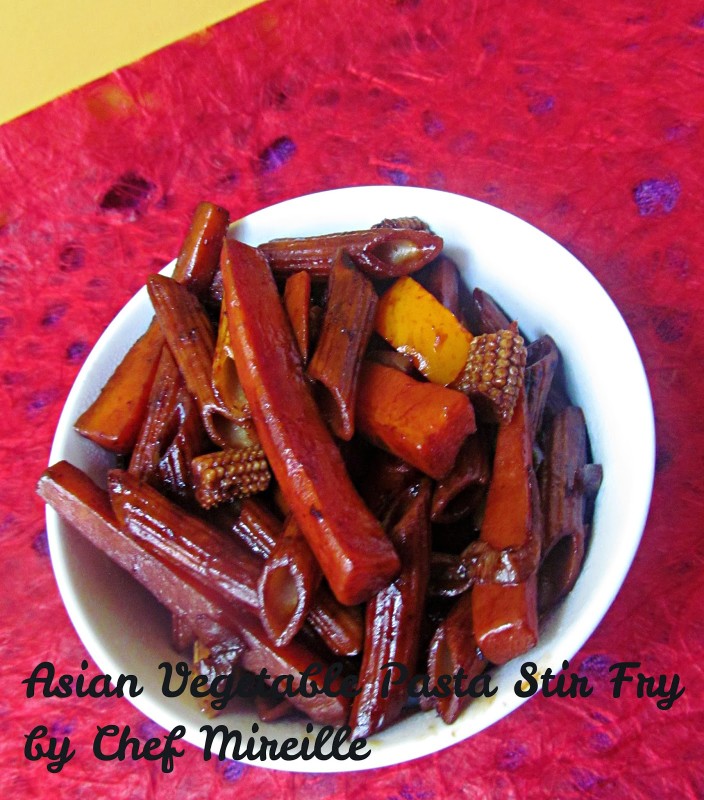 Blogging Marathon #36
Theme: Kid's Delight – Whole Grains
Cooking for Today is a series of books published in England. How one of them ended up on my bookshelf is beyond me. However, I am now delving into some of the books on the shelf whose only purpose has been in collecting dust, as I participate in Srivalli's Cookbook Cooking Challenge. Whenever the Blogging Marathon dates and the Cookbook Cooking dates coincide, I try to choose recipes that can do double duty.
This Asian inspired pasta dish hit the mark on so many levels.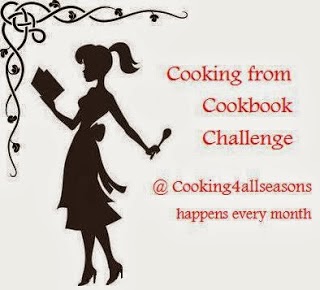 Vegetable Pasta Stir Fry
Serves 2
(adapted from Cooking for Today – Pasta Dishes)
Ingredients:
7 oz. whole grain penne
1 tablespoon olive oil
1 carrot, cut into matchsticks
2 oz. canned baby corn, chopped
3 tablespoons peanut oil
a few thick slices of ginger
1 onion, thinly sliced
1 clove garlic, finely chopped
1 bell pepper, cored, seeded and sliced
salt, to taste
1/2 teaspoon cornstarch
1 tablespoons water
2 tablespoons soy sauce
2 tablespoons dry sherry
1/2 teaspoon honey
a few drops of chili sauce
Bring a large pot of water to boiling. Add the carrots. Cook for 2 minutes.
Drain immediately and run cold water over the carrots to stop the cooking process.
Cook the pasta in boiling water with the olive oil until al dente. Drain and set aside.
In a wok or large skillet, heat peanut oil. Fry the ginger to flavor the oil for 1 minute. Remove the ginger and discard.
Add onion, garlic,and bell pepper. Stir fry for 2 minutes. Add carrots and corn. Stir fry for another 2 minutes. Add the cooked pasta.
In a small bowl, combine cornstarch and water. Whisk well. Add soy sauce, sherry and honey. Mix well.
Pour the sauce into the pan. Mix well and cook for another 2 minutes. Add salt, to taste and chili sauce.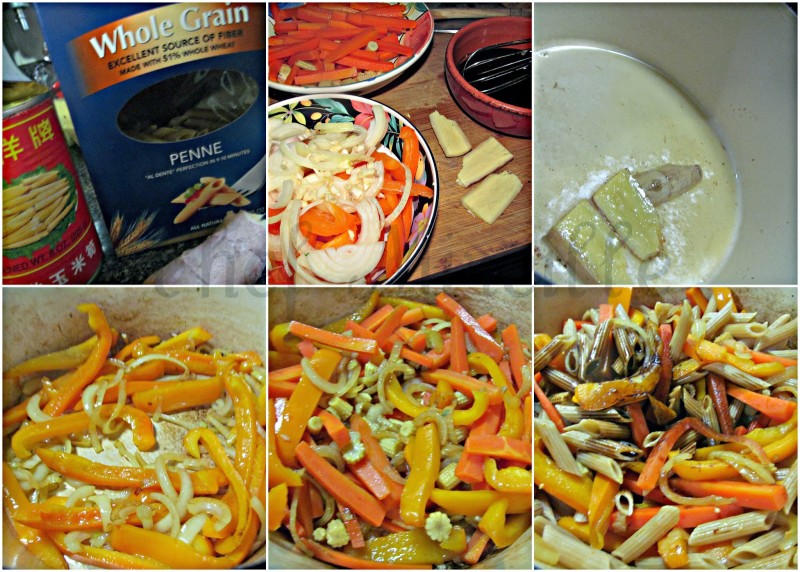 A wonderful vegetarian one pot meal. Add a can of beans or some tofu if you want to add some protein to make it a complete meal.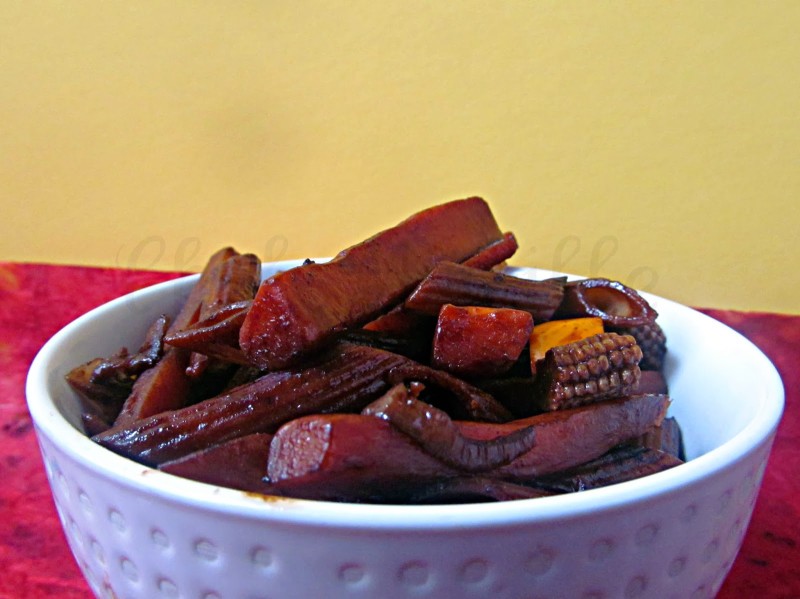 Check out the Blogging Marathon page for the other Blogging Marathoners doing BM# 36
…linking to Valli's Kid's Delight – Whole Grains
This post is for the CC Challenge of the month
LIKE THIS RECIPE? LEAVE A COMMENT..I LIVE FOR THEM!
Chef Mireille