Last Updated on June 3, 2015 by Chef Mireille
Akasan is a thick and creamy chilled Haitian drink made with gluten free cornmeal. It can also be enjoyed warm as porridge, a common Haitian breakfast.
Not just for breakfast, but you can enjoy Haitian Cuisine at every meal with this collection of Haitian Recipes.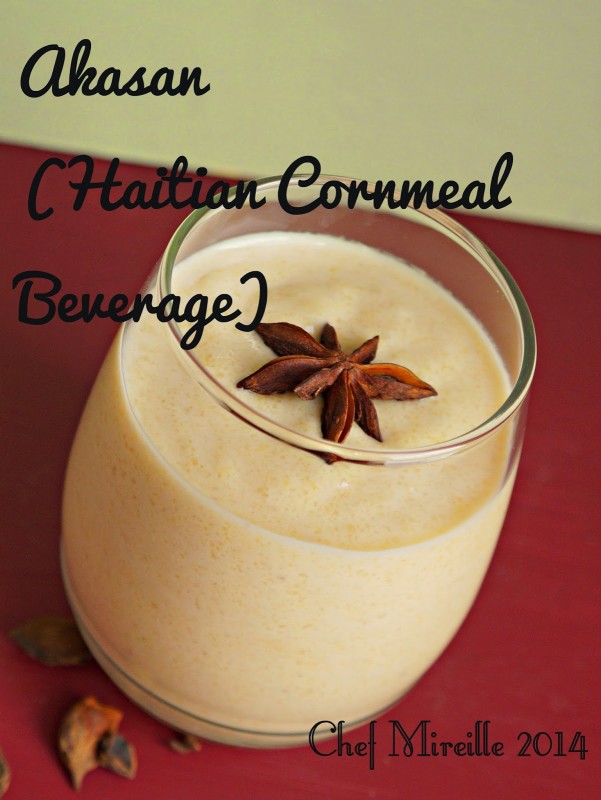 This post may include affiliate links.
This year has seen me adding to the Haitian recipes on this blog. Since I am half Haitian, I was feeling very guilty when I realized I had no Haitian recipes previously posted. Anyway, here's another one to add to the collection.
As children, my sister loved this cornmeal beverage and would beg my Mom to make it, meanwhile I hated it. As I got older (around age 12) and my taste buds evolved, I then began to appreciate it. My sister is 7 years older than me, so maybe it's the older kids who can appreciate the flavors in this. Regardless, when made with whole grain cornmeal, it is very healthy so you should at least try it for your kids and hope they'll love it, like my sister did.
Corn often times gets overlooked in the whole grain discussion. We usually think of whole wheat, quinoa and millet. Corn also gets a bad rap because of the whole high fructose corn syrup controversy.
However, it is a very healthy grain – very high in anti-oxidant power in comparison to other whole grains.You should try to buy unenriched cornmeal, which is whole grain and still includes the germ and bran in the milling process. However, even processed cornmeal is a good grain alternative.
Cornmeal is also a great great to include in a gluten free diet. There is so much variety in the dishes you can make with gluten free cornmeal from polenta to muffins.
If you would like to know more about the many varieties of gluten free cornmeal that there are and how to utilize them all in your kitchen, check out this post here to learn all about Cornmeal, Polenta, Grits & more.
How to make Akasan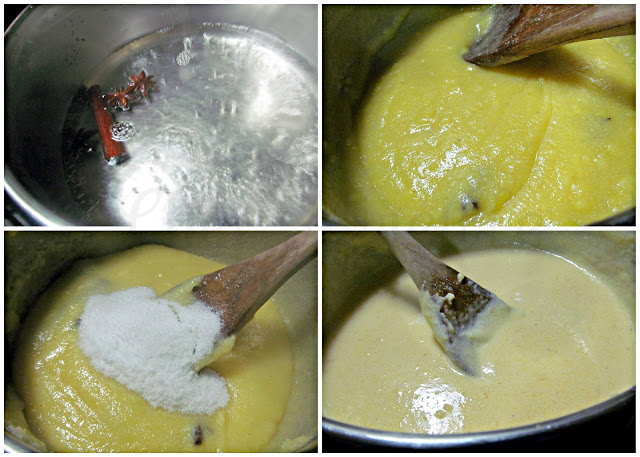 Akasan can be serve warmed or chilled.
When warm, we eat it as breakfast porridge. However, it is also enjoyed chilled. Think of the chilled version as a cornmeal smoothie!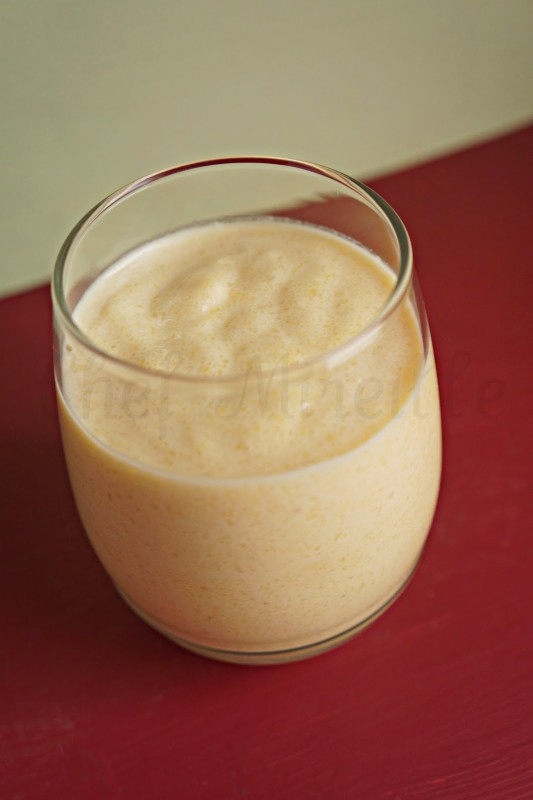 When warm, we often enjoy it with Pain Patate (Sweet Potato Bread) or Pain Mais (Haitian style Cornbread) for breakfast.
The chilled version is usually reserved for snack time!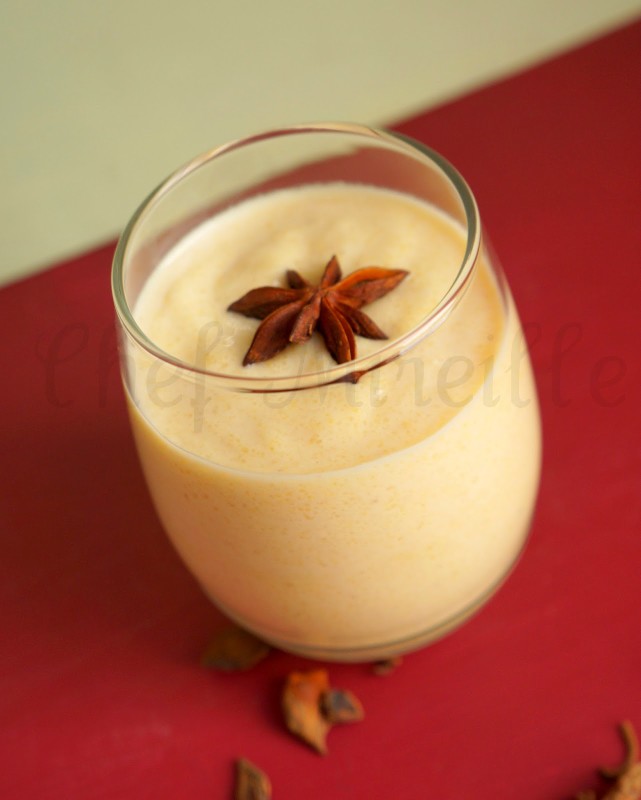 Akasan – Haitian Cornmeal Drink
A thick and creamy gluten free cornmeal drink.
Ingredients
3

star anise

2 1/2

cups

water

1/2

cup

cornmeal

a dash of salt

1

teaspoon

vanilla extract

1/4

cup

sugar

12

oz.

can evaporated milk
Instructions
Combine 2 cups of the water with the salt, cinnamon stick and star anise in a saucepan. Bring to a boil.

In a small bowl, combine cornmeal and remaining water to form a paste.

Slowly add to boiling water, stirring constantly.

Reduce heat to medium and cook for 5 minutes, stirring constantly. Remove cinnamon and star anise.

Add vanilla extract, evaporated milk and sugar.

Serve warm as porridge or chill and serve as a cornmeal beverage.
Nutrition
Calories:
247
kcal
|
Carbohydrates:
37
g
|
Protein:
8
g
|
Fat:
8
g
|
Saturated Fat:
4
g
|
Cholesterol:
25
mg
|
Sodium:
99
mg
|
Potassium:
333
mg
|
Fiber:
2
g
|
Sugar:
21
g
|
Vitamin A:
203
IU
|
Vitamin C:
2
mg
|
Calcium:
240
mg
|
Iron:
1
mg
Did you try this recipe? Leave a comment below.
Please follow me on Instagram @chefmireille or tag me #chefmireille with your pics! I'd love to share them!
You might also like:
DO YOU YUM? SAVE IT BELOW!
Yum
Don't forget to visit the RECIPE INDEX with over 1000 recipes from around the world including lots of Vegetarian Recipes and Gluten Free Recipes!