Last Updated on December 6, 2020 by Chef Mireille
Pain Mais Haitian Cornbread with banana and coconut has a steamed pudding consistency and is just as much had for breakfast as dessert.
This delicious treat is one of the many ways you can explore Haitian cuisine. How about adding some more Haitian Food Recipes to the repertoire?
Check out my collection of Haitian Recipes here.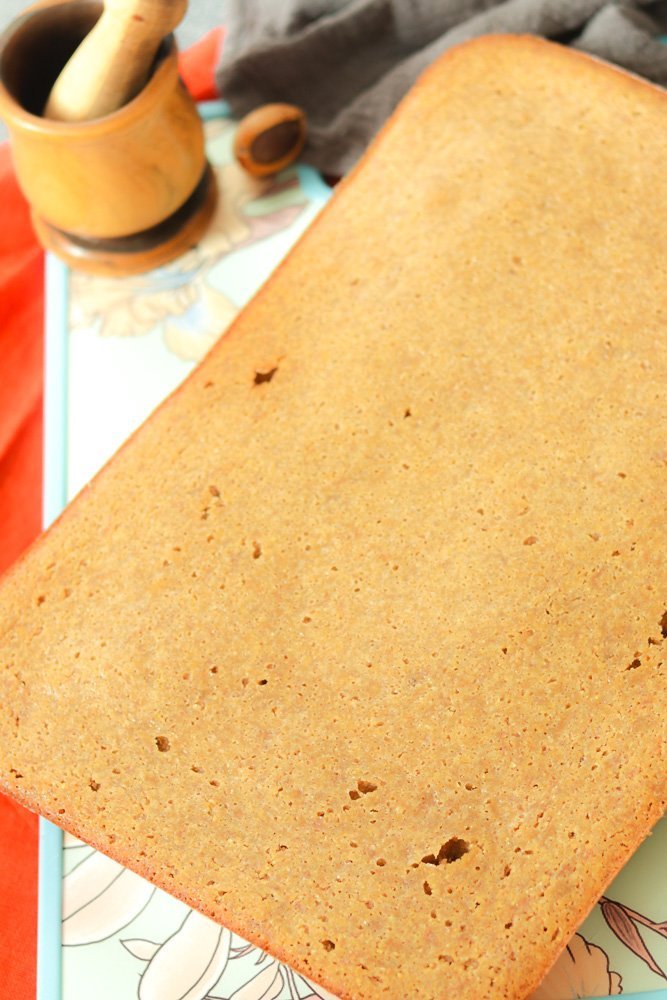 This post may include affiliate links.
Are you still stumped to add something new to your holiday table this year? I hope these Caribbean desserts this week are inspiring you to complete that holiday menu already!
Haitian Food
I am so happy to present Pain Mais – Haitian Cornbread to you. Since I am 1/2 Haitian, I am always happy to present these foods that have such nostalgia for me. They bring back memories of family parties in some rented hall (nobody's house was big enough to accommodate everyone) with a bunch of "cousins" running around and playing.
To be honest, most of them weren't my cousins, but cousins of my cousin. When you come from a large family, for some reason, no matter how distantly someone may be related – everybody's a cousin.
Tables of food laid out with Djon Djon (Mushroom Rice), Poulet (Stew Chicken), Lambi (Stewed Conch), Griot (Double Fried Pork), Rice & Sauce Pois (Red Bean Sauce) and Salade Betteraves (Potato Beet Salad) and either Pain Patate (Sweet Potato Bread) or Pain Mais.
Check out how easy it is to make vegetarian Salade Betteraves – Haitian Potato Beet Salad
---
Now to today's recipe of Pain Mais – Haitian Cornbread …
All Caribbean islands have a version of this type of sweet bread. Although it is baked in the oven, it has the consistency similar to a British style steamed pudding – almost like Spotted Dick.
On most English speaking islands, it is called pone and usually either made with cassava (yuca), pumpkin, sweet potato, cornmeal or breadfruit. You can try out the Dutch Caribbean version called Bojo recipe here, made with cassava.
However in Haiti, Pain Mais, when translated, is Cornbread, however, this is no resemblance to American style cornbread.
Whether you call it bread, cake or pudding, I call it delicious!
If you would like to know more about the many varieties of gluten free cornmeal that there are and how to utilize them all in your kitchen, check out this post here to learn all about Cornmeal, Polenta, Grits & more.
It is quite dense, however soft and moist. We often eat it for breakfast with coffee and fruit, as well as for dessert.
It is soft and spongy and filled with Caribbean spices!
This large tray is big enough to satisfy everyone at your holiday party!
TO REMEMBER
Pain Mais has an almost pudding like consistency. It will NOT have the consistency of American cornbread.
Now let's see what you will need to make delicious Haitian style cornbread!
Ingredients
Pain Mais – Haitian Cornbread
Pain Mais – Haitian Cornbread enriched with coconut and bananas are perfect for
tea
time, brunch or dessert!
Ingredients
1

cup

all purpose flour

2

cups

cornmeal

1

cup

dessicated coconut

1

teaspoon

baking powder

1

teaspoon

freshly grated nutmeg

2

teaspoons

ground ginger

1

tablespoon

ground cinnamon

½

teaspoon

ground star anise

1

cup

softened butter

2 sticks

¼

teaspoon

salt

1

cup

sugar

2

teaspoons

vanilla extract.

2

eggs

2

mashed bananas

12

oz.

can evaporated milk

13.5

oz.

can coconut milk

1

tablespoon

rum
Instructions
Preheat the oven to 350 F. Spray a 11×7 rectangle baking dish with non stick spray.

In a bowl, combine flour, cornmeal, coconut, baking powder, nutmeg, ginger, cinnamon and star anise. Stir to combine and set aside.

In the bowl of an electric mixer, combine butter, salt and sugar.

Mix for a few minutes until well blended and creamy.

Add vanilla and eggs, one at a time, mixing until thoroughly combined, after each egg.

Add bananas, evaporated milk, coconut milk and rum. Mix until thoroughly combined.

Transfer to prepared baking dish.

Bake for 1 hour, until a tester inserted comes out clean.
Notes
Leftovers should be refrigerated.
It is best eaten warm. Simply reheat in the microwave for 1 minute.
Use canned coconut milk. Carton coconut milk is thinner and will not yield the same result.
Nutrition
Calories:
357
kcal
|
Carbohydrates:
37
g
|
Protein:
5
g
|
Fat:
21
g
|
Saturated Fat:
15
g
|
Cholesterol:
51
mg
|
Sodium:
156
mg
|
Potassium:
285
mg
|
Fiber:
4
g
|
Sugar:
16
g
|
Vitamin A:
395
IU
|
Vitamin C:
2
mg
|
Calcium:
77
mg
|
Iron:
2
mg
Did you try this recipe? Leave a comment below.
Please follow me on Instagram @chefmireille or tag me #chefmireille with your pics! I'd love to share them!
DO YOU YUM? SAVE IT BELOW!
Yum
Don't forget to visit the RECIPE INDEX with over 1000 recipes from around the world including lots of Vegetarian Recipes and Gluten Free Recipes!