Last Updated on August 26, 2022 by Chef Mireille
This post may include affiliate links.
Learn how to make the Best Hamantaschen Recipe for the Jewish holiday of Purim. Although the most popular stuffings are usually poppy seed filling, prune or apricot preserves – this version is made with a delicious flavorful homemade Pumpkin Jam.
No matter what filling you choose for your hamantaschen cookie recipe, these delicious cookies don't always have to be reserved for Purim. No matter your faith, these delicious cookies can be enjoyed at any time.
Made with a whole wheat dough, these delicious hamantaschen are healthier than the classic versions.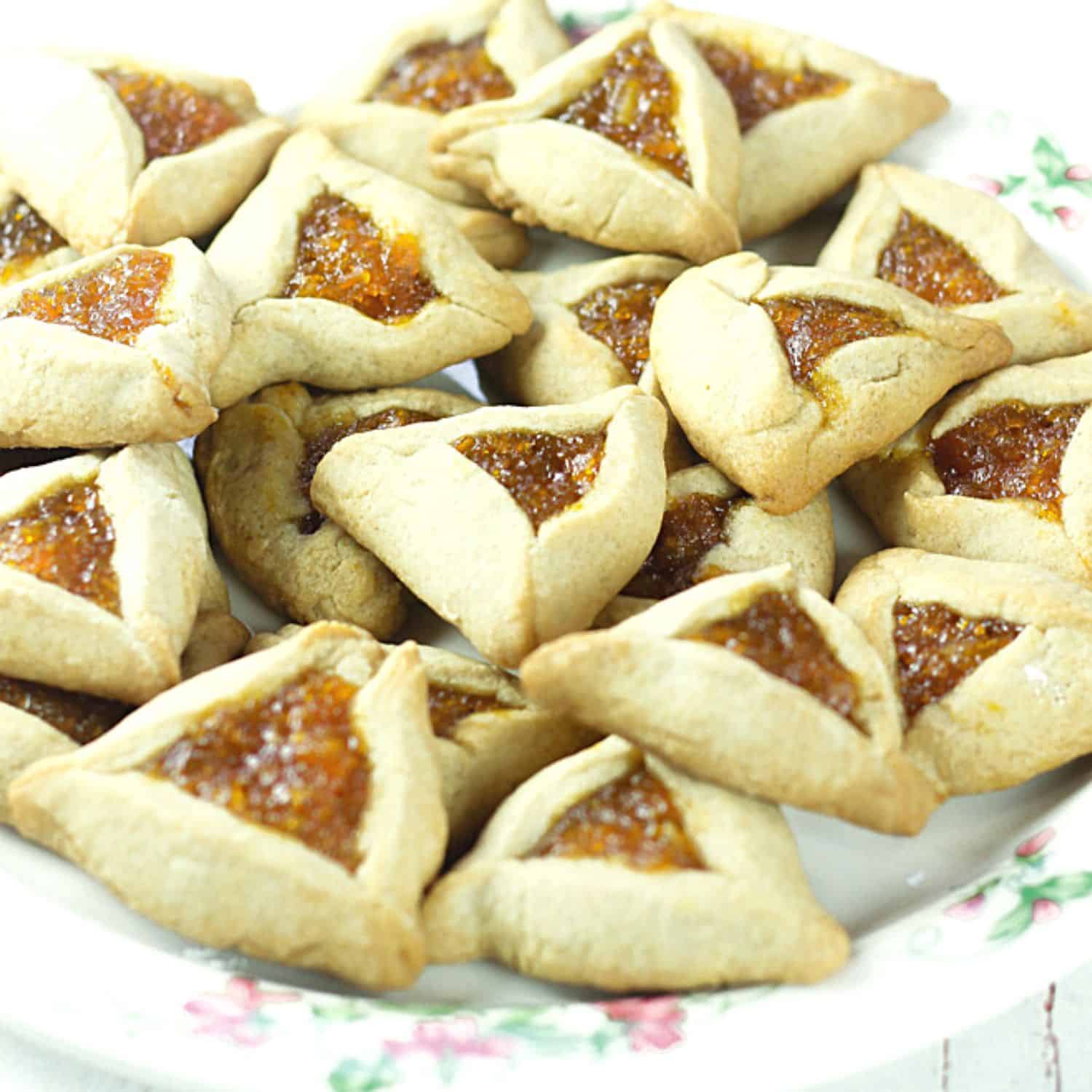 So now what's the low down on the Purim story? Well, here is the story in brief.
Why do Jewish people eat Hamantaschen on Purim?
These hamantaschen cookies must be made in the triangle shape. The triangle shape represents the three corner's of Haman's Hat, although some believe it may also represent Haman's ears which were cut off. Haman was planning on annihilating the Jews in the Persian Empire, but the plan was thwarted by Queen Esther. Purim is a holiday of rejoicing and celebration, often referred to as the Jewish Halloween. There is no better way to say Happy Purim than with a platter of fresh baked hamantaschen cookies.
Now that's the religious significance, but there is also historical significance of how it got it's name. Of all three fillings, the poppy seed filling is one of the most popular and favorite fillings for the cookies. The original name of the cookies were Mohntaschen.
Mohn is the German word for poppy seeds and taschen is the German word for pockets. These are traditional German cookies that date back to medieval times.
Since it's rumored that Haman's pockets were filled with bribe money and when you say the words out loud, mohn has a similar sound to Haman. German Jews renamed these cookies in the late 1500's as Hamantaschen – or Haman's pocket's.
Now you know all about the history, it's baking time. All you need is a few simple ingredients that you probably already have in the house to make these Pumpkin Jam Hamantaschen.
First check out the Easy Pumpkin Jam Recipe. Once you have that done, it's time to make the cookies.
This pumpkin jam is so versatile. I have used it everything from these cookies to Pumpkin Pork Chops to Pumpkin Grilled Cheese Sandwich.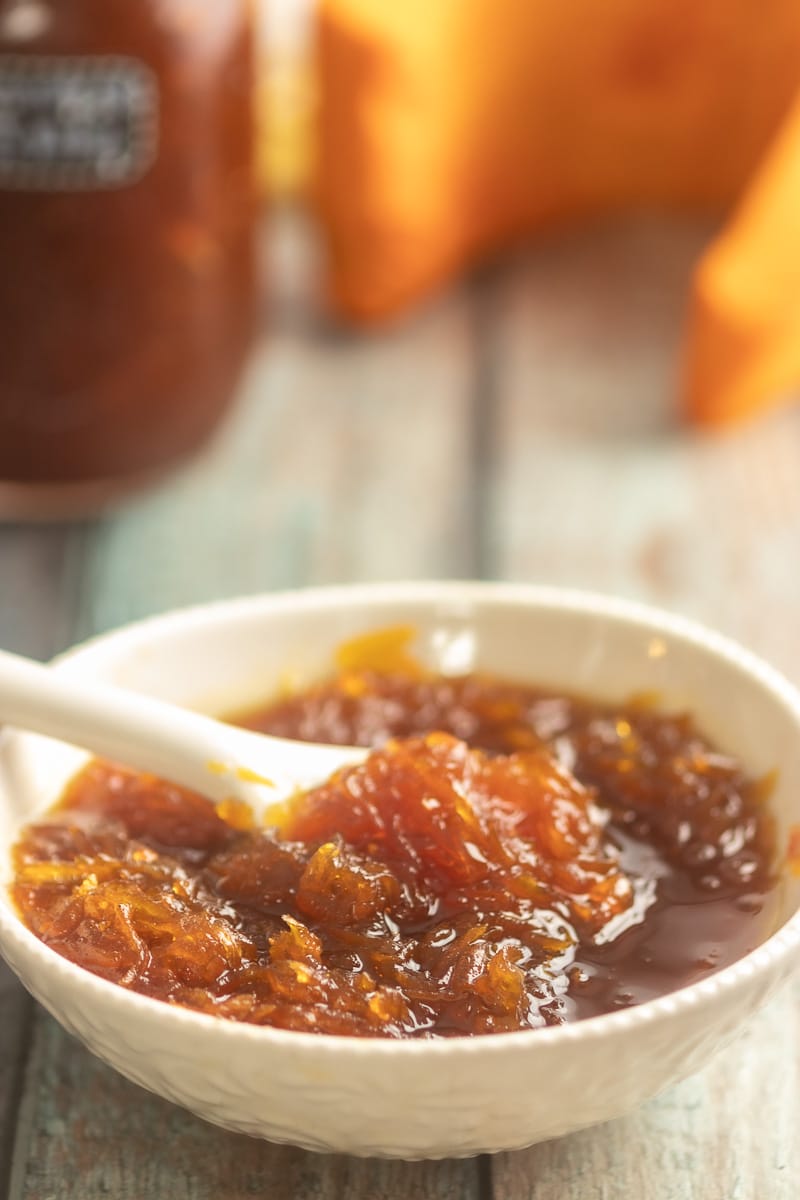 For another jam option, do check out my Banana Jam & Peach Jam !
Ingredients
butter
sugar
egg
vanilla extract
all purpose flour
whole wheat flour
baking powder
ground cinnamon or pumpkin pie spice
How to Make Hamantaschen Cookies with Pumpkin Jam
Make the cookie dough by first beating the butter and sugar together until nice and creamy.
Add egg, vanilla and then the dry ingredients until you have a cookie dough.
Wrap in plastic wrap and leave in the refrigerator for at least an hour so that the dough can be easily rolled out, without sticking.
With a rolling pin, roll out the chilled dough as thin as possible. It is a very forgiving dough so you can roll it out very thin.
Using a round cookie cutter, cut out cookies.
Fill the cookies with the jam and fold over the sides, forming triangle-shaped cookies.
Place on prepared baking sheets lined with parchment paper.
Bake for 15-20 minutes in a 350 F oven.
Hamantaschen Cookies can be filled with just about anything. The variety of fillings utilized are endless. You might also like to try Apricot Hamantaschen and Cranberry Hamantaschen.
Or make a platter of all three Hamantaschen flavors.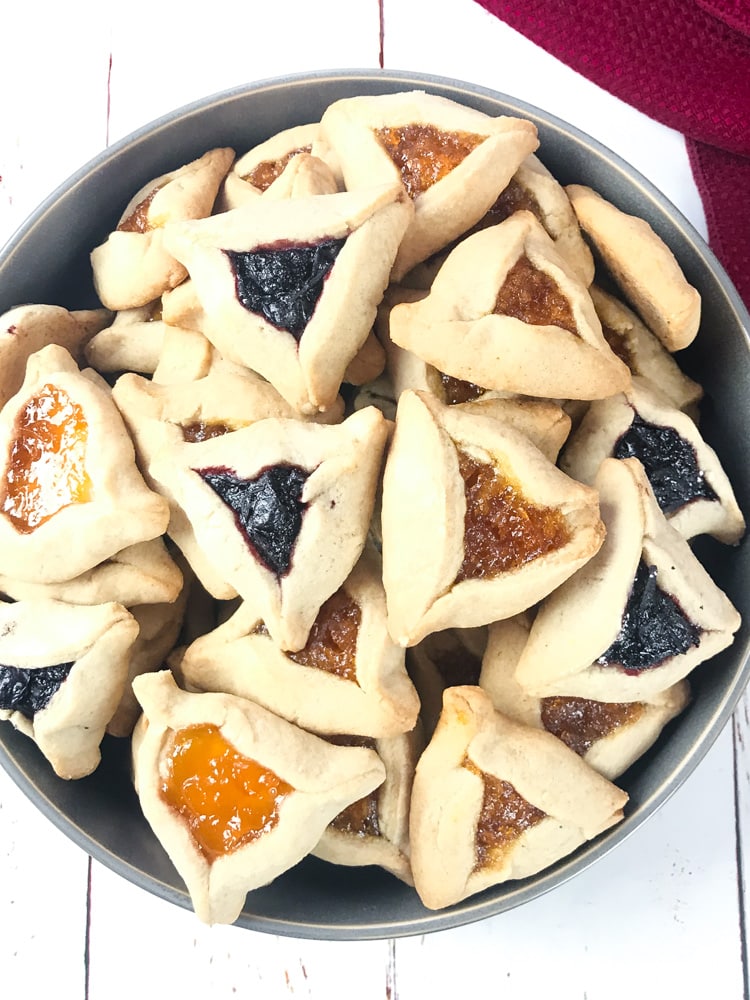 Make sure you SAVE THIS RECIPE for Purim!
Hamantaschen Cookies Recipe – A Delicious Purim Tradition
Looking for a delicious Hamantaschen cookies recipe? Look no further! This recipe is easy to follow and results in the most amazing hamantaschen cookies you've ever tasted. Plus, it's made with homemade pumpkin jam – yum!
Ingredients
2/3

cup

unsalted butter

1/2

cup

sugar

1

egg

1

teaspoon

vanilla extract

1

cup

all purpose flour

1

cup

whole wheat flour

2

teaspoons

baking powder

1

teaspoon

ground cinnamon

or pumpkin pie spice
Instructions
In a large bowl, combine sugar and butter.

Using the paddle attachment, mix sugar and butter until very creamy.

Add egg and blend until thoroughly combined.

Add vanilla and mix until thoroughly incorporated.

Combine all purpose flour, whole wheat flour, baking powder and cinnamon in a separate bowl.

Add dry ingredients to batter, a little at a time, until thoroughly combined.

This makes a dense sugar cookie dough.

Place hamantaschen dough in refrigerator for at least an hour so that the dough will be easier to roll out without sticking.

Preheat oven to 350 F.

Place a piece of parchment paper on a baking sheet or spray generously with cooking spray.

Divide dough in half.

On a lightly floured surface, roll out one half of the dough. Keep the other half refrigerated while you work with one half.

Roll dough as thin as possible. Using a round cookie cutter, cut out circles (you can use whatever size you prefer). Place about a teaspoon of the preserves in the center of each circle.

Rub the perimeter of the cookie with a little water.

Fold in the sides to make triangular cookies.

Continue to repeat rolling out the excess dough after you cut out the cookies, until all the dough has been utilized.

Repeat with the other half of the dough.

Place on parchment lined baking sheets an inch apart.

Bake for 15-20 minutes, until golden brown.
Notes
You can also use whole wheat pastry flour, instead of the combination of all purpose flour and whole wheat flour.
You can also flavor the dough with a little lemon zest or orange zest.
Nutrition
Calories:
115
kcal
|
Carbohydrates:
14
g
|
Protein:
2
g
|
Fat:
6
g
|
Saturated Fat:
4
g
|
Polyunsaturated Fat:
0.4
g
|
Monounsaturated Fat:
2
g
|
Trans Fat:
0.2
g
|
Cholesterol:
23
mg
|
Sodium:
4
mg
|
Potassium:
71
mg
|
Fiber:
1
g
|
Sugar:
5
g
|
Vitamin A:
192
IU
|
Vitamin C:
0.004
mg
|
Calcium:
23
mg
|
Iron:
1
mg
Did you try this recipe? Leave a comment below.
Please follow me on Instagram @chefmireille or tag me #chefmireille with your pics! I'd love to share them!
Don't forget to visit the RECIPE INDEX with over 1000 recipes from around the world including lots of Vegetarian Recipes and Gluten Free Recipes!