Last Updated on November 19, 2019 by Chef Mireille
Picarones
Peruvian Pumpkin & Sweet Potato Doughnuts with Anise Syrup make a delicious dessert and are also delicious to serve during weekend brunch!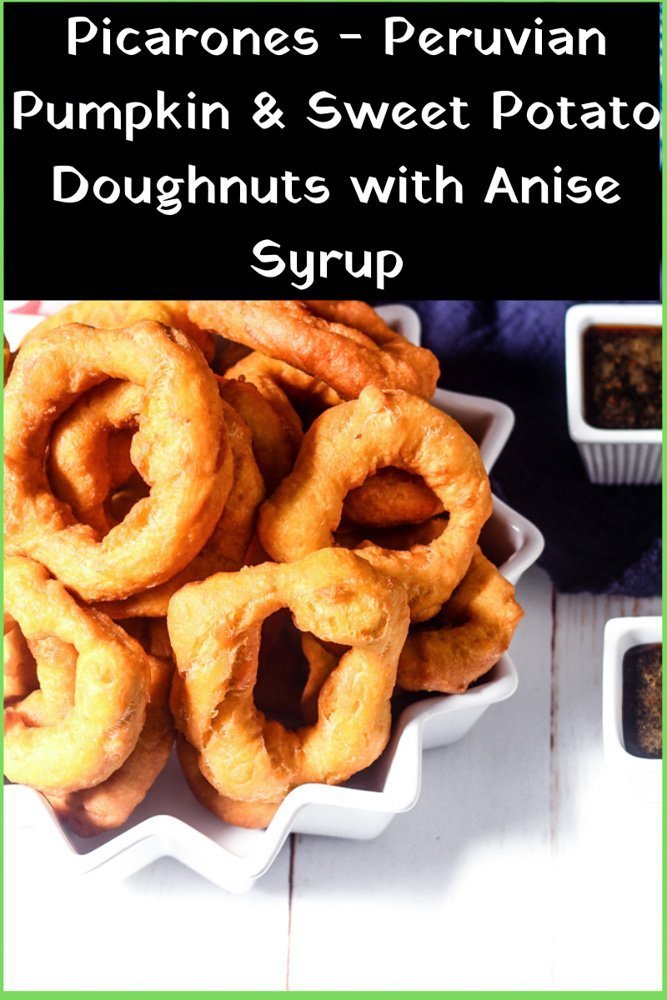 Peruvian cuisine is one of my faves of all South American countries. They use a variety of pepper pastes to spice up their food and don't get my started on what a huge fan of Chicha Morada I am. Chicha Morada is a drink made from blue corn. I just make the basic version, but in Peru if is often fermented to make an alcoholic beverage.
I am lucky to have an amazing Latin market chain here in NYC. Mi Tierra provides foods from all South American countries. Looking for Ecuadorian Pasta? Colombian Cheese? Peruvian Blue Corn? Ready Made Chicha Morada in the carton? – If you are a foodie visiting NYC, I highly recommend visiting this market when you are in NYC and take home some of the non perishable items you may not be able to get in your local city.
Now before we get to today's delicious recipe, let's check out some of the other Peruvian food I've cooked up in the past you might want to try out!
Peruvian Recipes
There are a few ingredients that may need a little more detail.
Pumpkin
The best pumpkin to use is calabaza, which has very tender flesh. This is the best pumpkin to use for desserts and you can usually find it at Caribbean, Latin or Asian markets. If this is not available, the best substitute is kabocha. You need to use pumpkin that has tender, orange flesh. Although I have not used it, butternut squash would probably be an acceptable substitute if neither calabaza or kabocha are unavailable.
Sweet Potato
There is a whole debate about the nomenclature of sweet potatoes and yams. Ask 3 experts and you will receive 3 different answers. For this recipe, you need to use orange fleshed sweet potatoes, called camote in Spanish speaking markets. Do not use batata, the purple skinned, cream colored flesh sweet potatoes.
Panela/ Piloncillo
Panela is made from raw sugar cane and processed into blocks. Jaggery, available in Indian markets, can also be substituted.
Now you know about any specialty ingredients needed, it is time to make your picarones.
No, I did not forget to include sugar in the dough. Since these are eaten with syrup, sugar is not included in the dough. Otherwise, the doughnuts would be nauseatingly sweet!
These doughnuts are so delicious – It will he hard to have just one!
They are even better dipped into the delicious anise syrup!
They are perfect to have with your morning coffee or tea. They are easily reheatable!
Reheat Instructions
Wrap doughnuts in paper towel and microwave for 40 seconds. Perfectly reheated to have with the anise syrup. Doughnuts should be stored in the refrigerator until ready to reheat.
Picarones – Peruvian Pumpkin & Sweet Potato Doughnuts for #BreadBakers
Picarones – Peruvian Pumpkin & Sweet Potato Doughnuts for #BreadBakers with anise syrup is a delicious option for weekend brunch.
Ingredients
Doughnut Ingredients:
4- 4 3/4

cups

all purpose flour

1

teaspoon

salt

¼

teaspoon

ground anise seed

½

pound

peeled and deseeded calabaza pumpkin

½

pound

peeled sweet potato

2 ¼

teaspoons

instant yeast

1/3

cup

warm water

115 – 120 F

Oil

for frying
Syrup Ingredients:
1

lb.

panela/ piloncillo

1

cup

water

Orange rind

Lemon rind

½

teaspoon

ground anise seed

¼

teaspoon

ground clove
Instructions
In two separate saucepans, boil the pumpkin and sweet potato separately until fork tender.

Drain and mash.

In the bowl of an electric mixer, combine 4 cups of the flour, salt, anise seed and mashed pumpkin and sweet potato.

With the dough hook attachment, mix for a minute. Until ingredients are well combined.

In a shallow bowl, sprinkle yeast on top of water. Leave for 5-10 minutes until yeast is bubbly.

Add yeast mixture to the electric mixer.

Knead for 5 minutes until dough is smooth and elastic, adding extra flour as needed. This dough is a little on the dense side.

Form dough into a smooth ball and place in a lightly greased bowl. Cover with plastic wrap and a kitchen towel.

Leave in a warm place to rise until doubled in size, approximately 1 ½ hours.

Meanwhile, let's make the syrup.

In a saucepan, place piloncillo, water, orange rind, lemon rind and anise seed.

Cook on medium low heat until all of the piloncillo has melted.

Cook for another 5 minutes until the syrup is bubbly.

Remove orange rind and lemon rind.

Leave to cool. SEE NOTES BELOW

Now back to the picarones.

Heat a large pot with enough oil for deep frying.

With floured hands, take a few pieces of dough at a time, about the size of a walnut each. Shape into skinny rings.

Place the rings in the hot oil and fry until golden brown on both sides.

Remove to a paper towel to absorb excess oil.

Repeat until all the dough has been used.

Serve with anise syrup.
Notes
Syrup will thicken as it cools so be careful not to overcook the syrup. However, if it becomes too thick upon chilling, you can fix it by adding water, until it is thinned out to the desired consistency.
You may have to reheat the syrup to add the water if it has hardened.
Nutrition
Did you try this recipe? Leave a comment below.
Please follow me on Instagram @chefmireille or tag me #chefmireille with your pics! I'd love to share them!
#BreadBakers is a group of bread loving bakers who get together once a month to bake bread with a common ingredient or theme. Follow our Pinterest board
right here
. Links are also updated each month on this
home page
.
We take turns hosting each month and choosing the theme/ingredient.
Ready to make Picarones ? – I would love to see your pics! Tag me on Instagram @chefmireille #theschizochef with your delicious photos!
SHARE THIS DELICIOUS RECIPE WITH YOUR FOODIE FRIENDS
Don't forget to visit the RECIPE INDEX with over 1000 recipes from around the world including lots of Vegetarian Recipes and Gluten Free Recipes!