Last Updated on May 19, 2020 by Chef Mireille
Sequilhos de Coco – Brazilian GF Coconut Cookies
Gluten Free Cornstarch Cookies with coconut make a perfect tea time snack!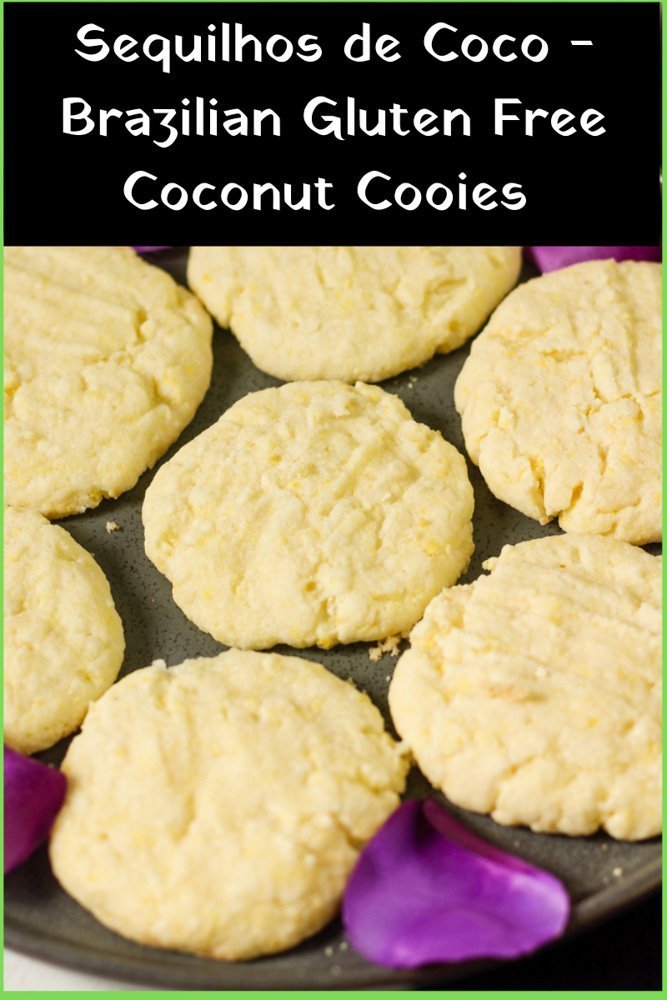 Cornstarch cookies are very popular throughout South America. Most countries have some version of them like these Alfajores. Due to the cornstarch base, they just melt in your mouth and are perfect to enjoy during merienda (Latin American tea time).
In Brazil, they are known as Biscoitos de Maizena. Maizena is the brand name for cornstarch throughout South America, so they translate quite simply as Cornstarch Cookies. However, I decided to do another version from Brazil that is also very popular but with the added bonus of coconut.
They still have the same melt in your mouth texture but even better, for coconut lovers!
I know many of us have a tendency to skim through recipes, so I just want to bring to your attention a few directions from the recipe that are very important.
It is quite a dry batter. Do not be tempted to add liquid. The heat of your hands will help to mold the cookies.
Dust your hands with cornstarch as you are shaping the cookies, otherwise the buttery cookies will stick to your hands so much and become very messy, making it impossible to shape the cookies.
Now that you know all of the tricks, I know you are ready to try your hand at making your own Sequilhos de Coco – Brazilian GF Coconut Cookies
If you have never had cornstarch cookies before, you are in for a treat. They literally melt in your mouth!
These cookies make the perfect snack with a cup of tea or a glass of milk.
Sequilhos de Coco – Brazilian GF Coconut Cookies
Sequilhos de Coco – Brazilian GF Coconut Cookies make the perfect tea time snack!
Ingredients
Instructions
In the bowl of an electric mixer, combine cornstarch, sugar and salt.

Mix until combined.

Add vanilla extract, egg yolks and coconut.

Mix until thoroughly combined.

Add butter and mix until all the butter chunks have softened into the cornstarch.

By hand, knead for a few minutes. If there are any butter chunks, soften it in between your fingers and the cornstarch.

The dough is quite crumbly, but the heat of your hands will help mold the cookies, so don't be concerned.

Cover and leave to rest for 15 minutes.

Preheat oven to 350 F.

Line 2 cookie sheets with parchment paper and spray with non stick spray.

Shape cookies into discs about 3" in diameter and ½" thick and place on the cookie sheet, leaving about 2 inches space in between each cookies.

When the cookie dough starts to stick to your hands too much, lightly dust your hands with a little cornstarch and continue to shape the cookies.

Using the tines of a fork, press down slightly in the center of the cookies.

If the cookies crack when you do this, use your hands to smooth out any of the cracks.

Place in oven and bake for 20-25 minutes, until they feel firm on the top.

Remove from oven and leave to set completely, about 10 minutes.

Using a spatula, remove the cookies from the cookie sheets.
Notes
It is VERY IMPORTANT that you let the cookies set well and cool completely before removing. Since the cookies are so tender, they will fall apart if you don't let them completely set.
Nutrition
Did you try this recipe? Leave a comment below.
Please follow me on Instagram @chefmireille or tag me #chefmireille with your pics! I'd love to share them!
Baking Bloggers
Central and South American Desserts
Ready to make Sequilhos de Coco – Brazilian GF Coconut Cookies ? – I would love to see your pics! Tag me on Instagram @chefmireille #theschizochef with your delicious photos!
SHARE THIS DELICIOUS RECIPE WITH YOUR FOODIE FRIENDS
Don't forget to visit the RECIPE INDEX with over 1000 recipes from around the world including lots of Vegetarian Recipes and Gluten Free Recipes!