Last Updated on December 16, 2020 by Chef Mireille
Malaysian Pumpkin Curry is a delicious Pumpkin Curry infused with lots of mustard seed.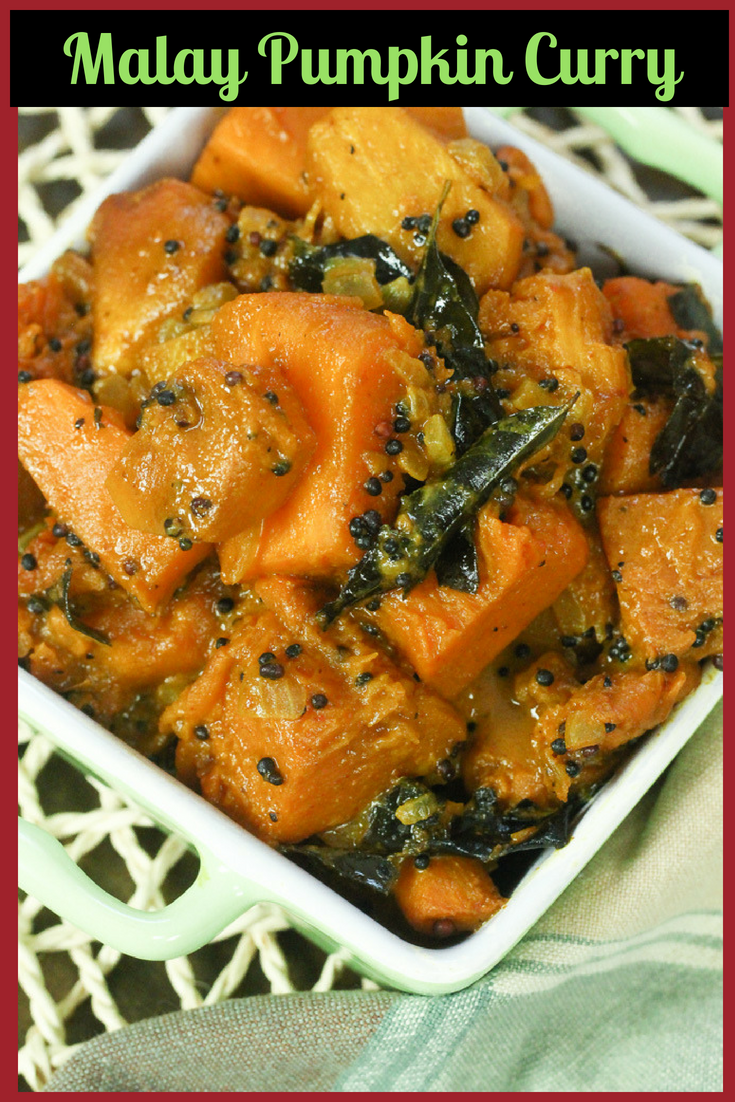 Malaysian cuisine is one of my favorites. It takes the best ingredients and culinary techniques from India, China and the native Nyonya people and mixes it into delicious fusion cuisine. I discovered Malaysian cuisine by accident about 14 years ago at a sad time. My dad had just died and we went to the funeral home my mom had chosen to discuss the details for his cremation. The funeral home was located in Little Italy, which borders Chinatown in lower Manhattan.
Afterwards, we were hungry and my mom is a very picky eater. Basically, she likes two types of food – Caribbean and Indian – everything else is always too bland for her. Walking through Little Italy, there was no place she wanted to eat.
Finally, we came across Nyonya and took a look at the menu posted outside. She was willing to give it a try. At that point, after walking around Little Italy in the heat, my sister and I were so happy there was FINALLY a place she would eat at.
The intense flavor of shrimp paste reminded my Mom of the Indonesian cuisine she grew up with and loves, with our Indonesian Suriname family. Spicy chili paste and heavy use of garlic and ginger made us all instant fans of this cuisine. We were so awed by the delicious food, we temporarily were able to forget why we happened upon the restaurant in the first place as the conversation revolved around how good the food was and we must remember to come back.
Some people may think we have a funny way of grieving, but that's how we are in my family. We don't go around in a state of constant depression and sadness because that is not what my Dad would have wanted. It's about celebrating the life they lived instead of mourning the death. In fact, my Mom asked everyone NOT to wear black at the services. She only wanted happy colors on that day.
PICK YOUR OWN PUMPKINS
Yes that's right you can easily pick your own fresh pumpkins at your local UPICK FARM! Remember what Mom always said – Fresh is best!
Anyway, every family has their own way of marking the passing of someone they love and I will always remember my dad when I have Malaysian food. Who knows – maybe that's why I love it so much. Even though he was no longer here, I always associate Malaysian food with his memory. With his death anniversary coming up later this month, I am dedicating this post to his memory.
Add some dal and rice and it makes a balanced #Vegetarian meal for #MeatlessMonday.
This is a perfectly balanced Vegetarian meal. Fiber from the brown rice, protein from the dal and vegetable..full of spices and flavor!
Malaysian Pumpkin Curry
a delicious curry for #MeatlessMonday
Ingredients
2

tablespoons

oil

1

tablespoon

brown mustard seeds

2

stalks curry leaves

1

chopped onion

1

teaspoon

red chile powder

cayenne pepper

2

teaspoons

curry powder

1/2

teaspoon

ground turmeric

1

lb.

peeled and chopped pumpkin

1

teaspoon

salt
Instructions
In a skillet, heat oil with the mustard seeds and curry leaves. After about 2 minutes, the seeds will start to pop.

Add onion and saute until golden brown.

Add chile powder, curry powder and turmeric. Fry for 30 seconds.

Add pumpkin and stir fry for 1 minute, so that the pumpkin gets coated with the spices. Add salt and 1 1/2 cups water and bring to a boil. Reduce to a simmer and cook for 15 minutes, occasionally stirring.
Notes
Most of the water will evaporate, making this a dry curry.
Did you try this recipe? Leave a comment below.
Please follow me on Instagram @chefmireille or tag me #chefmireille with your pics! I'd love to share them!
Don't forget to visit the RECIPE INDEX with over 1000 recipes from around the world including lots of Vegetarian Recipes and Gluten Free Recipes!