Last Updated on March 20, 2018 by Chef Mireille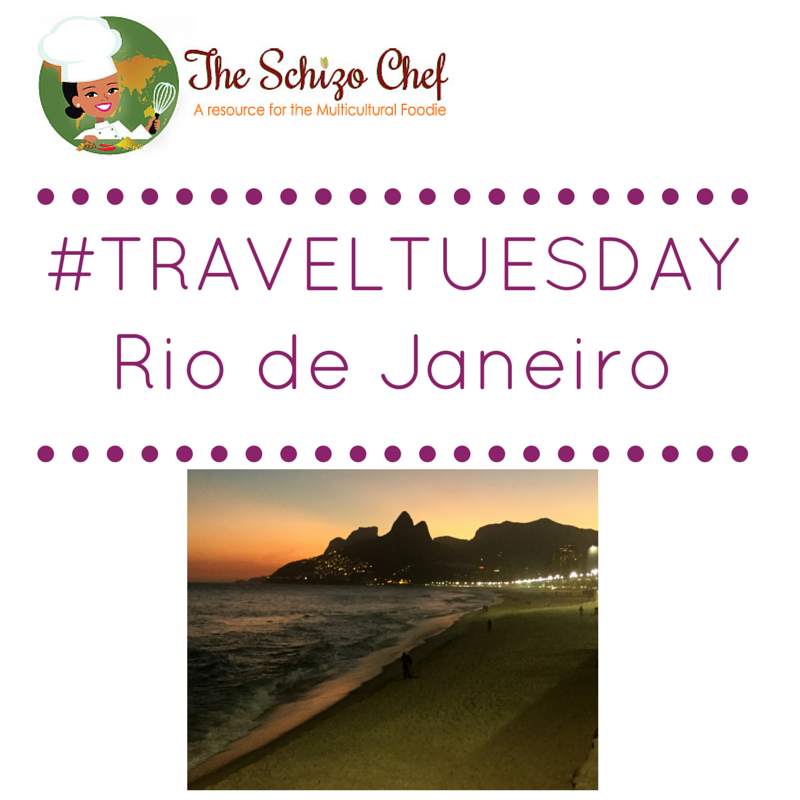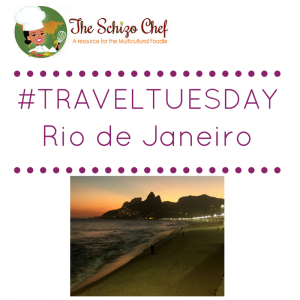 I recently virtually met a new blogger friend, Jaclyn and the best thing about this new friendship is she lives right here in NYC, which means she will soon be an in person blogging friend as we plan to meet soon. I am always looking for contributors for my #TravelTuesday series to blog about locations I haven't yet been to. She has had the pleasure to experience Rio as a local with her Brazilian husband and his family. So if you want some insider tips on how how travel Rio like a local….read on…
This is my first time guest blogging, but when I saw the opportunity with Chef Mireille to write about a place that I have traveled to, I couldn't resist!
My blog title is What I Love For.  One of the things that I love most is Rio de Janeiro, Brazil.  I met and fell in love with my Carioca Husband (that's what people in Rio are known as to Brazilians) about 10 years ago.  It was at the time that I started to learn about a culture and race that I knew nothing about.  And what beautiful people they truly are … so, 10 years, 1 and half Brazilian babies, and 3 trips to Brazil later, I can truly say it is what I Love For …
When I met my husband and his family here in the US, they always expressed to me how much I would LOVE Rio if I went.  And I always knew I would like it, like I did the beaches of Florida or the Bahamas, but nothing could prepare my heart for the love I would receive and feel in Rio.  I know many people heard of the crimes in Rio, but there is crime right in my backyard of NYC too!  And as a tourist, you would have to be just as careful.  That is with any place.  However, you will never find people that are more proud and passionate of their heritage and their country as Brazilian people.  They bleed yellow, green, and blue.  And by the time you leave, they will have you bleeding it too!!  This is why I recommend everyone I come into contact with to take the trip.  It will change your life … it will cleanse your soul … it will teach you how to live again!
The main reason I believe I enjoy the culture of Rio so much is because I had multiple opportunities to enjoy it like a true local.  When I am there, I travel, eat, & shop like they do.  I visit places that tourists might not be able to see on their own.  I get to detach from what I know as normal and live someone else's normal for a while.  The unfortunate thing is that with Brazil's politics still rocky and the negative headlines that make the news, Americans don't always feel comfortable to test the waters.  But, I recommend to anyone, if you have the chance to do it once … take one day trip that you feel safe with, do it!  You will thank me later!
So – if the RIGHT situation presents itself to you … take it .. but always make sure it is with the RIGHT person
Where to Go
There are plenty of "must see" places in Rio that many people probably heard about …
Cristo Redentor or Christ the Redeemer
The Cristo Redentor, or the Christ the Redeemer statue, sits on the Corcovado Mountain, in the Tijuca forest and watches over everyone.  And the faith & belief that Cariocas have for this statue is unbelievable.  It will turn any non-believer into a believer!
This is the #1 tourist attraction in Rio, so be prepared for long lines and crowded areas.  But, when in Rio … you must see this amazing sight && the beautiful views that come with it.  You must take the Corcovado Railway train that only runs every half hour.  This train takes you all the way up to the top (with a lot of beautiful scenery to keep you occupied).
TIP – Get the train trip that is almost at sundown.  This way, you can enjoy the view from both daylight and nightlight.  I have gone twice and was able to enjoy it this way both times.  It is definitely worth it … Oh yea, and don't forget your selfie stick!
Pão de Açúcar or Sugarloaf Mountain
Another beautiful place to visit with amazing view is the Pão de Açúcar, which gets its name from being shaped like concentrated refined sugar loaf.  This is where you take a glass-walled cable car to another high mountain and can see different panoramic views of Rio from the Guanabara Bay.  You can also see some of the historic cable cars that use to transport visitors to the top as early as 1912
TIP – here you can see live, wild monkeys that hang out with all the tourists.  They will come close to you, so be careful.  No one wants to go home with a Monkey bite!
Praia or beaches
The beautiful waters, beautiful people, and beautiful culture that surrounds the beach life in Rio de Janeiro is a must see.
The most popular beach in Rio is Copacabana.  Even though I believe it is a "must see" attraction, it is by no means my favorite beach in Rio.  You must make your way to the other side of the Arpoador to Ipanema and Leblon to see how the Cariocas beach!  Here you will find the locals playing futébol (soccer), sunbathing, surfing, biking, jogging, & overall enjoying life!
TIP – visit the Arpoador for sundown to watch the sun set on other side of the Morro Dois Irmaos (Two Brothers Mountains) from Leblon.  Another place you want to bring your selfie stick and a loved one!
Copacabana
I would have to say that Copacabana is my favorite for other things besides the beach.  There is a great fair here that you can get all your souvenirs to bring home.  And the nightlife is amazing!  You can walk down any street to plenty of kiosks and bars where you can drink and enjoy good company!
TIP – You know those famous Brazilian flip flops that everyone is wearing?  Havaianas?  You want to get those at the Copacabana fair for the BEST deal.  You might even need an empty suitcase just for those!
Cabo Frio & Buzios
If you are up for the trip while in Rio, you can take a 3-4 hour coach bus ride to Cabo Frio and Buzios, 2 beach destinations that many American tourists never get around to doing.  But, I will say that it is worth it!
The clean, white sand beaches of Cabo Frio are definitely a place to escape all of the tourists of "Rio".  Here they also have a boardwalk that is great to visit with the family day or night.  And Buzios has so many beaches to discover, all of them only reachable by water taxi!
TIP – Both locations have very affordable boat tours, where you go around to different beaches and deserted areas on a 3 hour boat ride and swim in multiple places that you would never reach on your own.
Jardim Botanico or Botanical Gardens
I have been to different Botanical Gardens, but this one was by far one of the most impressive.  And I think it has something to do with the story behind it, of a King who brought in all these plants and trees from different countries as a present for his Princess.  Fascinating!  My favorite part is the Imperial Palm Trees, which were planted in the form of a trail from the Palace to the Beach, so the Princess would find her way home.
Maracana
If there is one thing that Brazilians love it is their futébol!  If the national team is playing while you are staying in Brazil, you can be sure that there will not be soul out in the streets at that time.  And when they score … you can hear EVERYONE roar (literally!).
If you enjoy sports, especially soccer, I recommend going to see a game at the Maracana, the biggest soccer stadium in the world.  I had the pleasure of going to see my husband's favorite local team, Flamengo, while I was out there.  And it definitely shed some light on his passion!
TIP – Seeing a Flamengo game is GREAT, but take it slow and see an easy opponent.  DEFINITELY not Fluminese.  That is a little rough for a first timer.
What to Eat
The great thing about Brazil is that you can eat healthy on the go, and won't break your wallet.  I feel like in order to get fast food in the U.S., you have to compromise your diet to save a penny or 2.  At any corner in Rio, you can find a Luncheon place that sells "pastries" made of chicken, meat, shrimp, cheese, etc.  These are definitely my "go to" snacks in Brazil.  And PS – there is even a guy that sells them on the beach, and brings them right to your towel!
On the other corner you will find a juice bar that will freshly squeeze ANY fruit you can think of (and a whole bunch that you've probably never heard of) that are to die for!!  They also serve my latest crave of Açaì Bowls!  A Brazilian must have is a fresh Açaì bowl, because you will never find anything like it!
Brazil is known for their Rodizíos.  There are plenty popping around the US lately.  It is a style of eating where your sides are served via buffet style and the grilled or BBQ'd meat is served from a waiter that goes around from table to table and carves them straight to your plate.  It is usually a flat fee for all you can eat, so be sure to show up HUNGRY!
For a great meal with a great view, be sure to book a reservation with Porcão.  You will be able to enjoy the view of the Pão de Açúcar!  It is breathtaking and extremely romantic!
TIP – Rodizíos can be what some might think is exotic.  So, if you are not adventurous, make sure to ask what you are eating or you might get a chicken heart or ostrich meat.
But, there are plenty of places that you can pay by weight for AMAZING food.  Sometimes the local place, that doesn't have too many tourists, is the best place to eat.  You can taste the love of every bite!
Tips to travelling in Rio
 Don't travel around "flashy".  You don't want to attract the negative towards you.  Travel very simple with just your camera and local money.
NEVER count your money in public.  Another way you would attract negative. Excuse yourself to the bathroom and situated yourself there.
When eating finger foods, always use a napkin.  Brazilians do not use their hands to eat and yes, they eat their pizza with a fork and knife.
Know any Portuguese?  Try it out!  You would be surprised – most people encourage you for your efforts in getting to know their culture and language.  It makes them proud.
Don't bring a towel to the beach – buy a canga.  This is a sheet that meets the towel.  All you will need to dry off!  You can also turn it into a cover up or skirt and fit it right in your purse.  You will love them and want to bring one home to everyone!
When you leave your towel, leave the beach chair and umbrella too! There are kiosks all along the beach where you can rent them for a low price && they will set it up for you!
If you can make it to a local fruit stand … DO IT!! You will taste what fresh fruit really tastes like!  And probably a whole bunch that you've never heard of before!
Brazil is south of the equator, which means that their seasons are opposite of ours.  (i.e. our winter is their summer and vice versa)
Unless you want to enjoy the Carnival life (which I have yet to go for), I recommend this not being your first trip to Rio.  It is peak traveling season, so you will pay ALOT more for everything.  I have always travelled right after Carnival and was still able to enjoy their summer weather, minus the expensive trip filled with tourists.  DEFINITELY the way to go!
I have seen and witnessed a lot in the 3 trips I took to Rio … a lot more than this post allows me to share.  I also love sharing my stories, because as stated above, I love Rio!  So, if you would like to hear more about Rio or have any questions that I could be of help with, please feel free to contact me directly at [email protected].