Last Updated on June 2, 2015 by Chef Mireille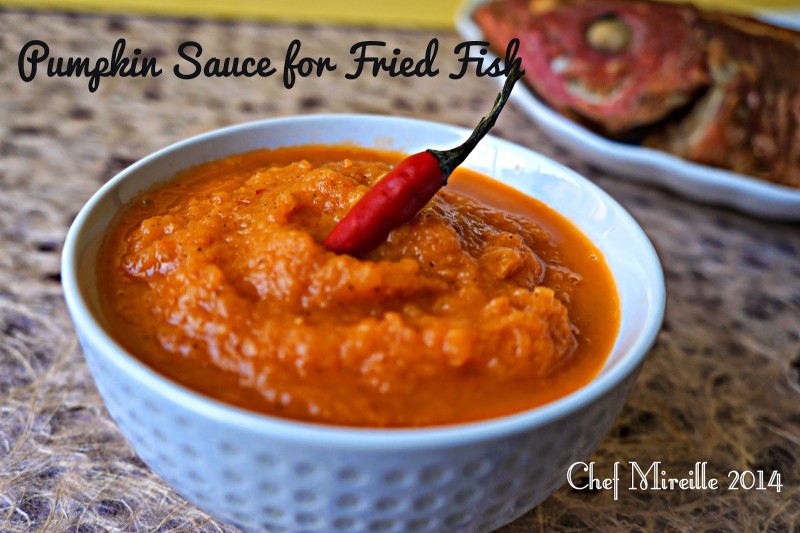 Today was supposed to be a Mexican recipe. A few weeks ago I snapped a few pics from a cookbook on Mexican desserts. The author was the pastry chef at famed Rosa Mexicano restaurant chain here in NYC. It's one of my favorite Mexican restaurants and I was excited to try the recipes. Well, I have tried two recipes from the book and have had problems with both. Although I still may post the recipe I attempted today as I think I know what to adjust in the description to still guide you to making it perfect, but I'm not sure. Thankfully, I had a backup recipe already prepared for this week's CCC.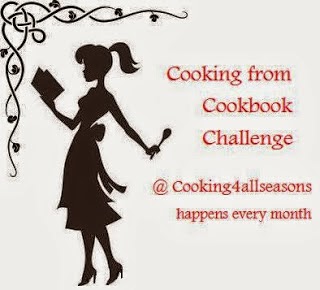 This recipe is adapted from the cookbook Creole, written by Paris based author Babette de Rozieres. The author is from the French Caribbean island of Guadeloupe, which is located right next to my grandmother's birthplace of Dominica. The cuisine is very familiar to me.
One thing that is synonymous with all Caribbean islands is fried fish. On the weekends, go to any beach in the Caribbean and you are sure to come across a few fish fry's going on. Or sometimes they are being cooked on a grill. They are usually seasoned very mildly with just lime juice, salt and pepper. They are then lightly dusted with flour and deep fried. When served, it is topped with sauteed onions and peppers and hot sauce. The fish is so fresh in the Caribbean that the flavor is so amazing it doesn't need much help to be delicious.
I came home from the fish market with a variety of fish and perused my cookbook collection to try a new recipe and when I saw this unique pumpkin sauce, that was the recipe decided upon. The only change I made was to fry the whole fish I had bought instead of pan searing fillets, as the author did. Also, I used lemongrass powder since I did not have any fresh lemongrass.
This sauce is versatile and can be used with any variety of fried or grilled foods.
Pumpkin Sauce & Fried Fish
(adapted from Creole)
Serves 3
Fish Ingredients:
3 whole red snapper
salt and pepper, to taste
1/2 cup all purpose flour
juice of 2 limes
oil, for frying
Pumpkin Sauce Ingredients:
2 tablespoons oil
14 oz. kabocha pumpkin (calabaza or butternut squash can also be used), peeled and diced
3 large tomatoes, chopped
4 cloves garlic, finely chopped
1 1/2 tablespoons ginger, finely chopped
1 teaspoon lemongrass powder
2 bird's eye chiles, finely chopped
salt and pepper, to taste
2 teaspoons sugar
To make the sauce, heat oil. Add squash, tomatoes, garlic, ginger, lemongrass and chile. Saute for 1 minute.
Add 2 tablespoons water, cover and cook on low heat for 10 minutes.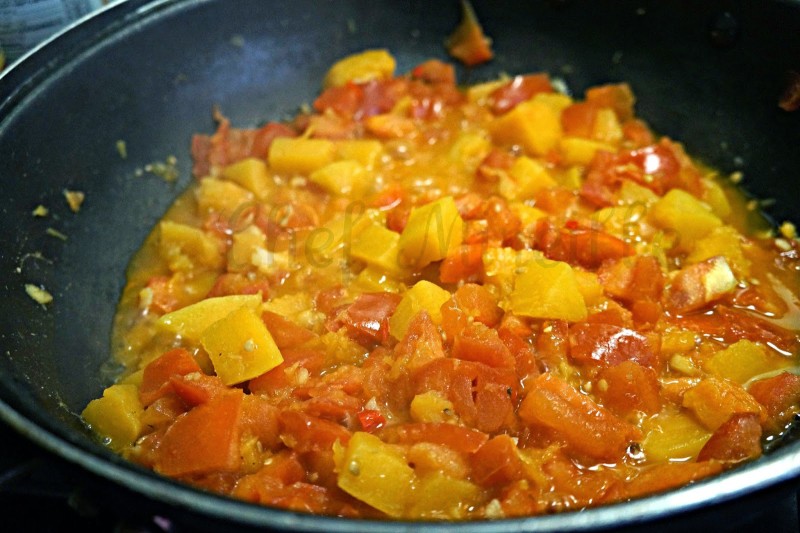 Cool for a few minutes. Puree in the blender.
Transfer to a bowl. Add sugar, salt and pepper. Stir to combine.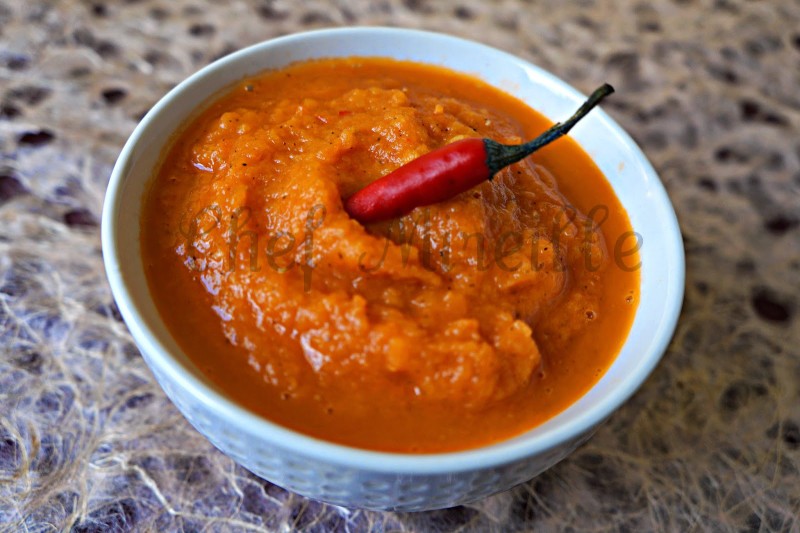 Season fish liberally with salt and pepper.
In a wok or other deep pot, heat enough oil to 350 F for deep frying.
Dust fish lightly with flour, shaking off excess.
Place fish in the hot oil and fry until golden brown on both sides, about 5 minutes.
Drain on paper towels.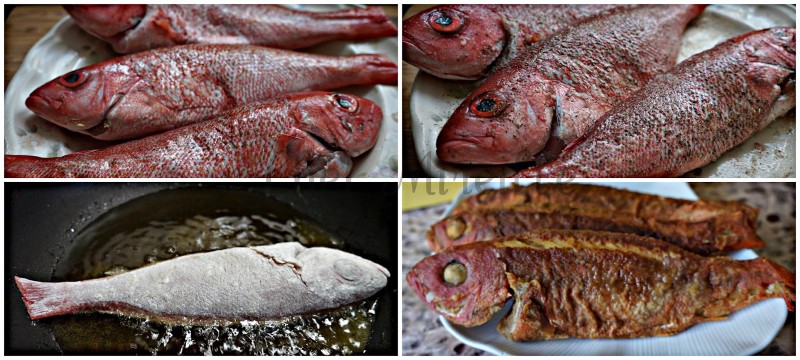 Squeeze lime juice over fish and serve with pumpkin sauce.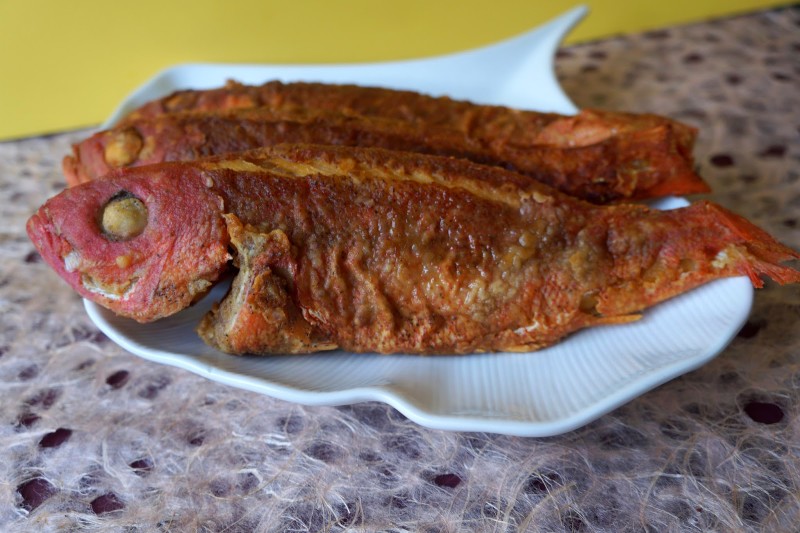 This made a delicious meal with some grilled vegetables.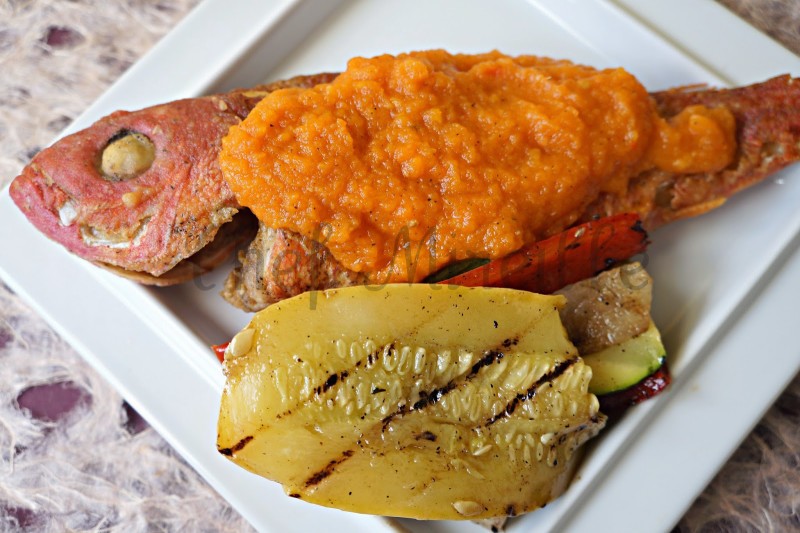 When I was in Paris, I did have time to visit her restaurant. The next time I visit Paris it is going to be a priority and I can only hope this amazing combination is on her menu.
This post is for the CC Challenge of the month
LIKE THIS RECIPE? LEAVE A COMMENT..I LIVE FOR THEM!
Chef Mireille