Last Updated on December 16, 2020 by Chef Mireille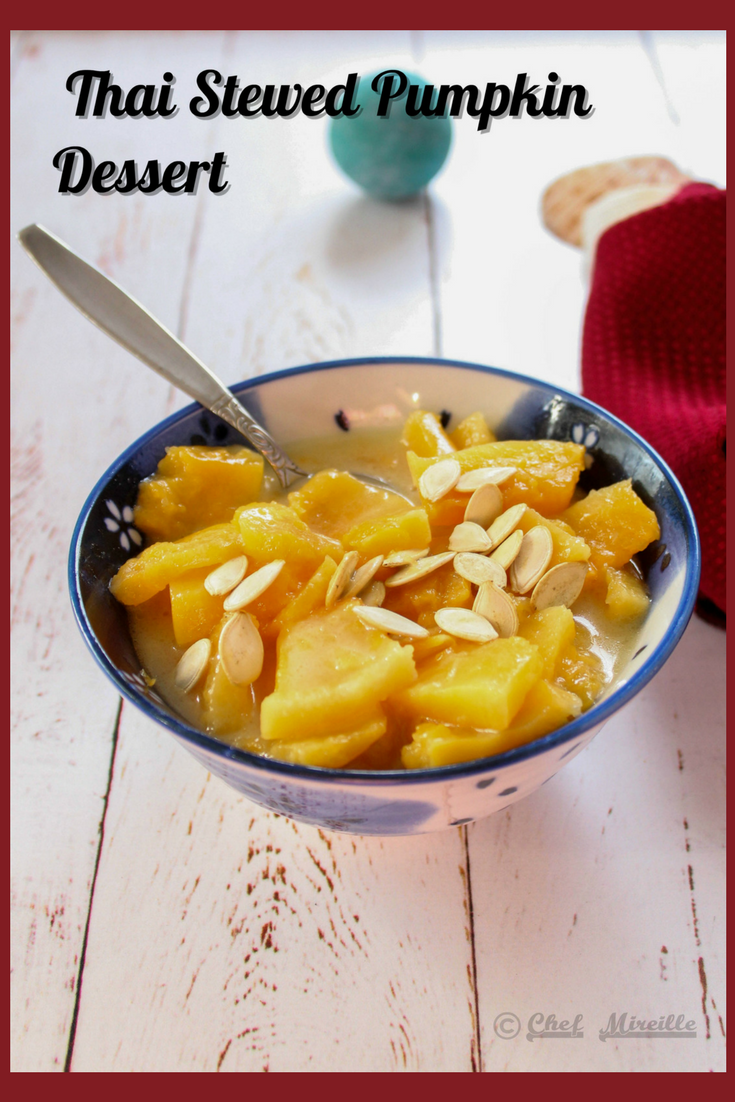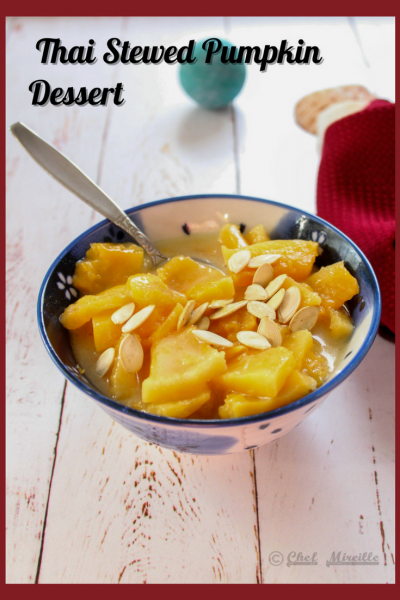 Thai Stewed Pumpkin Dessert is a simple and quick Thai #Vegan dessert that is perfect to utilize winter pumpkin. Any sweet pumpkin like calabaza or kabocha can be used.


I was so happy to pick up this theme for this month's BM as I had suggested it to Valli because I love desserts made with pumpkin and sweet potatoes. This is also my submission this week for Srivalli's Cookbook Cooking Challenge. Boy, you wonder how she has the time to manage all these blogging events!
I had just gone to a local farm (Alstede Farms) where I picked fresh tomatoes, beans, apples and pumpkins, so I used American sweet pumpkin in this recipe adapted from Greatest Ever Thai Cookbook by Judy Bastyra & Becky Johnson. However, kabocha or calabaza pumpkin would more traditionally be used in Thailand, where this recipe is from.
Let's check out some other Thai recipes before we get to this delicious sweet!
Thai Recipes
IN THE MAKING
This is such a luscious dessert!
Thai Stewed Pumpkin Dessert
Ingredients
1

lb.

12 oz. pumpkin with seeds

1 3/4

cups

coconut milk

2/3

cup

sugar
Instructions
Peel and scoop out the seeds from the pumpkin. Reserve a few tablespoons of the pumpkin seeds. Rinse the pumpkin seeds and pat dry.

In a dry skillet, toast the pumpkin seeds until golden.

Slice pumpkin into 1/2" slices.

In a saucepan, combine coconut milk, salt and sugar. Bring to a boil.

Add pumpkin and bring back to the boil. Reduce heat to medium and simmer for 15 minutes, until pumpkin is tender.

To serve, garnish with toasted pumpkin seeds.
Did you try this recipe? Leave a comment below.
Please follow me on Instagram @chefmireille or tag me #chefmireille with your pics! I'd love to share them!
The nutty flavor developed from the toasted pumpkin seeds really add another element of flavor to this delicious dessert. Great dessert option for Vegans!
Check out the Blogging Marathon page for the other Blogging Marathoners doing BM#34
This post is for the CC Challenge of the month & Shop Local