Last Updated on December 16, 2020 by
This Vegan Pumpkin Dessert is a super tasty finishing touch to your meals. Its sweetness and creaminess are perfect for a relaxing day for all seasons. Utilizing just a few simple ingredients, it is so quick and easy to put together!
I had just gone to a local farm (Alstede Farms) where I picked fresh tomatoes, beans, apples, and pumpkins, so I used American sweet pumpkin in this recipe.
However, kabocha or calabaza pumpkin would more traditionally be used in Thailand, where this recipe is from.
Pumpkin is such a versatile ingredient, able to be utilized in a variety of both sweet and savory dishes. Throughout the Caribbean, Africa, and Southeast Asia, pumpkin is a staple ingredient used in everything from soup to dessert.
To me, pumpkin is like the mother of all vegetables. It goes well with anything as long as you know what to make out of it.
Are you inspired to make more Pumpkin Recipes now? Check out my collection here of Over 30 Pumpkin Recipes you have to try!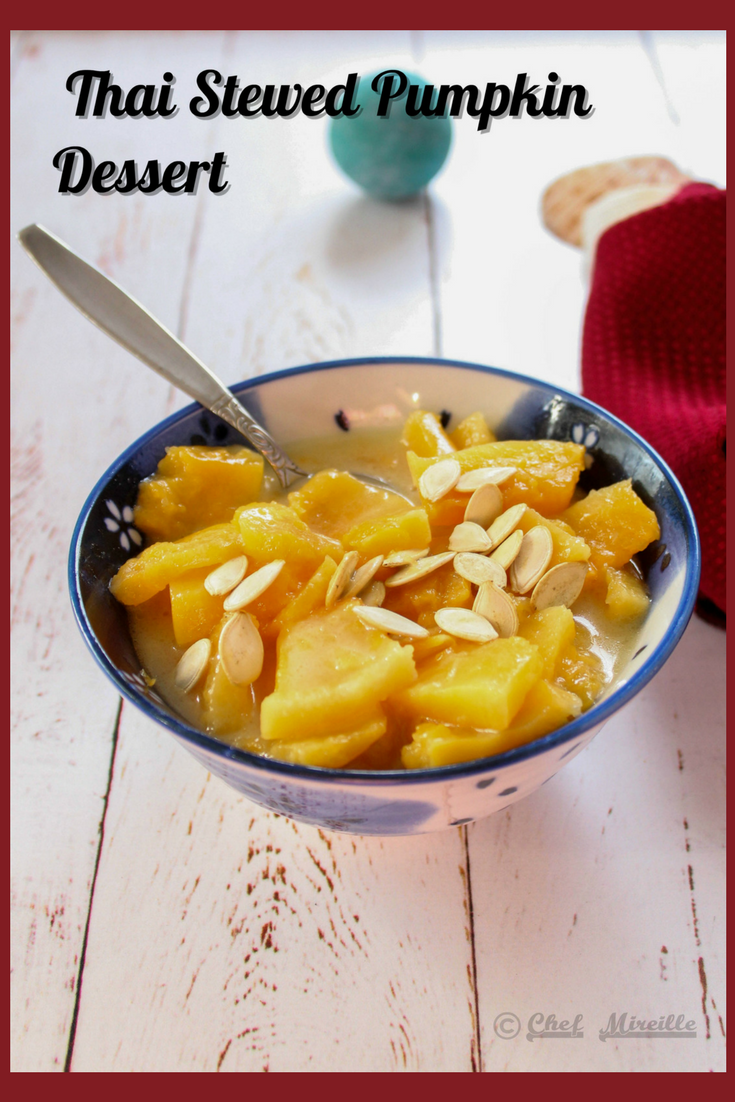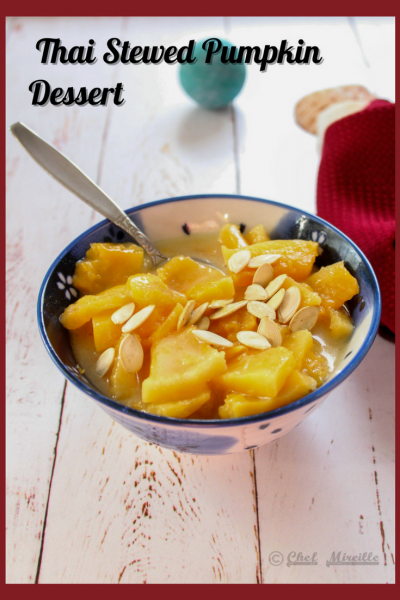 This post may include affiliate links.
What is a Kabocha or Calabaza Pumpkin?
Also known as Japanese pumpkin or West Indian pumpkin, this type of pumpkin is not that far from Butternut Squash in terms of flavor. It has firm green skin, a fluffy, moist texture, and a sweet, nutty flavor.
It can grow to the size of a watermelon and is widely used in Asia, Africa, and the Caribbean for many local cuisines. It's also lauded for its vitamins and minerals, particularly vitamins A and C.
Pumpkin can be used for both savory and sweet cooking applications such as sauteing, baking, grilling, and roasting.
What Can I Use Instead of Pumpkin?
This hearty Thai dessert recipe may be best made with calabaza but you can also use other types of pumpkins if you don't have one around or if it's not available in any store in your area.
Sometimes I use American sweet pumpkin for this dish and it tastes just as good!
You may also try acorn squash or butternut squash. They have a similar mildly sweet, nutty flavor.
Some people love experimenting with all sorts of options from the pumpkin family, but I think using kabocha for this recipe would give you the kind of subtlety and taste that the original Thai pumpkin and coconut milk dessert would give.
In any case, your vegan pumpkin dessert would be just as delish and satisfying. Any type of pumpkin will taste great in combination with coconut milk.
What Makes This Thai Stewed Pumpkin Dessert Healthy
It is packed with, you guessed it… Vitamin A! It has other nutrients too, including essential minerals and macronutrients like fat—and a good one at that.
This pumpkin recipe is very easy to make and yet it is so delicious. You can enjoy it however you like—whether as a side or as an afternoon snack.
More Thai Recipes
Let's check out some other Thai recipes before we get to this delicious sweet!
Ingredients for Thai Vegan Pumpkin Dessert
pumpkin with seeds
coconut milk
sugar
salt
How to Make Thai Pumpkin Dessert
Separate some pumpkin seeds and toast them.
Cook the pumpkin with the rest of the ingredients.
Garnish with toasted pumpkin seeds.
This is such a luscious dessert!
The nutty flavor developed from the toasted pumpkin seeds really adds another element of flavor to this delicious dessert. Great dessert option for Vegans!
What Goes Well With This Thai Pumpkin Dessert?
Since pumpkin is the main ingredient for this coconut milk dessert, you can pair it with a less starchy main course like my Vegetarian Chayote Tacos.
It's also great with some roasted veggies on the side, or other greens if you want to add more vitamins.
When is Thai Pumpkin Dessert Served Best?
This dish is perfect for every family occasion. It's a great option for when you need to get your kids to eat and enjoy munching on veggies.
It's often served warm, so it's also good for a cold morning breakfast. With coconut milk, it's an ideal winter dessert that will fill you with energy and get you going.
How Do I Store Pumpkins?
As long as it doesn't have an opening or scars, your calabaza is okay to use. It should last for several days if wrapped using a plastic wrapper and stored in an airtight container.
You don't need to do this if you're going to use your calabaza pumpkin soon. Just make sure it's in excellent condition and there are no signs of molds growing, especially on top where the stem is attached. Otherwise, it's time to throw it out.
How to Store This Thai Pumpkin Dessert
It has coconut milk as a major ingredient, so it's quite prone to spoilage. But what you can do is to serve this Thai dessert as soon as it's ready.
For any leftover portions, you can store them in an airtight container in the fridge for a day or two.
Or better yet, store them in the freezer and simply reheat in the microwave whenever you like to have a serving.


This Thai Stewed Pumpkin Dessert is a simple and quick Thai vegan dessert that is perfect to utilize most winter squash and pumpkin varieties.
Thai Stewed Pumpkin Dessert
This Thai Pumpkin Dessert recipe is the answer to a sweet craving on cold afternoons or after a rather dry noon meal. It's loaded with energy and gives you a quick boost of nutrients, too.
Ingredients
1

lb.

12 oz. pumpkin with seeds

1 3/4

cups

coconut milk

2/3

cup

sugar
Instructions
Peel and scoop out the seeds from the pumpkin. Reserve a few tablespoons of the pumpkin seeds. Rinse the pumpkin seeds and pat dry.

In a dry skillet, toast the pumpkin seeds until golden.

Slice pumpkin into 1/2″ slices.

In a saucepan, combine coconut milk, salt and sugar. Bring to a boil.

Add pumpkin and bring back to the boil. Reduce heat to medium and simmer for 15 minutes, until pumpkin is tender.

To serve, garnish with toasted pumpkin seeds.
Nutrition
Calories:
353
kcal
|
Carbohydrates:
43
g
|
Protein:
3
g
|
Fat:
21
g
|
Saturated Fat:
19
g
|
Polyunsaturated Fat:
1
g
|
Monounsaturated Fat:
1
g
|
Sodium:
14
mg
|
Potassium:
604
mg
|
Fiber:
1
g
|
Sugar:
36
g
|
Vitamin A:
9654
IU
|
Vitamin C:
11
mg
|
Calcium:
42
mg
|
Iron:
4
mg
Did you try this recipe? Leave a comment below.
Please follow me on Instagram @chefmireille or tag me #chefmireille with your pics! I'd love to share them!
Need more culinary inspiration? Check out the Recipe Index with over 1500 Recipes from Around the World with lots of Vegetarian 🥕🍆🍅and Gluten Free Recipes!