Last Updated on March 25, 2021 by Chef Mireille
Vegetarian Chayote Tacos – These chipotle chayote tacos are both healthy and delicious with freshly made tortillas. A perfect option for Meatless Monday.
..and for more delicious Mexican Recipes you can find over 20 Mexican Recipes here for every meal from breakfast to dessert.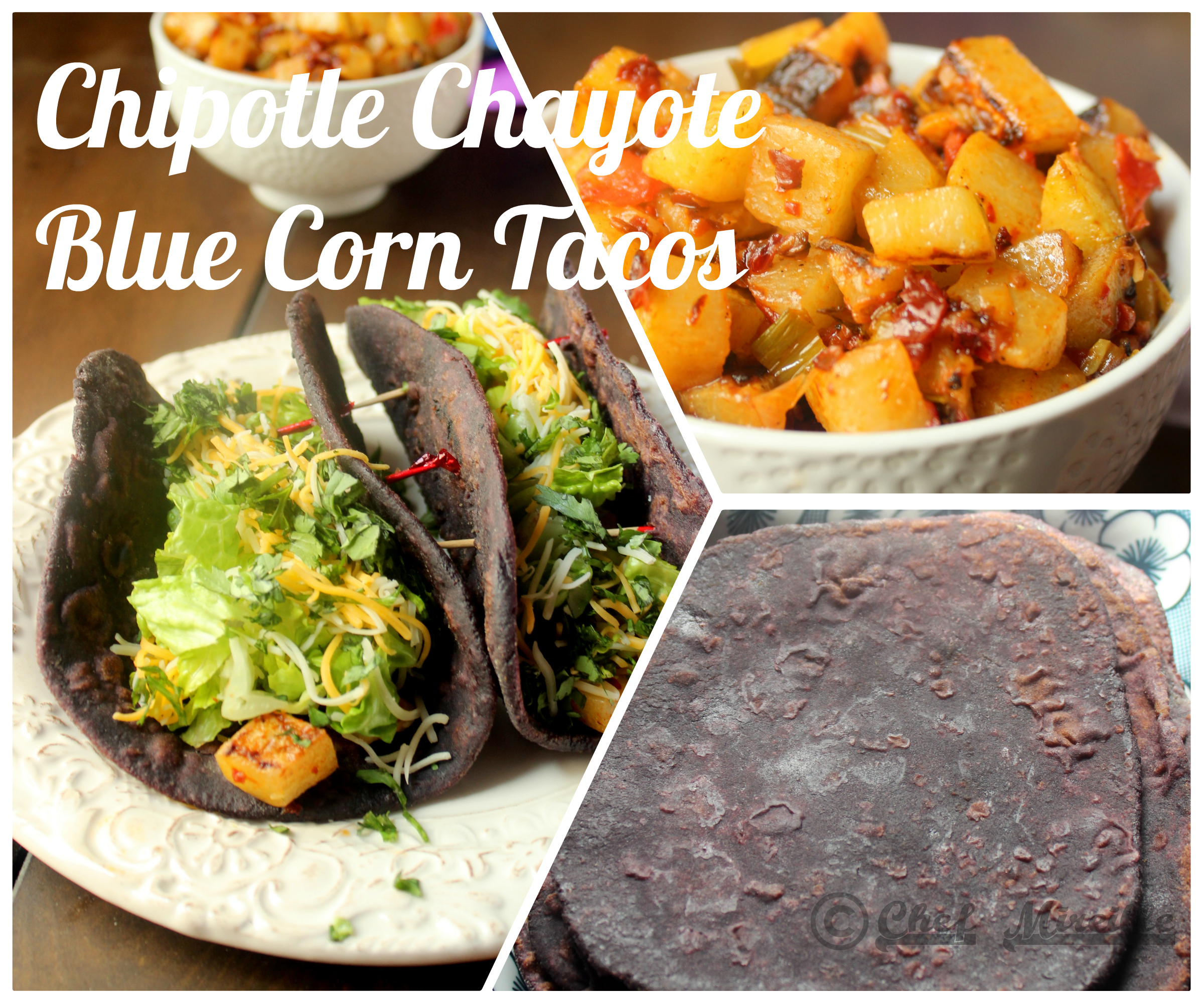 ALL ABOUT CHAYOTE
These Mexican-inspired Vegetarian Chayote tacos are perfect for celebrating Cinco de Mayo, or enjoying any taco night at home. Homemade blue corn tortillas are loaded with veggies sauteed with chipotle peppers and spices for a savory, satisfying meatless meal.
WHAT IS CHAYOTE?
Before we get started on the recipe, a little bit about peeling chayote.  For some of you, chayote may be an unfamiliar product.  You may have seen them in the market individually wrapped in plastic and thought – that can't be good…but they are! Chayote is a very fresh tasting squash. It cooks very quickly and has a taste similar to cucumber.
Note: Chayote has an enzyme that makes some people's hands itch. My mom just squeezes a little lime juice on them and then it does not bother her. However, I have the most unusual food allergies – I'm not allergic to peanuts, shrimp or strawberries, which are common. Instead, I'm allergic to Brazil nuts and white yams. Even with lime, my hands will itch uncontrollably for hours. For this reason, I always wear rubber gloves when I am peeling chayote. If you've never had them before and are not sure how your skin is going to react, I would recommend wearing gloves. However, even though it bothers my hands, it does nothing to me when I eat them…so that's a fact I am grateful for.
Normally, I would just throw the peels in the garbage. This time, however, I am saving them to try this chutney. They are going into the freezer and once I have enough, Chayote Peel Chutney is going to be on the menu. If you want to make use of the entire vegetable, I suggest you do the same. Peel the chayote, then cut in half and using a spoon, scoop out the core and now you can cook chayote the way you desire.

VEGETARIAN CHAYOTE TACOS
These meatless veggie tacos feature cooked chayote and aromatics. The spicy chayote filling is a wonderful way to enjoy Vegetarian Mexican food. You can even just have it with rice if you don't want to go through the work of making the tortillas.
INGREDIENTS YOU NEED TO MAKE CHIPOTLE CHAYOTE
oil
garlic cloves
scallions
chayote
tomato
chipotles in adobo sauce
Sure you can buy the tortillas, but why not try making them at home yourself! Blue corn has a higher protein content than yellow or white cornmeal. Not only is a healthier alternative, these blur corn tortillas also have an earthier, more savory flavor.
INGREDIENTS YOU NEED TO MAKE BLUE CORN TORTILLAS
blue corn flour
salt
all purpose flour
oil for cooking
HOW TO MAKE VEGETARIAN CHAYOTE TACOS WITH BLUE CORN TORTILLAS
STEP #1 – MAKE THE BLUE CORN TORTILLAS
Firstly, Combine the blue corn flour and the salt in a bowl. Add water, stir, and then mix in the all purpose flour. Cover the dough with a damp towel and let rest for 30 minutes.
Next, divide the dough into 7 equal portions and lightly dust your work surface with flour. Get a skillet hot and brush with oil. Use your hands and a rolling pin to work the dough out into thin, even round tortillas. Each should be about 5-6″ in diameter.
Cook the tortillas in the hot skillet for a few minutes on each side, until lightly browned in spots. Set aside on a plate while you prepare the chayote.
STEP #2 – MAKE THE CHIPOTLE CHAYOTE
In a clean skillet, heat oil and saute the garlic and scallions for a minute or so. Add the chopped tomatoes and chayote, and cook for another 5 minutes as you stir.
Next, add the chopped chipotle peppers. Stir and continue to cook for 10 minutes. Taste, and add salt as needed.
STEP #3 – ASSEMBLE THE VEGETARIAN CHAYOTE TACOS
Fill the homemade blue corn tortillas with the warm chipotle chayote, and load with your favorite taco toppings.
Perfect for #MeatlessMonday!
MORE MEXICAN-INSPIRED RECIPES TO TRY
Chipotle Chayote Blue Corn Tacos
These tacos are delicious with freshly made tortillas and a great Vegetarian option for Meatless Monday.
Ingredients
Blue Corn Tortilla Ingredients:

1

cup

blue/purple corn flour

1/2

teaspoon

salt

1

cup

all purpose flour

oil

for cooking

Chayote Filling Ingredients:

2

tablespoons

oil

2

finely chopped garlic cloves

3

finely chopped scallions

2

chayote

peeled, cored and chopped

1

chopped tomato

2-3

chipotles in adobo sauce

finely chopped

salt

to taste

Taco Ingredients:

Blue Corn Tortillas

Chayote Filling

Chopped Lettuce

Grated Cheese

Finely chopped cilantro

lime juice
Instructions
To make tortillas, combine blue corn flour and salt in a bowl. Stir to combine.

Add 1 cup warm water and mix to combine.

Add the all purpose flour and knead for a few minutes until the flour is well incorporated and the dough is a uniform color. Cover with a damp towel and leave to rest for 30 minutes.

Divide dough into 7 equal portions.

Heat a skillet and brush with a little oil.

On a well floured board, roll out to about 5-6" in diameter.

Place on a heated skillet and cook for a few minutes on each side, until there are a few brown spots. Repeat until all the dough has been used.

Now let's make the chayote filling.

Heat oil. Add garlic and scallions and saute for a minute or two, until vegetables are softened.

Add chayote and tomatoes and cook for 5 minutes.

Add chipotles and cook for another 10 minutes, stirring often. Add salt, to taste.

To assemble the tacos, place a little of the chayote filling inside a tortilla. Sprinkle some lettuce and cheese on top. Sprinkle a little cilantro on top. Squeeze a little lime juice on top.
Did you try this recipe? Leave a comment below.
Please follow me on Instagram @chefmireille or tag me #chefmireille with your pics! I'd love to share them!
After these healthy tacos, you can indulge in this easy-to-do Mexican pudding for dessert!
Spicy fresh vegetables with cheesy goodness…these are low in fat and high in protein…a guilt free way to celebrate Cinco de Mayo…Felicidades!
FREQUENTLY ASKED QUESTIONS
Do you know anyone else who likes learning about international food, culture, history and travel? Bring them over here to join the party! Don't forget to use those share buttons! ?
Start Here to find out how the Schizo Chef can help you with your cooking, travel and other needs!
If you like this recipe, PLEASE LEAVE A COMMENT & SUBSCRIBE
Linking to ABC…Gourds