Last Updated on March 28, 2021 by Chef Mireille
Vegetarian Enchiladas Verdes – Enchiladas stuffed with beans and cheese and smothered with freshly made Salsa Verde & more cheese.
Are you a Mexican food fan?
Then check out more Mexican Recipes here to enjoy Mexican cuisine at every meal!
This post may include affiliate links.
Enchiladas are most popular throughout Mexico and southwestern United States like Texas and New Mexico. Although enchiladas are popular in other Central American countries like Costa Rica, Honduras and Nicaragua, they are made differently there – either fried like an empanada or almost like a pizza with the toppings simply placed on top of the tortilla and served open faced.
There are dozens of different types of enchiladas in Mexico. Some are covered with green sauce, red sauce, mole sauce (chocolate and chiles) or even white sauce (brought to Mexico by Swiss immigrants). The sauce variations are usually regional. They can be stuffed with anything, but the most popular stuffings are chicken, cheese, beans, fish and potatoes.
Similar to when I made Quinoa Arepas, there are many components to these enchiladas. While corn tortillas, canned pinto beans and salsa verde are common ingredients available on your local supermarket shelves, I decided to make them fresh as they would do in Mexico. For time efficiency and convenience, feel free to use the supermarket shortcuts. The one shortcut I did utilize is purchasing store bought corn tortillas.
However, if you are willing to go the extra mile it will make such a big difference if you make this homemade Salsa Verde.
Check out the easy Salsa Verde recipe!
The key ingredient in salsa verde are tomatillos. Tomatillos grow inside a paper husk and are similar in flavor and texture to a gooseberry. It's tart flavor create the unique taste of salsa verde. If you don't have access to tomatillos, you can substitute gooseberries or green tomatoes.
HOW TO MAKE VEGETARIAN ENCHILADAS VERDES
After baking, it will come out of the oven with all that gooey melted cheese. Now tell me who can resist that?
Serve with more Salsa Verde for each person to customize as they desire!
People often create delicious holiday meals and then the Vegetarians get sloppy seconds with little thought going to their meals in carnivore centered countries like the US. This is a decadent & rich meal perfect for any holiday occasion. The Vegetarians at your table will love this…and so will the meat eaters. In fact, they might even be fighting with the Vegetarians to get some of these delicious enchiladas.
This is one meal that people will definitely want seconds! It is such an amalgamation of flavors from the tortillas, beans, cheese and cilantro all in your mouth at the same time. So delicious!
Vegetarian Enchiladas Verdes
These Vegetarian Enchiladas are rich and decadent. A great Vegetarian option for a holiday meal.
Ingredients
Filling Ingredients:

1

cup

pinto or cranberry beans

soaked overnight

2

tablespoons

olive oil

1

chopped onion

2

finely chopped garlic cloves

1

cup

canned corn

1

teaspoon

salt

1

teaspoon

ground cumin

2

tablespoons

finely chopped cilantro

Enchilada Ingredients:

16

corn tortillas

cooked beans

from above

3 1/4

cups

salsa verde

8

oz.

grated cheddar cheese

8

oz.

grated pepper jack cheese

1/3

cup

chopped cilantro

crema

Mexican sour cream, optional garnish

queso fresca

optional garnish
Instructions
First make the beans.

In a pot, heat oil.

Add onion and garlic. Saute until softened.

Add beans, 4 cups water, cumin and salt. Bring to a boil. Reduce to a simmer and cook until beans are tender, about 45 minutes.

Add corn and cilantro. Stir to combine.

Raise heat to high and cook for 10 minutes until most of the liquid has evaporated.

Leave to cool for at least 15 minutes so the beans can thicken as they cool.

Now let's assemble the enchiladas.

Preheat oven to 350 F.

In a 9×12 baking dish, pour 3/4 cup of the salsa verde and spread on the bottom.

In a bowl, combine the cheddar and pepper jack. Mix to combine.

If the corn tortillas were in the fridge, you will need to heat them in the microwave for 20 seconds to make them pliable.

Lay out a corn tortilla. Place 2 tablespoons of beans on top. Sprinkle a little of the grated cheese on top. Add a little cilantro and roll into a cylinder.

Lay in a 9×12 casserole dish. Repeat until all the filling/tortillas has been used up.

Sprinkle the remaining salsa verde on top. (about 2 1/2 cups)

Sprinkle remaining grated cheese on top (about 2 1/2 cups)

Bake for 30 minutes.

If desired, you can utilize optional garnishes.

Serve with more salsa verde.
Nutrition
Calories:
311
kcal
|
Carbohydrates:
26
g
|
Protein:
13
g
|
Fat:
17
g
|
Saturated Fat:
9
g
|
Cholesterol:
40
mg
|
Sodium:
906
mg
|
Potassium:
312
mg
|
Fiber:
4
g
|
Sugar:
5
g
|
Vitamin A:
800
IU
|
Vitamin C:
4
mg
|
Calcium:
310
mg
|
Iron:
1
mg
Did you try this recipe? Leave a comment below.
Please follow me on Instagram @chefmireille or tag me #chefmireille with your pics! I'd love to share them!
NOT READY TO MAKE IT YET? PIN IT FOR LATER!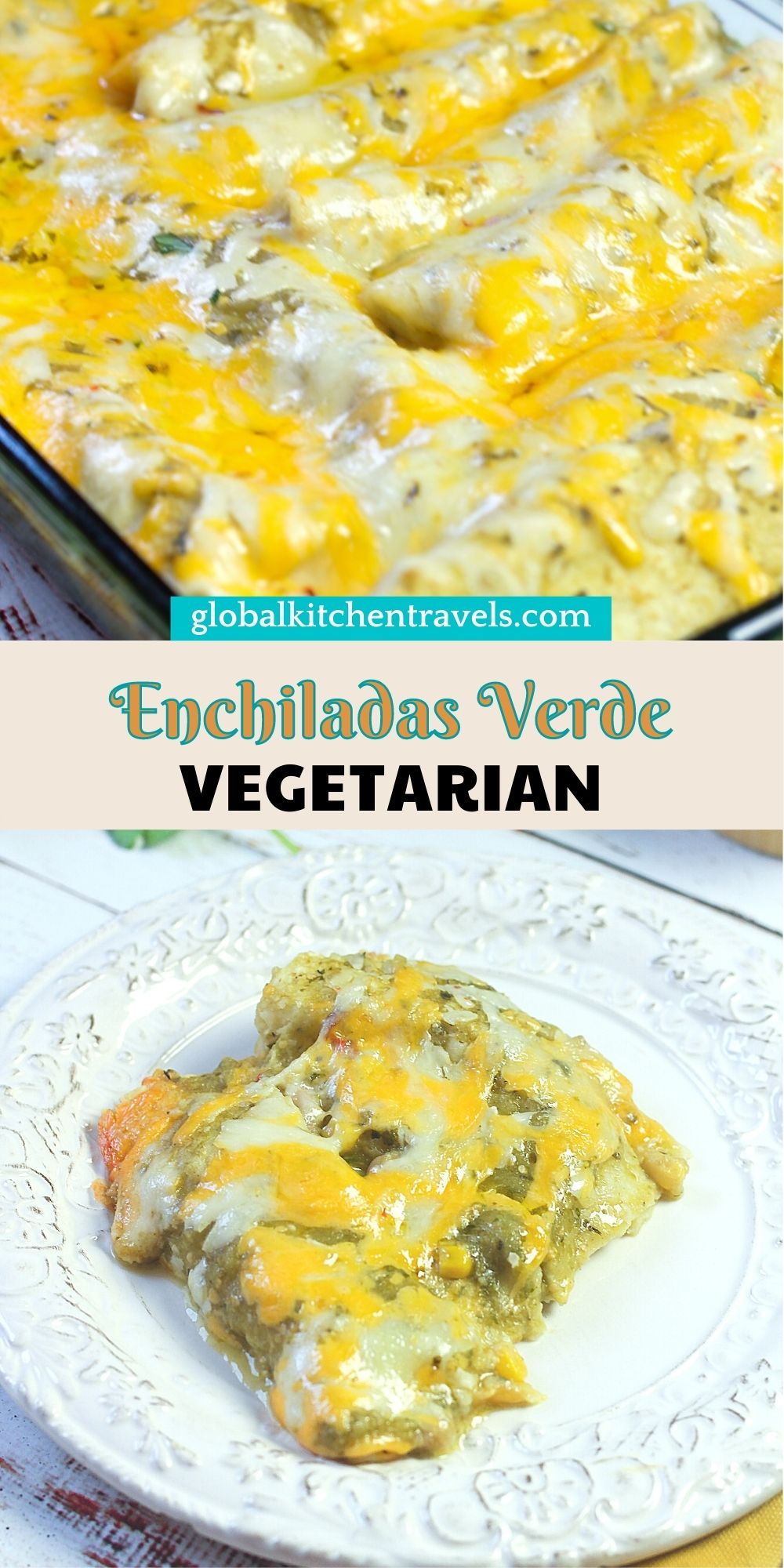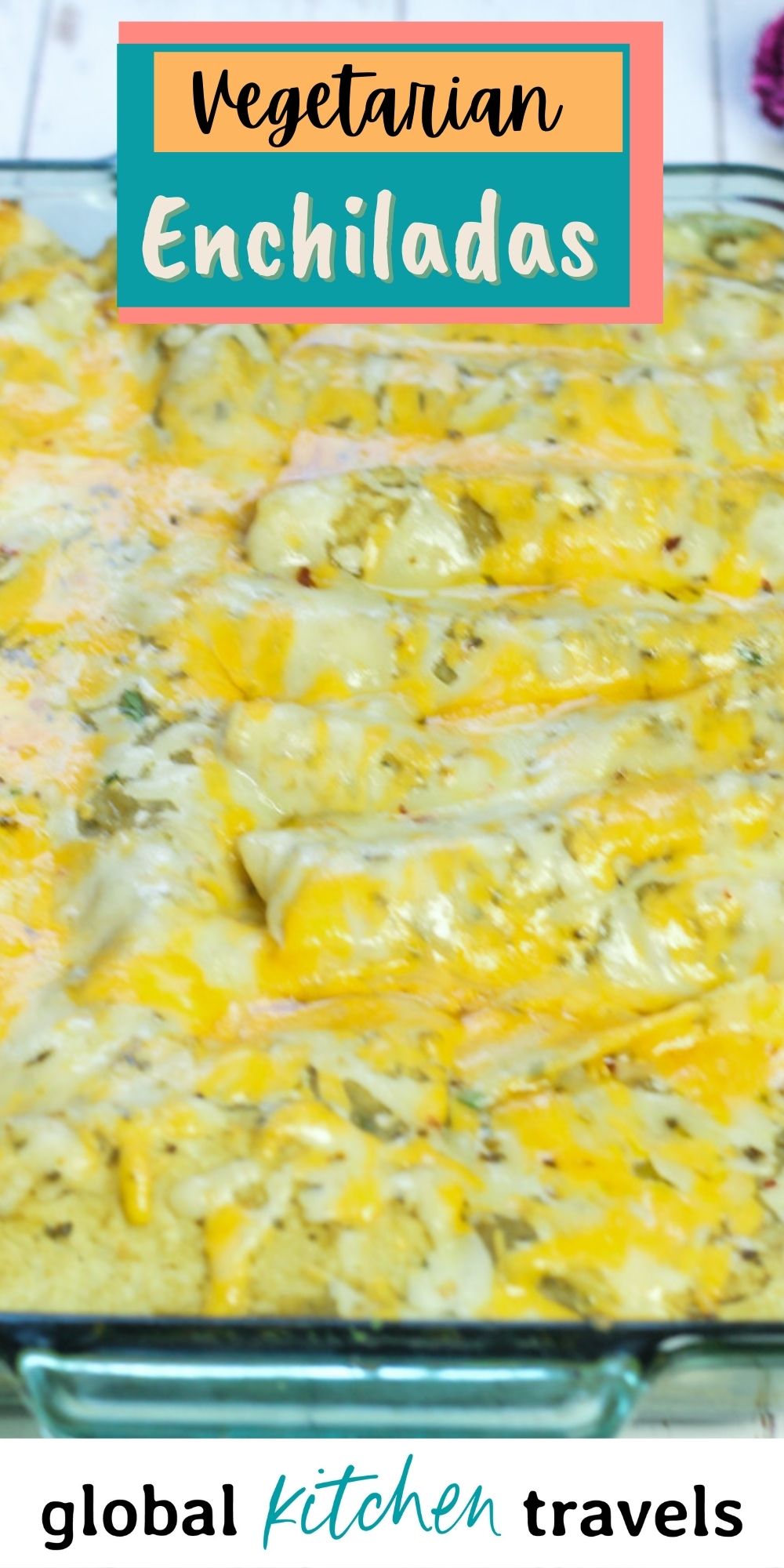 Don't forget to visit the RECIPE INDEX with over 1000 recipes from around the world including lots of Vegetarian Recipes and Gluten Free Recipes!