Last Updated on January 22, 2021 by Chef Mireille
Tomatillo Salsa Verde
Make Taco Tuesday better with your own homemade Salsa Verde. This version is quick and easy but with the freshness that the bottled versions won't have!
….and for more Mexican inspiration, check out these Mexican Recipes.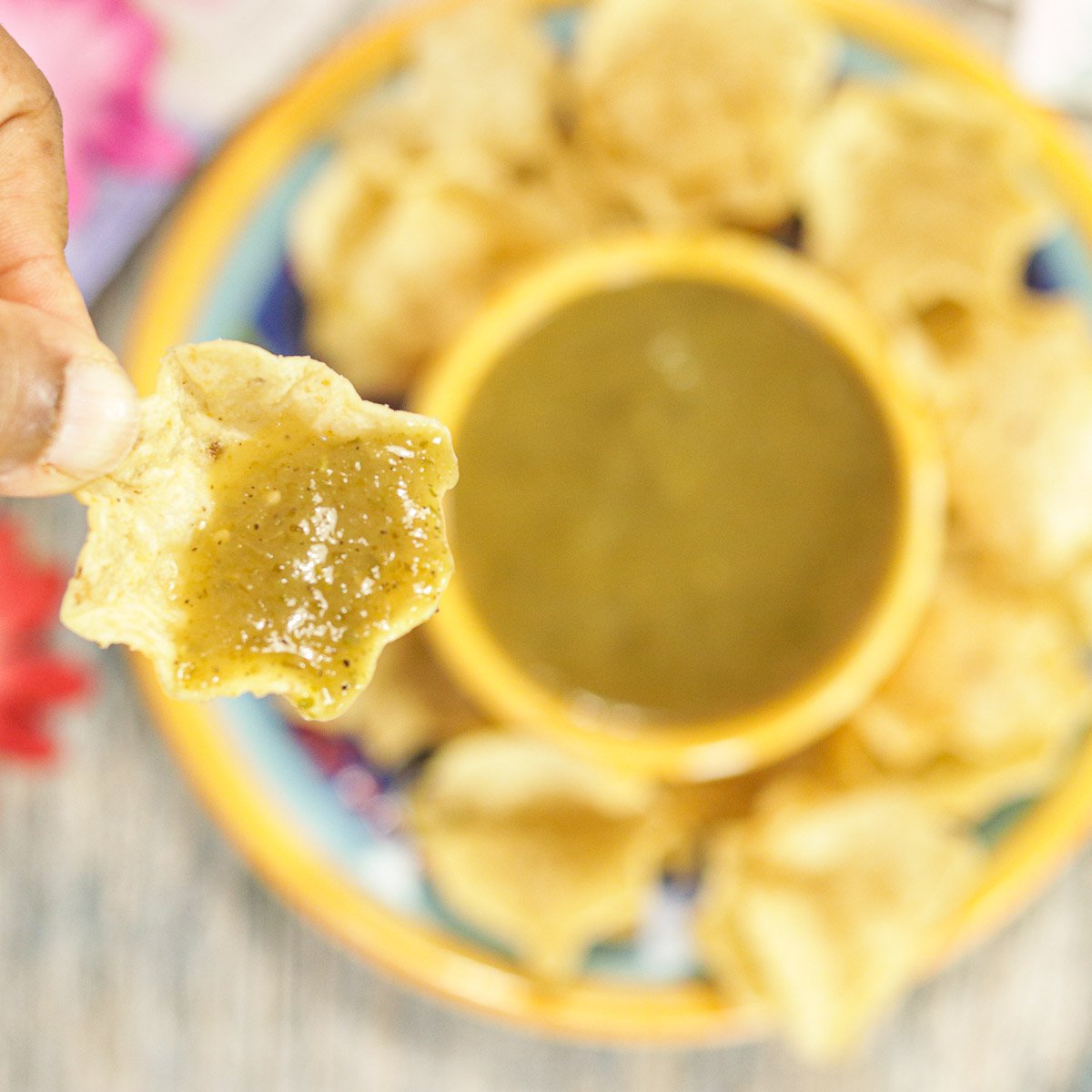 This post may include affiliate links.
Are you a red salsa or a green salsa fan? For me, it was instant obsession the first time I tasted Salsa Verde.
My first exposure to Salsa Verde was when I went to college in New Mexico. At that time, only red salsa's could be found here in NYC. I had become obsessed with Tomatillo Salsa Verde while living in New Mexico.
When I returned to New York, salsa verde was sadly nowhere to be found. I went into Tomatillo Salsa Verde withdrawal. I had to learn how to make it myself, which I did. Now Salsa Verde is easily available everywhere from Mexican restaurants to your local supermarket. However, making it fresh is still the best for optimal freshness and flavor.
I am sure you will end up loving this salsa as much as me and end up practically drinking it, as you will start putting it on everything. This recipe makes a large quantity so you won't have to worry about it finishing too quickly.
Web Story
But before we get to the recipe, what is the difference between red and green salsa. Many people often wonder which is hotter salsa verde or salsa roja?
Difference between Salsa Verde & Salsa Roja
Which is hotter?
Many people assume Salsa Roja or red salsa is hotter than Salsa Verde, but that is not necessarily the case. There are a lot of contributing factors like types of chillies used, consistency of salsa (thin to chunky), quantity and recipe preparation. For example are the chillies roasted or are you using them raw? Are you using fresh or dried chillies?
So there is really no solid answer to the question Which salsa is hotter?
What's the difference?
Salsa Verde is made with unripened chillies, which leads to it having a more acidic taste. Some people don't like Salsa Verde because they find it a bit bitter, but that is palate preference. Some love the acidic taste. If you want to even up the acidic flavor a bit more, you can also add some pickled jalapenos.
Salsa Roja is made with ripened chillies and therefore, even though it is often hotter, it is also sweeter. It can be made with fresh chillies or dried chillies or a combination of both. Some versions may also include tomato.
Think about it – isn't a red bell pepper sweeter than the green ones?
How to use Salsa Verde
enjoy with tortilla chips as a snack
use it on tacos
serve it with burritos
make Enchiladas Verde
add a little to soup for a little boost of flavor
serve it with loaded Nachos
The first thing you will want to do is make these Vegetarian Enchiladas. This is a decadent and rich Vegetarian entree that is perfect to serve in the approaching holiday season. Bring a little Latin flavor to your holiday table.
Here are some delicious recipes you can enjoy with this Salsa Verde
Mexican Recipes
See how easy it is to make this traditional Salsa Verde recipe!
The Ingredients
While the chillies use can vary, one required ingredient for Salsa Verde are tomatillos.
These are small green tomatoes that grow inside a paper husk. If you live in a part of the world where tomatillos aren't available, you can substitute green gooseberries or just regular green tomatoes.
However tomatillos are more acidic than green tomatoes or gooseberries.
In this version, I have used poblanos and serranos. Poblano is the sweetest of all green chillies so have a mild heat index. The serrano provides and heat and you can add more serranos or jalapenos if you would like a hotter salsa.
I would categorize this version as medium hot.
Of course, it is subjective to whether or not you discard the seeds. If you remove all of the seeds from the poblanos and serrano, it will be a bit milder. I usually remove the seeds from the poblanos and leave the seeds in the serrano.
Grab your chips and dig in!
Recipe FAQ
Can I freeze Salsa Verde
Yes. I often keep one jar in use and freeze the rest and take out as needed.
Does Salsa Verde need to be refrigerated?
Yes unless you follow preservation methods for bottling it. Then it can remain a shelf stable ingredient until it is opened. See link below for bottling.
What if I can't find tomatillos?
While not exactly the same flavor profile, you can substitute regular green tomatoes or gooseberries.
For bottling procedures, you can find all the info in this jam post here.
OK so Salsa Verde lovers, what do you need to make this delicious salsa?
Suggested Tools
now here's your Shopping List to make your own bottles of Salsa Verde!
Ingredient List
red onions
scallions
poblanos
serrano
garlic
tomatillos
cilantro
limes
Get FRESH PRODUCE!
How to Make Salsa Verde
First is prepping the vegetables. Remove the paper husk from the tomatillos and quarter them.
Chop the peppers and onions. Leave the seeds in for a spicier version!
Saute the peppers and onions with the garlic, until vegetables are softened.
Add the tomatillos and seasonings! While not a traditional ingredient, the bouillon cubes definitely elevate the flavor!
Let it cool for a few minutes and then it's puree time!
Transfer the salsa to glass jars. Once cooled at room temperature, chill overnight in the refrigerator. You can then freeze some of it or follow proper bottling procedures to make it shelf stable.
Salsa Verde – Mexican Tomatillo Salsa
Salsa Verde is a versatile condiment that can be used as a dip, garnish or addition to soups.
Ingredients
2

small red onions

1

bunch scallions

2

medium poblanos

1

large serrano

about 4"

2

tablespoons

oil

6

crushed garlic cloves

2

lbs.

quartered tomatillos

6

cups

water

1

tablespoon

ground cumin

1

tablespoon

ground oregano

¼

cup

chopped cilantro

1 ½

teaspoons

salt

1 ½

teaspoons

sugar

juice of 2 limes

about 2 tablespoons
Instructions
Coarsely chop onions, scallions, poblanos and serrano peppers.

In a large pot, heat oil.

Add chopped vegetables and garlic. Saute for about 5 minutes, until the vegetables are softened.

Add tomatillos, water and bouillon cubes.

Add cumin and oregano and stir combine.

Bring to a boil.

Reduce to a simmer and cook for 15-20 minutes, until the vegetables are soft.

Leave to cool for a few minutes.

Transfer to a blender with the cilantro, salt, sugar and lime juice. Puree until smooth.

Transfer to glass jars and chill in the refrigerator overnight or follow canning procedures for bottling.
Notes
This recipe will yield approximately 2 quarts.
Instead of the water and bouillon cubes, you can use vegetable broth.
If you cannot find tomatillos, regular green onions or gooseberries can be substituted.
Remember if you like it hotter, add more serranos and leave the seeds in!
Nutrition
Calories:
25
kcal
|
Carbohydrates:
3
g
|
Protein:
1
g
|
Fat:
1
g
|
Saturated Fat:
1
g
|
Sodium:
176
mg
|
Potassium:
107
mg
|
Fiber:
1
g
|
Sugar:
2
g
|
Vitamin A:
79
IU
|
Vitamin C:
10
mg
|
Calcium:
11
mg
|
Iron:
1
mg
Did you try this recipe? Leave a comment below.
Please follow me on Instagram @chefmireille or tag me #chefmireille with your pics! I'd love to share them!
DO YOU YUM? SAVE IT BELOW!
Yum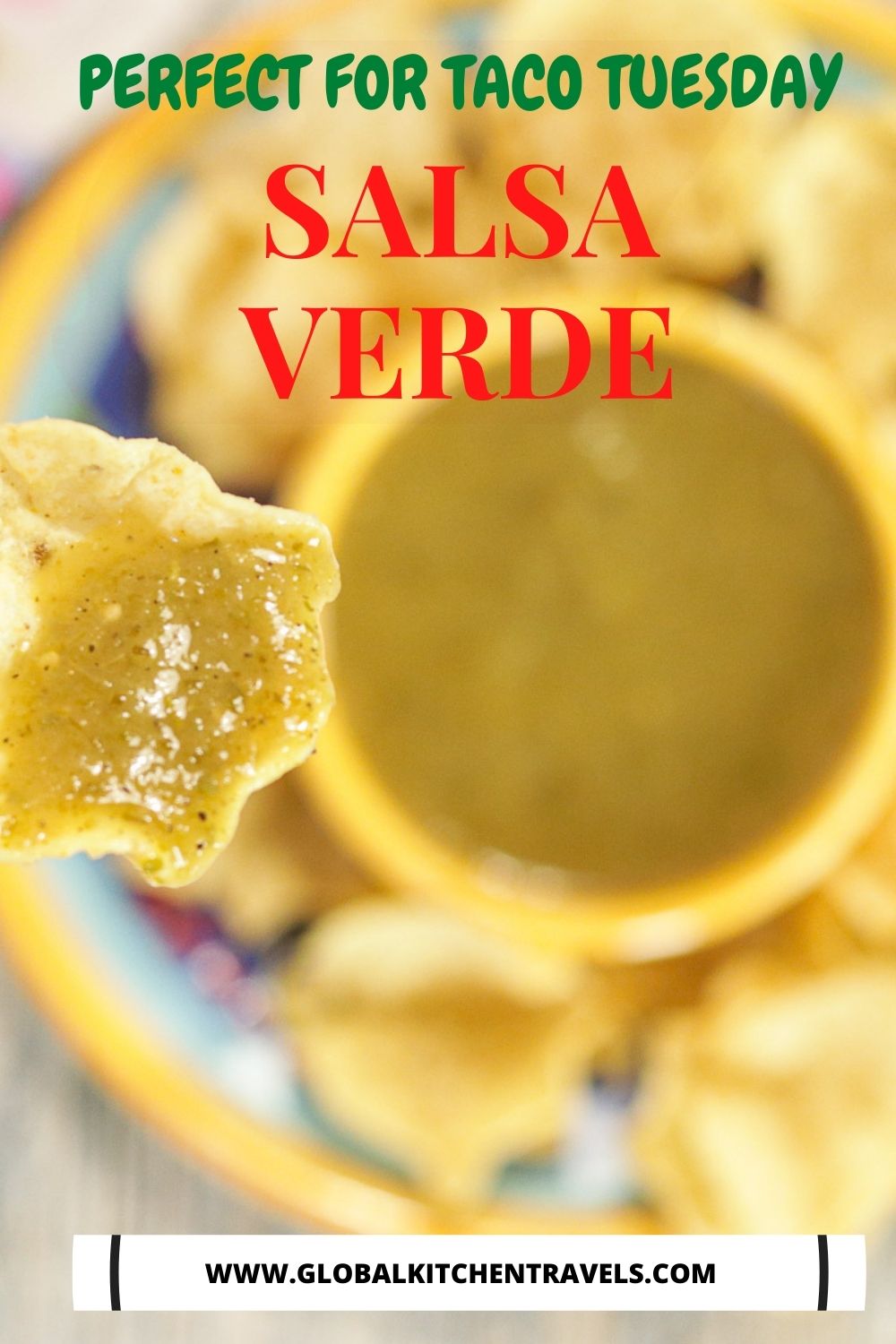 Don't forget to visit the RECIPE INDEX with over 1000 recipes from around the world including lots of Vegetarian Recipes and Gluten Free Recipes!