Last Updated on July 9, 2022 by Chef Mireille
Egyptian Koshari
Koshari – Egypt's National Dish is an easy vegan recipe made with cost efficient ingredients. A delicious family friendly weeknight meal – especially for Meatless Monday!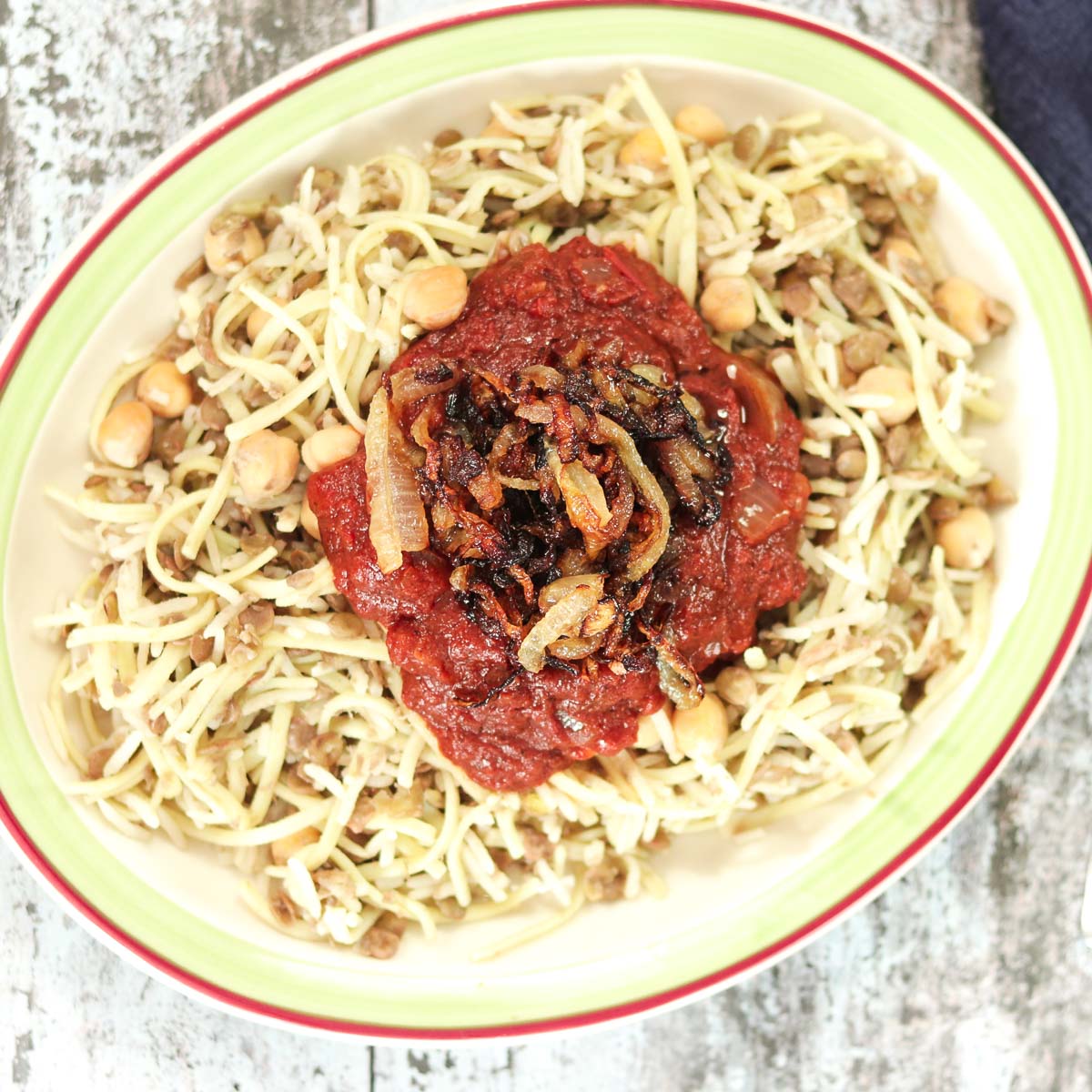 This post may include affiliate links.
Are you looking for a cheap and easy dish for Meatless Monday? Egypt's most popular street food and national dish is the answer. It's vegan and if you use gluten free noodles like these, you can definitely enjoy this delicious meal whether your are vegan or gluten free or both!
Vegan Egptian Koshari, also sometimes spelled as Koushari or Koushary is so delicious but made with basic cost efficient ingredients. Who knew something this good can cost so little to make? There's only one specialty ingredient in this dish – Baharat. Baharat is a spice blend used in the Middle East and North Africa. If you can't locate Baharat, you can also substitute with Ras el Hanout.
What happens when everything goes wrong!
OMG the day I decided to make Koshari on FB LIVE!
Although I have made several recipes LIVE On FB, this recipe involved a bit more electricity. With two electric skillets, two computers going, my photography lights and a fan, my fuse got tripped. In trying to get everything back, my modem got turned off and it takes forever for it to reconnect. It was a comedy of errors. Even after resetting everything, my power strip wouldn't work again.
Then the software that I use to do my Facebook LIVE was looking like a black screen. If something could go wrong, it was going to happen that day. However, I had promoted the fact that I was going online with that recipe, so I had to do something right – so I went on Facebook as soon as I could and did a quick video showing the prep and letting everyone know what happened and I would do an edited video instead.
Having only done Tasty style videos before, this was brand new for me. Despite never doing it before, I set up my ipad propped against some books and did a cooking video. Sometimes what may seem horrible turns out to be something good. I have been wanting to start doing full on cooking videos, essentially producing a You Tube cooking show, but I have been procrastinating getting that started . Fear? Learning Curve? A little of both? Whatever the reason, this pushed me to believe anything's possible!
To other content creators, this is my lesson of the day – Adapt to the situation and it may just push you to develop a new marketable skill. Don't be afraid of trying something new! So this video isn't super slick and professional but for an ad hoc cooking video, it's not bad and now I've gotten over the fear, I can prepare for this style of videos once I adjust my equipment better next time around. I'll only get better as I develop the skill of producing and editing these cooking videos.
Regardless, you still get the most important thing – how to make Koshari – Egypt's National Dish Check out the video and I would LOVE it if you would subscribe to my You Tube Channel! – I am not publishing weekly cooking videos, although I am yet to start my Cooking Show – all in due course….
In whatever profession or entrepreneurial pursuit you have in mind, the only thing stopping you is fear itself. Sure you may stumble and fall along the way, but as long as you get back up, it will all be worth it in the end!
OK now let's get to how easy is to make Koshari in just a few simple steps.
Boil lentils, chickpeas, rice and noodles separately. Save some time and use canned beans!
Make a quick tomato sauce with canned tomatoes
Caramelized onions
….and that's it. Could there be an easier vegan dish for Meatless Monday?
You may think this seems kind of plain and ordinary. Is my family really going to like this? – Well the saying goes the secret's in the sauce, but in this case the secret's in the onions.
The natural sweetness that comes out when you make caramelized onions totally makes this dish. Sometimes I double the quantity of the caramelized onions to make it even more delicious!
OK so lets go over what you'll need to make this delicious Koshari!
Shopping List for Vegan Egyptian Koshari
Recipe Notes
What kind of noodles should I use?
You may find many versions of Koshari use macaroni. However, after meeting an Egyptian person who told me it is traditionally made with very thin noodles like vermicelli or angel hair, I now make it with the thinnest noodles possible.
In this version, I made it with Bulgarian thin noodles (available at a local Baltic market)
However, this really isn't going to influence the dish in a major way – so use whatever kind of pasta is easy for you to source.
Can I use canned beans?
Absolutely. Use canned beans and cut the cooking process time!
I always use canned chickpeas but use dried lentils since lentils cook so quickly.
Can I use fresh tomatoes?
Yes you can make the sauce with fresh tomatoes. However, you will have to cook them longer and will probably need to add some water to get the thick sauce easily achieved with canned crushed tomatoes.
Now let's assemble our Koshari!
First we mix all of the beans and grains together and spoon them onto a plate.
Then add the oh so delicious sauce.
Spoon as little or as much of the sauce as you like!
Then add the onions.
Can anything be easier!
Now what tools are you going to need to make Vegan Egyptian Koshari?
Suggested Tools
Vegan Egyptian Koshari – Egypt's National Dish
This vegan one dish is the National Dish or Egypt and one of the most popular street food faves. The caramelized onions make this so delicious!
Ingredients
Caramelized Onions Topping Ingredients
6

tablespoons

oil

3

large onions

thinly sliced
Instructions
Cook noodles (or pasta) according to package instructions, until al dente.

Combine lentils with 3 cups water, garlic, cumin and bay leaf in a saucepan.

Bring to a boil and simmer until lentils are tender.

Strain and discard garlic and bay leaf.

Add salt to taste and toss to combine.

To make the sauce, heat oil. Add onion and garlic. Cook until softened.

Add tomatoes, Baharat, vinegar, chile and salt. Bring to a boil. Reduce to a simmer and cook for 10 minutes until thickend. (if using fresh tomatoes, simmer for 20 minutes and add water as needed)

While the sauce is simmering, cook all the other ingredients.

In a saucepan, bring 2 cups of water to a boil. Add rice and salt. Cover and reduce to a simmer. Cook until rice has absorbed all of the liquid and is tender, about 15 minutes.

In a large bowl, combine rice, lentils, noodles and chickpeas. Toss to combine. Taste and add salt, if necessary. Cover to keep warm until ready to serve.

To make the topping, heat oil.

Add onions and fry on low heat until the onions are golden brown, about 10 minutes.

To plate koshari, add grain and lentil combination onto a plate.
Video
Notes
Notes:
Rice, lentils and pasta can easily be cooked in an instant pot!
Nutrition
Calories:
505
kcal
|
Carbohydrates:
74
g
|
Protein:
17
g
|
Fat:
17
g
|
Saturated Fat:
1
g
|
Sodium:
310
mg
|
Potassium:
789
mg
|
Fiber:
14
g
|
Sugar:
8
g
|
Vitamin A:
313
IU
|
Vitamin C:
15
mg
|
Calcium:
99
mg
|
Iron:
5
mg
Did you try this recipe? Leave a comment below.
Please follow me on Instagram @chefmireille or tag me #chefmireille with your pics! I'd love to share them!
DO YOU YUM? SAVE IT BELOW!
Yum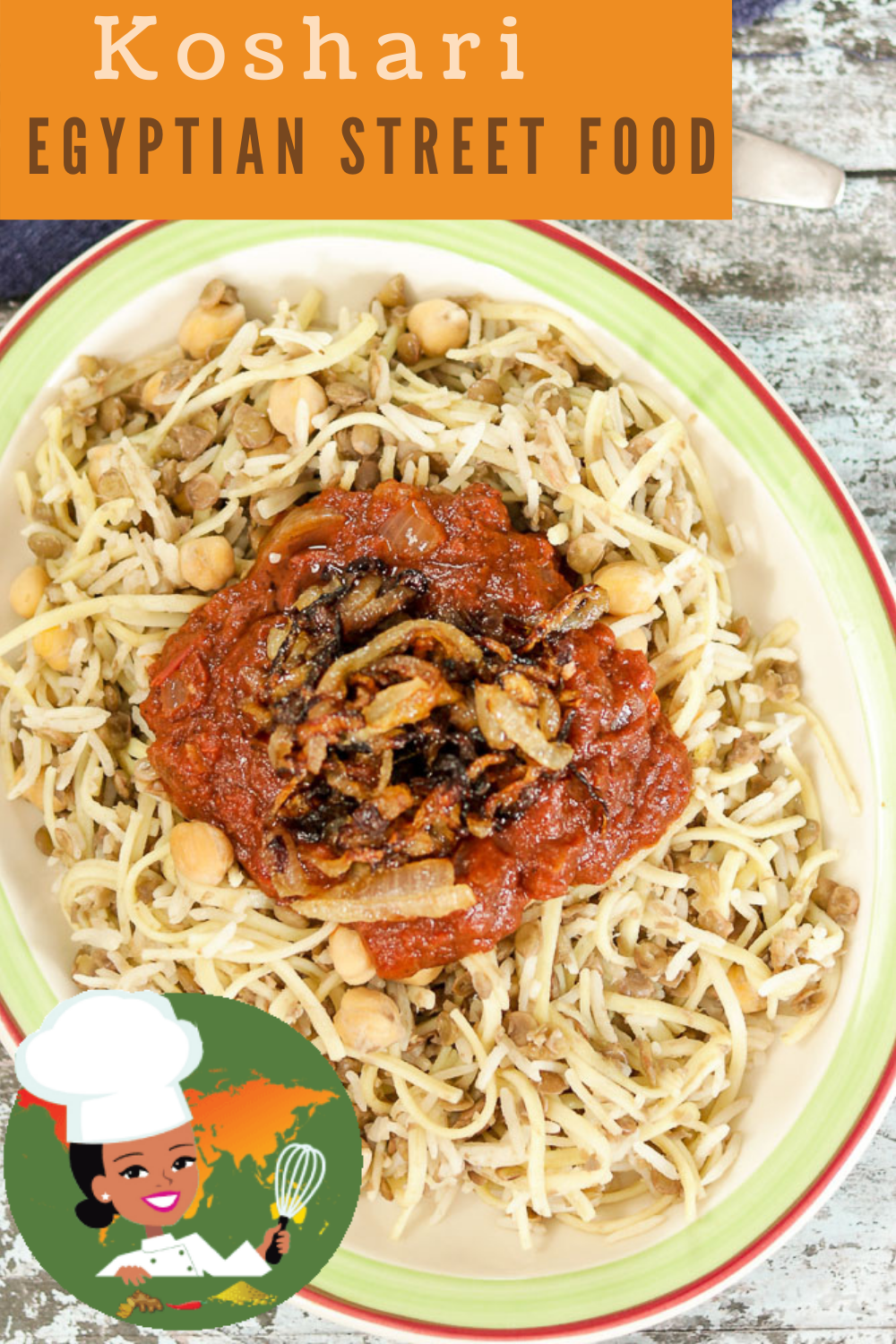 Don't forget to visit the RECIPE INDEX with over 1000 recipes from around the world including lots of Vegetarian Recipes and Gluten Free Recipes!