Last Updated on December 14, 2020 by Chef Mireille
Tindora Rice
Tindora Rice aka Ivy Gourd Pulao is a delicious spiced rice made with baby cucumber also named kovakkai. This quick and easy recipe is a great way to transform leftover rice.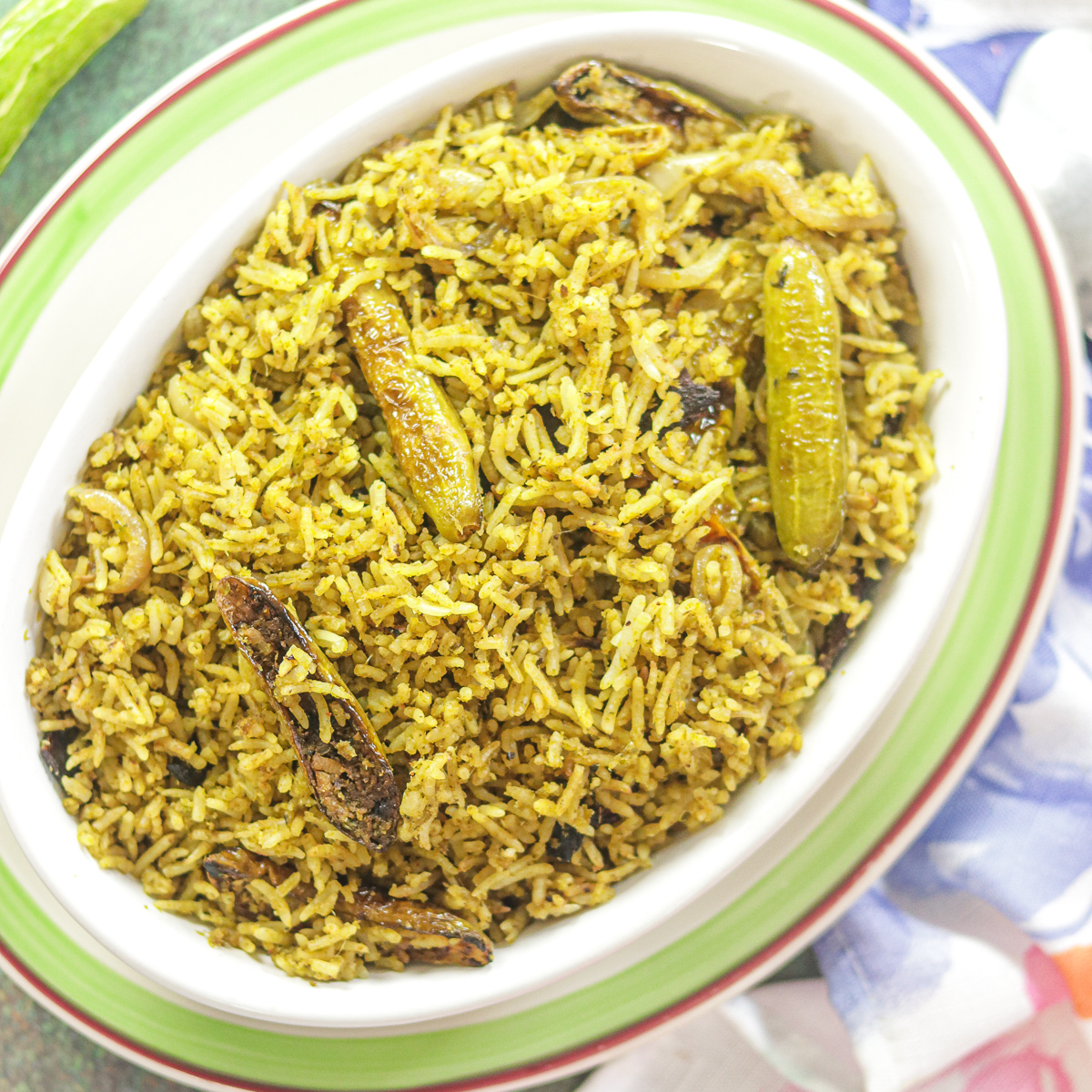 Have you ever heard of ivy gourd? No? Neither did I until I started getting really adventurous when I went into the Indian supermarket. They have so many unique vegetables, not available at American markets.
Every time I go to the Indian market, I try to pick up a new vegetable I haven't tried before. The variety of vegetables you see there is an eye-opening experience to a totally different world, when compared to American supermarkets.
Names of vegetables you've never heard before are printed on the signs like round valor, flat valor, dudhi, methi, karela, drumstick and tindora. Even the ones with English names you most probably haven't seen before like white pumpkin, ridge gourd and snake gourd.
Even if you don't choose a traditional recipe, just adding more varietal vegetables to our diet can never be a bad thing right. Toss it in some olive oil and sprinkle Italian seasoning and tindora aka ivy gourd will be just as delicious.
I have seen many recipes in the blogosphere using tindora, also known as ivy gourd. This time I decided it was time to try it.
Ivy Gourd
Tindora also known as ivy gourd look like little baby cucumbers. However, unlike cucumbers which we often eat raw, ivy gourd must be cooked.
When you slice the ivy gourd, don't be alarmed if some of them are red inside. This does not mean that they are bad. These with the red interior are simply more ripe.
I am sure you are going to love this vegetable as much as I. Do check out Tindora Palya for another recipe using this delicious vegetable.
If you are always looking for inspiration for more Vegetarian Recipes, although not all Vegetarian, the Indian section of my Recipe Index will give you a lot of delicious ideas to add more variety to your vegetarian recipes!
This is a great recipe to make if you have some leftover plain rice you want to repurpose. You might be thinking of something like Kimchi Fried Rice but instead of Korean style Fried Rice, let's travel to India and try out this quick and easy spiced recipe.
Just add a few simple ingredients and rice gets transformed.
What a delicious Indian recipe to add to the repertoire!
What should I pair Tindora Rice with?
You might want to try pairing this with Kalonji Dal and Tomato Poda or if you'd like to add some meat Coorgi Chicken Curry.
Tindora Rice – Ivy Gourd Pulao
Ingredients
Masala Ingredients
5

mint leaves

finely chopped

5

tablespoons

cilantro leaves

chopped

2

green chiles

chopped

2 1/2

tablespoons

frozen grated coconut

defrosted (or freshly grated coconut)
Rice Ingredients
2

tablespoons

oil

8

oz.

tindora

ends trimmed and split in half lengthwise

1

tablespoon

ghee

4

cloves

1

bay leaf

1

star anise

1

onion

thinly sliced

2

teaspoons

ginger garlic paste

1

teaspoon

ground coriander

1/4

teaspoon

ground cumin

1

teaspoon

red chile powder

cayenne pepper

1/4

teaspoon

ground turmeric

2

cups

cooked Basmati rice

salt

to taste

1

tablespoon

lemon juice
Instructions
Combine mint, finely chopped cilantro and green chiles in a coffee/spice grinder.

Add. coconut with 2 tablespoons water until you have a fine coconut masala paste.

Heat oil in a deep skillet.

Add tindoora/ivy gourd and saute until well browned, about 10 minutes.

Remove to a plate.

Add the ghee and melt it. Saute for another 3 minutes.

Add cinnamon, cloves, cardamom, bay leaf and star anise. Fry for 1 minute.

Add onions and saute until they start to change color.

Add ginger garlic paste and masala. Fry for about 5 minutes.

Add cumin, coriander, cayenne, tumeric and tindora. Cook on low heat for another 5 minutes.

Add cooked rice and toss well. Cook for about 3-4 minutes until the rice is well coated with the spices and heated through.

Add salt and lemon juice.

Garnish with more cilantro leaves, if desired.
Nutrition
Calories:
226
kcal
|
Carbohydrates:
29
g
|
Protein:
3
g
|
Fat:
11
g
|
Saturated Fat:
3
g
|
Cholesterol:
6
mg
|
Sodium:
80
mg
|
Potassium:
89
mg
|
Fiber:
3
g
|
Sugar:
2
g
|
Vitamin A:
295
IU
|
Vitamin C:
7
mg
|
Calcium:
30
mg
|
Iron:
1
mg
Did you try this recipe? Leave a comment below.
Please follow me on Instagram @chefmireille or tag me #chefmireille with your pics! I'd love to share them!
…and if you need some inspiration, do take a look at more of my Indian Recipes here.
DO YOU YUM? SAVE IT BELOW!
Yum
Follow my blog with Bloglovin
ARE YOU EXCITED TO TRY THIS RECIPE? PLEASE HELP ME CONTINUE TO PROVIDE YOU WITH DELICIOUS RECIPES BY SHARING IT AND SHOPPING FOR YOUR FAVORITE PRODUCTS WITH INCLUDED AFFILIATE LINKS!