Last Updated on June 8, 2023 by Chef Mireille
Paneer Payasam – Indian Cheese Pudding – An Indian milk pudding made with paneer – a firm Indian cooking cheese.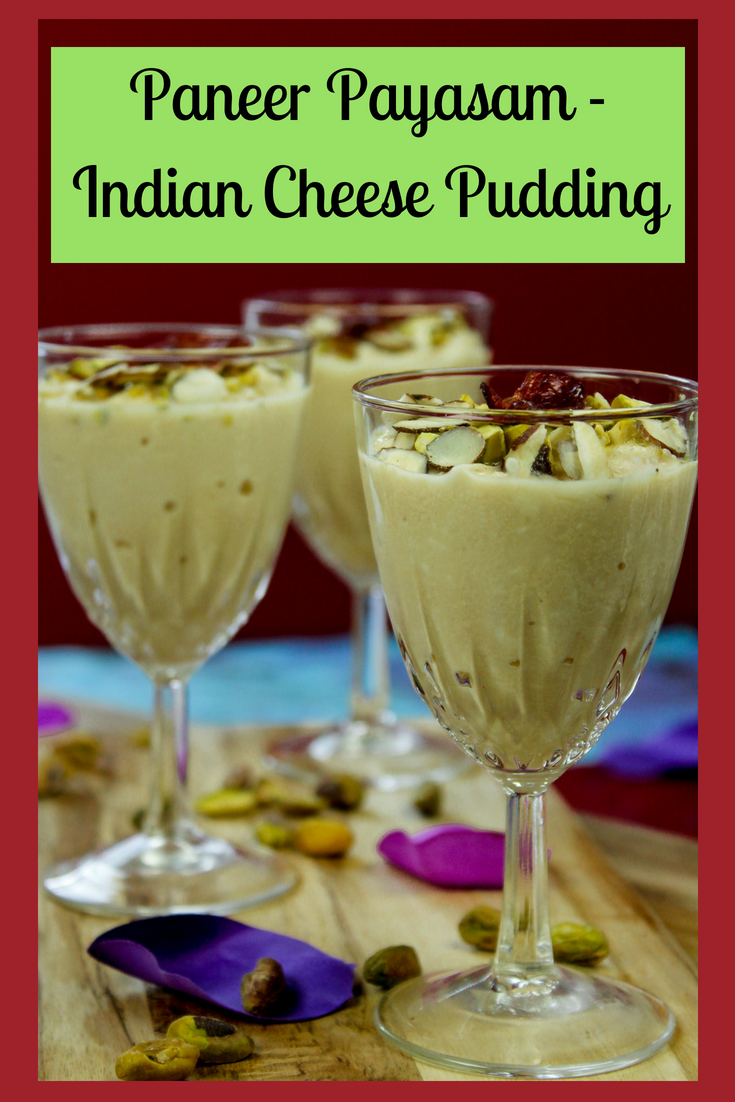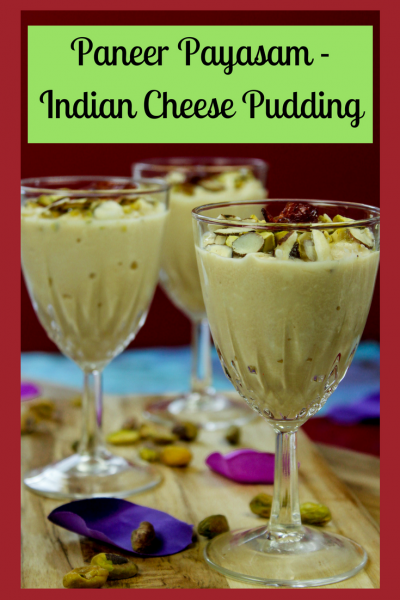 Many diets advocate high protein low carb meals. As a largely carnivorous society, when we think of protein the first thing that comes to mind is meat. #MeatlessMonday has been a growing trend in recent years and usually people have some kind of recipe with beans to make sure they are still getting their protein. In the protein conversation, people often forget about dairy. Dairy is a very good source of protein and many cultures have a form of cooking cheeses. That is, cheeses that wont melt when cooked. They react to cooking much the same way meat does and can be grilled, fried, roasted or stewed.
Cooking Cheeses
Paneer – Paneer is a very common cooking cheese in India. It is very versatile and is used in many different recipes from appetizers to curries to desserts. Although I am presenting a sweet dish today, check out some of my savory recipes. You can find paneer in Indian supermarkets as well as many generic supermarkets with good International sections, as it has gained popularity in recent years.
Paneer Recipes
Halloumi – is a cheese from Cypress, but it is utilized throughout the Middle East. It is most often either fried or grilled. Here are a few ways halloumi can be utilized.
Halloumi Recipes
Queso de Freier – is the frying cheese from Latin America. Used throughout South & Central America as well as the Spanish speaking Caribbean, it is most often eaten with breakfast like in this Costa Rican Breakfast
This week I am going to be presenting some recipes for these cooking cheeses so you can bring your Meatless Monday to the next level!
I am a big fan of milky puddings and custards for dessert. Known as Payasam in southern India and Kheer in northern India, these milk puddings are very common in India and can be made with any type of ingredients from grains to fruits and vegetables. One really unique one I made recently is Watermelon Pith Kheer. The next time you buy a watermelon, how about avoiding some food waste and trying this kheer that utilizes the white part of the watermelon.
Paneer Payasam – Indian Cheese Pudding is a fabulous chilled dessert is perfect for the approaching summer season.
I had originally made this payasam when making this mini Bengali Thali. It's taken over a year but finally all the recipes have been posted. Of course, I did remake this one as it was so delicious I didn't mind, for this post.
If you'd like to recreate this thali, here are the recipes!
Bengali Thali
Mishti Pulao – Sweet & Savory Spiced Rice
Chingri Macher Kalia – Shrimp & Potato Curry
Alu Chorchori – Potato Dry Curry
Cholar Dal – Coconut Milk Dal
Paneer Payasam – Indian Cheese Pudding
Ingredients
2

cups

milk

3/4

cup

sweetened condensed milk

1

cup

grated paneer

1

teaspoon

rose water

sliced almonds

chopped pistacchios, preserved rose (garnish as desired)
Instructions
Combine milk and sweetened condensed milk in a heavy bottomed saucepan.

Over medium heat, bring milk to a boil.

Add paneer and cook on a high simmer for 15 minutes, stirring frequently. Add rose water and stir to combine.

Transfer to refrigerator and chill.

Serve, garnished with almonds, pistacchios and preserved rose as desired.
Notes
In America, store bought paneer is much firmer than it is in India. Unless you are using home made paneer, I suggest soaking the paneer in warm water for 15 minutes before making your payasam.
Nutrition
Calories:
209.15
kcal
|
Carbohydrates:
25.98
g
|
Protein:
9.76
g
|
Fat:
7.58
g
|
Saturated Fat:
4.26
g
|
Sodium:
220.08
mg
|
Sugar:
25.92
g
Did you try this recipe? Leave a comment below.
Please follow me on Instagram @chefmireille or tag me #chefmireille with your pics! I'd love to share them!
Do you know anyone else who likes learning about international food, culture, history and travel? Bring them over here to join the party! Don't forget to use those share buttons!
Start Here to find out how the Schizo Chef can help you with your cooking, travel and other needs!
Check out the Blogging Marathon page for the other Blogging Marathoners doing this BM#88
If you like this recipe, PLEASE LEAVE A COMMENT & SUBSCRIBE