Last Updated on July 21, 2021 by Chef Mireille
Kori Gassi
Mangalorean Chicken Curry is a rich and creamy coconut milk curry from the South Indian state of Karnataka.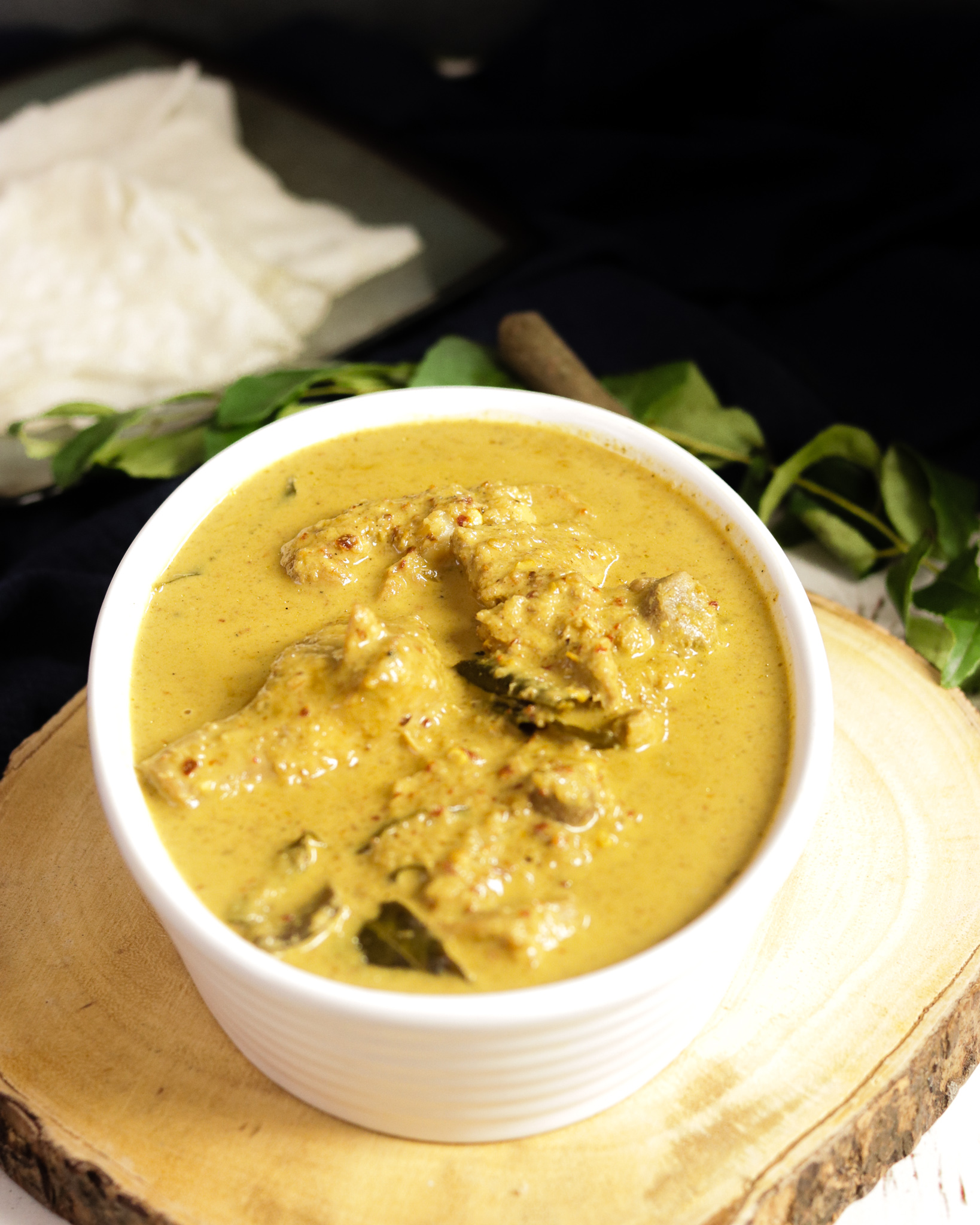 A few months ago I went to an Indian restaurant in NYC. Since we have more Indian restaurants than I can count, there is nothing remarkable there. What was remarkable was the food! It was my first time visiting Chote Nawab and I was not disappointed. The food was amazing!
It was some of the best restaurant Indian Food I've ever had. I was with my Mom and she had the Lamb Biryani. All biryani's here are cooked in the Dum style. They were not stingy with the meat and portion sizes were large as we both took home leftovers. Therefore, we felt it was definitely worth the price!
I had the Mangalorean Kori Gassi. It was the best Chicken Curry I've ever had. Chicken was super soft and tender and curry gravy was smooth and luxurious. Again, they were not stingy with the meat and each spoonful was full of chicken.
I had already decided to focus on the cuisine of Karnataka for this week's theme so I knew I had to figure out how to make this delicious curry. After consulting many recipes, I came up with this adapted version I hope you enjoy as much as I did.
…and if you are ever in NYC, I highly suggest a visit to Chote Nawab.
What Chilli Pepper to Use?
Traditionally, byadgi chilli peppers are used to make this curry. It is a mild chilli pepper. However, it is alright to substitute whatever you have.
I used a variety of mild and hot peppers. However, I do not know which variety of peppers I used to tell you.
Whenever I travel, I always try to purchase non perishable food products to bring home. When I visited Mumbai, I went to APMC Wholesale Market, which is a great place to get spices, lentils and other food products like dried red chillies.
RELATED: 24 HOUR MUMBAI FOODIE GUIDE
It is located a little on the outskirts of the city, but well worth the trip!
I had gone with my blogger friend Pradnya and I was truly overwhelmed with the variety of ingredients so I just let her choose for me what to purchase.
She picked out two varieties of dried red chili peppers for me and told me one was medium hot and one was mild. I still have some of these chili peppers left and these are what I used to make this Kori Gassi – Mangalorean Chicken Curry. I might have used some byadgi peppers, but I truly don't know.
You can substitute any variety of dried red chilli pepper. However, if you are using a very hot variety, then you will need to adjust the quantity of peppers you use.
Accompaniments
Neer Dosa is the most common accompaniment to Kori Gassi. However, this is not an easy dosa to master. I only had time to try it once and I only was able to get 2 halfway decent ones out of the batter. I need to perfect the methodology a little more before I can present it to you. If you'd like to try your hand at it regardless, you can try this recipe here.
Regardless, this is South India which is rice country. You can also enjoy your Kori Gassi – Magalorean Chicken Curry with just some steamed Basmati Rice.
This is a rich and creamy curry and so luxurious. Perfect for any holiday meal!
Coconut Milk & Coconut Cream
Do you know the difference between coconut milk and coconut cream?
I provided detailed information about the difference in this post. Please check it out as you will need to use both in this recipe!
Kori Gassi – Mangalorean Chicken Curry
Kori Gassi – Mangalorean Chicken Curry is a rich and creamy coconut milk curry from the South Indian state of Karnataka.
Ingredients
Curry Ingredients:
1

teaspoon

ghee

2

cloves

2

sprigs curry leaves

2

lbs.

chicken with bone

2

teaspoons

salt

½

teaspoon

turmeric

1/3

cup

tamarind concentrate

See Notes

2

cups

coconut milk

1

cup

coconut cream
Instructions
In a skillet, heat coconut oil. Add onions and garlic.

Saute for a few minutes until onions and garlic have started to change color.

Remove from the pan and add chillies to the same skillet.

Roast chillies for 30 seconds-1 minute until they become fragrant.. Remove chillies from the skillet.

In the same pan, melt ghee and add fenugreek, cumin, peppercorns and coriander. Roast for 1-2 minutes on medium heat until it becomes fragrant.

Using a coffee/spice grinder, grind the roasted dry spices and coconut to a fine powder.

Using a food processor or high powered blender, combine onions, garlic, chillies and ground coconut and spices. Process until well chopped.

Add 1 cup of water and process to a very smooth paste.

Now that our masala is ready, let's start to make the curry.

In a large pot, heat ghee.

Add cinnamon stick, cloves and curry leaves. Fry for a few seconds.

Add chicken, salt, turmeric, tamarind and masala paste.

Add 2 cups of coconut milk and ½ cup water. Stir to combine. Bring to a boil.

Reduce to a simmer and cook until chicken is just cooked, about 30 minutes.

Add coconut cream and cook on high heat for 5 minutes.
Notes
Alternately, soak 3 tablespoons tamarind paste in 1/2 cup boiling water. Strain to get the tamarind extract.
You can also make using 2 1/2 pounds boneless chicken.
Nutrition
Calories:
517
kcal
|
Carbohydrates:
12
g
|
Protein:
24
g
|
Fat:
43
g
|
Saturated Fat:
27
g
|
Cholesterol:
88
mg
|
Sodium:
677
mg
|
Potassium:
553
mg
|
Fiber:
3
g
|
Sugar:
4
g
|
Vitamin A:
203
IU
|
Vitamin C:
7
mg
|
Calcium:
59
mg
|
Iron:
4
mg
Did you try this recipe? Leave a comment below.
Please follow me on Instagram @chefmireille or tag me #chefmireille with your pics! I'd love to share them!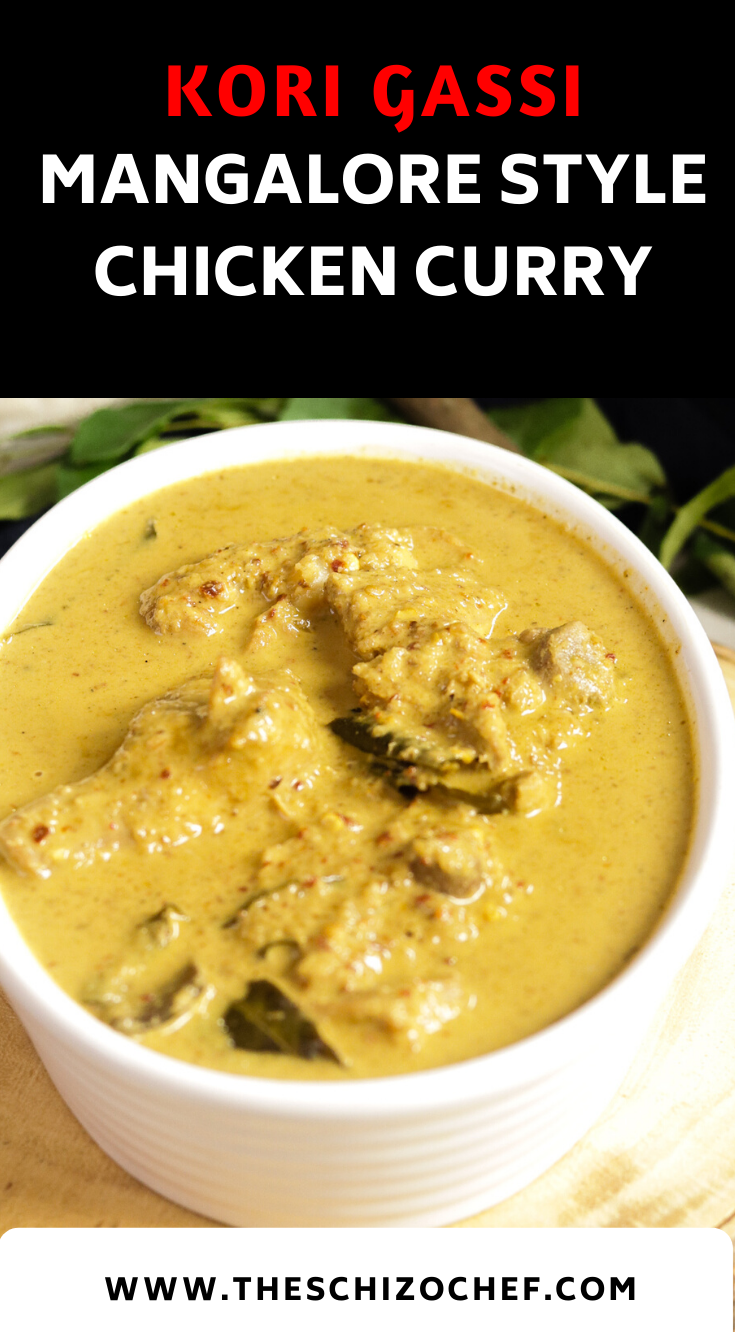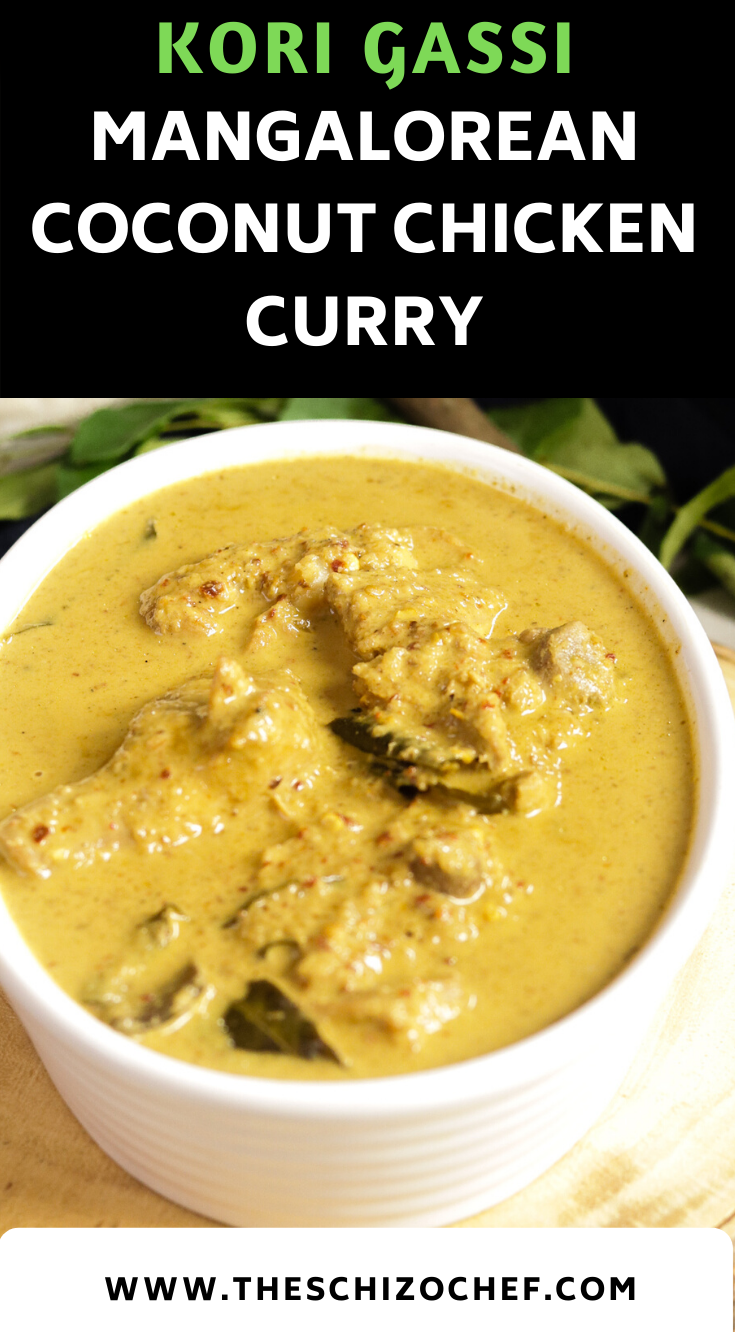 DO YOU YUM? SAVE IT BELOW!
Yum
Don't forget to visit the RECIPE INDEX with over 1000 recipes from around the world including lots of Vegetarian Recipes and Gluten Free Recipes!
This post may include affiliate links.
Check out the
Blogging Marathon page for the other Blogging Marathoners doing this BM#107